Speech
STEMM education is route to empowerment and leadership for women
Speaking notes for British High Commissioner to India, Dominic Asquith at Women in STEMM (Science, Technology, Engineering, Mathematics and Medicine) India workshop in New Delhi, 28 November 2016.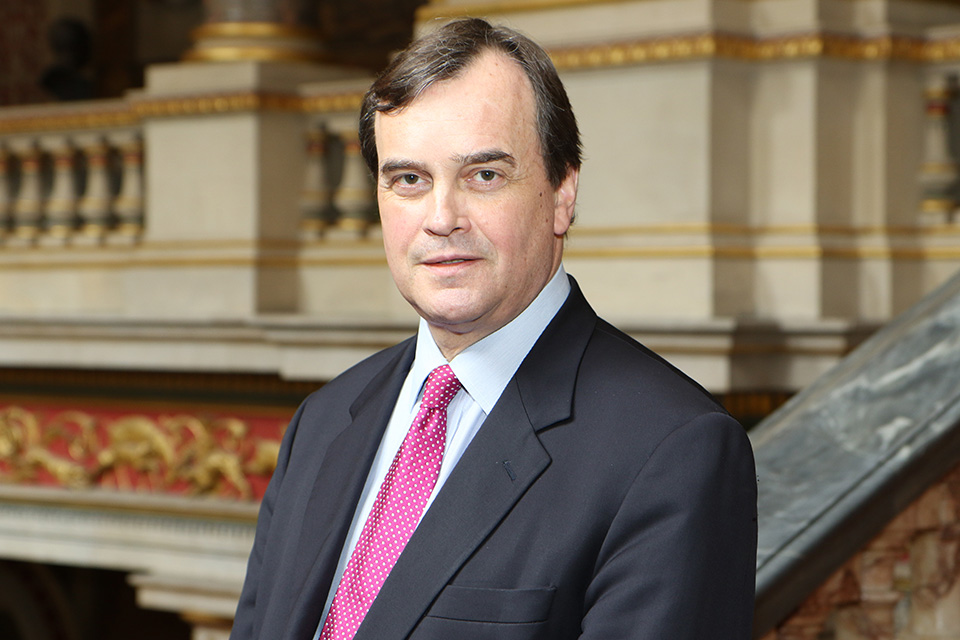 Thank you to Dr Renu Swarup, Professor Ashutosh Sharma, Professor VijayRaghavan and Ms Sidhu. I am very pleased to be here today to celebrate the first trilateral workshop on women in STEMM and I congratulate the organisers.
It is particularly gratifying to be here with fellow Commonwealth countries. What binds us together in the Commonwealth members is our shared values and commitment to: democracy; human rights, and critically access to education, gender equality, and the importance of young people.
The Commonwealth encourages the mainstreaming into member state policies of women's leadership, gender equality and the empowerment of women. The promotion of women in STEMM is central to achieving this. STEMM education is not only the foundation of knowledge economies, it is a crucial route to empowerment and to leadership for women.
UK Prime Minister Theresa May's visit and TECH Summit
This month the Prime Minister Theresa May came to India for her first bilateral visit. A highlight was the opening, with Prime Minister Modi, of the first India-UK TECH Summit. The TECH Summit was delivered with colleagues from the Department of Science and Technology and Confederation of Indian Industry (CII).
We celebrated the best of British and Indian expertise. The TECH Summit demonstrated how working together in innovation, entrepreneurship, design and education can support India's ambitions to skill its workforce, grow its economy and boost trade, investment, and cooperation in science and education.
The Summit hosted the first meeting of Women's Leadership Network - an initiative to celebrate women in technology in India and the UK. The network connects entrepreneurs, innovators, social organisations and professionals, for mentoring, business opportunities and leadership support.
The theme of technology as a driver of change; an empowerer of women and foundation for growth was woven through the PM's visit.
Memorable for me was her wonderful meeting at my residence with 10 female engineers trained by the UK engineering company JCB. JCB is a leading employer of women in India - around 25% of its Jaipur workforce is female. Indian-made JCBs are now sold in over 65 countries.
These engineers come from across India, they are given extensive training and have become roles models in their towns and villages. This is women in STEMM delivering 'Make in India'.
The PM's visit and TECH Summit laid the foundation for future collaborations in Tech sectors including in healthcare and life sciences, agritech, advanced manufacturing and engineering, robotics, design, innovation and entrepreneurship. All only possible through STEMM education.
Education
UK and India, like Australia and India, have a rich tradition of education exchange. It forms part of a living bridge between India and the UK: people, ideas, technology.
We offer 600 scholarships in UK both under-graduate and graduate. There are 500,000 foreign students in the UK's world-class universities. And to be clear - there is no cap on visas.
We offer 198 GREAT scholarships to Indian students. 60 Indian students are supported by the Commonwealth programme each year and in over 30 years, since 1981 when Charles Wallace India Trust was established, it has offered over 2700 grants to Indian students studying in the UK.
We offer India the largest Chevening programme: £2.6 million budget for 130 fully paid fellowships and scholarships for Indian men and women to study at our great universities - including in STEMM subjects. For example the Chevening Rolls Royce Science and Innovation Leadership Programme (CRISP) at Said Business school, and the Chevening Cyber Security Fellowship at Cranfield University.
Research
The UK India Education and Research Initiative (UKIERI) has supported over 1000 new education and research partnerships; facilitated 25,000 academic exchanges (researchers, faculty staff and students), creating lifelong links between the UK and India. And over 35 million young people have benefited through train the trainer programmes.
The flagship UK-India Newton-Bhabha programme is developing exciting new joint research and innovation collaboration to address big societal challenges; sustainable cities, health, food, energy and water underpinned by collaborations in advanced manufacturing and big data. By 2021, India-UK joint funding will increase to £208 million under Newton-Bhabha.
Through Newton-Bhabha we are exploring ways to increase diversity in science, particularly representation of women in leadership roles. This year 60 PhD students will be travel on exchange visits.
And the Department of Biotechnology and Cambridge supported skills an exchange programme between experts in crops and sciences from both countries. Female scientists from across India participated in the program.
The Royal Society has an agreement with the Science and Engineering Research Board to provide 15 Newton International Fellowships each year.
Earlier this month the Prime Minister May together with Prime Minister Modi announced new joint collaborations worth £80 million under Newton-Bhabha.
Skills
The UK also supports the Skill India Mission through a Centre for Excellence for the automobile sector in Pune. And the Prime Minister announced a new commitment of £12 million to support Skill India and to facilitate international training standards, apprenticeships and certification.
British companies in India spend an average 7% of their total revenue on training and skilling their employees in India.
The living bridge between India and the UK also encompasses entrepreneurs through exciting events like the TECH Rocketships Awards and a UK investment of over £160 million across 75 start-up enterprises, creating jobs and delivering critical services across India.
The Prime Ministers announced an additional £20 million from the UK for a Start-Up India Venture Capital Fund. The fund will support 30 enterprises and leverage additional £40 million capital from other investors including UK venture capital funds.
Gender equality
The UK Department for International Development (DFID) has supported projects and research across India focused on gender equality in the workplace and encouraged Indian businesses to sign up to the UN's Women's Empowerment principles. 35 companies signed up as a result of targeted events and workshops – participants included Coca-Cola, Infosys, Jindal Stainless Ltd and Wipro.
Since 2012, UK has provided four million women with access to financial services, support for financial literacy and economic activities. UK capital investments (through DFID and CDC) include affordable business solutions to help women in poor settings and promoting social entrepreneurs, small businesses and innovators.
The British Council's EDGE campaign aims to improve the life prospects of adolescent girls in socio-economically marginalised communities and focuses on enhancing participants' English proficiency, digital skills and awareness of social issues through after-school, peer-led, community-based clubs.
The need for STEMM
The UK is a global science powerhouse. Our global scientific impact far exceeds our size as a nation. With just 3.2% of the world's R&D spend, the UK accounts for 16% of the most highly-cited research articles. And we've overtaken the US to rank first among comparable research nations for field weighted citations impact.
And the UK is the best place in the world to innovate. Of course, government does not create innovation; it's the scientists and engineers, the designers and the entrepreneurs who make it happen. But government can be a catalyst. Currently, every £1 of government spending on research leverages an estimated additional £1.36 of private funding. And for every £1 spent by the government on R&D, private sector productivity rises by 20p per year in perpetuity.
But Science and Innovation are not possible without a healthy supply of talented young scientists and engineers – without 'STEMM capital'. And the challenges of developing STEMM capital face us all. In the UK there are encouraging signs. Apprenticeship starts in engineering and manufacturing technologies are up by 52% and last year saw a 30% increase in the number of young people studying computing at A-Level.
But there are issues, too. The percentage of girls taking 'A' level physics has stubbornly remained at only 20% for the last 20 years. And less than 6% of professional engineers are women.
Tackling deficiencies in STEMM capital is not a job for government alone; it requires educators, communities and industry too. In the UK we have come a long way in the last decade in mainstreaming science including for women, thanks in no small part to stars such as Brian Cox and the important work of organisations like ScienceGrrl.
And the Athena SWAN Charter established to encourage commitment to advancing the careers of women in Science, Technology, Engineering, Maths and Medicine employment in higher education and research.
In the UK Science and Discovery Centres around the country play an important role, offering schools and families a hands-on experience that brings science to life. And we are partnering with the Wellcome Trust to set up a £30 million Inspiring Science Capital Fund to support these centres.
This fund complements our wider support for 'STEMM inspiration' programmes, including the National Science and Engineering competition and STEMNET - our STEM Ambassadors.
STEMNET is a UK-wide network of 31,000 people from science, engineering and academia volunteers with a vision to increase young people's choice and chances through science, technology, engineering and mathematics. 40% of STEM Ambassadors are women.
They work with thousands of schools, colleges and STEMM employers, to enable young people of all backgrounds and abilities to meet inspiring role models, understand real world applications of STEMM subjects and activities that motivate, inspire and bring learning and career opportunities to life.
Activities under STEMNET have included the OUTBOX Incubator offering seed funding and mentoring support for 115 girls to launch innovative businesses in the STEMM sector. And a joint programme by Tata Consultancy Services and Marks & Spencer to bring IT role models from industry into UK's schools and get more students inspired about computing.
Conclusion
There is no doubt that we have a real issue on our hands. Without the skilled workforces we need our ability to operate efficiently in a global, competitive market is diminished. UK companies are projected to need 1.82 million additional people with engineering skills from by 2022. This means that we need to double the number of graduates and engineering related apprentices coming out of colleges and universities.
We need to inspire young people particularly young women to study maths and sciences at school as an opening to exciting and wide-ranging careers. We need to help employers recruit and keep top female talent.
So I truly welcome your discussions here this week and look forward to learning your conclusions and recommendations.
Thank you.
Published 28 November 2016