Speech
Speech by Matthew Hancock at the Spectator Skills Forum
Speech on vocational and adult education reforms and the moral imperative behind them.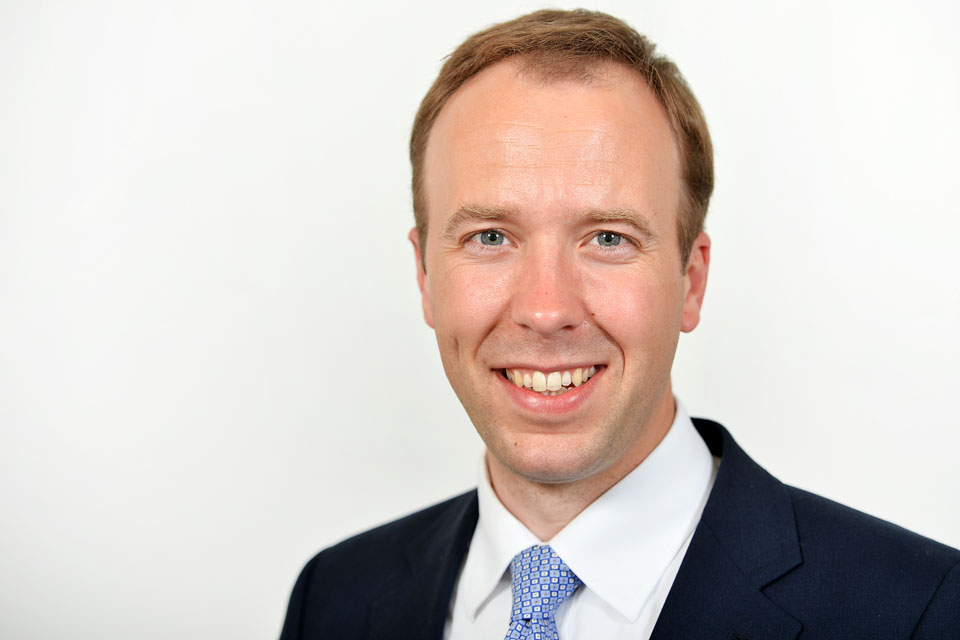 It's great to be here and I want to thank the Spectator for hosting this event.
Despite being the oldest continuously published magazine in English, you have wholeheartedly embraced the digital revolution. Your Coffee House blog, e-briefings and podcasts give your readers their fix of the latest commentary and analysis on the go, in real time, as events play out.
That's great for political journalism, and in education we too want to harness technology's transformative potential.
Like technology, education has the power to drive social progress - to democratize knowledge, spread privilege and provide opportunities undreamt of in an analogue world.
But for that to happen, we also need progress in education: progress in standards, progress in expectations and progress in attitudes. What does progress mean? Not that all must have prizes and all exams must be passable by all.Progress means unambiguous high expectations for all.
That's why we've insisted all pupils should have access to a demanding, knowledge-based curriculum up until the age of 16. It's why we've reversed the long-term depreciation of vocational education, defunding over 4000 low value courses and replacing them with rigorous Tech Levels, designed by employers and providing recognised pathways into higher level apprenticeships or higher education.
And it's why I'm determined that apprenticeships become the established route for all school-leavers who don't go to university; not as a second option, but as a competitor for the most ambitious young people Demanding higher standards of people isn't setting them up for failure, as we've often heard from the left. Across the education and skills system young people and adults keen to learn have risen to the challenge.
So we have record apprenticeship starts, even as we've raised the bar on quality. 250,000 fewer in failing schools, even as we've turned up the dial on what counts as success.
But if we're truly going to spread opportunity, I believe we also need progress too in the use of technology.
Ever since the invention of the university in the 11th century, the basic format of education has remained the same.
A roomful of students, a teacher stood at the front of the class, directing the lesson primarily through voice.
This set-up persisted for centuries until, in 1801, the Scottish schoolmaster James Pillans had the novel idea of hanging a large slate on his classroom wall.
This allowed him to present problems to the whole class for discussion, rather than having to write the question on each pupil's own handheld slate.
The invention of the blackboard was an early instance of technological innovation delivering major productivity gains in the classroom.The concept - along with Pillans's recipe for coloured chalks - spread.But even it was resisted. Some teachers refused to use blackboards, because they require a teacher to turn their backs on the class.This was against the established way of doing things.But eventually the technology was won over, and for the benefit of the pupils, the adults changed.
Since then blackboards have become white, and handheld slates given way to mass-produced exercise books, but it's hard to think of another technical innovation delivering such a rapid improvement in the learning experience.
I believe all that is about to change. Modernity hitting the education system, and we need to be ready.
When I was 7, maths meant workbooks, pencils and pocket calculators.
For my 7 year old daughter, maths means playing on my iPhone – where she loves the fantastic NIACE app 'Maths Everywhere', which just won App of the Year.
Technology isn't just helping us to do the old things in the old ways – it's rebooting education from the ground up.
I've seen transformative educational technology being used in classrooms and schools in this country, and in the States.
In Brooklyn, I saw a School of One – one of eight public schools in the US using technology to create a unique 'playlist' for each student, every day, setting out a schedule and curriculum tailored to their skills and tracking their progress.
As the teachers there explained to me, it frees up a huge amount of their time. As if they were surgeons, all the preparation is taken care of, instruments all lined up, ready for use – and the teacher comes in as a specialist, using their expertise to focus on what really counts.
Some are already taking advantage of new MOOCs, Massive Open Online Courses, giving more people than ever before access to high-quality training from some of the best teachers in the world, in some of the most prestigious institutions in the world.
In October last year, OCR launched a MOOC based on their new Computing GCSE – developed in partnership with Cambridge University Press and the inspirational British tech company, Raspberry Pi. With over 350 videos by Computer Science teachers across the UK, it's designed to support teachers and students alike. Accessible on phones, tablets and computers, at schools or at home, it can either be used to broaden and enrich the normal syllabus, or as a course in its own right.
And the explosion of online resources helps people find the right courses and subjects for them too - so careers advice is being transformed from primarily offering information to focus instead on inspiration.
It's proceeding apace, schools are opening up, and using technology to build relationships between employers and educators.
Education technology empowers the 'real-life' teacher in the classroom – giving them access to incredible resources, endorsed and quality-assured, which they can share with their pupils before, during or after the lesson – and allowing them to concentrate on adding value, helping students one to one; coaching low attainers and mentoring high flyers.
For the gifted and talented, for those falling behind, for those combining work with education - learning technology has a huge amount to offer.
But I don't want the most innovative schools and colleges to be little enclaves of brilliance.
Every learner should have the chance to gain from cutting-edge technological solutions to age-old problems of teaching and study.
That's why I set up FELTAG, the Further Education Learning Technology Action Group: an expert group with a mandate to investigate the barriers to innovation in the use of education technology.
FELTAG's job is to push the FE and Skills sector into becoming more digitally aware, and to help us in government tackle those barriers where we can.
FELTAG published a fantastic report in March, with recommendations on investment, regulation, the role of employers, and the capacity of providers to meet the challenge.
The most important point in the report is that learning technology is not a discrete issue. Rather, we must consider a digital dimension in every part of the skills system, from the design of buildings, to the assessment of qualifications, to the attitude of Ofsted.
Today we're setting out our response.
On investment, FELTAG recommended that skills providers develop industry-standard technological infrastructure.
Yet until recently, as many as 80 percent of colleges were relying on a single broadband connection.
That's simply not good enough.
So we've introduced new funding to make sure that all colleges can install a second broadband connection, giving them greater resilience and improved speed – along with help to make the most of their existing provision and bandwidth. Over 120 providers have signed up. Some 73 colleges are being upgraded now in the first tranche with more to follow later this year.
And we're putting our money where our mouth is. In May this year the Technology Strategy Board and BIS opened the 'Learning Technologies: Design for Impact' programme to stimulate innovation in education technology.
This will focus on improving the design learning products, services or business models and to encourage greater collaboration between technology suppliers and education providers.
We're also making sure that government FE Capital Investment, funnelled through Local Enterprise Partnerships, will give all providers – private providers as well as FE colleges – fair access to funding to support innovative and ambitious proposals wherever they may be.
We will not direct the technologies from Whitehall. We don't know what the best technologies of the future will be. But we will enable change.
The sort of change which can make a huge impact – helping the FE sector to deliver higher quality and better resources in the months and years to come.
FELTAG also recommended greater use of learning technology in the way qualifications are taught and assessed.
Historically, you found out how much work was needed to get that C or the A* by trooping along to the school gym for a mock exam - a week before the real thing.
Now digital technology enables learners to model different scenarios and get instant feedback, adapting their learning in response.
The new science of data analytics has huge potential in the field of education. By aggregating online assessments and mining the data for patterns, teachers can pinpoint exactly where students are going wrong and intervene early.
So we strongly agree with the aim of increasing e-assessments, and we're going to work with Ofqual, Awarding Organisations, employers and learners to identify sectors for which online assessment will be particularly suitable, and develop a programme to increase its use.
Our apprenticeship reforms are all about getting employers directly involved in the design and assessment of qualifications, and we've set out an expectation that they will use online assessment. We will also ensure that the funding system supports the delivery of online learning programmes, and from 2014 to 2015 we will introduce an online-only funding rate.
During 2014 to 2015 we will work with a small number of Awarding Organisations, employers and providers to take forward 'online-only trailblazers', focused initially on vocational qualifications.
This will allow us to road-test the funding and audit implications of online delivery, and crucially, to understand how we move from a skills funding system based solely on 'contract and contact' to one which responds to progress, without compromising on quality.
Alongside the online-only funding rate, from 2015 to 2016 the Agency will also introduce a business rule for the approval of funding: setting out a minimum online threshold for the delivery of course content.
We will be announcing both the rate and threshold in the autumn.
You can read our response to FELTAG's report, online of course.
Our response shows how far the sector has come, and I'd like to thank everyone across the sector who took the time to contribute to FELTAG's recommendations.
But there's still much further to go. And this isn't just about FE – it's a priority for schools, FE, HE, all government departments, all ages.
That's why we've created ETAG, with a broader focus, looking at the whole education sector as a whole, ensuring that we use technology as effectively as possible from early years through to adult learning.
It's never been more important to make the most of every opportunity that technology offers – for providers, employers, students and teachers alike.
We need to empower institutions to learn from the best in the world, to take advantage of cloud technology, to use online learning and big data in the most effective ways, to apply our growing understanding of how people learn, and to make sure that the very best teaching can be shared more widely than ever before.
Chaired by Professor Stephen Heppell, we've got a great group that include schools, sector bodies like JISC and ALT as well as academics and industry.
But we want to go even further – and we want to make the most of all your expertise too.
So I want everyone here to let us know what you think, at #etag or via the etag.support site – and to encourage as many of your colleagues as possible to do the same.
Of course, we must recognise education technology for what it is: a tool by which we can drive up standards, improve productivity and enhance the role of teachers. It is a complement to, not a substitute for the dedicated professional.
But with optimism, imagination and a dose of healthy scepticism, I believe it has the power to make educational privilege a common British birth-right.
Technology is only part of the solution. It will only work to drive up standards if it is used to challenge and raise expectations. But it has the power to transform - and help all young people reach their potential.
That is our mission. Technology is transforming the tools. And we will not rest until everyone - everyone - in our country has an education we as a nation can be proud of.
Published 16 June 2014