Authored article
Speech at the Queen's Birthday Party 2015 in Cameroon
H.E. Brian Olley's speech to mark the QBP and the celebration of 800 years after the Magna Carta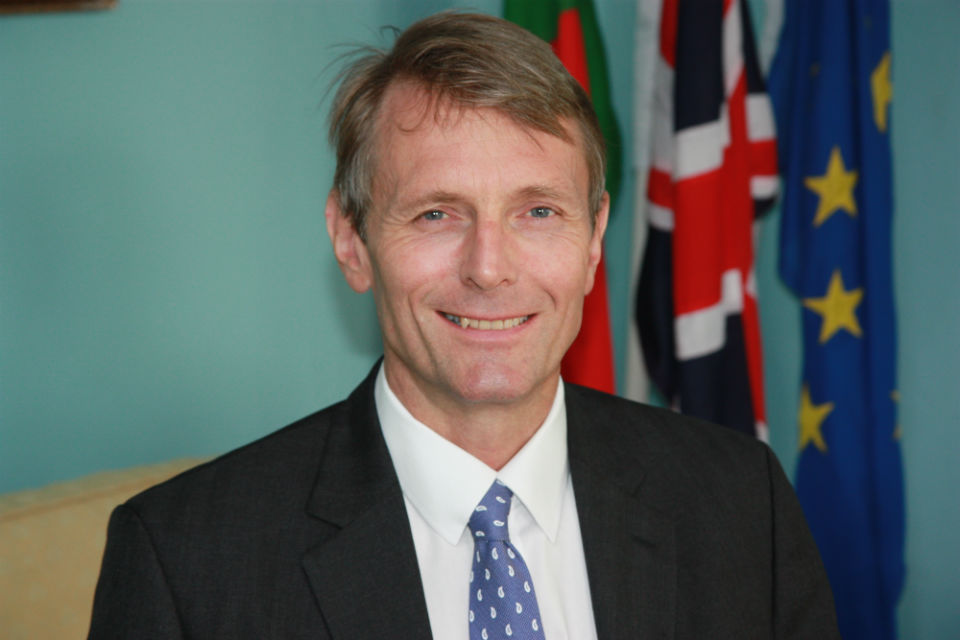 Your excellencies, ministers, members of the Senate, members of the National Assembly, traditional leaders, Captains of Industry, senior officials, friends, ladies and gentlemen.
Bienvenue, welcome to the 2015 Queen's Birthday Party. I hope that you are enjoying the party atmosphere. And as this is a party in a minute we will be cutting the official party cake. Do in the meantime help yourself to a glass of champagne.
This has been an eventful year for the United Kingdom – one in which we have remained United with Scotland, and last month saw national elections and the election of our new government.
This year is the 800th anniversary of the Magna Carta, which is the theme this evening for our party. The charter is the basis of English law, and has been used as the basis for the protection of the rights of ordinary people in many other countries. It has been described as 'the greatest constitutional document of all times – the foundation of the freedom of the individual against arbitrary authority'. The Magna Carta resonates with the British values of today that we use to seek increased prosperity and peace around the world – such as regard for the rule of law, participation in and acceptance of democracy, equality, free speech and respect for minorities. And they continue to guide us as we seek to make our multi-racial, multi-cultural and multi-religious society succeed. I have the Magna Carta here next to me – please come and have a look at this historic document which was signed by King John of England near Windsor, on 15 June 1215.
Les valeurs de la Magna Carta sont les mêmes valeurs qui guident une autre institution mondiale, le Commonwealth, dont les membres sont au nombre de 2,1 milliards de personnes, soit un tiers de la population mondiale. Cette année, nous avons vu un événement historique au Cameroun: la Conférence parlementaire du Commonwealth Association en Octobre dernier. J'étais honoré d'être invité à lire le message de Sa Majesté la Reine à la conférence qui a scellé la place du Cameroun dans le Commonwealth comme un membre actif et très apprécié.
I should like to take this opportunity to underline the United Kingdom's continued support for Cameroon, In providing CFA 7.5 bn last year to help with refugees and a further CFA 6bn this year. Continued support against Boko Haram both with money including CFA 4.4bn to the Multi National Joint Task Force (MNJTF) in March, and in support both within Cameroon, and in the international community.
Je salue le courage et le professionnalisme des jeunes soldats camerounais qui ont combattu et continue à combattre avec tant de détermination contre les terroristes. Nos pensées vont également aux personnes et aux familles qui ont été terriblement touchées par le conflit. Nous allons continuer à soutenir Le Président Biya dans sa mission d'éradiquer les terroristes.
The number of British companies investing in Cameroon has continued to rise. The future of the country rests on the strength of its economy and we continue to work with Cameroon in a partnership to prosperity. We are particularly grateful for the generosity of the British companies sponsoring us tonight including our platinum sponsor Guinness. You will find details of all the companies in the brochure that you will be offered on leaving this evening.
In conclusion – my sincere thanks to all of you here. Your invitation was not by chance. This is our opportunity in the British High Commission to say thank you, to you – for your support, your encouragement and your inspiration. We look forward to working with you in the coming year.
Published 11 June 2015