Speech
Solar Energy UK - roadmap launch
Minister of State Gregory Barker's speech to the Solar Energy UK conference, setting out the vision for growth of UK solar PV.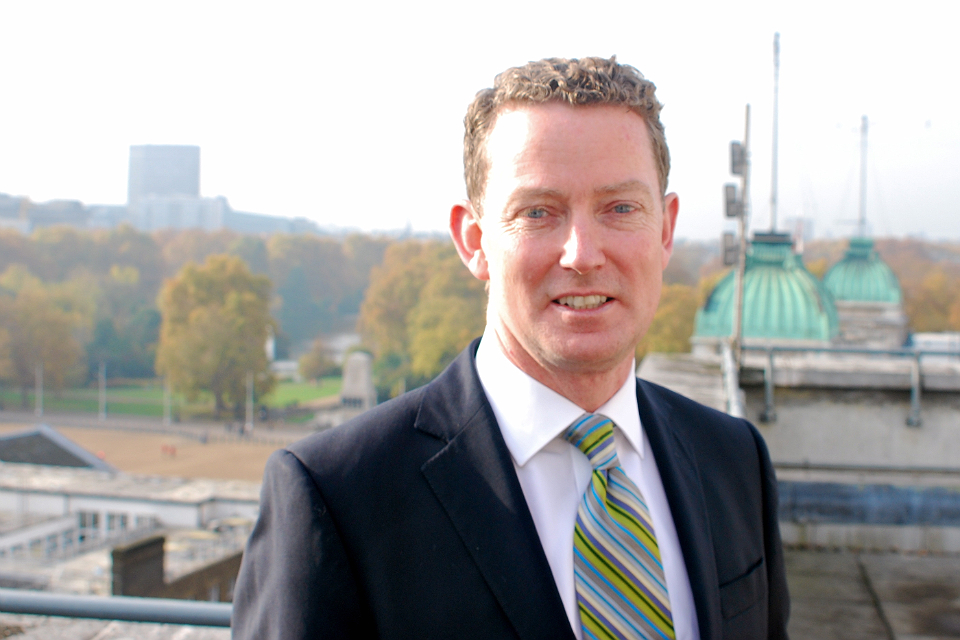 Introduction
Good morning. I am delighted to be speaking at Solar Energy UK - over 180 exhibitors and thousands of attendees.
I'm also looking forward to seeing some of the stands myself:
BPVA, to hear about Rated Solar Installer

National Solar Centre, to learn about its exciting plans for research and development
And I'm looking forward to visiting Crewe later today, to see Britain's largest rooftop array on top of the Bentley factory.
But today is an exciting day for UK solar for another reason. This morning, we launched the first-ever Roadmap to a UK Government Solar PV Strategy.
You have been telling me for years that Government needs to listen to the industry better…
And I have listened.
…And you have been telling me for years that we need a powerful, cross-Government plans to develop the full potential of the sector…
And I have acted.
Today, I am delivering for the sector, not just a vision, but a plan to achieve it.
A joined up, ambitious plan.
Structure
So today I want to talk about our new Solar PV Strategy Roadmap. I'd like to focus on three key points.
First, my ambition for 20GW of solar PV within a decade.
Many doubt we can do it. I believe it.
Working in partnership with the sector, this Roadmap will be key to delivering such an ambitious vision.
Second, I see four main challenges facing the sector. They are:
Cost-reduction

Carbon-effectiveness

Sustainability

Scaleability
Our Roadmap is based around these four challenges.
Third, we will only overcome these four challenges if we work in genuine partnership. If we all get out of our silos. Government and industry, hand-in-hand. And I'd like to invite you to work with me in a six-month long intensive partnership, as we fine tune our Solar PV Strategy itself before a big launch next spring.
20/20 ambition
So, firstly, my ambition for solar PV. I think you know my passion for this industry, but also my clear head in seeing the challenges as well as opportunities that the sector faces.
Solar energy is a genuinely exciting energy technology of the future. It is flexible, intuitive, and can be deployed in a wide range of applications and locations.
In fact it is a technological marvel, harvesting the energy of the sun. It can help us create jobs, drive growth and even boost exports – while also keeping the lights on, and meeting our commitments to protect the environment.
This Coalition is the first Government to recognise fully that here in the UK, well-sighted solar PV has a strong role to play in Britain's energy mix of the future.
Indeed, it is already having an increasingly noticeable role in meeting our current energy needs:
We've had almost 1.7GW capacity installed under our Feed in Tariff scheme. That's almost half a million installations across the country. Half a million!

Just last week, the first solar-powered house came onto the market. An incredibly iconic example of just how 'normal' solar power is becoming – and can become.

This summer, Ikea that great arbiter of consumer taste, trends and value has started selling domestic solar PV panels. And, I'm proud to say, this is the first country in the world where they're doing so.
However, as solar PV grows in scale and maturity, it is also starting to attract new critics.
A number of groups across the country have started campaigning against runaway solar PV developments on prime agricultural land, against solar farms deployed on our beautiful countryside.
It would be a grave mistake of monumental proportions for the industry not to heed these concerns.
The sector must not allow a few large scale, inappropriately sighted developments to ruin it for everyone else
I have a huge amount of sympathy with those views.
We have already strengthened the planning guidance to provide a stronger voice to communities affected by projects.
And made it clear to planners that landscape, rural beauty and local feelings really matter.
But I believe that by working with local communities and being sensitive to local concerns that solar energy has a strong future.
The DECC central forecast expects some 10GW to be deployed by 2020. And that's just under business as usual.
But let me be candid with you. That is not enough.
I think we can go faster and further. I am on record as having a personal ambition to see 20GW deployed by 2020. And I continue to believe that is possible. If – and it is a very big if…
…if industry drive down costs even quicker… …if companies innovate faster… …if the sector drives efficiency through the whole supply chain… …if solar PV developers work closer with local communities… …if the industry looks at export markets.
Next month I will lead a dedicated solar trade mission to Saudi Arabia. Come with me and grab those opportunities.
Challenges
Now, I recognise that a number of barriers stand in the way of meeting my big 20 GW ambition.
My aim, as Government Minister responsible for solar, is very clear. I want to help you, the industry, sweep away those barriers and surmount those hurdles.
The Government's Roadmap to a UK National Solar PV Strategy sets down what we see as the four key challenges facing the sector.
First, cost-reduction.
This is perhaps the most fundamental barrier. Solar PV is still more expensive, megawatt for megawatt, than many other energy technologies. It is more expensive than onshore wind, nuclear and certainly fossil fuels.
And this is notwithstanding reductions of almost three-quarters in raw PV costs over recent years.
This is amazing progress and certainly justifies the subsidy, which we should never take for granted, that comes from the bills of hard pressed consumers.
FiTs for small-scale installations

The Renewables Obligation for medium to large installations

In the future, Contracts for Difference
All of this aims to give industry the TLC it needs from Government. TLC: transparency, longevity and certainty.
But subsidy cannot and will not last forever. We have to think about the consumer. Solar PV must reach grid parity. That means dynamic innovation, supported by a constant drive to push down costs right through the sector.
We can't just rely on ever-cheaper Chinese panels to do the job. We now need to focus on installation, and the whole solar customer journey from beginning to end.
It can't be right that it still costs more to install solar PV here than it does in Germany. We have to crack that! Our roadmap and the strategy next spring is designed to help you do exactly that
Second, carbon-effectiveness.
Solar PV is obviously a renewable technology. But it is not totally carbon neutral. There are carbon costs to producing the cells; to transporting the panels; and to completing the installations.
We need to understand these far better, and minimise those emissions. Because solar is an integral part of our goal to meet our carbon targets.
We have set ourselves some challenging CO2 targets to support the decarbonisation of our economy. We have commitments under domestic and international legislation, which we firmly intend to meet:
Cutting out four-fifths of the carbon in our electricity sector by 2050

Reducing the EU's emissions by a fifth by 2020

Ensuring 15% of our energy is renewable by 2020
All this is essential for one big reason: to help put the world on a path to avoid dangerous man-made climate change.
Only last week the world's leading scientists published a report, years in the making, which said unequivocally that the Earth is warming, and that mankind is responsible.
That only underscores the nature of the challenge. And solar power can be a key part of our attempt to meet that challenge. So we need to do more to squeeze out CO2 from the solar supply chain.
Third, land use.
I've been talking rather a lot about this in the past few months. But that is because it is important.
How can we ensure solar PV is appropriately sited?

How can the voice of local communities be heard?

How can solar PV respect the local landscape, heritage and visual amenity?

How can projects enhance biodiversity?
I hope you are in no doubt about my position. Sustainable deployment is critical to the success of our industry.
That means, where possible, focusing on previously developed sites for large solar arrays and most importantly on-site generation. Our latest stats show that British roofs now produce almost 1.7GW, with more than 450,000 small-scale installations already in place.
We could meet my 20GW ambition if we used jut 16% of UK commercial and industrial roof space. I want the 5MW on the roof at Bentley to be the norm not the exception.
It does not mean 'no' to all greenfield or ground-mounted sites. Indeed, well-planned sites can become islands of biodiversity, providing protection for bumblebees and wild flowers. And discreet, well screened sites can sit alongside farming, particularly on low-grade agricultural land.
But, first and foremost, you – as solar developers – need to continue to bring communities on-side…
…That means meaningful consultation
…It means working with the new planning guidance we have recently issued
…And it means respecting helpful industry initiatives like the Solar Trade Association's '10 Commitments' for responsible solar PV.
I'll explain why. And it's very simple. Solar enjoys the highest public popularity ratings of any renewable industry. Over four-fifths of people support it.
I'm sure we all want to keep it that way – I certainly do. And the best way to do so is to work with the grain, rather than against the grain, of local feeling.
Because, make no mistake. If the industry does not develop in a sustainable way, then I will ensure that Government policy makes it happen.
I will not allow solar developers to grow rich on public subsidy from mega-arrays that scar our countryside.
In other words, do not allow a few irresponsible companies to ruin the reputation of what I know to be a popular and responsible industry.
If you alienate the public, you will not reach the industry's true potential.
But there is a final, fourth, challenge as we grow. And that is scalability.
We need to ensure that the National Grid and the DNOs have the capacity to handle large amounts of solar energy. We also want to explore what role energy storage can play.
We also need to ensure that solar PV is financially scaleable. As you will have seen in recent weeks, the cost of energy policy is a high – and rising – priority for the public.
We need to ensure that the cost to the public of support to solar PV is minimised. We will only hit my 20GW ambition if we can squeeze out subsidy and take on fossil fuels, like-for-like.
The new economy taking on the old. The future vs the past. I say, bring it on!
Partnership
So far I have spent most of my speech talking about the difficulties of solar. But let me finish with my third point: the opportunities.
Today I launched the Solar PV Strategy Roadmap. This is available on my Department's website – I'd encourage you to take a look. It goes into much further detail about the four challenges I have mentioned.
But I'd emphasise that the Roadmap is just that – a road map. It sets down the questions, and the pathway to get the answers – in the form of a UK Solar PV Strategy.
I will launch this Strategy next spring. It will explain how we intend to address these challenges, to secure real, lasting, ambitious growth in this sector.
And to help us get there, I'll end with a big ask; a big ask of you. For partnership.
We need your help coming up with the answers. Get involved, send us your thoughts. Engage with my terrific team of dedicated officials here at DECC. Speak to your industry associations, and offer to take part in some of the working groups we've jointly set up.
Only by doing this can we devise the sorts of policies that will help you grow the industry sustainably.
Work with us to link up with other initiatives we are determined to drive forward and share in their growth;
The Green Deal, which provides huge untapped potential to sell solar to households

The domestic Renewable Heat Incentive, which will launch next spring to drive demand for solar thermal

Our soon-to-be-launched Community Energy strategy, to help increase the number of community projects – including solar projects, like a fantastic rooftop project I saw recently in Brixton, south London.
I want solar to drive my vision of a new generation of entrepreneurial community energy companies to challenge the Big 6, a vision of disruptive small and medium sized companies, generating energy on site for themselves and their neighbours. The Big 60,000.
Conclusion
So in conclusion. I have two words for you: thank you.
You are the pioneers of a new, exciting industry in this country. You are driving forward a transformational energy technology in an era of global hyper-change.
This Roadmap, launched today, is the latest exciting chapter in our plans to forge a sustainable, reliable framework for the industry.
Our Strategy, launching next spring, will be the culmination of these efforts and give you even more confidence to invest in your business.
Together, I remain convinced that the solar industry can meet that big, ambitious aspiration of 20GW within a decade.
The UK is now emerging from an economic and financial crisis; fitter, stronger and more resilient; able to compete with growing confidence in the global race.
Our economy is now growing faster than any other in the developed world.
The UK solar sector is part of that growth.
Together, let's build it, let's drive it, let's do it.
-ENDS -
Press release: Solar energy central to renewables expansion
Published 8 October 2013