Speech
Showcasing the bus industry
Euro Bus Expo 2014 opening address covering topics of bus use, government support, smart ticketing plus green and accessible transport.
Opening remarks
Good morning everyone.
It's a pleasure to be here today (6 November 2014) for the Euro Bus Expo 2014.
A real showcase for the bus industry.
And a real highlight in the transport calendar.
It's particularly encouraging to see so much interest from exhibitors and visitors.
The growth of this event reflects the increasing importance of the bus industry.
And not just in this country, but right across Europe.
In a world of rising road congestion and vehicle emissions.
And ever increasing demand for high capacity urban passenger transport.
The importance of buses is only going to go up.
They may not hit the headlines as often as other forms of transport,
But in terms of their value to the travelling public.
And to the economies of every town, city and region across the UK.
No other transport comes close.
Two thirds of public transport journeys in this country are made on local buses.
While coaches carry as many people around the country as rail.
Together, they clock up around 6 billion passenger journeys a year.
Enhancing so many people's lives.
But there's potential for much more growth in this industry.
And that's why we're all here this week.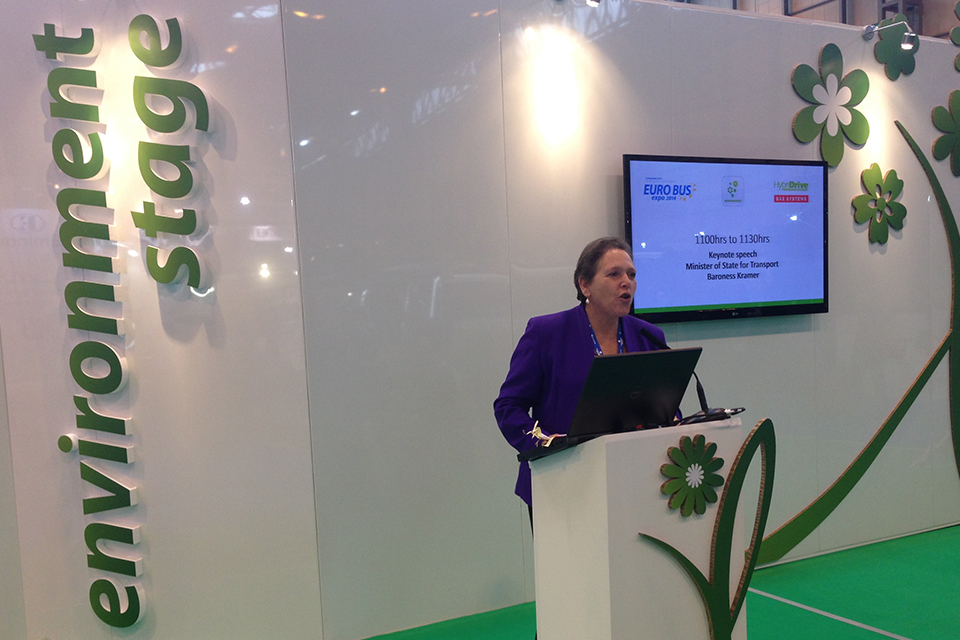 Government support
That's also why the government puts such an emphasis on supporting buses.
This year, we will fund nearly £1 billion of spending on concessionary travel.
More than £300 million has been allocated to fund major bus projects since 2010.
We have spent £70 million through the better bus areas scheme across 24 local authorities.
And many other bus improvement schemes have been supported through our £600 million local sustainable transport fund.
It's why we also put an emphasis on competition.
Bus operators have innovated because they are commercial businesses.
Competing against other forms of transport.
And against other operators.
It's the private sector – working in tandem with local authorities – that is driving bus growth in many cities.
And providing better, safer, cleaner services for passengers.
I believe there is a huge amount of common ground between private and public sectors on buses.
We all want to give customers the best service and see the market grow,
It is fitting that the Expo comes in the same week that the government announced a major devolution of powers.
To create an elected Mayor in Greater Manchester.
Which will help create a more integrated and co-ordinated transport strategy in the north.
We've seen the benefits of such a structure in London, where the Mayor has control of buses.
Bus trips in the capital are up a third over the last 10 years, but down by 7% in the northern cities.
If supported by the public, there will be a franchise of bus services with Greater Manchester controlling routes, frequency and price.
With a smartcard system similar to London's Oyster card.
And I'm sure that the innovation of commercial bus operators, working in tandem with an accountable, elected Mayor, will deliver better services for passengers.
Smart ticketing
On the issue of smartcards, I share the frustration of the Secretary of State on the degree of progress being made.
The level of investment has not yet translated into a comprehensive smart travel offer for the customer.
The collective frustration is one of the reasons why I chair the Smart Cities Partnership.
In order to corral the efforts of major cities and bus operators.
So I was delighted to see this week a positive response from bus operators to deliver smart ticketing in all major English cities by 2015.
I have already written to the operators asking them to expand on the commitment, and demonstrate their coordinated plans for implementation.
Smart ticketing will be transformational – both for the customer and the bus market.
Let's not lose sight of that.
So I shall be meeting up with operators and the cities again next month to reinforce that message.
Green buses
As you can see.
One of the big themes this week is sustainable travel.
And what's so important is that the industry sees green buses as a real growth opportunity.
Not just as means to clean up our environment.
At the end of last year the government made £500 million available for the development of the ULEV market between 2015 and 2020.
At least £30 million of this is to fund low emission buses.
And the new measures were announced in full by the Deputy Prime Minister in April.
In total, 4 rounds of the Green Bus Fund have provided nearly £89 million to support the purchase of 1240 new low carbon buses – 1204 of which are now in service.
The Coalition government has funded 3 of those rounds, with funding for 879 low carbon buses across England.
This has already made a significant contribution to a cleaner, greener environment.
Each year, every low carbon bus in London saves around 26 tonnes of CO2 compared with its diesel equivalent, with buses outside London estimated to save around 22 tonnes.
Investment in the bus fleet will continue.
Transport for London's proposed Ultra Low Emission Zone would require all double-decker buses operating in central London to be hybrid.
And all single-deck buses to be zero emission at the tailpipe by September 2020.
We also provide financial support to bus operators and local authorities through the BSOG low carbon bus incentive.
This incentive, along with other BSOG incentives, will be reviewed in 2014 as part of the bus subsidy reform workstream.
But the bus industry deserves credit for already adopting new technologies.
These include rechargeable buses in Milton Keyes that use inductive charging points, and the increase of gas buses, with 88 vehicles funded through the green bus fund.
Accessible buses
Technology is also a key factor in making buses more accessible.
Real progress is being made.
Latest statistics for September 2014 show that 84% of buses in England now meet the main industry accessibility requirements.
And that figure continues to grow.
I also want to get more audio and visual technology on buses.
But I understand that the industry has be realistic about the cost.
So in July, I announced a new competition encouraging the development of simpler and more affordable A/V systems.
This is challenging students around the country to come up with cost-effective ideas to provide passengers with accessible on-board information.
But there's one thing technology can't do.
And that's provide excellent, face to face customer service.
So I'm keen that all drivers are equipped to help blind, partially sighted and disabled passengers.
And disability awareness training is key to achieving this objective.
That's why we recently completed a review of regulations exempting bus and coach drivers from mandatory disability awareness training.
And I wrote to industry leaders and disability groups to establish whether drivers are receiving adequate training.
We will shortly be putting a summary of responses on the government's website.
Conclusion
All these issues – and many more – will be discussed here at the Euro Expo today.
I'm particularly pleased that the Confederation of Passenger Transport (CPT) is leading the bus and coach industry in commemorating the centenary of the First World War.
Thousands of people who'd worked in the industry sacrificed their lives.
And it is right that we remember them.
Transport played a key role in the war, and we should also remember the people who made that possible.
In particular, it was women who kept our buses and trains running between 1914 and 1918.
And that helped sow the seeds of social change in Britain after the conflict.
So my thanks to the CPT for doing such a great job this week.
And finally.
My thanks to all of you.
Because despite the challenges facing the industry.
Services are getting better and better.
According to a recent Passenger Focus survey, customer satisfaction has improved in most areas.
Including value for money, punctuality, journey time, and reducing anti-social behaviour.
Overall satisfaction is 88% an increase from 84% last year.
So the industry deserves real credit.
We're getting more green buses on the road.
We're making bus travel easier for disabled people.
And we're attracting increasing numbers of drivers to leave their cars at home and take the bus.
So you are doing a great job.
And I hope you all have a fantastic day at the show.
Thank you.
Published 6 November 2014