Secretary of State Thérèse Coffey's address at NFU conference
Secretary of State Thérèse Coffey has addressed the National Farmers Union conference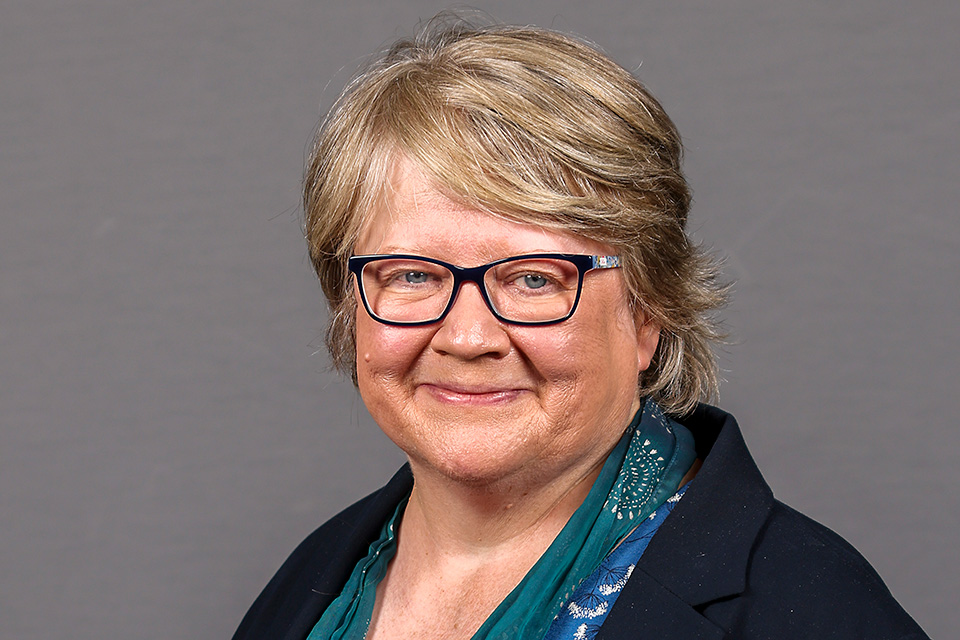 Thank you, Minette for that warm welcome.
Conference,
I am delighted to join you here in Birmingham today and to state my number one message to you –
Keeping the country fed is what farming is for.
Farmers' primary purpose is to produce the fine food we enjoy; we want you to keep doing that; we want you to get a good reward for that and we also need your help to protect and enhance the environment.
Yesterday, you heard from the Prime Minister, Rishi Sunak– reasserting his commitment to food security.
You also heard from Farming Minister, Mark Spencer.
And I think he is a great farming minister.
His counsel – as a farmer, drawing on family wisdom that goes back generations – is absolutely invaluable to me and to Defra as he really puts that lived, practical experience at the heart of what we do – bringing a level of pragmatism as we make progress in the agricultural transition.
Of course, Mark is not the first farming minister to have such a fine pedigree.
Indeed, there are many active farmers on our benches who are strong advocates for you, as well as the many MPs – like myself – who represent rural, farming constituencies.
As the MP for Suffolk Coastal, I always said that it felt like by doing that role, I have had a perfect apprenticeship for this job. I am blessed to represent such a special part of our country – famous for its pigs, potatoes, and parsnips,
expertly reared and grown alongside many of you,
With different soil types – go from one side of the A12 to the other, you move into very sandy soil, where supply of water is ever challenging, I see an industry locally that has had to innovate, stretching out the potato season, being very careful with water, collaborating on resources as well as being very conscious of the precious environment they enjoy – with the AONB and the multiple sites with international status.
They are not alone in juggling the challenges of farming day in, day out. I do believe our farmers are true custodians – of the natural environment, of food production, and our countryside
You are the original friends of the earth.
As Secretary of State, it is an honour to be a champion for our countryside – including all of you, our farmers.
Now, last time, I was in this conference hall giving a speech
– I had a certain message about the priorities of my department then.
You might remember it – ABCD.
Well, Conference, I am also the Secretary of State for the environment and I am into recycling and I have found a new purpose for ABCD in Defra –
A – agriculture
B – biosecurity
C – conservation
D – delivery and delivery by Defra
These priorities for Defra I hope indicate how we will work together in the years ahead.
Conference,
We are meeting at a time when we are all still feeling the economic aftershocks of Covid –
with global supply chains still recovering,
and exacerbated by the fallout from Russia's illegal invasion of Ukraine, one of the most important agricultural countries in the world,
having an impact on everything from the costs of inputs to the price of food –
impacts that are causing sleepless nights for families across the country, for many of you,
and indeed right around the world.
We can be proud of the way that we are standing shoulder to shoulder with Ukraine though this terrible ordeal,
including our support for the heroic farmers
getting the harvest in amid the turmoil of war
and sharing it with some of the world's poorest and most vulnerable people.
While we may have rejoiced at the video of Ukraine tractors towing away Russian tanks,
we extended financial support for the grain from Ukraine programme and,
critically,
with our scientific expertise on grain verification,
we are protecting their grain from being stolen by the Russians and frustrating the Russian efforts to profit from theft.
It is vitally important that we continue to stand with our allies
in defence of the freedom, democracy, and common decency
that we treasure so deeply,
And back in the UK, all this comes on top of the impact of historic flooding and drought in an ever changing climate.
As Mark Spencer set out yesterday, we understand the pressures you are under. We have sought to help even further with the cash flow challenges you face.
We had already put in place farming profit averaging tax relief.
Last year, we brought forward BPS payments to twice a year, for the first time ever, and which we will continue to do.
Recognising the particularly virulent strain of avian influenza, we introduced urgent measures to protect the sector and we kept the free-range brand going and we modified the compensation scheme.
We acted to help with rising input costs, including action on fuel duty, energy bills and business rates.
It is why we will strengthen our focus nationally on energy security, as well as the supplies of critical minerals, and fertiliser we need,
and why, we must continue to work together to forge a more secure, more sustainable future for farming so we can feed a changing world.
Conference,
we are on a journey in agriculture.
We finally left the European Union.
We still have a strong trade agreement with the EU, we are expanding our trade agreements around the world.
They are a two-way street and our new dedicated agricultural attachés in key markets are bolstering our efforts to increase exports in addition to what our diplomatic core already doing on trade.
Now leaving the CAP with its tick box approach
accompanied by a tape measure
and tut-tut tones
alongside the threat of fines, clawbacks and infraction measures,
that has really given us the opportunity to design a new way to support our farmers
and achieve public goods from public money.
Our shared mission, across society,
is to reach net zero
and strengthen the resilience of our environment so that in turn, re-strengthens the resilience of our businesses and our communities.
I find that farmers are the first to insist that these things can and must go hand in hand, if we are to improve the prosperity and food security of every generation to come as well.
But without these, we won't even have a future to even consider.
Now, the combination of environment and agriculture in one department under one Secretary of State is rare, if not unique, around the world.
That has allowed us to design policies and funding schemes
that are not combative
but intend to be complementary.
Making space for nature and continuing sustainable food production. They are not mutually exclusive.
In fact, I believe that the two can and must be symbiotic.
In practice a lot of this is not new.
It is rediscovering, to some extent the agricultural techniques of our parents and grandparents,
and marrying them with the latest scientific innovation.
Access to clean water,
healthier and productive soil,
abundant pollinators
these are all absolutely critical to producing good food.
And as the NFU have regularly pointed out, tackling climate change is key for the industry.
That is why we have worked with you
to design, develop, and deploy
new and much improved programmes –
and it is our intention to make it straightforward for farmers to participate
whether you're a tenant or a landowner,
an upland farmer or a commoner,
a new entrant or a veteran.
Moving away from a system
where over half the subsidy
went to just 10% of the farmers,
based on how much land you had…
towards choosing from our pick and mix menu which is deliberately flexible
so you can choose
what works best for your farm,
as part of your plan to improve the productivity, profitability, sustainability, and resilience of your business for the future.
And I recognise that you also need
access to labour,
steady energy and fertiliser prices,
a good deal with buyers,
and strong bio-secure borders.
I will continue to work on all of these issues and more alongside Mark.
We are on that journey now, from CAP to ELMS.
It was my predecessor Michael Gove who laid the foundations and mapped out the journey with the Health and Harmony White Paper back in 2018 which is reinforced by our 2019 manifesto.
George Eustice piloted the Agriculture Act through parliament and set about designing the smooth transition.
As we make these changes,
the total level of funding available to farmers remains unchanged,
two-point-four billion pounds,
just as we committed in our manifesto.
We also set out in our national food strategy how we want to help farmers and consumers.
We made a commitment to parliament on the state of our nation's food security at least once every three years.
Currently, we have self-sufficiency just under two-thirds, providing us with amazing food, from farm to fork,
and we want to maintain at least that, if not consider higher –
something we will be discussing at the forthcoming Food Security Summit, later this year,
just as the Prime Minister assured you, Minette.
But we know that the security of your businesses is not just about funding you can get from the government – far from it.
While A is for agriculture,
B is for Biosecurity.
That is biosecurity at our borders of the country
And at the borders of individual farms.
Of course, our borders can and must be an effective first line of defence in securing a safe, healthy environment,
and safe healthy food
– helping us tackle problems before they can spread,
and giving the market confidence in the outstanding quality of the goods that we produce in the country and trade with our partners around the world.
That is a key element of our new Plant Biosecurity Strategy – our plan for the next five years of action.
And we will be saying more soon about how we will be enhancing biosecurity controls at our borders even further,
so we make things more straightforward and less burdensome
embracing innovation and digitisation,
and targeting those who let the side down,
while trusting those who consistently do the right thing
– so we incentivise compliance,
support the flow of trade,
and promote the high standards that are synonymous with the best of British around the world.
But from the very dark days of foot and mouth, to the fight against African swine fever, to the ongoing fight against salmonella, and to eradicate bovine TB by 2038 –
we know from experience, just what is at stake, and that action on farms is critical.
In some areas and some markets, we are only just recovering from events that we endured decades ago.
And frankly, I have to say this keeps me up at night
– just as it does many of you.
So, I know that we all want to do whatever we can to make sure that no farmer, no business, no community has to go through anything similar every again,
and it is right that as well as investing, in our first phase two hundred million pounds in our Science Capability in Animal Health programme at Weybridge,
we are making sure you have the support you need to improve animal welfare as a vitally important part of our plans,
through our Animal Health and Welfare pathway –
so we stop diseases from spreading like wildfire, as we know they can.
We also need to grasp innovation opportunities.
Farmers have always been at the heart of animal health and welfare. We know it is absolutely vital to strengthen biosecurity and prevent diseases
Indeed, data on this unprecedented outbreak of avian influenza
– both in scale and spread, in wild birds and poultry farms –
underlines the need for us to rise to the increased threats of diseases.
For each infection in recent months a weakness in on-farm biosecurity has often been found as the most likely source of infection –
so we need to address that as a matter of urgency.
In all cases, we will continue to push to make sure that we are tackling the issues at source – and throughout the supply chain where if that is what is needed as well.
And of course, taking action to secure good animal health and welfare is at the heart of our plan to make even greater progress on reducing our reliance on antibiotics as well,
so we take on the threat of antimicrobial resistance that is already costing more than a million lives around the world, every single year.
We know that it works, and we have more than halved our usage –
so we are working with you to do even more.
And where technology can help us harness the awesome power of nature,
like the plant science and precision-breeding, improving the resilience of crops.
We need to do even more to combine the power of our world leading scientific expertise with the energy of entrepreneurial enterprise. We need to get cutting edge, game changing technology and innovation out of labs and into the fields.
Breakthroughs like the new strains of wheat being developed at the John Innes Centre in Norwich,
that are more resistant to climate change, and more resilient to pests,
They have a huge potential to help us feed the world – and do it without the need for quite so many pesticides, particularly those harmful to pollinators.
But we need to scale up – and this is so important that our Prime Minister has just created a brand-new department to give it leadership and focus.
So, I expect our prominent research institutes to start to take advantage of the new freedoms that we are bringing to life,
including through the Precision Breeding Bill that the NFU have supported from the get-go,
and it should receive Royal Assent soon.
I turn to C…
And I have talked about conservation, I have spent quite a lot of time on nature,
C can also be for the countryside.
I want us to respect and support our cherished rural ways of life –
whether that is making sure that everyone can enjoy the beauty of our landscapes and coastlines and do so responsibly,
or making sure that a young person in rural Cumbria or Cornwall feels that they will have the opportunities they need to flourish,
by levelling up the things that help people live long and fulfilling lives,
wherever they live.
And that is exactly what we are doing – as set out in our rural proofing report last year,
We are also making sure we secure the future of village halls that are the hub of communities across the country,
to investing in your connectivity,
as well as tripling the value of vouchers now available under the Gigabit Broadband Voucher Scheme,
Making sure that people working in the most rural parts of the Lake District can be as connected as people here in the heart of Birmingham,
We continue to have more new trials to beam broadband into the hardest to reach rural areas directly from satellites in space,
to funding the Institute for Agriculture and Horticulture to help create the conditions we need to retain generations of experience, develop promising talent, and attract new recruits into the sector.
We want to support the productivity of our rural businesses and my department will ensure that rural is a core component of the government's levelling up mission.
Now rarely need there be a conflict between conservation and the countryside but I saw it first hand in Suffolk very early as an MP, in fact as a candidate, that when there was a proposal to reintroduce the Sea eagle,
Farmers were really worried about what this would do to their livestock, particularly given the extent of free range farming in that part of the country.
Now while we have had some successful translocations and reintroduction of species, I don't want farmers to constantly have to worry about these issues.
We have got plenty to do with the habitats that need improving and expanding. Yes we do want more breeding sites for our birds. Yes we do want to make sure that raptors are not persecuted and that people who take them down are prosecuted.
And I also welcome the focus from many police forces on hare coursing. But that is why I won't be supporting reintroduction of species like lynx or wolves.
We just don't need too and we won't do.
Finally D is for delivery, delivery from Defra and from this government.
Now I am very conscious there was a concern that D could have been D for delay. I can assure you that I am determined as Secretary of State that we will be the department that delivers.
In the first 100 days in the job, we have got on with delivering. I was acutely conscious that there has been some uncertainty
as the BPS element starts to fall,
as guaranteed income starts to be replaced with being paid for providing services.
That is why, on arriving in the department,
not long after our new farming minister,
I wanted to make sure that more options were available to farmers this year.
Instead of 3 new SFI standards, we have 6.
We have also made sure we had an option to help upland farmers and it was critical that included integrated pest management.
By using nature-based approaches to managing pests, rather than over-reliance on pesticides,
you can reduce your costs,
make your farm businesses more resilient,
and contribute to better water quality and thriving wildlife,
all while reducing your carbon emissions.
Frankly, what's not to like.
We have set ourselves a target of 70% of agricultural land
and 70% of farm holdings
to be covered by our new farming schemes by 2028.
It's our job to make the schemes as attractive as possible so that you want to join – and I hope you will all take a look.
Going further, we know that when farmers really work together on these ways of helping nature, the combined impact they achieve can be much greater than the sum of its parts.
To get the most out of Countryside Stewardship, which we are the reinventing the wheel on, we are keeping that going.
I have asked officials to design a premium to encourage farmers to genuinely join up and be rewarded with CS Plus.
And get those corridors of hedgerows or similar to be the superhighway for nature in our countryside.
I also introduced a new management payment of up to £1000 to cover your costs in delivering the SFI.
We've increased payment rates under Countryside Stewardship, and while Mark Spencer is currently looking closely at all of the recommendations from the Rock Review – over 70 of them – we wanted to make sure that the new farming schemes deliver for tenants.
We have already acted by making it easier for tenant to participate for example by making available three year SFI agreements.
I think this builds on the extensive work already delivered by the Government, with grants for productivity, innovation, technology and equipment –
having provided 10,000 farmers with support and advice through the resilience fund,
ensuring all farmers can access the successful Catchment Sensitive Farming programme,
providing seed funding to the newly created industry body for agriculture to boost skills;
and piloting new ways to support entrants to the sector.
We announced 45,000 visas, removed the 25% tariff on maize imports from the USA to help with feed costs, and we are pushing ahead with our supply chain reviews into pigs and dairy – which we will conclude soon.
But I just wanted to make that Defra will be delivering for you, just as you deliver the great British food that we enjoy day in and day out.
Lastly, I want to recognise that much of what lies ahead will not be easy – we know that.
But is essential.
And we know that if we work together, we can get this done, and get it right,
so we do right by each other and right by future generations to come.
so we hold on to what makes our countryside so special,
while we secure sustainable, resilient, profitable farm businesses we need to keep our country fed for generations to come.
That is what is at stake – and I will do all I can to help you see it through.
So, thank you once again for all your hard work and perseverance.
And Minette I look forward to answering questions from your members.
Published 22 February 2023