Speech
Secretary of State speaks to Youth Action NI
The Rt Hon Theresa Villiers MP speaks to young people at the launch of Youth Action's 'Youth Peace Manifesto' about the Economy and how we can move on from the recent Haass process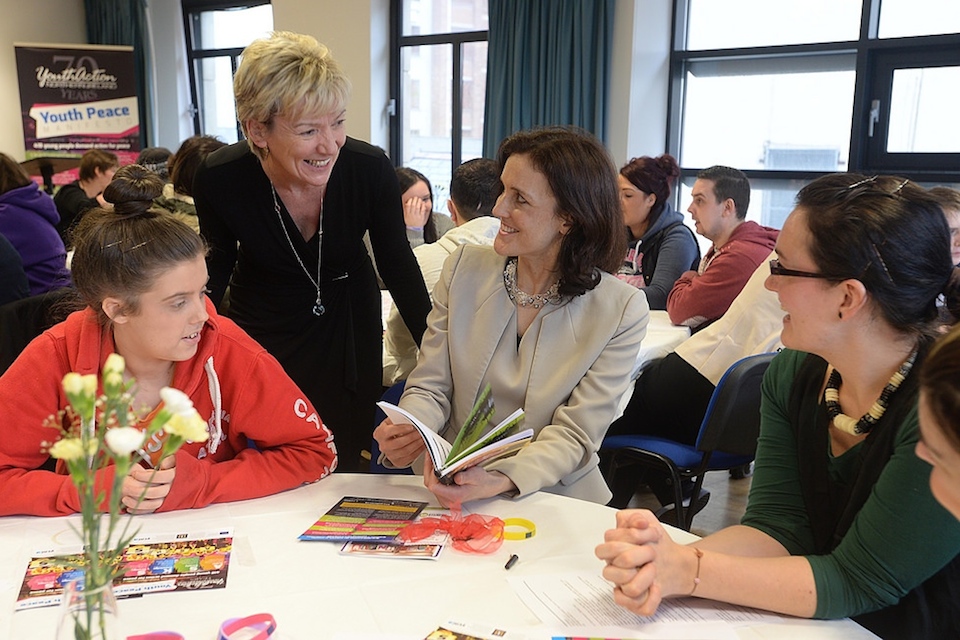 It's a great pleasure to join you at Youth Action this morning.
I'm very grateful to June Trimble and her team for hosting the event … and I'm delighted to be here for the launch of your Youth Peace Manifesto.
It's been great to hear about the outstanding work Youth Action carries out across Northern Ireland … investing in communities and strengthening skills and opportunities for young people.
I know that one of your goals is better communication between young people and government … and I hope that my visit makes a small contribution to achieving that.
Today I'd like to talk about some of the key challenges facing Northern Ireland in 2014 that affect everyone living here … not least young people who have such a stake in building a better, more prosperous and more cohesive Northern Ireland.
So I want to refer to the continuing discussions between the Northern Ireland parties on flags, parading and the past following on from the work overseen by Dr Richard Haass.
And I would emphasise the high importance the Government attaches to making progress on each of these issues.
But I'd also like to talk about the need to move forward in other areas like the economy and welfare reform.
They've received less attention in recent weeks but they're just as significant if we're to build a better Northern Ireland.
Let me start with the Haass working group.
From the outset the UK Government strongly supported the initiative by the First and deputy First Ministers to establish the five party working group … and to invite Dr Haass to chair it.
Indeed the Haass initiative formed part of the community relations strategy that I and the Prime Minister had long pressed the Executive to publish.
Throughout the negotiations I've remained keenly engaged with the process.
I and my officials had regular discussions with Dr Haass and his team as well as with each of the political parties, while also keeping in close touch with the Irish Government.
The Prime Minister too was involved in encouraging the parties to find an agreed way forward.
I fully appreciate how incredibly difficult and divisive the three issues under consideration are.
I also recognise that the timetable set for resolving them was a very demanding one.
But while it was disappointing that the process didn't produce a five-party agreement, it's clear that real progress was made and significant common ground established.
So it's right that the parties continue to take the process forward to try to resolve outstanding differences.
And the Government will continue to provide encouragement and facilitate progress where we can.
We've made clear that we want the process to succeed.
We've also been clear that we're prepared to be part of compromise … even on issues which aren't easy for us such as the creation of new institutions on the past.
And as I stated recently in Parliament, we can work with structures of the kind proposed in Haass draft 7.
But as guarantor of the devolution settlement … what we won't do is seek to impose solutions that do not have the support of Northern Ireland's political leadership.
For any set of proposals to work effectively and withstand inevitable pressure in the future … they need be agreed by those who will ultimately have to implement and operate them.
And that is the Northern Ireland parties in the Executive and Assembly … not the UK or Irish Governments.
The prize of an agreement on flags, parading and the past should not be under-valued.
As we've seen over the past year, tensions around parading and flags can cause serious public disorder.
That in turn makes it more difficult to promote Northern Ireland as a place for attracting investment and jobs … particularly in more deprived communities.
So progress on these issues would boost our efforts to strengthen Northern Ireland economically as well as helping to build a more cohesive and shared society.
And it would once again demonstrate to the world that Northern Ireland's politicians have the will, resolve and resourcefulness to tackle issues that might once have been regarded as intractable.
So there is much to be gained by sticking with this process and persisting with effort to try and find a way through.
And that's what I am urging the parties to continue to do.
Of course the Haass work has dominated much of the political debate in Northern Ireland over recent months.
But it would be a mistake to fall into the trap of focusing on these issues to the virtual exclusion of anything else.
After all the working group on these issues was itself part of a broader strategy to tackle sectarianism and build a stronger society set out in the document 'Together Building a United Community' … published by the First and deputy First Ministers last May.
Whatever the outcome on flags, parading and the past … it's essential that the Executive press ahead with the other commitments in that strategy … to give far more people in Northern Ireland the chance to live, work and study alongside those from different backgrounds and different traditions.
For example, that document set a timetable to bring down interface barriers and the work needed to bring about that long term goal is crucial.
These are matters on which the Prime Minister, my predecessor and I had been encouraging progress for some time and our work on the economic pact was designed to support and complement these goals.
As the Prime Minister has put it, we want to see a Northern Ireland defined by its shared future, not by its divided past.
So it was encouraging last week to see the First and deputy First Ministers taking further steps towards implementing their United Youth Programme that will see 10,000 cross community work placements for young people not in education, employment or training.
It's also crucial that together the UK Government and the Executive continue to implement the measures we agreed in our economic pact last June.
We've already made some real progress.
Start-up loans have been extended to Northern Ireland to help young entrepreneurs here.
We've given the Executive extra borrowing powers to enable it to take forward projects aimed at bringing the community together … such as the shared education campus at Lisanelly.
In October the Prime Minister attended the international investment conference where he made a powerful sales pitch for Northern Ireland.
Last week the Treasury and the Executive jointly hosted a conference to promote infrastructure as a key element of economic growth.
We've established a joint ministerial task force on banking and access to finance which I chair and includes representatives from the Executive and the Treasury.
And we're continuing the necessary technical work on the potential devolution of corporation tax.
Our aim is to ensure that if the decision in this year's Autumn Statement is 'yes' to devolution we can introduce legislation with a view to putting it on the statute book by the time of next year's general election.
Yet there's more to do … for example on establishing enterprise zones and cutting red tape.
The Government will continue to work with the Executive to press ahead on these and other commitments in the pact.
All of this comes against a backdrop of a steadily improving economic situation in Northern Ireland where there are clear signs that recovery is beginning to take hold.
The number of people claiming unemployment benefit has fallen for eleven consecutive months.
Output is up across all sectors.
And house prices are rising again.
So I'm confident that the Government's long term economic plan is working to put us back on a path to sustainable economic growth in Northern Ireland.
But I also realise that for many people in Northern Ireland, times remain incredibly tough.
The number of people in poverty is too high … while the percentage of workless households continues to be higher in Northern Ireland than in other parts of the United Kingdom.
I strongly believe that the single most effective way out of poverty is through work.
So our reforms to build a stronger economy need to include a welfare system that rewards work.
That's why it's so important that the Executive implements the welfare reforms that are being introduced in Great Britain … tailored, where appropriate, to adapt to local circumstances.
For too long debate here has been characterised as one of taking money away from the people … when in fact the central thrust of our reforms is to build a welfare system that helps the poorest in society while being fair to the taxpayer that funds it.
The reality is that under the broken system we inherited from Labour, far too many people were simply parked on benefits such as DLA and then written off and forgotten.
Others find that they would actually be worse off if they took a job than they are remaining on benefits … with effective marginal tax rates of up to 98 per cent.
I see nothing fair, moral or progressive about that … but that is part of the system we inherited.
At the heart of our reforms is the principle that anybody who is in work will be better off than they are on benefits.
In fact Social Development Minister Nelson McCausland has estimated that as many as 102,000 people will be better off as a result of introducing universal credit.
At the same time we'll ensure through the benefit cap that nobody can bring home more in benefits than a typical family earns by going out to work. That cap is set at £26,000.
To take that home in wages, a working family would have to earn an income before tax of £35,000, well in excess of the £20,000 average private sector pay here in Northern Ireland.
Nor is it right for a single household to be able to claim £100,000 per year in housing benefit … yet that was another feature of the system in place under the previous government.
This is not about massive reductions in welfare spending in Northern Ireland as some allege.
In fact the amount spent on welfare will continue to rise.
But it cannot continue to go up at the rate it has over the past number of years … so that it's now costing every working family in the United Kingdom around £3,000.
The Department of Work and Pensions has already agreed a number of flexibilities to reflect Northern Ireland's particular circumstances … and I believe Minister McCausland has secured a good deal.
There is a now a clear choice for the Northern Ireland's political leadership….
… to maintain the parity that has served Northern Ireland well for decades … or to go it alone.
Devolution leaves the decision in the hands of the Assembly but only last week the Finance Minister estimated the cost of keeping the old system is likely to climb to £200 million … money that might otherwise be funding schools, hospitals and transport improvements.
I very much hope that choice made here will be to press forward with these reforms and for the Welfare Reform Bill now to make progress through the Assembly.
In conclusion, making progress on flags, parading and the past would help us defuse some of the problems that fuel community tension and division.
Moving forward on the shared future agenda will help us to build a stronger more united society.
Fixing the economy will help us boost the private sector and provide the jobs and and financial security for the future.
And reforming welfare will tackle dependency, ensure that work pays and provide a better long term deal for the taxpayers of the future such as you.
So the Haass process forms just one element of a packed agenda for the UK Government and the Northern Ireland Executive.
And, working together, I'm confident that we can make progress in each of the crucial areas I've talked today … so that we can make Northern Ireland a better place and help build a more secure and united future for everyone who lives here.
Published 29 January 2014