Responding to Nuttall – next steps to a John Lewis economy
The Deputy Prime Minister delivered a speech at a summit on employee ownership in London on 4 July 2012.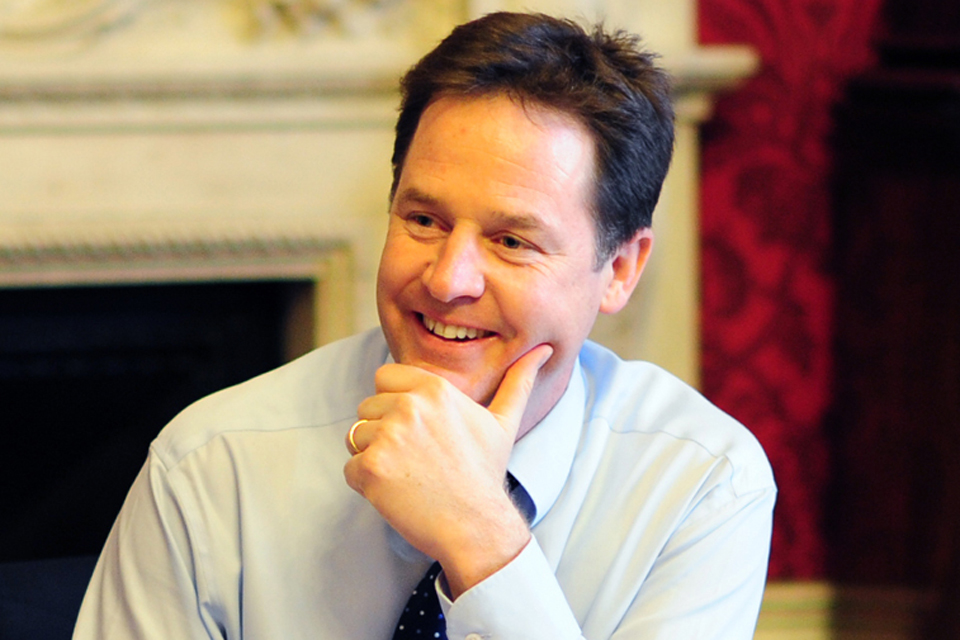 Graeme Nuttall also presented his final report and recommendations to government.
Check against delivery
I am delighted to be here to address this summit and I'd like to thank you all for coming. Today marks an important stepping stone towards our shared goal of a bigger employee-owned sector in the UK.
I first set out my ambitions to promote employee ownership six months ago, back when the clamour for a more responsible capitalism was at its loudest. I was going to begin today by saying that while the protestors may have left the steps of St Pauls, while responsible capitalism may have temporarily dropped down the political agenda, it would only be a matter of time until another corporate scandal brought it back to the top. Then, lo and behold, the Libor scandal in the banking sector made my point for me. A timely reminder that our economy desperately needs an injection of responsibility; greater checks on unaccountable power; power in more hands.
It's not enough to talk about a new kind of capitalism: more balanced, more sustainable, fairer. We need to roll up our sleeves and build it - and that is what today is about.
Yes, there will always be the immediate crises to deal with. As we meet here, the turmoil continues in the European financial system. Governments around the world are fighting to keep their economies safe and their banks alive. The UK coalition government is taking the difficult steps necessary to cut the deficit we inherited, and to keep our economy out of the danger zone.
But we must also ensure that we emerge from this treacherous period with an economy that is not only bigger, but better. We need economic repair - but we need economic reform too. And that's where greater employee ownership comes in.
Thirty-five years ago, one of my predecessors as party leader, Jo Grimond, visited the famous Mondragon workers co-operative in Spain. He came back inspired and became the first chairman of Job Ownership Limited, promoting employee ownership. Grimond was drawing on a rich liberal tradition. For liberals, employee ownership has long proved that the choice we face is not simply between dog-eat-dog, laissez-faire capitalism - or union-dominated, uncompetitive socialism. John Stuart Mill believed that employee owned firms, co-operatives and mutuals could help to end what he described as the 'standing feud between labour and capital' creating fiercely competitive firms, fighting for profits and customers in a competitive market but where employees have as big a stake in them as possible.
So employee ownership is an old idea but it can help us build a new economy. Shared ownership means shared responsibility. That's why, as Graeme's report shows, employee owned firms have lower levels of absenteeism. Shared ownership means shared endeavour. That's why employee owned firms have higher productivity and growth rates. Shared ownership means shared rewards. That's why we see employee owned firms with smaller gaps between the pay at the top and ordinary workers. Shared ownership means, as in the title of Graeme's report, shared success.
And, in these difficult economic times, I am struck by the evidence that the success of employee owned firms is typically more sustainable success too. Employee ownership is not a panacea - of course not. But these firms have shown that they are better placed to weather economic storms. They demonstrate the resilience needed to ride out recessions because they are built on shared foundations, they are built to last.
New research published today by Co-operatives UK shows that during 2011, employee-owned firms grew 50 per cent faster than the economy at large. Given the challenge facing our economy, this growth premium is hugely attractive.
We also know that employee ownership can be a lifesaver when a company's owners are looking to move on. So that, instead of handing down the business to their children even when that isn't really what they want, nor is it really what their children want, they keep part of it in the wider family with the loyal staff who know the business back to front. So that, instead of selling up to big investors who'll strip the company down and sell it off, bit by bit their staff step in: the people willing to go the extra mile, the people who can take the company from strength to strength. Many owners would be delighted to sell the firm to the employees who have helped them build it up rather than to whichever stranger has the biggest cheque book. More staff buyouts to save great British firms - fewer takeovers and more stakeovers, if you like. We need to make this a natural choice, rather than an unusual exception to the rule.
The Government will respond to Graeme's review, formally, in full, in the autumn.
In parallel with the work being undertaken in the Business Department the Treasury is conducting an internal review: examining the role of employee ownership in supporting growth and options to remove barriers, including tax barriers, to its wider take-up, which will be completed ahead of this year's Autumn Statement. But there are three specific recommendations from Graeme's report that I want to respond to today.
First, I very much welcome Graeme's call for a sector-led institute - a new voice for employee ownership. The institute will be independent and expert providing information and advice to managers and employees; lawyers and accountants; business schools and researchers; ministers too. A professional body, offering accreditation to its members. A body whose very existence will give this business model more of a presence - a bit more swagger - in our corporate world. 
 
I'm delighted that the institute will bring together the Employee Ownership Association, Baxi Partnership, Prospects, Mutuo and Co-operatives UK. That is an extremely impressive line-up and I'm looking forward to working with them all. These founder members of the institute share a commitment not only to employee ownership but to fairness, openness and responsibility in all that they do.
 
To understand what the institute will deliver, we only have to look at the impact of existing professional bodies. For example, our hosts this morning: the Institute of Chartered Accountants in England and Wales whose expert advice is valued by government and whose qualifications are sought-after around the world.
If I have one ask of the new institute, at this stage, it's this: be ambitious. Get the message out there about what employee ownership means and the benefits it brings. Provide the support and expertise to take those who are interested in the idea right through to buying their company. Be clear about the values for which you stand - they have seldom been needed more than now. 
Second, Graeme has urged us to look at ways to encourage employees and bosses to consider the employee ownership model especially when a firm is being sold. Graeme has set out various options, up to a 'right to request' a stake in the business for employees and he knows Norman and I are keen to do something in this space. We need to find the right levers to drive a kind of culture shift where going down the employee ownership route isn't a "eureka moment" but is much more normal; commonplace.
Not everyone wants to set up their own company but we all know we could, we all know someone else who has. That's my aim for employee ownership too - another way to be your own boss.
In the public sector, through the work of Francis Maude and the Mutuals taskforce, chaired by Professor Julian Le Grand, the Right to Provide has created the opportunity for hundreds of spin-outs, accounting for tens of thousands of employees, providing over a billion pounds worth of contracts. That success shouldn't be limited to the public sector.
And I know that this is an area where Julian and Graeme have drawn from each other's work. If, in the private sector, we move towards some mechanism by which employees can trigger a request for employee ownership, as today's report says, a number of questions still need answering. What's the correct minimum number of employees needed to make a request? What are fair grounds for turning one down? Should they be allowed at any time, or just at a specific point in the business lifecycle, like succession? And, crucially, is the best way to achieve this a new statutory right, or some other mechanism?
So, in order to get the answers to these and other questions, we're launching a Call for Evidence this week. We'll gather the views of the sector as well as business and employees more broadly. And we'll report back in the Autumn. 
Third, Graeme puts forward proposals for off-the-shelf toolkits for this business model: DIY packs to build the John Lewis Economy - employee ownership in a box. This is an extremely important proposal which I can confirm today the Government will be taking forward.
The diversity within this sector is part of its strength, of course. But the complexity can be off-putting too. It can reinforce people's perception that this isn't something for them: it's too difficult, too time-consuming, too expensive compared to more traditional routes. Drafting up articles of association, establishing employee trusts, these are unfamiliar steps. Compare that to the model templates available for conventional companies. All the relevant information is available online, just fill the form in and send it back.
So, if we want to make employee ownership a larger slice of our economy we have to make it simpler. In other sectors, we have seen the impact that can have. A recent example is the creation of Community Interest Companies: a straightforward business model was born and the social enterprise sector took off.
Drawing on the outline provided by Graeme in his report, the Government will produce a DIY kit for employee owned firms by the end of September - draft articles of association that will be freely available to all.
To sum up: A new Institute to fly the flag. Empowering staff to get employee ownership into the mainstream. Off the shelf templates to make it easy. Three extremely important next steps to help get employee ownership into the bloodstream of the British economy.
We won't stop there and it won't happen overnight, but - at last - we are on our way. Driven by the vision of an economy in which more power rests in the hands of ordinary workers. A more diverse economy, with more stable foundations. An economy in which more firms are wired to share responsibility, and, indeed, to share success. That's good news for your businesses and organisations. It's good news for liberals too.
Published 4 July 2012