Republic of Korea: "an increasingly important international partner for the UK"
Foreign Secretary William Hague spoke at an event at the Foreign Office in London to mark the start of the EU-Korea free trade agreement which came into force on 1 July.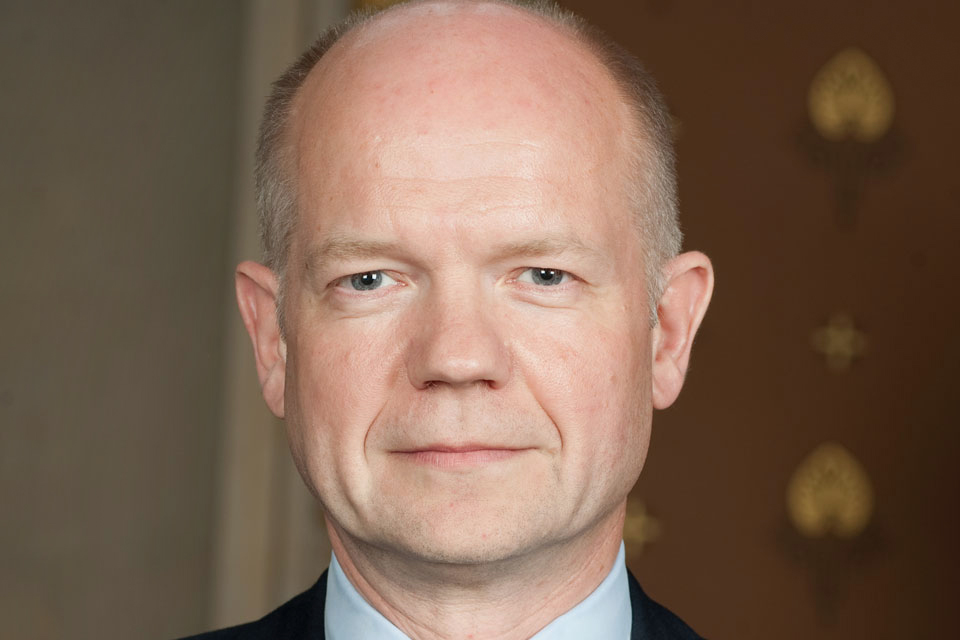 Good evening and thank you for your warm welcome.
The Republic of Korea matters to the UK. We have a lot in common. Our two nations share a friendship that is over a century old; more than a thousand British troops gave their lives to defend Korea in her darkest days; and since then, the UK has supported the development of the advanced democracy that Korea has become today.
In 1987 Korea held its first democratic elections. Since then Korea's achievements have been truly remarkable and are in stark contrast to her northern neighbour, providing a clear reminder of the benefits to citizens of democratic, open and free societies. In 1960, Korea's per capita income was in line with Sub-Saharan Africa at US$100; in 2011 it is expected to rise to around $23,000, which puts Korea amongst the world's top 30 countries for per capita income. This prosperity also benefits the rest of the world as Korea will be the 10th largest driver of global growth over the next five years.
Korea's success has been achieved in part by the development of a high-tech and innovative economy; Korea applied for more patents in the last two years than the UK and Germany put together and the Pohang University of Science and Technology was only founded in 1986 and is now in the top 30 of the Times Higher Education global league table, elbowing past many far older institutions.
With this prosperity has come an increasing confidence on the world stage. From hosting the G20 in Seoul last year, contributing to UN peacekeeping efforts and providing a positive voice on climate issues, Korea is playing an important and constructive global role.
We are all familiar with Korea's cultural achievements, most significantly perhaps the decision earlier this month that Korea should host the 2018 Winter Olympics, meaning she will now have hosted all four of the world's major sporting events.
Our cooperation is strengthened by our many shared interests, shared values and increasingly shared activities on key international issues ranging from climate change, to regional security and development assistance.
However we can do more to strengthen this partnership. I see this happening in three ways.
First, we can enhance the dialogue between our two countries. We have begun this process already, with visits to Seoul by Ministers from across government, including the Secretary of State for Business, and also Ministers from the Foreign and Commonwealth Office and the Ministry of Defence.
Second, we will seek a greater exchange between our countries. This goes beyond the dialogue between our Ministers and officials, and I encourage this audience to enhance our wider parliamentary, education and cultural exchanges. For example we stand ready to share our own experience of preparing for the London 2012 Olympics as Korea prepares for 2018.
Third, we have allocated more resources to our Embassy in Seoul to help bring about this change in our relationship. In this wider context, I am delighted that on 1 July the EU-Korea Free Trade Agreement came into force. It is the most ambitious trade agreement ever negotiated by the EU and is set to double bilateral EU-Korea trade from its current level of around €76 billion. The UK was the champion of this agreement and we are and will remain the leading advocate of free trade in the EU.
This agreement will enhance our countries' trade links. UK-Korea bilateral trade is worth around £10 billion a year, and in 2010, Korean companies invested more in the UK than in any country apart from China and the United States. These have tended to be high value operations, such as the European head quarters and research and development facilities for Samsung and LG Electronics. The FTA will help raise these figures further. I commend to you the two UKTI reports that outline the specific opportunities from the FTA for UK and Korean companies.
As an example of these opportunities, I am pleased to announce today that Martin-Baker Aircraft Company has been awarded a contract, worth £25 million, to supply the Republic of Korea Air Force with the very latest ejector seats for their F5 fighter jets.
Martin Baker's previous success of supplying ejector seats for other Korean Air Force trainer jets brings the total value of orders received from Korea to over £100 million. This is built on a strong reputation for its products, with 11 Queen's Awards, and more importantly, a track record of saving the lives of more than 7,300 pilots and crew across the world.
This contract not only supports the safety of Korean front-line pilots, but also helps secure high technology jobs in the UK. The Foreign and Commonwealth Office will continue to work hard with government partners to support the UK's commercial objectives overseas and to encourage investment here.
However, we should not rest on these achievements. We are working to build on the success of the EU-Korea Free Trade Agreement, by pushing for FTAs with other major and emerging economies, including India, Mercosur, most of ASEAN, Canada and Japan and to conclude the Doha Development Agenda in 2011. Although these negotiations can be tough, we firmly believe that the prize is worth it. This government will continue to champion free trade internationally and in the EU to secure deals that benefit the British economy.
I believe that this FTA presents a number of opportunities; to reaffirm that Korea is an increasingly important international partner for the UK; and to demonstrate to the rest of the world the benefits of liberalising trade. And finally, and most importantly for you, the opportunity for UK and Korean organisations to develop mutually beneficial partnerships.
The responsibility now lies with us to seize these opportunities with both hands.
Thank you and I hope you enjoy the rest of the evening.
Search the news archive
Published 19 July 2011