Queen's Speech - Northern Ireland
Notes on: "My Government will support the political institutions and stable devolved government in Northern Ireland."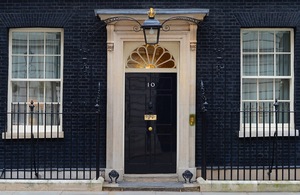 Reasons for the policy
This Government is absolutely committed to the Good Friday Agreement and all that has followed; and are firm believers in devolution.
 
The Government looks forward to building strong relationships with the First and deputy First Ministers; with all the political parties in Northern Ireland; and with the Irish Government - all of whom have done so much to transform Northern Ireland in recent years.
 
The Government will work on all fronts to ensure that those who seek to drag Northern Ireland back to violence will not succeed. It will work with the police, with Northern Ireland politicians and with others beyond Northern Ireland to drive home the message that the only way forward is through the political institutions.
 
The Prime Minister is passionately committed to the Union. But he respects the fact that the future of NI in the Union must be based on consent.
 
That is why the Government will continue to seek to build a better future for everyone in Northern Ireland, whatever their aspiration to ensure that everybody feels their identity is respected, and everyone feels they belong.
Published 25 May 2010