Speech
Owen Paterson's speech to Royal Society on Natural Capital Committee
Environment Secretary Owen Paterson spoke at a Natural Capital Committee (NCC) event at the Royal Society on Monday 26th November. He talked about the role and work of the committee, the importance of balancing and complementing the environment, as well as the need for economic growth. The NCC advises the Government on how to ensure England's natural wealth is managed efficiently and sustainably to unlock opportunities for sustained prosperity and well-being.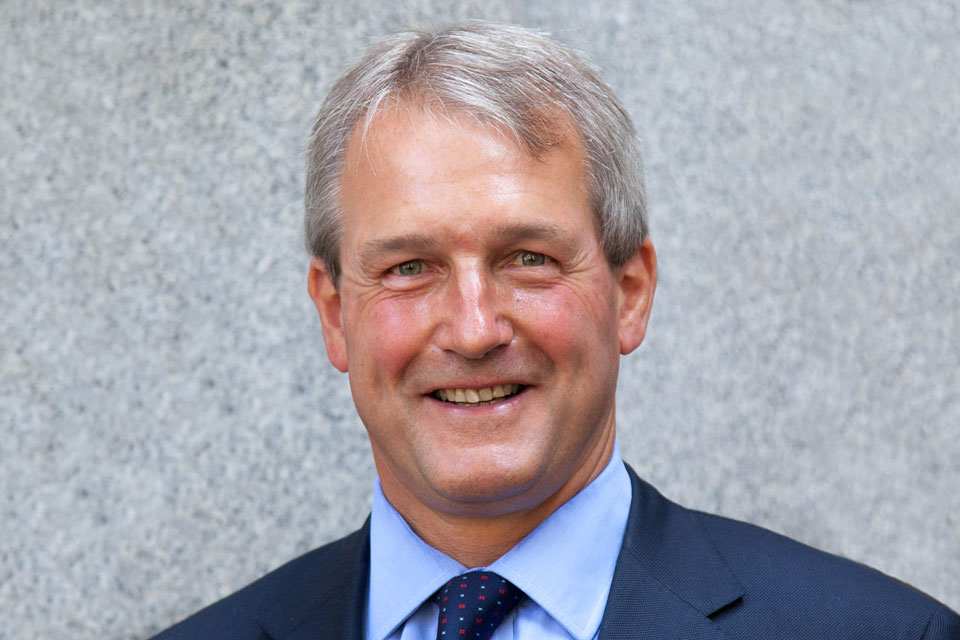 I have lived in the countryside all my life.  I come from a rural business background.  I represent North Shropshire in Parliament. The countryside is my home, my job and my life.  That's why it's such a privilege to have been asked to take on the role of Defra Secretary and to speak to you this evening.
Upon my appointment, the Prime Minister gave me clear instructions on what he wants me and my ministerial team to do. That is to boost growth in the economy whilst continuing to improve our environment.  The two are not mutually exclusive.
That is why we are firmly committed to the Natural Environment White Paper - the first White Paper on the environment in 20 years - and the Biodiversity Strategy for England, which aims to halt overall loss of England's biodiversity by 2020.
It is also why we launched the Natural Capital Committee (NCC). We are incredibly lucky to have such an impressive Committee with such a wide range of expertise. Its Chairman, Dieter Helm, is particularly well-placed to lead such an eminent group of individuals.
This Committee is the first of its kind in the world. It's only fitting that its first public event is taking place here, at the Royal Society, an organisation which has long acknowledged and supported the work of pioneers.
We set up the NCC because we wanted to know where we are using our natural assets unsustainably and also to show how those natural assets (our natural capital) contribute to our economy, our prosperity and our wellbeing.
The work of the Committee will be of particular relevance as I seek to radically reprioritise Defra and its work, so that the Department has a laser-like focus on growing our economy, improving the environment and controlling animal and plant diseases.
Within each of these four areas, there is an inherent balance to be struck between economic and environmental value; a balance that we must seek to quantify and resolve.
I am absolutely convinced that we can only improve the environment if we have a growing, prosperous economy. In China and a host of other countries, where per capita income is increasing as a result of continuous economic growth, people are taking in interest in their environment for the first time resulting in more trees being planted.   10. As we seek to grow our economy, there will, however, be occasions when considerations of economic progress come up against those of environmental impact.  On Wallasea Island in Essex, for example, the Environment Agency was faced with the conundrum of how best to balance the need for prime agricultural land against the huge cost of defending low-lying land from flooding.
When drawing up proposals for the managed realignment of the coastline, how was the Environment Agency supposed to value the agricultural land that would be lost against the new wetland habitat that would be created?  How do we come up with a mechanism that enables us to offset wildlife loss from the economic and social benefits of a major infrastructure project?  How do we quantify that offset if the habitat being lost has taken centuries if not millennia to evolve or exists in only one small part of the country?  These are all key questions for the Committee.
In this instance, the solution was an innovative partnership between the RSPB and Crossrail.  4.5 million tonnes of soil from the excavations for Crossrail will be transported by rail and boat to build the biggest man-made nature reserve in Europe.  The project will help restore a large part of the Essex coastline while mitigating against future flooding. It will also provide 1,500 acres of valuable wetland habitat and breeding grounds for fish which will help support our fisheries. This new habitat is not only expected to attract tens of thousands of migratory birds a year but up to 100,000 visitors.
The Wallasea Island scheme is a great example of how a major infrastructure project can boost both the economy and environment.  It also demonstrates the important role the Natural Capital Committee has to play as we seek to balance seemingly competing environmental and economic interests; something that will be key as we work to secure Britain's place in the global race for prosperity.
What is clear is that we need to avoid growth that erodes our natural capital, and therefore our ability to grow in the future, but encourage growth which conserves or enhances our natural capital.  The interim report of the Ecosystems Market Task Force has already identified how economic growth depends on a healthy natural environment and vice versa.  It has also highlighted how valuing nature correctly can result in real, practical opportunities for business.
Growing the economy and improving the environment are not mutually exclusive.  The two go hand in hand because a healthy environment is essential to our future prosperity. Only by taking this dual approach, will we be able to improve our environment and the economy, placing them on a firm footing for the future.
I do not, however, just want to maintain our natural assets; I want to improve them. I want us to derive the greatest possible benefit from them, while ensuring that they are available for generations to come. This is what the NCC's innovative work is geared towards.
Defra is already working toward this goal across a number of policy areas.  For example, we want to reform the Common Agricultural Policy to move towards a system where farmers are paid for producing environmental public goods, not subsidised for their food production. This will make our agricultural sector more competitive and more able to support the environment on which it and so much of our wildlife depends.
Our ELS and HLS schemes are already, in a blunt way, putting a value on environmental output but we need to be able to develop a more comprehensive system for valuing the things for which there is no market mechanism.
We are also working to reform the Common Fisheries Policy to allow fish stocks to grow, protecting this natural resource for the future. This will not only mean more fish but more jobs and more prosperous communities. We took a major step towards achieving these ambitions in June when EU Fisheries Ministers agreed to support the measures we have been advocating, including a ban on discards and the setting of sustainable fishing rates.  We must adopt an approach to our fisheries that acknowledges the multiple uses and benefits they provide; which improves the marine environment as a whole.
On water, we have published a draft Water Bill that will reform the water market and remove barriers to competition. That will lead to a more efficient and resilient water industry with lower environmental impacts. Why? Because it is in the interests of the water companies themselves to reduce leakage, pollution and unsustainable abstraction - it is not just good for the environment; it is good for business.
The privatisation of our water industry in the late 1980s, and the near £100 billion of investment it has since secured, is a prime example of economic investment as environmental investment.  We now have otters in every region of the UK; salmon and trout returning to rivers and streams where they have not been seen for generations.  We must not be afraid of economic or technological innovation; innovation which has resulted in Britain having three times as much woodland as it did a century ago.
I'm already challenging my officials to think in the same way.  I want to make sure our environmental legislation is fit for purpose, reflecting our understanding of the services provided by nature and the value provided by healthy habitats and ecosystems.  I believe this can lead to a better environment, even if it may mean challenging the way things have been done before.
For example, I want to look at how ecosystem valuation could be applied more thoroughly within the existing frameworks of the Habitats Directive and domestic legislation; leading to approaches that are more flexible and less bureaucratic but deliver equally good, if not better, results for nature.
I would like to encourage the Committee both this evening and in the longer term to really push the boundaries as they look at these issues. Let's move away from the sterility of a tabloid-style debate between development and newts, which can bring environmental regulation into disrepute, to a grown up, considered discussion about how we can create a value system around our natural capital which acknowledges the diversity and benefits we all enjoy from our wildlife and landscapes.
Instead of seeing infrastructure of national significance where there are really no alternatives being blocked or delayed by the presence of a particular species, can we devise a more flexible system that enables alternative habitat to be created somewhere else?  What potential, for example, is there is for a credits system which acknowledges the difference between habitats and their relative scarcity, building on the sort of offsetting approach we are piloting in the planning system through s106 agreements?  A credits system that acknowledges the importance of infrastructure and the importance of wildlife?
This sort of change would clearly need regulatory change at a European level but as we seek to improve our environment, rather than just protect it, we must be ambitious and flexible in equal measure.  I'll be very interested to hear the Committee's views on how we might go about this.
The health of our animals and the important role they play in both our economy and environment must be at the heart of everything Defra does.
We must not only ensure that our native animals are healthy for economic reasons - in 2011 exports of beef and lamb totalled £851 million alone - but the very important role they play in supporting our landscapes and biodiversity.
Honey bees, for example, play a key role in both food security and sustaining the natural environment through the pollination of many crops and wild flowers.  There is, however, in the policy making process a balance to be struck between the significant, yet barely quantified, contribution honey bees make to the wider environment and support for an arable industry which feeds our nation but whose practices may have an effect on bees.
Many of our most delicate landscapes and wildlife - the landscapes which have inspired some of our most famous artists and which continue to attract millions of visitors to these shores - depend on the presence of animals such as the Herdwick sheep.  As we seek to design uplands schemes that are both fair and effective, how do put a price on the need to maintain these iconic hills versus the pressures understocking places on hill farmers' incomes?
Our approach to animal health must remain as robust as ever whilst taking into account the centrality of animals in shaping our carefully-managed countryside.
We don't just face animal diseases though. We have to be increasingly vigilant for disease in our plants and trees.
The presence of Chalara fraxinea (ash dieback) in this country, in imported nursery stock and now the wider environment, has served as a timely reminder of the growing threat our trees face as a result of increased global trade.  A trade which saw British ash seedlings being sent to Holland to be grown on before being returned to the UK for sale.
Ash dieback follows on from Sudden Oak Death Syndrome, Oak Processionary Moth, Bleeding Canker in Horse Chestnuts, Red Ban Needle Blight in Corsican Pines and Phytophera Ramorum in Larch to name but a few of the exotic diseases threatening our trees.
It is for this reason that, in addition to immediate measures to address ash dieback, I have asked Defra's Chief Scientific Adviser, Professor Ian Boyd, to convene a Tree Health and Plant Biosecurity Expert Taskforce to review our strategic approach to plant health.
If we are to safeguard our native species, and the landscapes of which they are part, it is clear that we must radically reassess our approach in this area.  But in doing so we must be careful to balance the economic value of a free trade in plants to our horticultural sector against the broader recreational and environmental benefits of our woodland.  Rural tourism alone is worth £12 billion to the economy.
Such considerations will be at the fore of the Government's thoughts as it prepares its response to the Independent Panel on Forestry's report and as we seek to put in place a more robust, long-term plant health regime.  I am determined that disease in trees and plants is given the same priority as that in animals.
The NCC has already made excellent progress in ensuring that collectively we can make better decisions for our economy and our environment but this is not just about specific, isolated policy decisions - it's much broader than that. The NCC is preparing its first annual State of Natural Capital report which will work towards an overarching view of our natural assets; a view that will enable us to build these assets into our national accounts, both public and corporate.
This will be a powerful tool for identifying investment priorities. It will also show us how a change in the quality or quantity of one natural asset can have economic implications elsewhere.  The first State of Natural Capital report will be presented to the Chancellor and the Economic Affairs Committee in Spring 2013.
I am genuinely excited about the role the Committee has to play in informing the decisions we as a society take and the potential that exists for its thinking to shape our economy and environment for years to come.  We are at the forefront of an exciting and long-overdue debate; one that has the power to transform the way we look at the natural environment. Imaginative thinking will see our economy, environment and wildlife thrive.
The concept of natural capital, underpinning sustainable economic and environmental growth, is central to this Government's vision.  I look forward to working with you on making that vision a reality.
Published 27 November 2012