"Our Queen is the unsurpassed Briton, and today we the British people renew our loyalty to her"
Foreign Secretary William Hague spoke at a lunch to to celebrate the Diamond Jubilee of HM The Queen.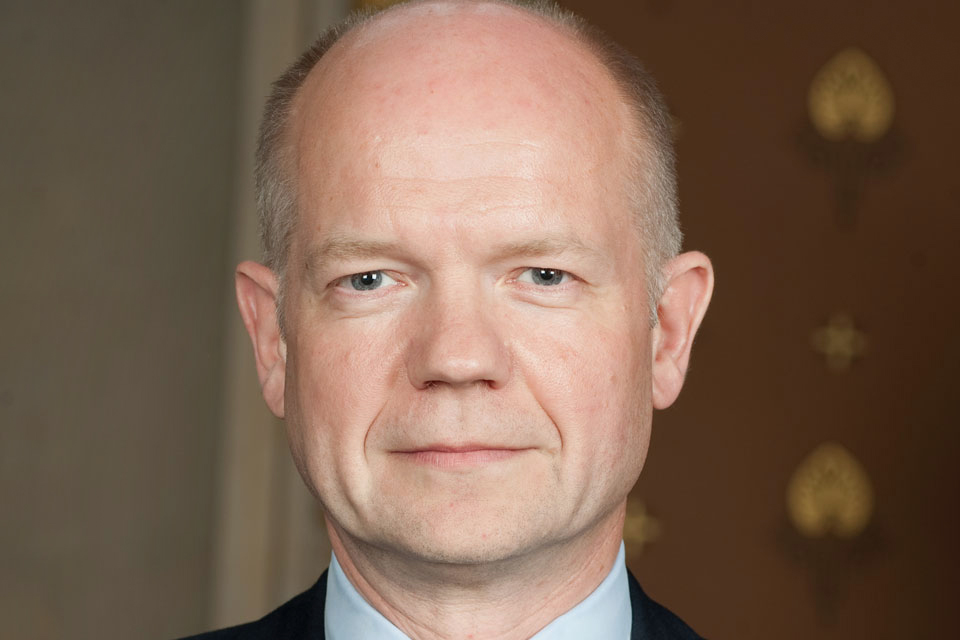 Your Excellencies, Secretary General, my Lords, Ladies and Gentlemen: welcome to Lancaster House. On this occasion, unique in our lifetimes, as Foreign Secretary, it is also my great pleasure to convey to Her Majesty today the loyal greetings and respects of the members of her Diplomatic Service who are so admirably serving her and our country in our Embassies and High Commissions around the world.
Today we honour the life and reign of Her Majesty Queen Elizabeth II as she marks sixty years on the throne, as well as sending our best wishes to HRH the Duke of Edinburgh. In all those years she has never once faltered in service to our country and to her people.
Throughout all the changes our world has experienced in six decades she has remained absolutely constant. She has united our nation through thick and thin. And she has been an inspirational and unmatched example of the highest ideals of our society: public service; dignity in the face of responsibility and adversity; selfless devotion to duty; and love of family, community and country.
Our Queen is the unsurpassed Briton, and today we the British people renew our loyalty to her. No one has done more than Her Majesty to strengthen the bonds of friendship, understanding and goodwill between Britain and the world. With her own unique diplomacy she has touched the lives of millions of people beyond our shores and far beyond the sixteen nations of which she is Head of State.
She has made a remarkable 261 official visits overseas to 116 different countries, including 96 State Visits. As Head of the Commonwealth, she has been a unifying force as it has changed and grown from eight to fifty-four independent members.
And as the joyful Royal Wedding last year showed, The Queen and the Royal Family have the power to transcend politics and geography to appeal to the hearts of people around the world.
So it is most fitting to share this moment of national celebration with you all: our fellow members of the Commonwealth family, the Overseas Territories with whom we maintain such strong ties and our trusted allies and valued friends from around the world.
Only once before in all of Britain's history has a monarch reigned for more than sixty years and celebrated a Diamond Jubilee: that was one hundred and twenty-five years ago in 1897, and our monarch was Queen Victoria.
Picture if you will the scene then as forty-six thousand men in arms processed through the streets of London, in the largest cavalcade ever assembled in our city; their massed ranks a riot of colour from the Bengal Lancers with their nine-foot beflagged lances to the gleaming colours of units from across the British Empire. At their head rode Field Marshal Lord Roberts, astride the famous white Arab Pony which seventeen years earlier had borne him from Kabul to the relief of Kandahar. And the streets were lined for miles on end with thousands of British men and women showing their gratitude and loyalty to their Queen.
Today, streets are again lined with many thousands of all ages and new generations just as devoted to our monarchy, and some of the soldiers are just as familiar with the road to Kandahar, reminding us of the sacrifices of our own times.
But in so many other respects, Britain today is a very different country, and our relations with the world are on a completely different footing from that recent past. Today we celebrate with our friends around the world in a spirit of equal partnership, respect, friendship and shared opportunity.
But the celebrations, street parties and concerts that have taken place the length and breadth of our country over the last week have been no less fervent or colourful, and they too will go down in history. No one who saw the sight of a thousand boats mustered on the Thames in the Pageant for Her Majesty on Sunday will ever forget it.
It was 60 years ago in 1952 that the hopes of the nation and the responsibilities of leadership came to rest on our young Queen.
I came across a message that was sent on the day of her Coronation, 59 years ago, by the Commander of British Forces in the Middle East, to all the many children of our Armed Forces stationed there at the time. He wrote the following moving words:
"This Coronation Day of Her Gracious Majesty Queen Elizabeth II is a day of rejoicing and celebration. Unfortunately you cannot attend the great ceremonies being held in London. But all your lives you will I am sure remember with pride that you celebrated this day with Her Majesty's Army … I ask you to join with me this day in the prayer that Almighty God will bless our Queen, guiding her in increasing wisdom, courage, love and understanding in the years of her reign that lie ahead. They will be the years in which you and the Queen's own children will grow up. May they be many wonderful happy years for her, for them, and for you".
Today we unite in gratitude that those hopes and wishes, expressed on her Coronation day, have been fulfilled. We once more express our humble loyalty to Her Majesty The Queen.
We celebrate with you our bonds of friendship with our fellow countrymen and women and with our friends abroad. We reaffirm our commitment to international peace and security, and to the rights, dignity and prosperity of the peoples of all nations. And we face the world with pride, confidence and optimism that even better year for our nation lie ahead of us.
God Save The Queen, and long indeed may she reign over us.
Published 5 June 2012