Office of Unconventional Oil and Gas Introductory Event
Secretary of State address to the Office of Unconventional Oil and Gas Introductory Event, 11 March 2013.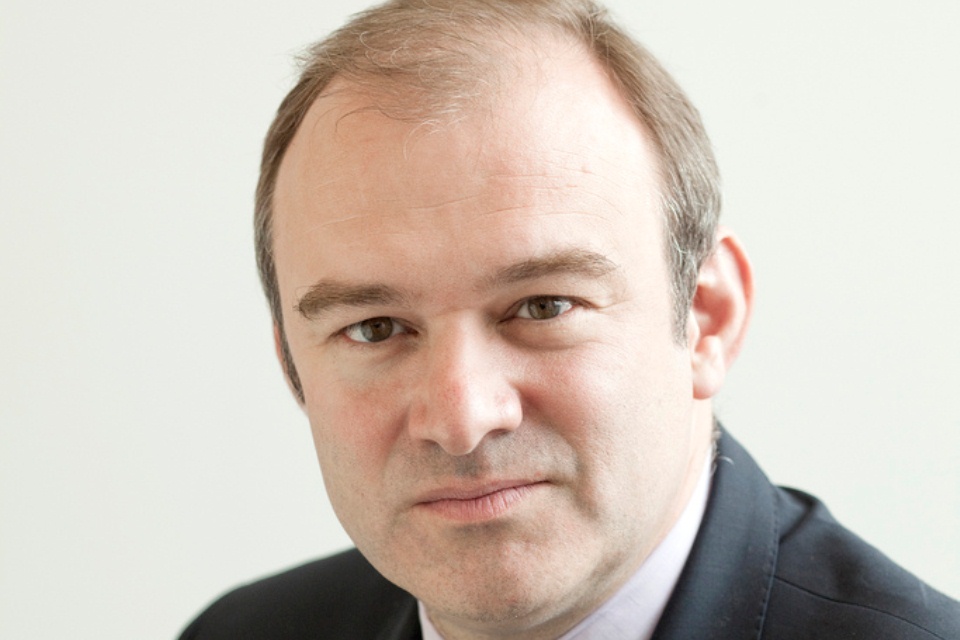 Introduction
First, let me say thank you for coming here today.
This is an exciting moment.
With the formal establishment of the new Office of Unconventional Gas and Oil now imminent, it is important we bring the people in this room together right from the start.
If we are going to be successful;
If we are going to take advantage of all the benefits that shale and other unconventional sources of oil and gas represent;
If, at the same time, we are going to meet community concerns, meet climate change obligations, and meet commercial requirements;
If we are to achieve all these things, we are going to need the insight, wisdom, guidance and expertise of all the groups represented in this room.
I am pleased to announce today that Stephen Lovegrove, the new Permanent Secretary, has appointed Duarte Figueira as the first head of the Office of Unconventional Gas and Oil.
Duarte is, I am delighted to say, with us this afternoon prior to taking up this appointment next Monday.
Duarte, Stephen and I want the new Office to have productive relationships with you from the very start, with consultation built into its DNA.
We want the spirit of the new Office to be not of protagonists or protestors, but of partners working through what will sometime be difficult issues.
So today is a great opportunity for you to help us think through the opportunities that the Office needs to grasp, the challenges we need to tackle and the barriers we need to overcome.
For of course a significant amount of work in my Department on the shale gas opportunity has been going on for some time.
So it's not like we are coming to this fresh.
From detailed work on the regulatory framework to analysing the data available.
From study trips to the USA, to engaging with many of you here over some time.
So there is quite a lot of background to the Office.
I would like to use my time with you to set out some of the background to the so called 'shale gas revolution', how it relates to the UK's unique circumstances, and how we together can think through the challenges that they throw up.
Energy and Climate Change
But let me be clear from the start.
I am the Secretary of State for Energy and Climate Change.
Not either/or.
I am looking to win on both fronts.
Powering the country and protecting the planet.
I need to meet both objectives when making decisions.
So let me be also equally clear.
I am not the Secretary of State for oil and gas - or for renewables - or for nuclear - or for CCS or any other technology for that matter.
I am the Secretary of State for Energy – and that means all of the above.
Each method by which we meet our energy needs has its own specific benefits and particular barriers.
And I will continue to look at the big picture to see how they all fit together in a market as we transition to the low-carbon future that we need to realise.
This does mean recognising the reality that oil and gas will form the backbone of the UK's energy requirements for some decades to come.
It means recognising that maximising the recovery of our indigenous hydrocarbon resources can be a driver of growth and economic activity in less well-off parts of the country.
But it also means recognising too that the cleaner the fuel the better – and that the greener the growth the better.
And it means recognising that in putting this mix together we must minimise the impacts on the environment both local and global.
So I see shale as a part of this whole picture.
I was once quoted in the Times saying "I love shale gas".
And it's true, I did actually say that - not my most churchillian moment I have to confess.
But let me tell you why I said it.
Shale is not the silver bullet those seeking cheap energy wish for.
With global demand set to continue increasing, UK shale gas is unlikely to move global prices significantly.
But shale does….over-time, with public acceptance and weighed against its environmental impact…..shale does have the potential to contribute significantly to the UK's energy security, to attract inward investment, to boost growth and jobs in certain areas, and to make a notable contribution to the Exchequer.
These would all be fabulous outcomes.
And environmentally, we must reduce the huge amounts of coal we are burning, which have been increasing recently.
And gas - whether Britain's own gas from the North Sea or from onshore shale, or imported gas from overseas – gas can help cut our carbon emissions as we cut back on coal.
So this is an exciting prospect, however you look at it.
An opportunity for investment.
And an opportunity for growth.
An opportunity it would be foolish to turn away from.
So today is about seeing how we make that potential a reality.
Meeting all the requirements I set out in balance.
How do we encourage the commercial investment and the scientific, evidence-based exploration required?
So before I set out the spirit in which we intend to go forward, let's look briefly at how we came to this point.
Unconventional Oil and Gas
In the UK we are very much at the starting line.
But as we know, the background to this is the extraordinary developments in America.
In the US shale gas has transformed the supply picture and informed debates happening around the world.
Around 2006, people realised something quite remarkable was happening.
After years of decline, the US seemed suddenly to be enjoying the renewed prospect of being self-sufficient in gas.
Unconventional oil promises to be equally significant in the North American market.
But it's not a simple success story.
I certainly don't want to fuel myths of flaming taps and the like, but it's clear there have been cases where companies have got it wrong.
More generally, the communities in which such rapid development has taken place have found the attention they have received a curse as well as blessing.
So we need to learn from that.
The UK does possess rock formations with similarities to those which have proven productive in the States.
So it is only natural to investigate whether we have a similar resource.
In the wake of the Gas Generation Strategy that we published last year in early December, I set out the position on shale gas exploration.
As everyone here knows, when the first well was fracked, it set off small seismic tremors.
After careful study, I cleared renewed exploration activity, subject to new controls to address seismic risks, in addition to the existing planning permissions and regulatory consents.
But even at this early stage it is clear that the shape and development of the industry in the UK is going to be significantly different from that in the US.
First we don't have the wide open landscapes of Texas or Dakota.
Britain is much more densely settled.
That has implications for where you can drill.
But also for how you can drill.
We need to be concerned about proximity impacts such as noise and the like, that may not always apply in the United States.
Second, in Britain at present, we don't have lots of highly competitive well service companies, whose offerings have been honed by competition in a much bigger market.
We need to think about that carefully.
Third, we have a much higher degree of local scrutiny and prior consultation through the planning system, than is typical of the US.
And finally – lest we forget – there is every likelihood that the geology will have significant differences.
We ought to expect surprises there.
So we are very much at the starting line.
But that, in itself, provides us with an opportunity to learn the lessons of others and try to do better.
I believe we start in a much better place give the regulatory environment we have built upon works well in the North Sea.
I believe we can do even better, but success will only come through cooperative effort.
And that is what today is all about.
So let me set out how the Office of Unconventional Oil and Gas will help.
The Office of Unconventional Oil and Gas
The Office is being set up in DECC to join up responsibilities across government, provide a single point of contact for investors and to ensure a streamlined regulatory process.
We are already recruiting for the new Office and entering discussions with Whitehall and regulatory colleagues.
I have set the Office the challenge of developing a safe and effective unconventional gas and oil industry in the UK.
This means getting the governance arrangements right.
Investigating overlaps and common themes in the regulations, so these can be rationalised.
Understanding resource needs, scoping investment opportunities.
We will need to make sure we have a robust evidence gathering operation so we can to address problems as they arise and allay fears where they prove unnecessary.
Engagement is at the very heart of the remit of the Office.
Not just across Whitehall, but with the wider industry and specifically communities where activity is likely.
So we are establishing a programme of engagement events, this being the first.
We want to establish a conversation with all those who have a stake in this.
To draw on experience, to consider timeframes, to understand what is possible and what is not.
The challenges we face, be they commercial, environmental or technical will be unique but they will not be unprecedented.
We have established offices to tackle challenges in areas such as wind energy, nuclear development and carbon capture and storage all established in a structured manner.
The new Office will learn from what has been achieved there.
But balancing work between the priorities of the new Office will be critical.
And that is where we need and indeed would like your help.
This is about you helping to shape the work programme for the Office – particular over this first year of operation.
Discussion
So let's get this discussion started. Let me flag up a few of the issues.
Streamlining regulation is an important objective.
It is not our intention for the office to edit or amend the existing regulatory arrangements.
This may be more a question of good ordering of what is already required.
So what is the right way to go about it?
Another significant issue is perception.
As a politician, I know the art of campaigning well.
I also know how hard it is to dispel a myth once it is lodged in the public consciousness.
My view is that people are generally pragmatic, and when provided with the evidence local authorities make sound decisions.
But making sure that the debate is properly informed is crucial.
Government has a role here, and so does industry.
But we will need independents too who are able to present evidence without accusation of vested interest too.
What can the new Office contribute to promoting a more balanced perspective?
Third, this is in many ways a new industry to the UK.
Where are the gaps in the skills and expertise?
What issues are in common with our established indigenous oil and gas industry – and indeed with other energy sectors – and where are the differences?
What issues are unique to unconventional oil and gas?
How can we develop our own supply chain that grows with the industry, and does not just suck in technology and expertise from abroad?
Given our oil and gas industry we ought to be well placed for a strong British supply chain.
Conclusion
So, today, we are making a start.
We'll shortly be getting some expert input to get us started, but after that we are going to be asking you to work together to give us some much needed input.
What do you see as the main challenges that need to be overcome?
And what would you suggest the Office needs to focus its efforts on in the first 6-12 months?
Although I'll be leaving soon, John Hayes will be joining you a little later.
I look forward to seeing the outcomes from today and feeding them into our thinking.
But let me end by saying this.
This has to be a joint endeavour.
Government and industry working together with local communities and all those who have a stake.
Making sure we exploit the resources the earth has to offer in a way that is sustainable and acceptable.
Powering the country, providing prosperity, while protecting the planet for future generations.
So in that spirit, I am grateful to all of you for giving us your time.
Now let's make sure we make the most of it.
Published 11 March 2013