Speech
Newcastle: the cycling city
Speech about the importance of cycling, the government's future plans, and Newcastle's early role in its popularisation.
Introduction
Good afternoon.
It's great to be here in Newcastle today (25 June 2015).
And I'm delighted to be back in the saddle as cycling minister, to continue to support the growth of cycling in this great city and across the whole country.
It's not widely known today that the people of Newcastle were early pioneers in the popularisation of cycling.
Before television or radio, millions of Britons got their weekly news from the cinema, in short newsreels shown before the main film.
And in July 1922, cinema-goers across Britain were shown a newsreel reporting on Newcastle's annual "Cyclists' Sunday".
Newcastle's annual "Cyclists' Sunday
A year ago the newsreel turned up on YouTube, and I am pleased to be able to show it today.
We can see hundreds of Newcastle cyclists riding along in their Sunday best, just outside this building.
Starting from St Thomas Church – around the corner – they cycled along Barras Bridge to Blagdon Estate 8 or 9 miles north of here.
It's one of the earliest British cycling films in existence, and I am sure it will have inspired 1920s Britain to get out of the cinema and on to the bicycle.
It's an honour today to be speaking in support of cycling in Newcastle, just around the corner from that historic spot.
Newcastle's stock as a cycling city is soaring, because we've made it one of 8 national Cycling Ambition Cities.
Supported by over £16 million to help support local cycling.
The Cycling Ambition Programme will continue to fund the creation of major new cycle routes and road improvements, transforming cycling for people in the eight cities.
To address a question that has been asked several times in the last week or so, the savings announced recently by the Treasury reflect the funding requested by the participating cities this year.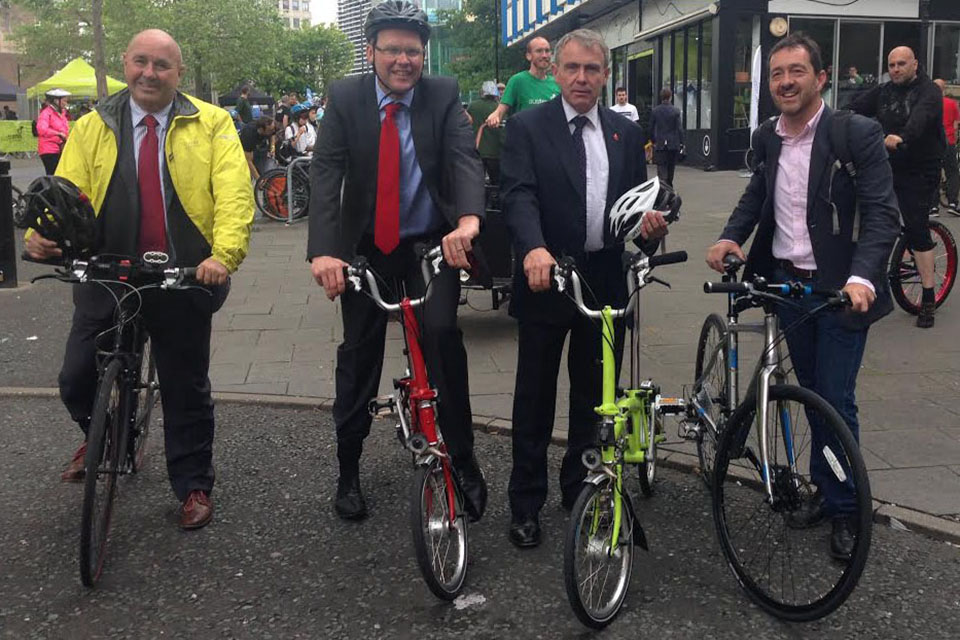 I can reassure you that planned spending will still successfully deliver the Cycling Ambition programme.
The plans put forward by Newcastle City Council are incredibly exciting.
Seven major cycle routes across the city, so people can cycle in safety from the suburbs into the centre.
And this morning I had the pleasure of formally opening The Journey, on Higham Place; one of the initiatives we have helped fund.
It combines a cycle mechanics service centre, a bike shop, and a café.
So everyone's needs are catered for – whether you want to buy a bike, get it serviced or need a morning caffeine boost for the final mile to work.
Our ambition
That's one small example of what we are doing to get Britain cycling.
In our manifesto we promised to:
…double the number of journeys made by bicycle and invest over £200 million to make cycling safer, so we reduce the number of cyclists and other road users killed or injured on our roads every year.
Because cycling's not just beneficial for cyclists, it benefits the whole of society – by cutting congestion, reducing CO2 emissions, and improving air quality.
Challenges
But as we work to boost the numbers of our nation's cyclists, we should recognise the challenges ahead.
As the Cycling Sunday film shows, cycling was once the default mode of transport for most people.
I remember passing the Rowntree factory as a child, and seeing the employees coming and going by bike.
Today, most people get to work by car, and that's something that's true across the country, as many people gradually fell out of the habit of using their bikes to get around.
Cycling became something that we did occasionally, just for fun.
In 2013, just 2% of all trips in England were made by bike.
And we know that most trips currently taken by car are 5 miles or fewer – short enough to be walked or cycled.
The good news is that over 40% of us already own bikes – so there is great potential for turning those short car trips into bike trips.
And Newcastle is leading the charge, with a declared ambition to see 12% of all journeys under 5 miles taken by bike in the next 10 years.
Across the country as a whole, people tell me that one reason they don't cycle is that they don't feel safe enough on our roads.
For that reason, we have decided we need to 'cycle-proof' the road network, ensuring that cyclists are considered at the design stage of all new and improved roads.
I'm pleased to say that's exactly what this city is doing on John Dobson Street.
When the work has finished, Newcastle's cyclists will have a 4 metre-wide segregated cycle lane, and significantly improved space for pedestrians.
I have already been invited to come back to Newcastle when it's finished to see the results.
Cycling and Walking Investment Strategy
We want everyone to be able to see what we are doing for cyclists and judge for themselves whether it's working.
Which is why towards the end of the last parliament we passed a law saying that the Department for Transport will publish a Cycling and Walking Investment Strategy.
The strategy will set out our aims for cycling.
It will say how much funding we are putting aside to meet those aims, and we will report on how much progress we're making.
For those of you who are interested in the legal technicalities, for the cycling strategy law to come into force we need some secondary legislation.
And I can today announce that I have instructed my officials to begin work to commence the relevant section of the Infrastructure Act.
Conclusion
But in conclusion, I am thrilled to be here in Newcastle today.
This meeting of cyclists, cycling organisations, and local and national government is one more way we can share our knowledge, ideas and experiences.
And the improvements that we are seeing in Newcastle will make the city a safer, more welcoming space for cyclists.
But they will also help the cause of cycling across the country, as other cities look at what's happening in Newcastle, and are encouraged to make their own improvements.
I look forward to working with you to make the cycling revolution happen.
Thank you.
Published 25 June 2015