Speech
NDA Estate Supply Chain event
Speech by Baroness Verma to the NDA supply chain event on 6th November.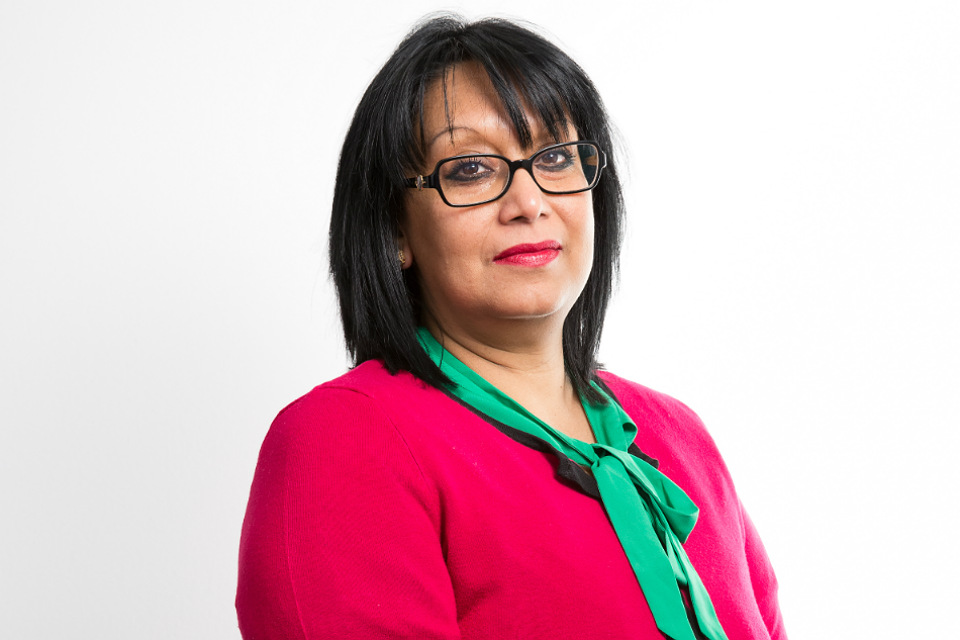 Introduction
It gives me great pleasure to join John Clarke in welcoming you all to this event. As the Parliamentary Under Secretary of State within the Department of Energy and Climate Change I have formal responsibility for the Nuclear Decommissioning Authority and I am also the Departments SME Minister so I am particularly keen to support this event which is part of the NDA's comprehensive SME action plan.
International
Last year saw this event broaden from one focused on the NDA domestic market to one which reflected the global nature of nuclear. The NDA and UKTI together presented an enticing offering which attracted delegates from across the broad spectrum of nuclear countries. I also hosted a dinner for our overseas delegates and this resulted in follow on visits to the UK.
I am pleased to see that this year we have continued to focus on the international markets with representatives from 12 different countries attending including: Belgium, Bulgaria, Canada, China, France, Germany, Japan, Netherlands, Romania, Russia, Spain and the USA.
Delegates are here for a number of different reasons. Some will be keen to share their experiences and challenges, which may lead to new market opportunities for UK industry, whilst others may be here to showcase their own capability and capacity. The global opportunities are staggering whether expressed as the number of new reactors built or the size of the decommissioning challenge.
It is very welcome and that UKTI and the NDA are working closely to ensure that the UK's 60 plus years' experience in nuclear is maximised to ensure that this clean and safe energy source remains part of the global energy mix and also that we help prove that the nuclear legacy can be dealt with safely and in a timely and affordable manner.
Playing our part on the world nuclear stage is an important aspect of my Government's agenda and the work by the Office of Nuclear Regulation, the NDA and Sellafield in supporting the clean-up operations at Fukushima Diiachi is particularly relevant. I am also pleased to see that technology and innovations developed here in the UK are also being deployed to help remediate the site and ultimately are helping Japan recover from the devastating impact of the tsunami.
Nuclear New Build
The recent announcement by the European Commission that it has approved the Hinkley Point C State aid case is an endorsement of our view that the plans for Hinkley Point C provide a fair deal for both billpayers and investors.
The decision is a significant step in the project and means that we can provide greater confidence and stability for our future electricity generation – it's a certainty any investor would want before committing money to large energy infrastructure projects.
Last October's agreement in principle with EDF remains in place. As a result of the State aid process there has been agreement to strengthen arrangements for benefits to be shared with consumers if the project comes in under budget, or if the project's return exceeds a certain level. This will ensure that consumers will not pay more than they have to whilst providing a reasonable return for the investors.
There's still some way to go before construction can formally start in Somerset, but it will mean £16bn of investment coming into the country and the creation of 25,000 jobs, which is brilliant news for the South West and for the country as a whole.
Negotiations will continue to secure a fair investment contract for Hinkley Point C within the terms of the state aid approval. We will continue to negotiate with EDF on the contract for difference and the UK guarantee. And we continue to work on Hinkley's Funded Decommissioning Programme to ensure that secure financing arrangements are in place to meet the full costs of decommissioning.
And other new nuclear projects are also advancing. The NuGen consortium has been newly configured with Toshiba-Westinghouse and GDF Suez. In June 2014, NuGen and the Nuclear Decommissioning Authority agreed and concluded an updated land option agreement for the Moorside new nuclear site.
This is a major milestone towards building Moorside's three reactors, which are expected to come online from 2024. Furthermore, Horizon Nuclear Power has completed step 2 and begun step 3 of the Generic Design Assessment for the Advanced Boiling Water Reactor (ABWR) reactor which Hitachi and Horizon have proposed for their sites at Wylfa and Oldbury with completion of the process expected in 2017.
So, investor confidence continues to grow by projects taken forward by these consortia. The UK is an open economy and welcomes foreign investment, including into civil nuclear, of course provided that all of our independent and stringent rules and regulations are met. Any company involved in the UK's nuclear power industry does so in accordance with the most stringent and robust mregulations in the world and on this basis, the Government welcomes companies which can demonstrate the capability to contribute to safe nuclear power generation in the UK.
It is clear that the nuclear sector offers a great opportunity for the UK supply chain including SMEs. The scale of each project and the long term nature of the business will give rise to significant and secure long term business opportunities. I encourage the supply chain and SMEs to wholly engage with the nuclear sector and maximise the opportunity available to the UK supply chain.
And interestingly, in his speech John made reference to the activities of the influential 'Nuclear Owners Group'. Clearly its early days for this group, however, having this co-operation and support in place is essential in order for the various programmes to be truly successful. The group will ensure that where possible issues are resolved quickly and that clients don't compete against each other for finite resources.
Aligning solutions across Government is a challenge, but the presence of Rear Admiral Wareham today is an early indication that "Connection and Collaboration" is not happening by mandation, rather it is occurring because it's the right thing to do. As relationships mature and the challenges and opportunities become clearer we will, I am sure, also find the Public and Private sector clients working closer.
Women in nuclear
Now I would like to draw your attention to other important developments. One of the challenges faced by us as a Nation is our ability to retain the interest and engagement, of young people, in Science, Technology, Engineering and Maths and to carry that through university and into the work place, especially that of girls. But if we are to meet global challenges and an ever growing energy sector, particularly nuclear, then we need to address this issue with real urgency.
A subject particularly close to my heart is supporting women in the nuclear industry, as well as more widely in science and engineering roles. Recent data suggests that women make up around 11-24 % of the nuclear industry and that nuclear is outperforming other STEM sectors. But it is certainly not enough, and we must all do more.
I know EDF Energy has more than doubled its female proportion of new intake graduate engineers to 32% within a year and women now account for 20% of the company's apprentices, up from 6%. This is a good example that we are heading in the right direction but I want to see these figures improve further as we encourage more women to be involved in the sector and capitalise on the significant opportunities available.
That's why I'm heavily involved in a new initiative set up by the Nuclear Industry Association and Nuclear Institute – Women in Nuclear, which has been established to address the industry's gender balance, improve the representation of women in leadership and to engage with the public on nuclear issues. They are aiming to undertake a research project looking at the representation of women in the UK nuclear industry and I look forward to hearing the results and their recommendations in due course.
Radioactive Waste Management
In July my department published a White Paper called "Implementing Geological Disposal" which sets out a number of actions that will be undertaken by the UK Government and by the developer, Radioactive Waste Management, to implement a geological disposal facility for the safe, long term management of our higher activity radioactive wastes.
A key task for RWM is to lead a national geological screening exercise which will examine existing data on geology and be done in a way that allows expert and public input and scrutiny.
Following completion of this, and other actions set out in the White paper, RWM will be able to engage interested host communities armed with more information and greater clarity about the nature of a development so that we can eventually site a geological disposal facility in a suitable area in full partnership with the community.As a wholly owned subsidiary of the NDA, RWM is developing its own identity and ensuring that it has the right people with the right skills to work with its suppliers to deliver this important project. I know that RWM has a stand at this event which I encourage you to visit if you would like to learn more about the development of the geological disposal facility.
SMEs
As the DECC SME Minister I am continually challenging my Department and the NDA's SME Champion, Ron Gorham to ensure that together we are doing everything in our power to create the right environment for business to succeed. Before I entered politics I ran a number of businesses so I know first-hand how difficult it can be even without the economic issues that we have all been focused on over the last 4 years.
Some might see the Governments SME agenda as being biased away from larger companies, I don't share that belief. The UK economy needs a vibrant healthy supply chain where each company plays their part and receives equal support. Large companies are critical, they are by their nature often able to take material risk and have the scale to drive forward and enable critical changes. SME's on the other hand, by their nature are more dynamic and they are often our great innovators.
I am pleased with the progress made by the NDA and its SLC's as supported by the Tier 2 community. As has been said before, the targets are useful indicators, but the real impact comes from a sustainable change – where the Supply Chain recognises that things have improved.
Of particular note has been the proactive work undertaken by the various SME regional committees who have engaged proactively and challenged themselves to solve problems.
Last year I was invited to provide the foreword for the "Better Practice Innovation for SMEs". This year they have doubled their outputs and created two new publications:
Frequently Asked Questions and useful things you need to know when working in the NDA Estate and
A guide to SME Collaboration
These guides were created using the experience of the whole Supply Chain, SME's and larger Tier 2 companies supported by the Site Licence Companies and the NDA. In my view they sit wonderfully under today's theme of "Connect and Collaborate" so I would encourage you to drop round to the SME committees exhibit to pick up your copies.
Conclusion
Last year I closed my speech by mentioning the success of this event and the growth in attendee numbers which I am very pleased to say continues this year.
What struck me last year was the sheer energy, enthusiasm and professionalism that I encountered in engaging with individuals throughout the day. The opportunity to celebrate your success during the Supply Chain Awards was a real privilege and a key reason why I was delighted to accept the invitation to be here today.
I am very pleased to be here along with Rear Admiral Wareham and I remain supportive of further collaboration between the MOD and NDA.
And after today, I hope that you look back on your experience and consider it a day well spent. To quote a delegate from last year:
"We had no idea what to expect and have been very pleased with the contacts we made, which we've been able to follow up. It was good to meet and talk to so many people in the industry – we estimate we managed to interact with close to 100 people."
This event has attracted even more delegates this year, and there is a great atmosphere to be felt.
I do hope that you enjoy the event and maximise the opportunities for meeting international industry delegates.
Thank you
Published 27 November 2014