Speech
Montserrat's Throne Speech 2016
On 27 September, Governor Elizabeth Carriere set out the Government of Montserrat's policy agenda for 2016/2017.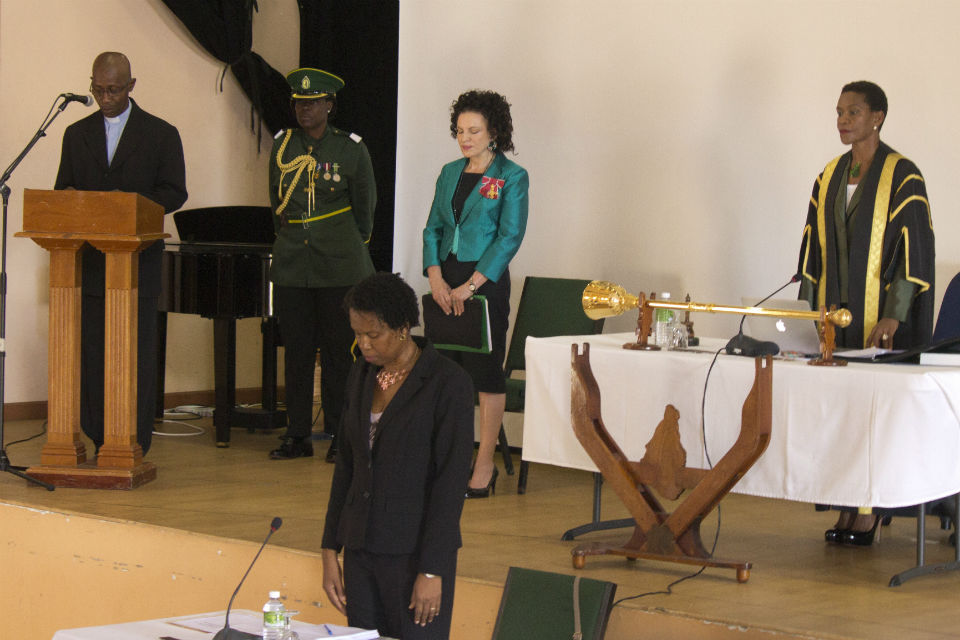 Madame Speaker, and elected members of the Legislative Assembly, ladies and gentlemen. I am pleased to be here today to deliver, on behalf of Her Majesty The Queen, the Speech from the Throne.
The speech from the throne is a longstanding tradition in the Commonwealth countries and British Overseas Territories where it is read by Her Majesty's official representative. It outlines the legislative plan of the elected Government of the Territory for the upcoming Legislative session, and is based on the policy agenda of the Cabinet. I therefore come before you today as the Representative of Her Majesty Queen Elizabeth the Second, to outline the Government's plans for this new session of our Legislative Assembly. The Government of Montserrat's Policy Agenda 2016/17, identifies five (5) priority areas, which are the agreed pillars on which the Government intends to work with all of our people, as it builds a wholesome, healthy and safe Montserrat in which all can fulfill their hopes; representing the reasonable expectations of the people of Montserrat – "new" and "old" alike – here at home and abroad. The five main policy goals represent a long-term consensus concerning Montserrat's development path:
1st: Prudent Economic Management
2nd: Enhanced Human Development
3rd: Sustainable Environmental Management and Appropriate Disaster Management Practices
4th: Good Governance
5th: Population Retention and Population Growth
Prudent Economic Management will require that Montserrat's development focus shifts from post-volcano disaster recovery to sustainable self-sufficiency. This requires us to respect the spirit of Montserrat's past, preserve Montserrat's culture and enhance relationships with Her Majesty's Government in the United Kingdom, with sister Caribbean countries across the region and with other key development partners.
The Government of Montserrat will introduce and pass a law in this session to establish a new Montserrat Investment and Tourism Promotion Agency as a statutory body. This new agency will help to build on lessons learned over the past twenty years so that we may better address Montserrat's need for investment and for an enhanced profile in the global tourism market place.
In the coming months, the Government of Montserrat will also take strategic steps to address Enhanced Human Development.Securing a bright future for Montserrat starts with building strong families and safeguarding young people and the children of this Island. The Ministry of Health and Social Services will therefore introduce legislative measures that focus on the well being of the family, strengthening the healthcare profession, enhancing environmental health standards, and improving the protection and education of our children and people generally. The first such bill is the Children (Care and Adoption) Bill, which will have its first reading today. This Bill sets out the Government's commitment to caring for and safeguarding Montserrat's children and youth. Our children are our future. They must be protected from abusive or degrading treatment. Their God-given rights and needs must be respected and supported. We must treat them well, promoting their best interests. Child abuse, sadly, is a serious and growing concern locally, regionally and internationally. Preventative measures are necessary to curb abuse and protect children vulnerable to violent or abuse-prone situations. This requires provision of safe spaces where they are protected, nurtured and counselled. To this end, Montserrat's Housing Division will work in collaboration with the Social Services Department to provide sanctuary homes for the children of Montserrat who need such facilities. The Domestic Violence Bill will add to the suite of family related bills to be introduced as new legislation during 2016/17. These Bills will, collectively, substantially enhance the legal framework for ensuring that the people of Montserrat enjoy their fundamental human rights: including the rights to be protected, to be safe and to be treated with dignity.
The Government will continue to promote equitable treatment and access to social care for those who are vulnerable. For example, it will improve accommodation for the mentally challenged and provide, on a needs basis, Warden-supported units for persons 60 years or older who can live independently. Better regulation of the health sector will safeguard health professionals and this will be seen in bills which will pass through this House in coming months. In order to achieve its high level policy goals of population retention and population growth, the Government will maintain and finance the ongoing programmes of Financial Assistance Grants; the Affordable Home Mortgage; and Home Investment Schemes. All such schemes are available on a non-discriminatory and means-tested basis. Take-up of the combination of conditional grants, serviced lots and sale of crown lands for housing is already showing good growth across the island. Residents are also becoming more aware of the range of opportunities and pathways to owning their own home in Montserrat. Sometimes it is as simple as being able to leverage a mortgage. The Housing Register shows that there are many situations where employed persons can afford a mortgage and monthly expenses, but just do not have the levels of saving to approach a banking institution. These programmes should help to move Montserratians into the categories of landholders and home owners. The Government is also responding to the need for housing regeneration, especially the Lookout Force-10; Davy Hill; and Shinlands pre-fabricated units. A Conditional Assessment Study has recommended the refurbishment of a small number of the 100 pre-fabricated structures, and in some cases a 100% rebuild is recommended based on the poor state of some units. The Government has produced a plan to carry out these works, and will be making the case for funding in upcoming budget discussions. The Government also intends to significantly reduce the maintenance backlog of the current social housing stock. The Government proposes, for the first time in the history of Montserrat, to enact a comprehensive Housing Bill. This will set out a complete framework for housing in Montserrat, including decent home standards, to be implemented on a graduating basis. The Housing Bill 2016 will have its First Reading today.
To move forward on Sustainable Environmental Management the Government will participate fully in the global response to biodiversity protection and environmental sustainability - especially in light of climate change and the increase in the number of endangered species of plants and animals. Today, the Trade in Endangered Species Bill 2016 will have its first reading. Montserrat has rich but vulnerable biodiversity, and is home to a number of endemic species. International trade in plants and animals is increasing and the Government and people of Montserrat will work together to protect our natural heritage for the benefit of present and future generations. Montserratians need clean, affordable, reliable and renewable sources of energy, that do not harm or degrade the environment. Through its new energy policy, the Government is already moving to provide clean renewable energy, with the objective of reducing the use of fossil fuels and thus reducing its contribution to carbon emissions. Through the Government's Geothermal and solar projects, the achievement of 100% renewable clean electrical energy will be realised by 2020. In support of this effort, relevant bills will be brought to this Honourable House in coming months.
Government is also committed to re-developing the agriculture and service industries in Montserrat on a sustainable, low carbon footprint basis. The government therefore intends to attract and foster investments in new manufacturing and agricultural enterprises drawn to Montserrat by the availability of abundant, clean, affordable energy services – including geothermal power and heat.
Montserratians, rightly demand, high standards of governance, with strengthened transparency, accountability and public consultation. The people can be assured that Montserrat's reputation for fairness, peace and safety will be preserved through new and revised legislation, brought before this Honourable Assembly in the months to come and that the Government remains committed to reforming the public service. As a key part of this, the Government continues to embrace the Montserratian reality of a vibrant and diverse community that shares a common interest in the progress of our community. Good governance initiatives will enhance progress in Public Financial Management – where Montserrat has already implemented policy-based financial planning. A new Programme Management entity is to be introduced during this sitting, in order to improve management of key development projects. There is also a newly launched, Cabinet-led programme for human resource management reform. The Government remains committed to reforming the public service to achieve the efficiency and effectiveness and 'good service' to the public. In keeping with Regional and International practices, a range of new and revised legislation will come before this Honourable Assembly aimed at improving our international business and financial compliance. This will enable the Government of Montserrat to work with our local banks and financial institutions in playing a greater role in the economic development of our country. So, through a wide-ranging programme of reform and new legislation to be brought before and discussed by this Honourable Assembly in this year, the Government expresses its confidence in the sustainable development of our community. In all of this, let us recognise that people are Montserrat's principal resource, and so we must continue to put people at the centre of policy-making and plans. May God bless this Honourable House in its deliberations and may God bless the people of Montserrat.
Published 7 October 2016