Speech
Minister for Digital and Culture speech: The Radio Festival 2016
Matt Hancock addresses delegates at the 2016 Radio Festival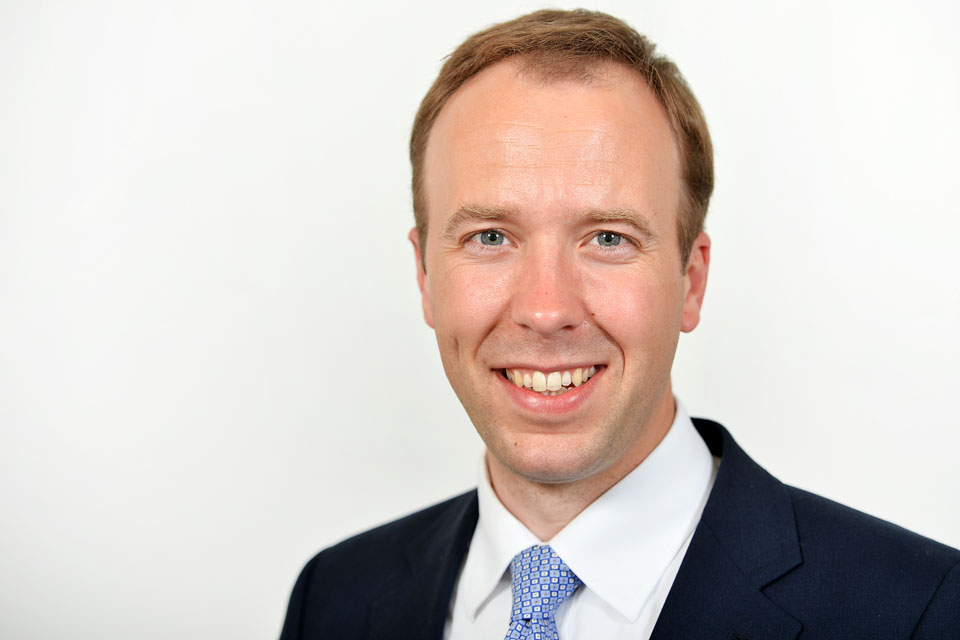 It is a real pleasure to be at the Radio Festival today to celebrate this vibrant and creative industry, and to make my long-awaited return to the world of radio.
I think I somehow knew, when as a student I worked as minority sports correspondent for Oxygen 107.9 FM, that one day I'd become Minister for radio.
Maybe it was fate.
I developed a passion for radio in my youth.
It's a passion that has remained with me and that I bring to this job.
I know that it is also something I share with my predecessor.
Ed Vaizey will be a very hard act to follow - he worked incredibly hard on radio - indeed there is no greater evidence of that than his Fellowship of the Radio Academy. I have every intention of emulating his support and championing of radio.
Status of radio
It's an exciting time to be taking over.
Far from disappearing into thin air, radio has embraced new technology, has adapted, is adapting, will adapt yet more.
That dynamism means radio occupies a position of fundamental strength, with both BBC and commercial radio producing a wide range of unique, high quality content - supplemented by a vibrant array of community radio stations.
In the 1980s, radio saw off takeover by tapedeck, and survived.
In the 1990s, radio saw off takeover by music TV, and survived.
In the 2000s, radio saw and met the challenge of the internet era.
And now in the 2010s radio hasn't just survived but thrived.
For radio, disruption is the only constant.
Radio remains, as it has been for generations now, an essential medium for our world-leading music industry, which benefits greatly from commercial radio's scale and reach.
Commercial radio supports more than 12,000 jobs and contributes over £680 million to the UK economy. Meanwhile, advertisers see an average return on investment of £7.70 for every £1 spent, which demonstrates the value of radio to the wider business ecosystem.
Let's not duck the challenges. The past decade has seen radio confront some major threats: staunch competition for advertising revenues in the face of the boom in online advertising; growing competition for listeners due to the emergence of online aggregators.
But radio has once again demonstrated its resilience.
2015 saw both a rise in commercial radio's revenues and listening hours. Despite all the modern day distractions almost 90% of adults still tune in to radio on a weekly basis – me included.
Perhaps the most important indicator of radio's health is that - according to the most recent data from RAJAR's MIDAS survey - more than 75% of all audio listening is still live radio.
Radio, the oldest broadcast medium, remains far and away the primary means of consuming audio content in the UK today - in spite of all the rest.
Both the BBC and commercial radio are vital means of promoting and showcasing new British musical talent
Listeners tune in to radio in large numbers to discover the latest musical trends and to curate and explain content that covers so many varied genres and styles.
And, of course, radio has a much wider social value.
Commercial stations are an important and valued part of communities across the UK - supporting local business through advertising, and serving as incubators and springboards for local media talent – I'm tempted to say myself included again, but I'll let you be the judge of that.
Radio has always had a strong civil society ethos whether it is raising millions of pounds for charity each year, support for local events and schemes, and broadcasting much valued local news or community radio which has established itself and which delivers so much through its programming and from the work of around 15,000 volunteers
And moreover, radio has a longstanding role in shaping and reflecting our nation's culture and values.
That role was most recently and emphatically demonstrated by BBC's The Archers, the world's longest running radio soap opera.
Like many an Archers storyline before it, Helen vs Rob captivated a multitude of new listeners, and galvanized a national public debate about domestic violence and its victims.
I was not surprised to note that the Helen Titchener Rescue Fund, established by an enterprising listener, has, to date, raised nearly £170,000 for the charity Refuge.
This represents the very best of what the BBC, and radio, can achieve.
Three Principles
Today I want to set out the principles I want to bring to support for the creative industries, and how these apply to radio.
The first principle is backing success - to support and nurture all the creative industries and to encourage mutual support through the creative ecosystem.
The second principle is access - we want to build an economy that works for everyone not only the privileged few. Radio can and must play its part.
And third, synthesis: we must exploit the synthesis of culture and digital technology so that all can utilise the opportunities that digitisation can bring. Here radio is well down the track, but there's always more to do.
Backing success
BBC Charter
First, backing success. Maintaining radio as a twentyfirst century success story will need change and support.
With more than 55% of viewing hours, the BBC plays a key role in the UK radio ecology.
Through BBC Charter Review we have worked to ensure that the BBC will thrive over the next decade.
So we back the BBC's agreement with the Radio Independents Group for 60% of eligible content to be competed for by 2022
And we have set out a clear set of proposals on the need for BBC radio services to be more distinctive, both in terms of its playlists and of wider public service broadcasting content.
The BBC should also make further progress in terms of nurturing its partnership with commercial radio under the new Charter.
Radio deregulation
Another important area is radio deregulation.
In September last year we asked Ofcom to examine the scope for deregulating the radio industry on music formats, local content and local production requirements.
The continuing growth of digital radio has meant the disparity between the analogue and digital regimes is becoming increasingly apparent - analogue radio contends with an outdated and prescriptive system rooted in the 1980s, while digital enjoys a much lighter-touch regulation.
Ofcom's work concluded that there are multiple opportunities for deregulation and reducing burdens, balanced with the need for continued provision of news and locally-focussed content, which are vital and highly valued by listeners.
As listeners continue to migrate to digital, it is essential they can access such services on that platform.
So we will bring forward proposals for consultation that we've promised before the end of the year, and I look forward to working with you to get them right: to back your success and seize the opportunities of the modern world.
Access
The second area I want to address is access.
In the new increasingly digital economy we need to ensure we identify and nurture talent. Potential, not polish. Central to this is to open up access to training and opportunities. Radio has always played its part in Britain's social mobility. But driving that mobility is a passion for me, and I want to see radio do more.
I am very interested in the initiatives the radio industry is pursuing:
The new Global Academy - in partnership with the University of the Arts - which welcomed its very first students earlier this month, will equip students with the technical, business and creative skills they need to work in the broadcast and digital media industry.
The Bauer Academy - which focuses on skills training and in last two years the Academy has provided media skills training to more than 5,000 people across the UK.
Creative Access do important work in getting interns both infront of an behind the mike.
Diversity
These initiatives will help but it is crucial that all the creative industries build on initiatives like this to enhance diversity and support social mobility.
I have challenged all media to make improvements in this area. It is highly important that media reflects our whole society – the country that it serves.
I'd like to congratulate Siobhan Kenny and Radiocentre for their work, across the BBC, commercial radio and with the Community Media Association, including their analysis of the radio workforce.
You audiences reflect the full diversity – geographic, ethnic, and social – of Modern Britain – and so should you.
Synergy
The final area I want to touch on is radio's synergy with the wider digital economy.
Digital radio
Radio has grappled with this synergy – and the disruption it brings - for years.
You are engaged in what will be a lengthy transition from analogue to digital radio.
Compared to many other countries, UK radio has readily embraced the new platforms, including IP delivery, and strengthened its use and presence on social media.
UK radio is well ahead here - both the BBC and commercial.
As a result of more choice, increased car installation, and DAB coverage build out, 45% of all listening is now via a digital platform, and 30 million adults now own a digital radio - including myself, of course.
In-car listening is also up - and thanks to the partnership with SMMT 90% of new cars should have DAB installed as standard by the end of the year
Thanks to the partnership between DCMS, the BBC and commercial radio - DAB coverage will substantially match national and local FM by the end of 2016.
But as we confirmed in the Charter Review White Paper, the 50% listening threshold also needs to be met before the government considers the merits of setting out a timetable for digital switchover.
I am aware that the digital transition is important to commercial radio and that the key to this is the BBC and commercial radio going forward with a single purpose.
Indeed, the BBC market impact assessment we published in March concluded that the most positive market impact was a strengthening of the partnership between the BBC and commercial radio to accelerate the adoption of digital radio.
This make a lot of sense.
Digital radio grants spectrum access to new, dynamic stations that would not be able to broadcast otherwise, reducing the BBC's advantage over analogue networks.
The recent launch of national stations as diverse as Magic Chill, Union Jack and Awesome Radio - the UK's first national muslim radio station - is evidence of this.
But decisions on switchover are not simple or straightforward.
This issue will need careful consideration when the 50% listening criteria is reached.
Rushing this risks getting it wrong - for the industry, listeners and for the future of radio.
I want to stress the importance of us all: Government, BBC and industry, of taking time and care in how we approach these decisions
Small scale DAB
The syniergy between your creativity and digital technology brings me the success of the small scale DAB trial.
Over the past two years we have funded trials of small scale DAB multiplexes in 10 towns and cities across the country.
The trials have allowed 101 small commercial and community stations to broadcast on DAB for the first time.
Today Ofcom have published their evaluation of the trials and the report is encouraging. It concluded that the trials were highly successful and showed that the small scale approach to DAB transmission is technically sound.
I know there is widespread support from the radio industry for these types of services to be put on a proper basis, and that the trial arrangements are not a suitable basis for the long-term licensing of small scale DAB multiplexes.
I have asked my officials to look at options for introducing legislation at the earliest practical opportunity to create a light touch licensing and regulatory framework which would be more appropriate for these types of services.
Conclusion
We will support this digital disruption of radio to help the industry go from strength to strength.
But I want to end on one I don't want to disrupt.
Radio is in good shape. The relationship between the Government and radio is in good shape too.
I don't want to disrupt that.
No: I want to support radio's success.
One of the UK's greatest cultural assets – the oldest form of broadcast, and the most dynamic form of broadcast.
Freddie was right: you've yet to have your finest hour.
I'm excited to work with you to see that hour come.
Published 26 September 2016