Michael Gove on the moral purpose of school reform
Michael Gove's speech to the National College for School Leadership in Birmingham on 16 June 2011.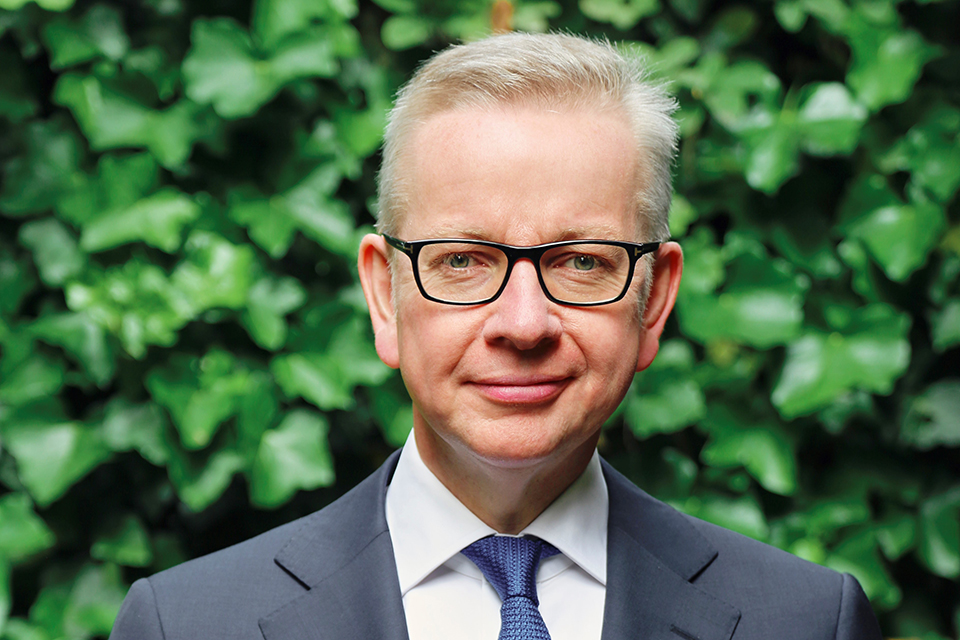 Thank you Tony for that kind introduction.
The last time we met was in New York when we were discussing school reform and, in particular, teacher performance.
I remember arguing that teachers had nothing to fear from lesson observation – not only was learning from other professionals the best way to improve, confident performers should relish the opportunity to show what they can do.
After all, I argued, other inspirational professionals are used to being watched while they work - great footballers, I said, like Wayne Rooney and Ryan Giggs, don't object to people paying them attention when they do their thing….
Perhaps, in hindsight, I could have chosen a happier parallel – but Tony you are one professional who always performs with effortless grace – thank you.
And thinking of outstanding performances which are a joy to watch, Steve, can I thank you for a brilliant and inspiring speech…
You incarnate the virtues of great leadership.
Clarity of vision.
Generosity of spirit.
Energy in action.
And, above all, clear moral purpose.
Together with Vanni, Toby and the rest of the leadership team at the National College you have responded to every challenge we've given you with the enthusiasm, optimism and ambition of great public servants.
I am in your debt.
I mentioned that you bring a clear sense of moral purpose to everything you do, Steve.
Throughout your career you have aspired to give children and young people new opportunities, richer futures, a sense of limitless possibility.
And it's about moral purpose that I want to speak today.
Knowledge is power
The moral purpose that animates the work we all do. Ministers, officials, school leaders, teachers.
What unites us is a belief that lives can be transformed by what goes on in schools. The precious moments spent in the classroom, the interactions between professionals and students, the process of teaching and learning – can shape futures like nothing else.
Just last week I was talking to one young man at the secondary school nearest to my home, Burlington Danes in London's White City Estate. A teenager who had been persistently in trouble, going in the wrong direction and who saw in the environment around him no incentive to work hard, no penalty for indiscipline, no encouragement to learn. Until that school was taken in a new direction by a new leader, the amazing Sally Coates.
She made sure every moment every child spent in her school was worthwhile – focussed on learning – with a clear expectation that every child could surpass their family's expectations. That young man is now on course to study engineering at Cambridge and his life has been transformed immeasurably for the better.
And what Sally has done in Burlington Danes, so many of you are doing across the country. Changing schools for the better, spreading opportunity more widely.
I am uniquely fortunate to be Secretary of State at a time when we have the best generation of teachers ever in our schools and the best generation of heads leading them.
People like Dana Ross-Wawrzynski at Altrincham Grammar Schools for Girls, who not only runs one of the most impressive schools in the country, but is also creating a trust in East Manchester that is already rapidly boosting the performance of a number of other local schools.
Or Ray Ruszczynski at Chellaston Academy, a superb National Leader of Education, working in a collaborative group with Landau Forte Academy and West Park School, as well as providing a wide range of support to Sinfin School.
Or Dame Sue John who has turned Lampton Academy into an inspiring example of how a school can succeed in a tough area, while also spearheading the London Challenge initiative which has so helped improve education in our capital.
Heroes and heroines whose vocation is teaching – the noblest calling I know.
All of us in this hall share something, I suspect. All of us, I am sure, were inspired by a teacher or teachers who kindled a love of knowledge, a restless curiosity, and a passion for our subject when we were young.
And all of us, I believe, want to excite the next generation – as we were excited – by the adventure of learning.
Introducing the next generation to the best that has been thought and written is a moral enterprise of which we can all be proud. Giving every child an equal share in the inheritance of achievement which great minds have passed on to us is a great progressive cause. Shakespeare's dramas, Milton's verse, Newton's breakthroughs, Curie's discoveries, Leibniz's genius, Turing's innovation, Beethoven's music, Turner's painting, Macmillan's choreography, Zuckerberg's brilliance – all the rich achievements of human ingenuity belong to every child – and it should be our enduring mission to spread that inheritance as widely as possible.
Because it is only through learning – the acquisition of intellectual capital – that individuals have the power to shape their own lives. In a world which globalisation is flattening, in which unskilled jobs are disappearing from our shores, in which education determines income and good qualifications are the best form of unemployment insurance, we have to ensure every child has a stock of intellectual capital which enables them to flourish.
Making opportunity more equal
But there is one area where the sense of moral purpose which guides us as leaders in education must impel us to do more.
As a nation, we still do not do enough to extend the liberating power of a great education to the poorest.
As Barack Obama has persuasively argued, education reform is the civil rights battle of our time.
In Britain, as in the USA, access to a quality education has never mattered more but access to a quality education is rationed for the poor, the vulnerable and those from minority communities.
Each year there are 600,000 students passing through our state schools. 80,000 of them - the poorest - are those eligible for free school meals.
Of those 80,000, in the last year for which we have figures, just 40 made it to Oxford or Cambridge. Fewer from the whole of the population on benefits than made it from Eton. Or Westminster. Or St Paul's School for Girls.
We know that we are not playing fair by all when, in the last year for which we have figures, just one child from all the state schools in the whole London Borough of Greenwich makes it to Oxford.
My moral purpose in Government is to break the lock which prevents children from our poorest families making it into our best universities and walking into the best jobs.
That is why this Government is spending two and a half billion pounds on a pupil premium to ensure that every child eligible for free school meals has two thousand pounds more spent on their education every year.
That is why this Government is investing in more hours of free nursery education for all three and four year olds and 15 hours of free nursery education for all disadvantaged two-year-olds.
And that is why this Government is investing in an Education Endowment Fund which will, like Barack Obama's Race to the Top Fund, provide additional money for those teachers who develop innovative approaches to tackling disadvantage.
Because the scandal which haunts my conscience is the plight of those students from the poorest backgrounds, in the poorest neighbourhoods, in our poorest-performing schools who need us to act if their right to a decent future is to be guaranteed.
We still have one of the most segregated schools systems in the world, with the gap between the best and the worst wider than in almost any other developed nation.
In the highest-performing education nations, such as Singapore, around 80% of students taking O-levels get at least an equivalent of a C pass in their maths and English.
And we should remember that Singapore has only been independent for around fifty years, it has no natural resources, is surrounded by more powerful nations, is a multi-ethnic society and its students sit exams in English – even though their first language will be Malay, Tamil or Chinese.
Here just over half of students get a C pass in GCSE maths and English. And the half which fail are drawn overwhelmingly from poorer backgrounds and are educated in poorer-performing schools.
So, at the heart of our comprehensive reform programme for education is a determination to learn from, and emulate, those countries which are both high performers and succeed in generating a much higher level of equity across the school system.
Thanks to the pioneering work of thinkers such as Michael Fullan, Michael Barber and Fenton Whelan, and the data gathered by the OECD through its regular surveys of educational performance, we can identify the common features of high-performing systems.
The best people need to be recruited into the classroom.
They then need to be liberated in schools set free from bureaucratic control.
Given structures which encourage collaboration and the sharing of the benefits innovation brings.
Held to account in an intelligent fashion so we can all identify the best practice we can draw on.
And led in a way which encourages us all to hold fast to the moral purpose of making opportunity more equal.
I want to say a little about each.
We're getting more superb teachers
We've moved quickly to get more high-performing graduates into teaching by funding the doubling of Teach First over the course of this parliament and expanding the fantastic Future Leaders and Teaching Leaders programmes which, with the support of the National College, provide superb professional development for the future leaders of some of our toughest schools.
Shortly we'll be publishing our strategy for Initial Teacher Training. This will further emphasise our commitment to boosting the status of the profession by toughening up the recruitment process and ensuring that all new teachers have a real depth of knowledge in their subject.
We'll be making sure this covers the whole spectrum by, for example, providing additional funding for more placements in special schools, so as to give more teachers specialist knowledge in teaching children with special needs.
We will also explore how excellent schools can be more involved in both initial training and the provision of professional development. Contrary to what some have said this is not about excluding higher education from teacher training. There are many excellent centres of ITT and losing their experience is not on my agenda.
But I am keen that we make better use of headteachers' and teachers' experience. That's why I, like Steve, am so excited about the development of Teaching Schools.
I believe Teaching Schools have the potential to generate higher standards than ever before. Over 1,000 expressions of interest and 300 applications is a very positive sign of your enthusiasm. The first 100 Teaching Schools will be designated next month but the partnerships being developed between schools and with higher education are already having a powerful and positive impact on the system.
We're empowering school leaders to innovate
Putting our best schools in charge of professional development is, though, just one way in which we're handing you control of the education system.
We've reduced central Government prescription for all schools to make your lives easier and give you the space to focus on what really matters.
The hundreds of pages of forms you had to fill in to complete the FMSIS process. Gone.
The vast Ofsted self-evaluation form that took weeks to fill in. Gone.
Performance Management guidance has been cut by three quarters and capability procedures simplified so you can deal with inadequate staff quickly and effectively.
Behaviour and bullying guidance has been cut from 600 pages to 50 so as to give you complete clarity over your powers and duties.
Over the next few months we will be publishing shortened guidance in a whole host of other areas. In total, departmental guidance will be more than halved.
And, I hope you've noticed we've stopped the endless stream of emails that use to emanate from the Department.
Beyond these changes we've implemented for the benefit of all schools, we've also given every school the opportunity to take complete control of its budget, curriculum and staffing by applying for academy status.
When I spoke to you last year there were 203 academies. Now there are 704 and a further 814 schools have applied. By the end of the year more than a third of secondaries will be academies. This is a much faster rate of conversion than I, or I think anyone else, had anticipated and testament, I believe, to school leaders' desire for genuine autonomy.
Many of you who have converted in the past year have already used your freedoms to great effect. For example:
Premier Academy in Milton Keynes has extended payscales – so that good teachers can choose to remain in the classroom rather than move into management to increase their salaries.
And, like other schools such as Wakefield City Academy, they have used resources previously held by their Local Authority to employ a dedicated pastoral support worker on-site to ensure that children with social and educational needs get complete continuity of care.
Others are following some of the larger sponsor groups like ARK and Haberdashers in extending their school day and the academic year.
Yet others like the Kunskapsskolan schools in Richmond are developing exciting new curriculum models.
And many converter academies have found they are able to buy services for a significantly lower cost than those provided by their local authority.
For instance Broadclyst Academy Primary School has cut the costs of their payroll system in half and has ploughed the money back into teaching. Watford Grammar School for Girls and Hartismere Academy have found procuring small improvements to be significantly cheaper and quicker.
This is creating a new relationship between schools and Local Authorities. As we know, in some areas LAs have been genuine drivers of innovation and improvement: they have seen their role as champions of excellence; identifying struggling heads and governors; brokering peer-to-peer support; and forging partnerships with local universities or major employers to drive up standards.
But in other areas this has not been the case. And this is now beginning to change, as LAs react to schools' new powers by improving the quality of their offer to ensure academies buy back services and engage with local initiatives. As one academy head explained recently to the Guardian:
Under the old regime, nothing had ever been done about some things that weren't good enough, whereas now, there's an awful lot of activity at our Local Authority to make sure services are good enough so that we will buy them in.
And some healthy competition isn't just improving Local Authorities. A study just published by academics at the London School of Economics, looking at academies opened by the last government, shows not only that they have improved significantly faster than other schools, but also that other schools in their locality have seen results improve.
We're embedding a culture of collaboration
But competition isn't the main driver of improvement in the system. What we're seeing, as Steve put it, is collaboration driving improvement but with a competitive edge. Indeed I would go as far to argue that genuine collaboration is harder without that competitive edge to inspire the need to improve.
So I'm hugely encouraged by the renewed focus on partnership between schools I'm seeing at the moment. I've already mentioned how impressed I am with some of the alliances put together by aspirant Teaching Schools. But that's just one area of activity.
For instance, all of the new converter academies have, between them, agreed to support over 700 other schools and we've begun the doubling of the National and Local Leader of Education programmes to support fellow heads.
I am particularly pleased to see that a number of these softer collaborative relationships are evolving into hard federations.
I have always thought that many of the best academy chains are those that have grown out of a single outstanding school with a visionary leadership team. Just look at what Dan Moynihan has done at Harris; or Sir Kevin Satchwell at Thomas Telford; or Sir Peter Simpson at Brooke Weston; or our new Schools' Commissioner Elizabeth Sidwell at Haberdashers.
What these leaders share is that were given a rare opportunity as headteachers of CTCs to use their longstanding autonomy to develop a powerful educational model that could then be readily applied to new schools when the last Government launched their academy programme.
Now, with our offer of academy freedoms to all outstanding schools and leaders we have created the opportunity on a much larger scale for great leaders to expand their vision across a group of schools.
The process of allowing outstanding schools to convert has created a new generation of academy sponsors dedicated to turning round under-performing schools.
For example, Morley High School, led by NLE John Townsley, converted in January and will start sponsoring Farnley Park School in Leeds next year. And Sandy Hill Academy in Cornwall – one of the very first converters – is now in the process of taking on Trevebyn Primary.
I hope many more of you will take advantage of this opportunity over the coming years.
A proper national framework of accountability
Of course in this new educational landscape – where far more schools have significant autonomy and improvement is driven not by Government but by great schools working with others – proper accountability becomes even more important than ever.
That's why we're currently overhauling the Ofsted framework to focus on the four core responsibilities of schools – teaching and learning; leadership; attainment; behaviour and safety – as opposed to the twenty-seven different categories in the existing framework.
I am particularly keen that under the new framework Ofsted inspectors are able engage properly with schools, as opposed to focusing too strongly on data alone. I want them to be able to view more lessons; talk to more teachers and hear what students and parents have to say. And I want inspectors to engage not just during inspections but subsequently so that schools feel they have some guidance as well as a judgement.
We also need to change the way we use data in our pursuit of accountability. As Professor Alison Wolf's review on vocational education has made clear, the introduction of large numbers of vocational equivalents to the GCSE performance tables in 2004 has led to widespread gaming of qualifications. The 4,000 per cent rise in the number of such qualifications taken in just six years is testament to this.
She has proposed measures to combat this issue which we are now implementing – including much tighter criteria for courses that wish to be considered equivalent to GCSE. But this particular problem is symptomatic of a wider issue. As long as most data is hidden from the public and the profession governments can manipulate what they do choose to release so as to mislead.
That is why we've already begun a major transparency revolution. We've started the process of publishing all the information the Department collects – including an additional 14 million lines of exam data this year. In future this will include more data on how schools are improving the results of the disadvantaged – both those in receipt of the pupil premium and those with low prior attainment.
I don't expect, of course, that many parents will personally search through all this new material, but we are already seeing third parties finding new ways to present this data. Moreover educational researchers will have an unprecedented opportunity to investigate what's really going on in the system.
It also means that any new performance measures Government does seek to highlight – such as the English Baccalaureate – will only have an impact insofar as they resonate with parents. Initial surveys suggest this measure does have real resonance. Which is unsurprising as it simply seeks to replicate the sort of academic core that is expected in almost every developed country in the world: for children on both academic and vocational routes post-16.
A moral commitment to helping those most in need
Crucial to a proper framework of accountability is a set of clear expectations for schools. As the OECD say: "PISA results suggest that the countries that improved the most, or that are among the top performers, are those that establish clear, ambitious policy goals."
In last year's White Paper we took a tougher line on underperformance than ever before by raising the floor standard for secondary schools to 35 per cent of pupils achieving five GCSEs at A*-C including English and maths. We wanted these standards to be as fair as possible, so schools which show pupils making superb progress from a low basis are exempted.
But that still left 216 secondary schools below this floor. We have taken action, in partnership with many of you in this room, to ensure their performance is turned round.
In the next school year at least 88 schools, and counting, will be placed in the hands of new academy sponsors with a mission to end a culture of poor performance. That is more under-performing schools converted to academies than the last Government ever managed in a single year and more than they managed in their first eight years combined.
So I'm hugely encouraged by our progress. But I don't believe, and I hope you don't either, that 35 per cent of kids getting five decent GCSEs should be the limit of our ambition.
To compete with the best in the world, we have to raise our expectations not just once but continuously. In Poland, Australia, Canada and New Zealand more and more students are graduating from school and going on to university. In Singapore more than 80 per cent of young people taking O-levels now achieve 5 passes – the equivalent of C grades in GCSE. In South Korea an incredible 97 per cent of students graduate from high school.
So if we are to aspire to a world-class education system then we need to raise our sights beyond 35 per cent. And in doing so we cannot allow ourselves to have lower expectations for more disadvantaged parts of country. Of course I accept that schools in such communities face harder challenges but I also know that these challenges can be met. Deprivation need not be destiny.
Look at Perry Beeches in Birmingham. 25 per cent of children are on Free School Meals and 41 per cent have special needs. Yet in three years they have moved from 21 per cent five A*-C GCSEs including English and Maths to 74 per cent.
Or Paddington Academy – which jumped from 34 per cent to 63 per cent five A*-C with English and maths in just one year. At Paddington 51 per cent of children are on Free School Meals and 65 per cent are identified has having some kind of special need.
Or Woodside High School in Haringey, a school Steve spoke eloquently about in his speech, where almost no children at all achieved 5 A* to C with English and maths 5 years ago and where over 50% will hit that benchmark this year. Again this is a school where 55% of children are on free school meals and 38% have identified special needs.
Now that we know this level of achievement is possible in schools like these, and in many others similar to them, we must surely make it our expectation for all schools. To do any less, I believe, would be a betrayal of our young people.
So next year the floor will rise to 40 per cent and my aspiration is that by 2015 we will be able to raise it to 50 per cent. There is no reason – if we work together – that by the end of this parliament every young person in the country can't be educated in a school where at least half of students reach this basic academic standard.
I realise that in stating this aspiration some will criticise too strong a focus on testing. Let me be clear: I do not think the only responsibility a school has is to help students pass exams. An outstanding school will look after the pastoral needs of its pupils; will provide a wide range of extra-curricular activities, and play a role as a broader part of its community. But it must also endow each child with the basic entitlement of intellectual capital any citizen needs to make their way in the world. A GCSE floor standard is about providing a basic minimum expectation to young people that their school will equip them for further education and employment.
Primary
And we must also have a similar level of expectation for primary schools. The last Government's academies programme was never extended to primaries, even though it was Andrew Adonis's clear ambition.
And after an initial focus on primary schools in its first five years, the last Government lost momentum. So in the White Paper I also introduced a meaningful floor standard for primaries for the first time: that 60 per cent of pupils should achieve Level 4 in English and maths at Key Stage 2 or make an average level of progress.
Of course primary test scores are more volatile than those in secondaries due to the smaller size of schools, so one has to treat data with additional care. However, analysis of this new floor standard reveals that there are more than 200 schools that have been under the floor for five years or more. Indeed more than half of these have been under the floor for at least ten years.
A further 500 or so schools have been under the floor for three of the past four years.
These schools have let down repeated cohorts of children. Again I appreciate that it is harder to reach this standard in some parts of the country than others. But again we know that it is possible:
Look at Berrymede Junior School in Acton where 58 per cent of children are on Free School Meals and 31 per cent have a special need. Here over 80 per cent of pupils have achieved Level 4 in English and maths in each of the last three years.
Or Woodberry Down in Hackney with 51 per cent on Free School Meals and 34 per cent with special needs where 80 per cent reached Level 4 in English and maths last year.
Or Cuckoo Hall Academy in Edmonton with 37 per cent on Free School Meals and 34 per cent with special needs where an incredible 95 per cent of pupils achieved the Level 4 benchmark last year.
Or dozens of others in similar circumstances. Given that we know it can be done and it is done, we surely must make it our minimum expectation for all primary schools that they will not consistently fall below a 60 per cent floor.
So, as an urgent priority, we will start work on turning around the 200 schools that have most consistently underperformed by finding new academy sponsors for them so that most can reopen from September 2012. We want to work closely with the schools involved and their local authorities to make this happen.
The Education Bill currently working its way through Parliament will give the Department the power to intervene to turn around underperforming schools where authorities are recalcitrant or try to stand in the way of improvement. But wherever possible we want to find solutions that everyone can agree on - as we have done with the vast majority of the secondary schools that will become academies next year.
Beyond this we want to support Local Authorities in turning round the 500 schools who have fallen below the floor in at least three of the past four years. Several months ago I asked Local Authorities to draw up plans showing how they intended to improve their weaker schools. These have now been submitted and some of them are very impressive showing clear leadership and engagement with the problems of long-term underperformance.
In his speech Steve mentioned Wigan's plans to commission groups of schools to run improvement activity across the authority and he underlined how schools across Manchester are working together to embed the success of the Greater Manchester Challenge. In Devon and Suffolk the Local Authorities have worked to help schools become academies while maintaining a strong network between the schools.
But there will be other local authorities that need some support – financial and logistic - from the centre. So, over the coming months, we will identify areas – either whole authorities or parts of larger authorities – that have a significant number of underperforming schools. We will help these communities dramatically transform primary education in their area.
Conclusion
And there is an urgent need for us all to act.
We have just suffered the worst financial crisis since 1929.
Our economy is weighed down by a huge debt burden.
Europe has major problems with debt and the euro.
Meanwhile there is a rapid and historic shift of political and economic power to Asia and a series of scientific and technological changes that are transforming our culture, economy and global politics.
If we do not have a school system that is adapting to and preparing for these challenges then we will betray a generation.
Our school system needs to have innovation embedded in its way of working. That is what our reforms provide – the opportunity for our school system to adapt rapidly to technological change such as the amazing revolution of iTunesU, whereby Harvard and Oxbridge publish their most valuable content free, extending the scope of knowledge available to all children.
Only by learning from other nations, and by giving school leaders the freedom to shape their own futures, liberated from outdated bureaucratic structures, can we ensure we benefit from the other, increasingly rapid changes technological innovation will bring.
And while globalisation brings many benefits to our citizens, it also bears particularly heavily on the poor and the young.
Across the Western world countries are struggling with youth unemployment at the moment.
And for all those of us who feel that the moral purpose of our work is to find a fulfilling outlet for the talents of our young people, there is a special tragedy in seeing young lives unfulfilled.
There are things Government can do to ameliorate this in the short term. And we are acting, not least through my colleague Iain Duncan Smith's work programme.
But if we are to grasp this issue properly then we must deal with the root causes of the problem.
And that is our shared responsibility.
For those root causes can be found in the first years of a child's life.
We know that a child who struggles at Key Stage One will struggle to do well in their Key Stage Two tests. And we know those children with the greatest difficulties are drawn overwhelmingly from our poorest neighbourhoods.
And we know that those same children who don't have Level 4 English and maths when they leave primary school are much less likely to achieve five good GCSEs than their more fortunate peers.
And we know that the same young person who doesn't get the equivalent of five good GCSEs is much more likely to be NEET at 16 or 17 and much less likely to be in secure employment thereafter.
We are fortunate to be in the most fulfilling employment anyone can have. To be engaged in the education of the next generation is to be given a chance to liberate thousands from the narrow horizons which have limited mankind's vision for centuries.
But if we are to make good that promise then we need to recognise that we will all have to work harder than ever before - work to attract even better people into teaching, work to innovate more determinedly, work to identify talent more zealously, work to collaborate more intensively, work to raise aspirations, standards, hopes…
But in this work lies the promise of a reward greater than is given to any other profession - the knowledge that we have guaranteed the life of the next generation will be better than our own.
Published 20 June 2011