Speech
Marriage Foundation conference
Tackling poverty and promoting a strong, cohesive society through strengthening families and the instituion of marriage.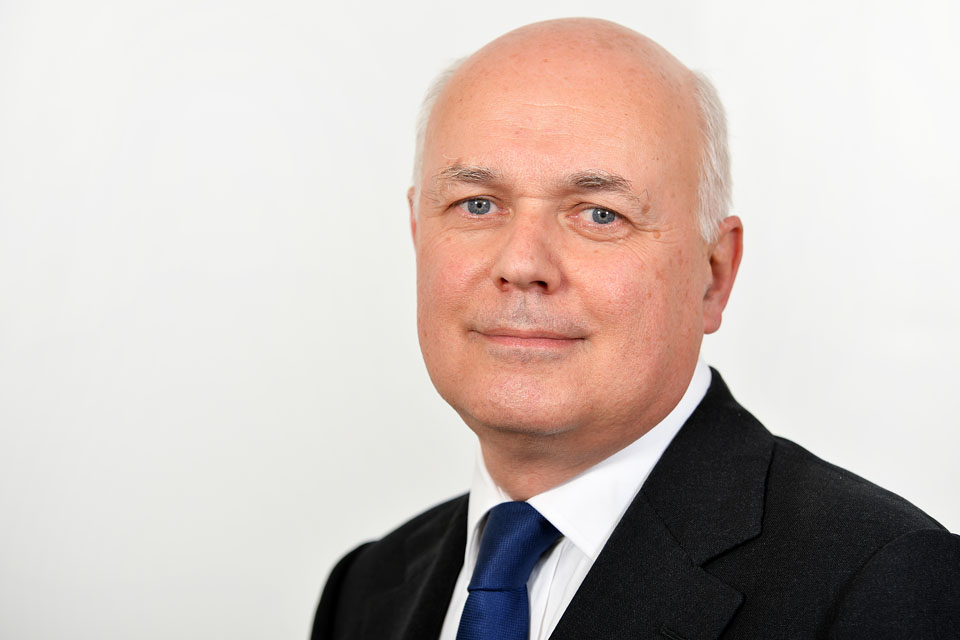 Introduction
I would like to start today by thanking Sir Paul Coleridge – both for his kind invitation for me to be here today, and for his dedicated work through the Marriage Foundation.
Although I believe we have started to see a real change in the common discourse in recent years, it has not always been fashionable to speak out in favour of marriage.
Doing so has often meant being something of a lone voice – at least within the political sphere – where, over the years, the political establishment came to frown even at the mere mention of marriage.
I believe any government serious about tackling poverty and promoting a strong, cohesive society must seek to strengthen families.
And yet, when a politician extolled the virtues of the fundamental institution of marriage, too often, it has been taken to mean that they are attacking those whose lifestyles don't fit.
This is an absurd and damaging assumption.
Support for society's most successful institution does not mean that you cannot also be sympathetic to, and supportive of, families where 1 parent is left with the difficult responsibility of bringing up children.
But for too long, the result has been that the loudest commentators were those opposed to marriage, as an institution no longer wanted or needed by modern British society.
Meanwhile, governments shied away from positively promoting loving family relationships – and the distinct and powerful role that marriage can play in securing them.
Couple penalty
When this government entered office, then, we inherited a state system in which support for couples had been casually withdrawn…
… not only failing to recognise the importance of stable families – but actually at risk of making things worse.
Take the couple penalty in the benefits system, as just 1 example, whereby couples living together and claiming benefits receive less than if they each claimed separately.
I do not say that it is the state's role to subsidise marriage. Far from it – just that the default should be set at an even balance.
Currently, however, for the most disadvantaged in society… who come to realise that marriage is an expensive business… such perverse incentives can have a hugely damaging effect.
In the welfare system – as in the court and tax systems – where the default has been set against couples, the risk is that it entrenches a process of family breakdown.
Unstable families
Whilst I was at the Centre for Social Justice, our research found that it is the poorest households who often feel the negative impacts most severely, when family breakdown becomes caught up with other disadvantages.
Negative experiences of family relationships are often linked to problems with mental health and wellbeing… alcohol use… lower educational attainment… and problems with children's own relationships.
And the government's own family stability indicator shows that children from the lowest income families are twice as likely to not live with both parents, compared to their better-off peers.
Families first
Given trends to date, we know that this figure is likely to deteriorate further over the next 5 years.
So we must no longer be afraid to talk about these issues.
Not as a 'finger wagging' exercise, as has sometimes happened in the past – for government has no place judging peoples' relationships.
But we do have a duty both to level the playing field – for too long tilted against marriage…
… AND to do all we can to support the sustained and healthy parental relationships that matter most…
… providing a nurturing environment and giving children the best possible start in life.
Promisingly, this government is taking bold steps… far greater, I believe, than any before… towards ensuring families have the help and support they need to flourish.
One of our first moves was to establish a new Social Justice strategy – which put families first, prioritising strong couple relationships and children's early years, when parents are the main influence on their future outcomes…
… holding, for the first time, that family breakdown can be both a symptom and a cause of poverty and low attainment.
Since, then we have made some real progress in putting these principles into practice…
… in the welfare system – reducing the couple penalty under Universal Credit, alongside household payments and a simpler system which will make for better support…
… in the legal system, where the Children and Families Bill is providing for presumed shared involvement in the life of a child, where parents separate…
… and reforming the Child Maintenance system – supporting separated families and helping them make the involvement of both parents the norm…we know that children do better when this is happens…
… and in the tax system, where the Chancellor confirmed in his Autumn Statement just yesterday that we will introduce a transferable tax allowance for married couples from April 2015 – meaning around 4 million married couples and civil partners who pay the basic rate of tax, will see their tax bills cut by up to £200 a year.
Cohabitation and marriage
As the Chancellor said, this is just the start – but it is nevertheless an important moment in reversing the bias against marriage.
For the evidence shows that cohabitation and marriage are 2 different relationships.
We know that cohabiting parents are around 4 times more likely to have separated by the time a child is 3.
And by the child's fifth birthday, more than 1 in 4 of those who cohabit have split up, whereas for married parents the break-up rate is fewer than 1 in 10.
Of course I'm aware that there are other factors at play – the characteristics of those who choose to cohabit compared to those who marry, and the fact that those with good quality relationships may be more likely to get married in the first place, and therefore stay together.
But it remains that one tends to have greater longevity and stability than the other.
Aspirations
What we also know – from a variety of polls – is that when young people below the age of 35 are asked about their aspirations, three quarters place marriage near the top of their list.
So it's not that other people don't agree on the importance of marriage – rather, they have a low regard for what they see as political cynicism, which targets selected groups of people to make a point.
The reality is that things don't always go to plan, and that relationships can break down for unavoidable reasons – so this is not a case of government moralising on people's circumstances.
There are separated and lone parent families all over the country doing the difficult job of bringing up children and often succeeding against the odds.
Just as there are loving couples who have never married and are just as committed to one another.
They are to be celebrated and we should do what we can to help them.
But, as the Marriage Foundation and others have argued for some time, there is something special about the commitment that marriage involves, which needs to be acknowledged publicly:
the willingness to openly and actively plan for the future – in turn, promoting responsibility and stability in other aspects of the relationship and family life.
With the vast majority – as I said, some three quarters of young people – aspiring to marry… yet, by the age of 35, only something of like 57% have married.
With young people's aspiration so outstripping achievement, I believe we must approach this issue by asking what stops them from doing so…
… looking at how we can remove the barriers that currently stand in their way, and ensuring people have the opportunity to realise that aspiration.
Relationships education
One area where I believe we can make a real difference is through relationships education… taking the stigma out of the idea that needing help means you have somehow failed as a partner or a parent, and instead making this the norm.
Our aim should be to start this process early – getting to those at risk, and preventing problems rather than waiting to pick up the pieces.
Take young couples – too many of whom face the difficulty of an unrealistic expectation of what married life will be like, in some cases an almost fairytale view.
Reinforced by celebrity culture and the glossy spreads in Hello! Magazine, the focus is too often overwhelmingly on the ceremony itself – by some estimates costing an unbelievable £20,000 on average…
…. with some couples getting into debt just to meet the costs.
Starting married life with a large overhang of debt… but without the understanding that marriage requires compromise to overcome real challenges…
… all of this puts huge pressure on newly married couples from the start.
What seems to have been forgotten is that the point of marriage is love, commitment, and creating a stable environment in which to bring up a family.
None of these cost more than the price of a marriage licence.
That is why the work of the Relationships Alliance and other community organisations – like many gathered here today – is so invaluable…
…. helping to explain what is needed to sustain and build a strong relationship.
The government has already funded marriage preparation and relationship education for over 6,000 couples, alongside training for over 12,000 practitioners to help them support families experiencing relationship difficulties.
Family breakdown
But we must go further, and do more, to support families to become resilient to life's challenges…
… a principle that applies regardless of whether couples are together or apart.
This belief underpins the government's commitment to supporting individuals whose relationships have sadly broken down…
… where our priority must be to minimise conflict… ensuring parents have access to the help they need to maintain family relationships… and mitigating the negative impact on children.
Here too, relationship education has a vital role to play – and the government is right behind this agenda.
My Department has invested £10 million in an Innovation Fund, developing and testing new services to help separated parents.
Seven projects are up and running, and I am pleased to announce the second round of investment for another 10 today – funding cutting edge interventions from virtual coaching and mediation, to therapeutic help for specific groups such as Asian families and teenage parents.
Importantly, the Fund works on the basis of payment by results, meaning providers are rewarded for meaningful improvements – be it more amicable financial arrangements or consistent contact with both parents.
By preventing as well as tackling entrenched conflict, the outcomes for children can be significantly improved – giving them a far better chance of having a stable relationship themselves in future.
Scale of the challenge
Yet it remains the case that for these interventions to see success in reducing the level of family breakdown across the UK, they must work against a tide of well-established social and economic trends.
Assuming there were to be no further increase in family breakdown – which we know from current trends is unlikely – the government's family stability indicator tells us there would need to be an 80,000 reduction in the number of birth parents separating to realise a 1% drop in the indicator.
A considerable number, without a doubt.
Yet the same reduction in terms of low income families equates to just 16,000 families.
So the scale of the challenge is significant – but we need to keep it in perspective.
By taking advantage of technology and finding new ways to reach parents in need, we can break new ground.
Take the fact that the government's virtual parenting services helped over 4 million parents this year alone, including over 70,000 receiving intensive support.
We have the scope to reach out to many of those families who – with the right support – might overcome the problems they face at home.
However, we do need to understand better both the drivers behind family formation, and what works in bolstering strong and stable families.
It is another step in the right direction that we are now conducting a Family Stability Review across government.
This will look closely at the support available across different departments and agencies… as well as what further work might be needed to drive improvements in family stability.
Expected to report next year, the aim is to ensure our action is effective, evidence-based, and better coordinated across the many relevant bodies with an interest in supporting strong and loving families.
Conclusion
The government has done a lot already – especially in difficult economic times, when it would have been all too easy to put this to one side…
… and in a coalition, which like all good partnerships, has required a good deal of give and take.
The Prime Minister's pledge stands, and we are making progress…
… but if you ask me, 'is that it on families?', then my answer is no.
Now is the time to drive home the message that stable, loving families matter, and marriage matters to them.
For our communities… in the fight against poverty… and in setting children on the path to success.
This is a critical part of reshaping our society…
… supporting couples, for better and for worse…
… and giving our children the best chance of a bright future.
Published 8 January 2014