Making the most of our relations with Latin America
Foreign Office Minister Lord Howell reaffirmed Britain's commitment to deepening relations and co-operation with Latin America at the Latin America Investment Forum.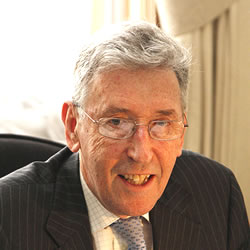 When this Government took office we made it clear that we wanted to reinvigorate the UK's relationship with old friends, allies and networks. Nowhere was this more urgent than in Latin America. This Latin American Investment Forum is testament to the revival of our connections with that special region. And it presents an invaluable opportunity for exploring avenues for cooperation, collaboration, and support. It is a great pleasure for me to be here today to be a part of that.
Longstanding Connection
There is something very special about the bond between the United Kingdom and Latin America. We were among the very first countries to recognise the potential of the region in the 19th Century, when Foreign Secretary George Canning helped negotiate Brazil's independence. Britain gave more support to the 19th Century independence movements in Latin America than any other foreign power, this included volunteers, thousands of whom fought bravely in the armies of the great Liberator Simon Bolivar, as well as financial assistance and diplomatic recognition. We enjoyed close trading links during that time and played a big part in your early economic development.
The British mark on the region of which I am perhaps most proud was made by a man named Charles Miller. Born in Sao Paolo to a Scot in 1874, he was sent at the age of 10 to be educated in Southampton. When he returned to Brazil in 1894, he filled his suitcase with two footballs and a manual of the rules of the game. He worked to set up the first football league in Brazil, the Liga Paulista, and won the inaugural championship, playing as a striker for Sao Paolo Athletic Club. Many attribute the genesis of the 'beautiful game' in Latin America to Charles Miller, and I am more than happy for the United Kingdom to take the recognition for this.
But by the late 20th century, Britain had looked away. Four of our Latin American Embassies were shut, diplomats withdrawn and our links faltered, just as Latin America began its extraordinary rise.
Reengaging with Latin America
This Government came to office determined to give new energy to the relationship that Britain has with the region and we believe that we have now opened a new chapter in our shared history. Under this Government we are actively developing our diplomatic and our economic engagement.
The Foreign Secretary announced in November 2010 his intention to drive Britain's most ambitious effort to strengthen ties with Latin America in 200 years, since the days of Canning. This is not just rhetoric. Since then, we have been turning our words into action.
We are literally cementing our commitment by opening a new consulate in Recife, re-opening our Embassy in El Salvador, and expanding our diplomatic staff across Latin America.
We have welcomed Latin American leaders to our country including President Pinera, President Santos and President Martinelli and Foreign Ministers Holguin and Almagro. Last year, the number of British Ministerial visits to the region more than trebled compared with the number in previous years.
We have set targets to double our trade with Brazil, Mexico and Colombia by 2015 - and good progress has been made, UK exports to these countries have increased by 15%, 11% and 30% respectively.
We have just signed a 'Science without borders' agreement which will bring 10,000 Brazilian students to British universities over the next four years and are committed to attracting bright young adults from all Latin American countries to our universities. And the British Council has trebled its budget for the region, investing in cultural exchanges, English language training and education. In every way, Britain is back in Latin America; and back to stay.
Modern Relationships for a Networked World
But this is not about re-setting the clock. The relationships that we seek to forge with all the countries of the region are modern, adaptive, and reflective of the new realities of international relations.
States are increasingly organising themselves into networks. New networks like the Community of Latin American and Caribbean States (CELAC); old networks like the Commonwealth; political networks like the European Union and economic networks like ASEAN. Regional groups are certainly strengthening across the world, but these groups are not rigid or immutable.
Nor have they diminished the role of individual states as some predicted. On the contrary, regional networks have allowed diverse states with diverse needs to pursue diverse objectives together. It is now easier than ever before to build fluid and dynamic partnerships, alliances and connections.
Building networks is about harnessing one's connections; using the connections of others and finding other like-minded groupings that share similar ends, and possess complementary means. For example, rapidly growing economies like China are extending their economic ties across the world, including in Latin America. There is enormous benefit in three-way commercial cooperation among Latin American, Chinese and
UK interests
In Britain, we want to make the most out of our connections around the world. We are a member of one of the world's longstanding global networks - the Commonwealth - with 54 nations that brings together countries in Europe, the Americas, Africa, Asia and the Pacific and which contains a third of the world's population and some of its fastest growing economies. We are also the world's sixth largest trading nation even though we comprise just 1% of the world's population; second only to the USA in the amount of money we invest abroad and always outward looking and intrepid in nature. One in ten British citizens now lives permanently overseas. We are also an important and active member of a European Union.
We want to make these networks accessible to others. We want to create networks of networks. We want to connect our connections. And we see real potential for doing just that in Latin America.
New groupings regional actors such as the Union of South American Nations (UNASUR), the Community of Latin American and Caribbean States (CELAC), and of course, Mercosur reflect a growing self-confidence in Latin America about the region's increasing importance on the world stage.
In the UK, we want our Latin American partners to use us as a springboard into the European Single Market - the World's largest trading bloc. We want to exchange experience and knowhow between you and the Commonwealth. We are pushing for a free trade agreement between the EU and Mercosur. Most importantly, we want to bring our people together with your people.
Complementing the networks of states of which I speak, informal networks of business-men and -women, individuals, and members of civil society, allow people around the world - who are becoming ever more interconnected - to work together. The Latin American Investment Forum is a perfect example of such a network.
Trade and Investment
It is a common misnomer that states trade with one another. States can set the conditions in which trade takes place, but ultimately it is, of course, businesses that do the vast majority of trade. So my government is wholeheartedly committed to encouraging British companies to do business with their Latin American counterparts.
In an uncertain financial world, Latin America stands out on economic prospects. Its growth has remained resilient in the face of the global financial crisis. The middle classes are expanding and poverty is falling.
Governments across the region have implemented fundamental reforms to their economies to make them more open and competitive.
Latin America is also an easier place to do business than many other emerging markets. The population of Latin America is close to 600 million people, more than the population of the EU. It contains the largest group of democracies outside Western Europe. We share values, interests and aspects of culture with many Latin American countries.
British companies have already has great success in the region, including HSBC, Rolls Royce, and Anglo-American. BG Group announced US$30bn investment in Brazil over the next decade, making them the largest British investor and the largest foreign investor in the Oil & Gas sector. 58 of the FTSE 100 companies are doing business in Latin America. But only 1.4% of UK exports reach Latin America. We need more UK companies to consider doing business there. And we need a wider range of sectors active in the region.
Countries across Latin America have ambitious plans for their future. Colombia is investing $54 billion in infrastructure over the next 3 years. Venezuela has investment plans worth more than $200 billion to develop its oil and gas reserves and infrastructure by 2030. Over the next four years, Brazil has $350 billion worth of investment planned.
The UK has the expertise and experience to assist in these plans. We can offer world class services in structuring the finance to underpin these investments. We have many years' experience of managing public-private partnerships.
We are proud to be a leader in low carbon construction. This will be showcased this summer at our innovatively and sustainably constructed Olympic Park. UK project and financial management of this £9.3bn project has ensured that the Park is ready on budget and well in advance of the arrival of the Olympic Flame on 27 July. Of course, we will be keen to share our experience of hosting the Olympics with Brazil, who will succeed us as hosts and who are also holding the next World Cup. But British construction experience goes far beyond sports projects and will be relevant to the vast majority of the Latin American infrastructure plans on the table.
Our expertise in science and innovation is world class. We have niche experience in many sectors in which many states in Latin America are specialising. We are also regarded as a global leader in agrifood technology and innovation, particularly in food safety, traceability, functional foods and science and novel foods.
The UK is on the cusp of a revolution in renewable energy which will pave the way to a low carbon economy. Our companies have already taken huge steps to exploit wind, waves and tides to generate electricity. As such, they are well-placed to offer expertise and respond to the opportunities in Latin America. In Brazil renewables currently represent 45.4% of Brazil's energy matrix and 86.2% of their electricity matrix, making the country's energy sector one of the world's cleanest. Hydropower accounts for 80% of Brazil's energy consumption. Generation from alternative renewables is expected to double from 8% to 16%. So we want to see British companies partnering Brazilian ones, sharing experience, and working together for a low carbon future.
The UK is a leader in responsible mining. Peru has became the first country in the Americas to become a compliant member of the Extractive Industries Transparency Initiative (EITI). This British initiative, promotes common international standards for revenue transparency and accountability in the oil, gas and mining industries.
Our expertise in other methods of extraction is world-class too. With the growth in Colombia's oil and gas sector there are plenty of opportunities for British suppliers to provide high value machinery to oil and gas companies there. And in looking towards Colombia's offshore oil and gas exploration, there are important opportunities for UK boutique consultancies.
So my government is aware of the opportunities and will do what it can to support trade and investment between our country and those of Latin America. We have increased our political links with states in the region, but there is still further to be done.
We want to deepen our dialogue and cooperation on issues such as economic policy, climate change, innovation, education and broader foreign policy challenges. We want to do more to help tackle security issues in Central American countries. And we need to improve British accessibility to the region. More direct flights are essential.
So making the most of our relations with Latin America will be a central priority for the Foreign Office, as part of an approach that puts promoting trade and commercial interests at the heart of our foreign policy. Nothing will come to us by right or by virtue of the past. We have to work hard to earn our living as a nation and maintain our international influence. We have set out to pursue British interests and the global good in a systematic fashion while making the most of the new opportunities for influence and action presented by a networked world.
Our re-engagement with Latin America is central to this strategy. It is how we shall seek to secure the long-term health of our economy, the long-term resilience of the international system and connections to face the long-term challenges posed by the 21st century. We are back in Latin America. And we are back for the long term.
Search the news archive
Published 22 March 2012