Speech
Lord McNally's speech to the Criminal Justice Management conference 2015
Lord McNally, Chairman of the Youth Justice Board, speaks at 'the future of criminal justice' conference in London.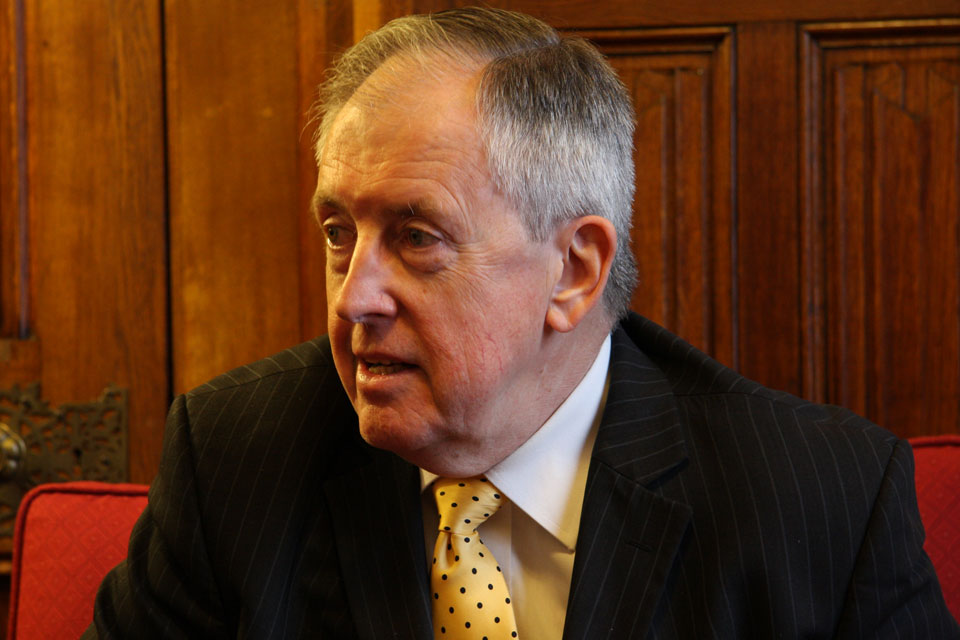 Introduction
I first started working in Whitehall and Westminster in the mid-1960's, when Harold Wilson was Prime Minister. One of the most memorable things he ever said is that a week is a long time in politics. That being so, the year since I last addressed this conference feels like a positive eternity. Then the coalition government was in the last few months before a general election. Today a newly elected Conservative government is in the first flush of its five year mandate - a mandate which includes a very clear commitment to carry on with an austerity programme through which they seek to put the public finances on an even keel.
I do not intend today to try and argue the merits or demerits of the government's economic strategy. The Chancellor has made very clear what he intends to do and all parts of government are now wrestling with how to cut their cloth accordingly.
For the Youth Justice Board (YJB) that has meant an immediate call from our sponsoring department, the Ministry of Justice (MoJ), for in-year savings of £13.5 million now, and an expectation to stand ready to play our part with further cuts required in the forthcoming spending review due next month.
The reality of the Youth Justice Board's finances
The structure of the YJB's £240 million budget, in plain terms, has £140 million allocated for the secure estate. The only other major item of expenditure is the youth offending team (YOT) grant of £85 million.
That YJB funding forms one of the major streams of YOT funding, the others being from Police and Crime Commissioners, local authorities and other statutory partners. These sources have all been under the cosh of expenditure cuts in recent years. So let me pay tribute to them for keeping faith with the YOTs at this time.
As you would expect, we have consulted with our stakeholders on the proposed in year cuts. That consultation has just ended and we are analysing the responses. I am not in a position to give you the outcome of the consultation; but I am guessing that even the most polite of them will say that this is a very difficult ask. We are looking at all possible avenues and options through which we can meet this cut, but it is not going to be easy or straightforward.
A year ago we were able to respond to a similar demand for savings by closing Hindley under-18 young offender institution (YOI) and Hassockfield secure training centre with a saving of £20 million. That was possible because the continuing fall in the numbers in youth custody (now down to under 1,000) meant that we had additional capacity in the secure estate – capacity which now no longer exists.
In the past I have been fond of telling the story of the farmer who saved money by halving his donkey's supply of hay month by month.
The scheme worked perfectly for some time until the donkey died.
Such economic myopia, which results in disastrous consequences for the welfare of the livestock and for the farmer himself, is of course a lesson in absurdity. But I tell this story as a not-so-coded way of repeating what my Board has already told the Justice Secretary. Continuing to salami slice the YJB budget, and the YOT budget in particular, is not an option for the future if we are going to preserve the successes made in youth justice in recent years. Successes that include impressive financial savings – the YJB has already reduced its budget by 55% since 2009.
Some time ago, I made a strong case for the YJB to a senior Whitehall official. When I ended my litany of successes their response was:
But all those good things might have happened without the presence of the YJB.
And it is true that it is always difficult to prove a negative. It is, however, worth looking back to the situation twenty years ago, before we were on the scene. Then the ground breaking report, 'A Misspent Youth', found that children in the criminal justice system were the responsibility of many - but the priority of none. It was only the creation of the Youth Justice Board, out of the 1998 Crime and Disorder Act, which finally gave youth justice its much-needed champion.
Now, 15 years after starting its work, it is essential that we retain all that is best in the present system whilst adapting to reflect contemporary needs and resources. When my Board told the new Justice Secretary that we were reaching the end of the 'Salami Slicing Road' we also put forward some constructive ideas about how the youth justice system could be reformed - both at local and national level. We do not believe that simply tinkering around the edges for the sake of saving some money now, will lead to anything but decline - and a far greater cost socially and economically – later.
The review into youth justice services
I am pleased that the Rt. Hon Michael Gove has asked Mr. Charlie Taylor to carry out a wide-ranging review of youth justice services in England and Wales. I have already assured both Mr Taylor and Mr Gove of the wholehearted support of the Youth Justice Board in this exercise. I am putting the experience and expertise of the YJB at Mr Taylor's disposal, through which he has already visited two youth offending teams, a court, a police station, and two establishments in the youth secure estate. Later this week, he will be attending a meeting with some of my Board members.
Mr Taylor has hit the ground running. I regret that among the wide-ranging terms of reference given to him is not to identify the factors making youth justice the most successful arm of the criminal justice system in recent years. For the present operating model, which has remained nationally defined over the last 15 years, has served us well. But what the YJB and many of its stakeholders have called for during these more challenging times, is a truly cohesive system that will not only lead to better outcomes for the children and young people concerned, but also bring with it a raft of further benefits and savings to the tax-payer, to society as whole and lead to fewer victims of crime.
The work must go on
So, we cannot lose focus on the work immediately at hand in transforming youth justice. The challenges young people present now are not something which can be put on the back burner whilst we decide what to do next. The YJB has been working to cut crime off at its headstream - with all the knock-on benefits that has for the public purse in saving the costs of the career criminal; and for victims, who are spared trauma and suffering because the right intervention at an early stage means that crimes against them are not committed.
Over-representation of looked-after children
Early on in my Chairmanship it was clear to me that evidence-based reform was needed to address the appalling number of young people in custody who are, or have been, in care. As Mitch Ablom wrote:
Youth, like pristine glass, absorbs the prints of its handlers. Some parents or guardians smudge, others crack, a few shatter childhoods completely into jagged little pieces, beyond repair.
I was therefore delighted when Lord Laming asked me to be part of an independent review he is chairing about children in care, established by the Prison Reform Trust. This was launched on 23 June to consider the reasons behind, and how best to tackle, the over representation of looked-after children in the criminal justice system in England and Wales.
Its work will, in my view, be essential to ensure that we collectively do all we can upstream to provide some life chances and opportunities to those children who are already disadvantaged by not having their parents; not living in a stable home; and often themselves being victims of truly terrible crimes before they resort to becoming offenders.
On my travels, when I ask what the biggest single factor causing young people to drift into crime is, the answer time and time again is poor parenting. Therefore I welcome the Troubled Families initiative, and would like to see ever closer working between YOTs and Troubled Family Units. This is already happening in several cases, which makes sense as we are fishing in the same pool.
Education
Turning to custody, the 1854 Reformatory and Industrial Schools Act established the principle that children and young people serving custodial sentences should be held in dedicated facilities, and that their regime should be reformative rather than punitive.
Mary Carpenter, one of that new system's architects, argued that young criminals "have been hitherto so despised, that they hardly know whether there is within them anything to be respected".
The YJB has developed a programme of reform in young offenders' institutions to encourage the rehabilitation of the young people in their care. Working with the National Offender Management Service (NOMS) we have devised practical initiatives through which to manage the behaviour of young people and reduce the levels of violence that can often take place there. These include:
investment in psychological services
the use of evidence-based and approved intervention techniques
the use of restorative justice and other conflict resolution approaches
the development of a bespoke 'Enhanced Support Unit' at Feltham YOI
To help bring those young people serving custodial sentences out of the shadows of the crimes they have committed, and to give them an opportunity to find their true talents and the accompanying sense of self-worth, the YJB also worked closely with the MoJ to secure an improved offer for education in YOIs – an offer that could increase to up to 30 hours a week the time young people can spend on educational programmes and activities whilst serving a sentence there.
These contracts came into effect on 1 March this year and transitioned to 30 hours on 16 August. To effect this change as smoothly and practically as possible, we have worked very closely with NOMS, and particularly the Young People's Estate team within that. We have successfully built a partnership between ourselves, the staff and the education suppliers; one which now sees the Head of Education at each YOI being embedded into the on-site senior management teams.
It is early days, but there are already some encouraging signs of benefit to the young people in these YOIs.
Sport and arts for prevention and desistance
None of the above initiatives are guarantees of rehabilitation. There are no silver bullets. But I have always considered the sports and the arts as two of the most important means through which young people can constructively express themselves – and bring order, discipline and self-worth into their lives.
I have seen first-hand how avenues such as these can provide young people with an all-important sense of their own self-esteem, confidence, pride and achievement; and they can ignite and inspire the kind of changes in a troubled young person that we all want to see.
The YJB has long supported innovative approaches in the arts sector towards helping to stop young people from reoffending; and have seen its success grow, year on year. The Summer Arts College programme, run by Unitas and now funded by the Arts Council England, has consistently been achieving results for the young people who attend it, and has also inspired many of the YOTs around the country to innovate on similar lines.
Many sporting bodies already have excellent programmes working with youth in their communities. I am now seeking for them to go a step further, by encouraging organisations to develop structured activities which can help divert young people away from crime, help with their rehabilitation, and can provide qualifications and employment opportunities to help them get into work.
This is not asking for something entirely new, but simply a tweak on existing programmes to recognise the special challenges presented by young offenders. There are already countless examples from YOTs and local communities where sport and activity is reducing reoffending, increasing health and well-being, and catalysing lifelong support networks for young people held in the system. That is why the YJB is a founding member of a new initiative, called the 'National Alliance of Sport for the Desistance of Crime (NASDC)', which is being launched by 2nd Chance at Beyond Sport's Summit and Awards next month. Funded by Comic Relief and NOMS, the NASDC is bringing together some of the most powerful sport-led, social innovators and global leaders to address sport's role in driving social change and reform.
This great opportunity comes at a crucial time when financial resources for such community-facing initiatives are scarce; and I look forward to seeing the success that the arts have achieved replicated in this field as well.
Reoffending
As I have said, the success of the youth justice system so far is indisputable in terms of the reduction in first time entrants to the system and of young people in custody.
But time after time this is ignored in favour of mis-quoting a 'stubbornly high re-offending rate of 70%'. Whilst the percentage may be attention-grabbing, the numbers of those who have come out of custody and gone on to reoffend have actually reduced over the last 10 years, from about 2900 to about 880, which is a reduction of 70%. In my book, that is also an achievement. But the real issue is that the reduced numbers of those in custody, and the first time entrants, have exposed a cohort of persistent and serious young offenders, who present very complex needs that the youth justice system currently struggles to address in the face of continuously dwindling resources. Let me be clear, I do not play down the issue of reoffending. But the response to it must be based on evidence of what works, not a constant search for silver bullets which do not exist.
Conclusion
As I said earlier, the kind of reform, the kind of future for the youth justice system that is required is one which can preserve the hard-won successes already achieved, is fit for purpose, and that delivers enduring, positive results for the young people concerned.
If successful, a new structure for youth justice services which can truly transform the young people who come in to our care, will have been created. Fail to preserve and build on what we have, and we may find that my anonymous Whitehall official, who asked how we know that it was the YJB which made the difference, has the proof in the form of a system which not only fails to maintain the progress of the last 15 years, but goes back to that era when young offenders were the responsibility of many – but the priority of none.
ENDS
Published 23 September 2015