Speech
Lord McNally's speech to the annual Youth Justice Convention 2014
Lord McNally's speech to the annual Youth Justice Convention 2014 (Wednesday 19 November 2014).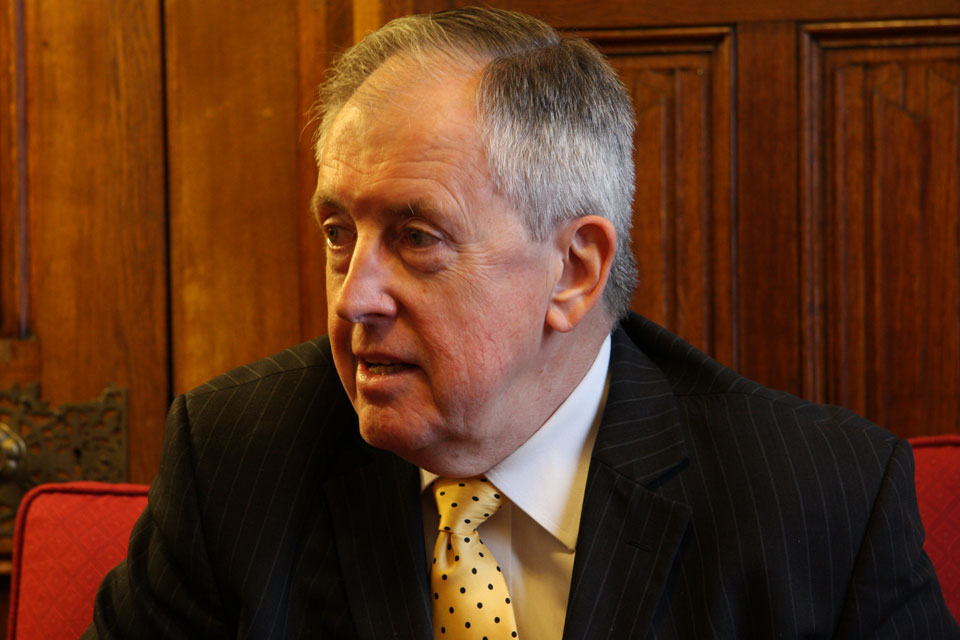 Opening remarks
Colleagues, this has been my first Youth Justice Board (YJB) Convention, and I have very much enjoyed listening to the speeches and presentations and sitting in on the seminars and workshops. We are all involved in an area of policy where there are no silver bullets and no magic wands. But it is definitely possible to make progress by sharing best practices and by learning about each other's successes and failures. And such is the value of this Convention.
I was well aware, when I became Chairman of the YJB in March this year, that I was inheriting a success story and an organisation with many friends and admirers. During my first few public speeches after taking up this role, I compared my taking over from Frances Done as like David Moyes taking over from Sir Alex Ferguson! Suffice to say, that is an analogy I no longer use. My thanks to Frances, and our good wishes to her for the future.
A success story
The truth is that the YJB has indeed been a success story over the last decade. The concept of an holistic, inter-disciplinary, locally based approach to youth offending has worked to quite a remarkable extent. The test, now, is to identify the new challenges which that success has brought with it – not least the ones posed by a smaller, but more complex, cohort of young offenders, who find themselves in custody. And I agree with the point made by Gareth Jones (Chair of Association of Youth Offending Team Managers- also Head of Service Cheshire West, Halton and Warrington Youth Offending Service), yesterday, that the nature of the complexities are not entirely new – rather it is their increasingly prominent concentration.
I know that the success that has been achieved is testament to hard work, over many years, and collaboration with the other agencies in the criminal justice system – many of whom are represented here today.
And the last few months have also confirmed to me that, in order for this success to be continued in the future, we need to address new issues, embrace new ideas, and find better and more efficient ways of working together.
As I have already said, the young people in custody now comprise this complex, often more violent, cohort of offenders. Gangs, particularly in our major cities, add a new dimension to this issue of violence. And what a powerful piece of theatre the play 'Terriers', provided this morning – which highlighted this so clearly.
An over representation of black and ethnic minorities in custody also needs to be addressed. Mental health issues and sexual exploitation are increasingly identified as a contributing factor to youth offending.
And this is all in addition to the issues previously identified long ago, such as poor educational attainment, dysfunctional family backgrounds, and drug and alcohol related dependency.
To be able to address these issues, and continue to achieve success, we need to make a step change in the YJB's approach.
Along with new ideas and fresh thinking, we have to persuade the funders of the youth justice system – national government, the police and crime commissioners, local authorities – to keep faith with us. It would be penny wise and pound foolish in the extreme, to insist on more and more cuts, which would put in danger some of the advances and successes of recent years.
Building on success
Rather than contemplate such a retreat, I would like to see us build on the successes already achieved. I would like to see us working more, with other delivery partners and agencies, upstream of when a young offender becomes the responsibility of the criminal justice system. I would like to see what we could learn from the Troubled Families initiative about upstream activity, and where we could apply that learning, so that what we do is seen, as with the Troubled Families Initiative, as an investment to save. It will mean more, and earlier, identification and treatment of the causes and contributing factors to offending; and more active interventions on issues such as speech, language and communications needs.
A perfect example of this approach was given yesterday by Lord Bradley. Untreated and unidentified problems, relating to mental health, are now widely recognised as a significant contributing factor to children and young people turning to crime.
Increased attention to mental health has the advantage of being one of the issues that has gained cross-party support, in the political arena, in recent months.
For example the Justice Secretary, Chris Grayling, announced a couple of months ago his intention to address mental health issues that affect adult prisoners. I want the YJB to go further and extend that initiative to cover young people – not just those who offend but those who are vulnerable to offending – and I welcome Olivia Pinkney's (National Policing Lead for Children and Young People) commitment, yesterday, to this same cause.
Here, can I take the opportunity to praise YJB Wales for their collaboration with the Welsh Government, over many months, to address mental health issues for children and young people in Wales, who come into contact with the criminal justice system.
It is a good example of why letting us know about ideas and initiatives helps. It gives me a useful calling card to take the issues up with ministers across Whitehall, and key stakeholders beyond. We now need to build on that momentum, and ensure that we can work towards the delivery of a specific work stream on mental health in the youth justice system across England as well.
If we get it right, we could divert many of the complex cohort I referred to earlier, to the help and support they genuinely require regarding their mental health, rather than keeping them in a system ill-equipped to address their specific needs.
If imaginative policies upstream help to cut crime off at its headstream then imaginative action downstream, post-custody, can have a similar impact on the unacceptably high rate of re-offending. This will mean 'through the gate' mentoring, positive assistance on employment and housing; as well as continuing treatment for the other factors already identified.
We all know that the resettlement of young offenders doesn't begin upon their release from custody. Proper planning and focus is vital from the beginning to the end of a young person's time in the youth justice system.
In recent months, we have seen some innovative and important ideas developed. It has involved work with employers, local authorities and youth offending teams (YOT) to explore how, together, we can improve existing practices to enable longer, and lasting, resettlement outcomes for the young people concerned.
The first phase, the employment phase, was launched 9 days ago at Lancaster House in London, with a gathering of all those involved – some of whom I have been pleased to see here over the last 2 days.
I want to thank those of you who worked so hard to get us this far – I look forward to seeing the results of the first pilots in Manchester, and in London, over the coming months.
Now, I have never been one of those who believe that youth offending is all society's fault.
Nevertheless, one does not have to meet too many young offenders to realise that many have the mental health issues to which I referred earlier, and that for others, there is a significant overlap between their criminal behaviour and issues in their lives which also make them victims. The dysfunctional family set up and neglect at home, the domestic violence or abuse that they seek to escape, bullying at school or in the community, intimidation by gangs. All may lead to the need for acceptance, for validation, for respect, for 'love', for a sense of self worth, for control over their lives and what happens to them.
These are not excuses. But they are powerful and emotive triggers. And those young people affected by them, often lack other outlets through which to express themselves and their feelings. These fester, and grow, and then burst out through their destructive actions.
Providing alternatives to crime
In the past, when we had the money, the YJB offered funding to initiatives such as Unitas' Summer Arts College, or to creative companies who used the medium of theatre, to engage with young people who were at risk of falling into a life of crime. The YJB does not have the funding for such initiatives now, so it is a great boon, and a credit to us all, when youth offending teams around the country develop and implement similar initiatives to target and divert these young people in their local areas.
We, as the YJB, will also be looking to see where we can positively engage and influence such developments. Our effective practice library is a great start here, and we must find ways and means through which we can encourage more take up of the examples it houses. We should consider where we have the opportunities to engage more directly with young people, and their families, with schools and with local youth groups, to build on past successes as well as encouraging new initiatives.
I myself will work hard, to encourage the arts, sport and music world to work with - and support us - in these endeavours.
By providing young people at risk with practical, accessible, viable and sustainable alternatives to criminal activity, we can make great strides in ensuring our numbers in the secure estate stay down, and focus our resources on the rehabilitation of those for whom custody is necessary because of their complex needs.
I hope what I have said today and what Lin (Lin Hinnigan, YJB Chief Executive) said to us yesterday will convince you that we have both pride in our past success and a clear vision for taking the YJB forward.
Ah, I hear you say: "but what about the 'stock taking'". I can appreciate the feeling of "here we go again" and I am too old a Whitehall Warrior not to see a threat posed by this stock taking – But I accept the assurance given by Paul Candler, of the Ministry of Justice, yesterday that there is no hidden agenda, no 'YJB abolition mark II' blueprint already written.
That being so, I see the stock-taking not as a threat, but as an opportunity. I hope YOTs will co-operate with the exercise. In parallel with the stock-taking, I and my fellow board members, will be undertaking a wide-ranging tour of the YOTs, to look at what works and talking to you, the front line staff.
Ian Memory, representing HM Inspector of Probation, gave some wise advice yesterday. He said policy will increasingly be based on evidence and proof of outcomes. I hope what I have said today, and what Lin said yesterday, makes clear our confidence in the YOT model, and that we can provide the evidence and the proof of outcomes which underpins that confidence.
Regardless of what happens at the next Election, we are all still going to be under the financial cosh. But that is surely where the holistic partnership philosophy, which the YJB has done so much to pioneer, comes into its own.
I want us all to deliver the examples, and provide the proof that, where we can intervene early enough and imaginatively enough with young people on the cusp of criminality they can be diverted from crime. Where we help those who do end up in custody with programmes which continue to work through the gate and into the community we can have a positive impact on re-offending. By achieving this, we can deliver savings for society. We can spare victims of the trauma crimes inflict on them. And we can save the tax-payer the cost of incarcerating repeat offenders.
But to do this, we have to be nimble and flexible to exchange our information, advice and experiences, so that the polices we advise on, and promote, are based on thorough analysis research and practical piloting.
Conclusion
Last week, before the convention, I addressed the YJB staff and expressed my pride in holding this office. Not pride in the office, but pride in what you do. I never visit a YOT or a secure establishment without leaving with a sense of awe at the work done and the responsibilities accepted on behalf of society as a whole.
I repeat those sentiments today to you, with thanks to Lin and her team and to my board for their hard work and unstinting support.
We all take away different things from a convention like this. In the vox pop we heard this morning one young lady said she had benefited most from hearing young people telling us the realities of their own experiences. I agree and I want to work harder at listening to young people and their concerns. That is not always easy. The most articulate are not always those we need to hear most. That is why engagement via art, theatre, music and sport is so important.
I also would welcome advice about how I engage with young people so I listen and learn.
I do not underestimate the scale of the challenges facing us. But we should never underestimate the importance of the work we do.
Let us all be guided in that work by the words of Winston Churchill, not as a war leader, but as an enlightened Home Secretary:
The mood and temper of the public, in regard to the treatment of crime and criminals, is one of the most unfailing tests of the civilisation of any country.
That is what makes the work of the YJB, the work of all of you here today, so important. I look forward to working with you in the months and years ahead.
Thank you.
Published 21 November 2014