Lord McNally's speech at the Criminal Justice Management Conference
Lord McNally's speech at the Criminal Justice Management Conference (Thursday 25 September 2014).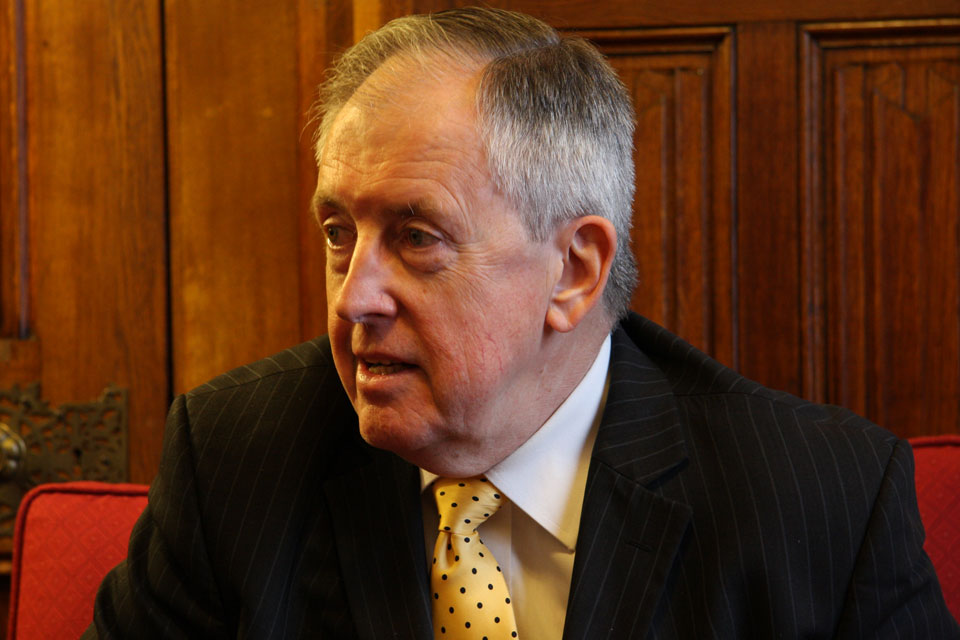 Introduction
Thank you Mr. Chairman. I am very pleased to be here today to address this, the 14th Criminal Justice Management Conference.
I understand that this morning you heard from my colleague, Lord Edward Faulks QC. Lord Faulks succeeded me as the Minister of Justice in the House of Lords, when I stood down from that post last December on being selected to succeed Frances Done as Chair of the Youth Justice Board for England and Wales. During my three and a half years as a Justice Minister, I benefitted greatly from Lord Faulks's advice and support; and I know that he has already won the respect of the Lords in his new role as a minister.
The success story of the YJB
When I became Chairman of the YJB, 6 months ago, I realised that, in many ways, I was inheriting a success story.
Since its creation in 1998, the YJB has delivered some real improvements to the youth justice system, including a dramatic reduction in first time offenders, a much greater focus on the young people with greatest needs, and a massive reduction in the number of under 18s in custody. In short, the YJB has achieved its initial objective of producing a holistic, locally based, cross discipline approach to youth offending.
I recognise that this success is not down to the YJB alone. It is also to the credit of all the agencies and organisations involved in the youth justice sector, many of which are represented here today. But the YJB is the glue which holds together the different parts of the system and, if it is not mixing my metaphors too outrageously, it is also the bridge between them in delivering an effective youth justice system.
Since taking up the position of Chair, I have visited a number of the institutions responsible for the care and rehabilitation of young people who offend. I have seen, first-hand, the dedication with which many of the staff in these establishments carry out their duties. I have seen the effect that their work has on young people, many of whom have experienced a variety of disadvantages and, as a result, have an often dangerous cocktail of complex needs. I have been left in awe of those who work on the front line in looking after these young people. There are no silver bullets in dealing with the challenges that these young offenders present to society; and there is no shortage of those who would offer the 20/20 perfection of hindsight when things go wrong. I am also well aware that there are those who come from difficult and deprived backgrounds who do not turn to crime. That is why we have to carry public opinion with us, by dealing with sympathy, support and understanding for the victims of crime; and by ensuring that those who do commit crimes receive punishment as well as rehabilitation.
The new challenges we face
I said a few moments ago that I thought I had inherited a success story in the way we have responded to youth offending in the last decade. But I am also aware that that very success the YJB has achieved has brought with it a host of new challenges, challenges that we all now must work together to address. This new set of challenges include a more complex, often more violent cohort of offenders; the impact of gangs, particularly in our major cities; the over representation of black and ethnic minorities in the system; and a growing awareness of mental health issues as a factor in offending.
These challenges are in addition to those of poor educational attainment, dysfunctional family background, and drug & alcohol dependency identified long ago.
Time for a step change
This demonstrates to me that we now need to make a step change, within the system, to reflect this particular cohort of young people who come within the YJB's responsibility. We need to develop new tools and approaches to effectively rehabilitate them, and achieve significant reductions in re-offending.
I am convinced that the YJB should continue with our central, and thus far successful role, of overseeing effective responses to youth offending, both in the secure estate and, via Youth Offending Teams, in the community.
But I am equally convinced that we have to go both up-stream and down-stream, from our core functions, if we are going to achieve similar success in addressing the new challenges, and driving offending and re-offending rates down further.
Up-stream – child sexual exploitation and mental health
Taking each in turn, achieving success up-stream will mean more working with partners to help local communities develop and implement up-stream initiatives such as the 'Troubled Families' programme; more, and earlier, identification and treatment of the causes and contributing factors to offending; and more active interventions on issues such as mental health and language & learning difficulties.
One area where there is clearly need for careful research, and evidence-based reform, is in addressing the appalling number of young people who are - or have been - looked after children, and who then end up in the criminal justice system. It is a harsh fact that, though less than 2% of young children have contact with children services during their life, some 24% of the youth custodial population are, or have been, looked after children. There are, of course, common factors which contribute to a child ending up in the criminal justice system; and those who end up in local authority care. There are other factors, such as a tendency for the police to become involved with issues concerning looked after children, which would be handled without police involvement in a normal family setting. I know that in many areas there are attempts to reduce the number of call outs to the police for incidents in children's homes, as well as greater use of restorative justice.
We, none of us, will have escaped the widespread reporting of the recent accounts of child sexual exploitation that took place for years, decades even, and went unchecked – too often involving children who were supposedly in care. High level inquiries are now underway about the recent cases. But I welcome the suggestion of the Prison Reform Trust for a more comprehensive study to examine how we deal with looked after children, and to identify the measures needed to help end their over-representation in our criminal justice system.
If the statistics on looked after children stick out like a sore thumb, another area for concern is the prevalence of mental health issues among young offenders. There is a wide range of figures bandied about concerning the extent of those needs. But as the Mental Health Foundation correctly says:
There is still a scarcity of research data on the precise nature and prevalence of mental health disorders among young people caught up in the criminal justice system.
What is encouraging is that there is a growing, cross-party, consensus that there is need to give greater priority to mental health needs throughout the criminal justice system; and some useful initiatives are already underway.
For example the Youth Justice Board has been working in collaboration with the Welsh Government over many months to address mental health issues for children and young people in Wales. They are due to publish their findings and recommendations soon. I intend to use that work as a calling card for dialogue with Ministers in Whitehall departments, to see if we can identify areas for action in England as well. I also want them to examine, with a sense of urgency, the recommendations contained in 'The Bradley Report Five Years On' - recently published by the Centre for Mental Health - which updates the Bradley Commission's ground breaking report in to the support offered to people with mental health problems, and people with learning difficulties, in the criminal justice system. Lord Bradley's latest findings might be summed up as: "Must try harder" – and so we must. I look forward to Lord Bradley being a guest speaker at the Youth Justice Convention at Telford in November.
Downstream – resettlement
Turning now to down-stream efforts, this will mean 'through the gate' mentoring, positive assistance on employment and housing, as well as continuing treatment for the other factors already identified.
The youth justice system, as a whole, needs to take a more sophisticated and collaborative approach in order to break the cycle of offending for these young people. And the YJB is playing its part to help facilitate this.
Earlier this year, the MoJ and YJB began working together to identify steps that could be taken to transform youth custody. I know Lord Faulks will have addressed you all already on the coalition government's emphasis on continuing to put education at the heart of youth custody, to help give young offenders the tools they need to turn their backs on crime.
We have also outlined the steps we will take, working together, to build on the progress that is made in custody to ensure that, when a young offender is released, better plans and practical support is in place to help them reintegrate into local communities.
The resettlement of young offenders doesn't begin upon their release from custody. Rather, proper planning and focus on this crucial stage is vital from the beginning to the end of the young person's time in the youth justice system.
Our resettlement project has taken forward some innovative and important ideas, working with employers, local authorities and youth offending teams to explore how, together, we can improve existing practices to enable longer, and lasting, resettlement outcomes for the young people concerned. The fruits of this project will be launched in a few weeks' time, and we have every reason to believe it will be a success.
Working with partners to achieve success
The YJB is also making improvements to the current processes by which a young offender is assessed, and their information disseminated between the agencies responsible.
The 'Asset Plus' system will soon be available for professionals to use, providing them with a new assessment framework, and facilitating better, more timely information exchange. This will help staff on the front-line to make well-informed decisions about the needs of young offenders, over the whole period they spend in the youth justice system.
Both up-stream and down-stream approaches need much more cross departmental co-operation and a greater, and more efficient, sharing of information and assessment so that, as far as is humanly possible, the right decisions are made at the right time on the basis of as complete a picture as possible of a young person's background, needs and vulnerabilities.
Conclusion
I believe the YJB has established a model for local based co-operation, information sharing and joint action which already works – and which is also now being studied internationally by governments who want to initiate something similar in their own countries. But we now, more than ever, have to encourage and practice this joined up, partnership approach – especially when all the contributors to the youth justice system are under the cosh of reduced public spending, whilst all striving to achieve similar goals.
No change of government is going to help us escape from the reality that we are all going to have to continue to deliver more for less for the foreseeable future. But that is where increased co-operation should come into its own – driving out the duplication of effort and the re-invention of wheels.
The work that many of you present here today do, and the expertise you have, is invaluable in achieving our goals. I want the YJB to work with you to achieve our shared objectives. What attracted me to taking this job was the idea of cutting crime off at its head stream. By diverting young people from crime in the first place, or by successfully rehabilitating those who do fall foul of the law, we help create useful citizens; we protect victims from the trauma of crime; and we save the tax payer from spending millions, as young offenders become habitual adult criminals, going through the revolving doors of our prison system.
Those, Mr. Chairman, are my reflections after six months in the job. I am deeply honoured at being asked to address you all, and I look forward to listening and learning from you in the months and years ahead.
Published 25 September 2014