Speech
Lord Mayor's Dinner for HM Judges July 2018: Lord Chancellor's speech
Lord Chancellor and Justice Secretary David Gauke gave a speech at the Lord Mayor's Dinner for HM Judges at Mansion House.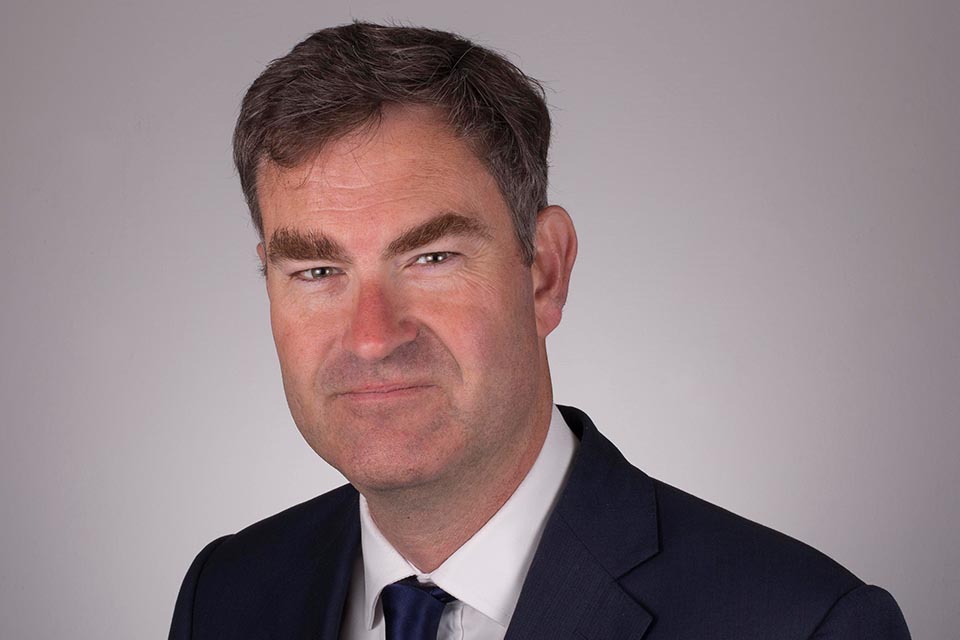 My Lord Mayor, Lord Chief Justice, Ladies and Gentlemen.
May I join the Lord Chief Justice in thanking you, Lord Mayor, for your generous hospitality as host this evening.
Personal reflections
I didn't imagine when I began my career as a solicitor that I would find myself years later speaking to you this evening as Lord Chancellor.
It is an ancient office that used to hold sway over the whole of Parliament in the King's absence and was described as "Keeper of the Royal Conscience", arguably even more important than the Prime Minister. Although the powers are not quite as sweeping these days, they are no less real, meaningful and important.
In any case, reviewing the fate of some of my predecessors, with that power also came the real potential of being imprisoned in the Tower, beheaded or martyred, or all three. So, I am very happy with the role as it is constituted today.
As a lawyer, it was not only with a sense of pride and absolute privilege that I came to this Office, but also with a sense of the importance of the Rule of Law and the duties that come with it.
The Rule of Law and our institutions
The Rule of Law is the bedrock of our democracy and is at the heart of our way of life.
Despite being centuries old, it continues to provide for some of the most fundamental principles and protections we trust in and cherish today: equality under the law; access to justice; government subject to the law and law that is clear and certain.
The judiciary gives life and meaning to those enduring and immutable principles and, as their ultimate guarantor, ensures we continue to have trust in those principles.
That trust is also sustained by the fact that the judiciary, as one of the branches of the state, is separate, yet mutually reinforcing and interconnected, with each branch independent yet respecting the decisions and role of the others.
I would like to take this opportunity to thank you for the often complex, high profile and challenging work you undertake and for the decisions you take that affect many people's lives.
As Lord Chancellor, I want to underline the commitments I have made to defend the independence of the judiciary and to uphold the Rule of Law.
I am clear that the decisions of the judiciary, and the operation of our courts, must be respected and free from improper influence or interference.
The judiciary is recognised and respected both here and around the world for its independence and expertise. I am clear that to ensure we continue to have a world-class judiciary, we need to be able to retain and recruit the high-calibre and highly experienced judges.
That need is brought into focus as each year brings with it change and we say goodbye to greatly valued and experienced judges. Most recently, Lord Mance retired as Deputy President of the Supreme Court and was succeeded by Lord Reed.
And this month, Sir James Munby retires after a long and distinguished career culminating as President of the Family Division and he will be succeeded by Sir Andrew McFarlane.
So I understand the importance of maintaining the attractiveness of the judiciary. We need to create an environment in which all vacancies continue to be filled with excellent candidates and to ensure the judiciary is seen as the illustrious pinnacle of a legal career that it is.
I also want to recognise the work of the legal professions in our courts, many of whom will go on to form the judiciary of the future. Every day, barristers and solicitors perform a vital function in helping see that disputes are settled, rights protected and justice is done. They are a critical part of ensuring that we honour our commitment to making the Rule of Law real.
It is through the independence and expertise of the judiciary, the work of our legal professions and our respect for the Rule of Law as a society and between institutions, that has given the United Kingdom a legacy of, and reputation for, stability, fairness and prosperity. It will also safeguard it for the future.
The Rule of Law through an economic lens
Having been a lawyer, but also having spent seven years at the Treasury, you will not be surprised to learn that as well as subscribing to those fundamental principles of the Rule of Law I have set out, I also see it through an economic lens.
For me, the Rule of Law is often seen, rightly, as the restriction of arbitrary power. But the Rule of Law does not just restrain. It also empowers and enables.
It empowers people to get on with their lives safe in the knowledge they have clear protections as consumers and property owners, as well as fundamental rights as citizens.
It enables businesses to set up, grow and trade, confident in the legal certainty of the contracts they sign.
As we leave the European Union, it is essential that we continue to provide that legal certainty for businesses, families and individuals - both here and in the EU27.
That's why the Government is making the case for continuing cooperation in civil and family matters.
The Rule of Law is not only the backstop and the unseen guarantee for us all in our daily lives, it is the backbone to our successful market economy.
Indeed, it is a dynamo of economic growth - attracting investment and creating and instilling confidence.
As a report by Linklaters has made clear, the Rule of Law has been a major cause of businesses investing and basing themselves in the UK - something that will be essential for our future growth and trade.
Protecting and promoting our prized and precious system
The Rule of Law, our system of government and our institutions are prized, but they are also precious: both for protecting the rights and personal freedoms of individual citizens and for the collective prosperity and global standing of our country.
They have made the UK a great place to live. They have made it a great place to do business, creating the firm foundations and fertile conditions for a world-leading legal and financial eco-system to take root, grow and flourish:
thanks to the quality of our judiciary and court systems, London has a global reputation for its fair, effective and transparent resolution of commercial disputes and is the preferred seat for arbitration globally;
our English law, with its flexibility and adaptability, is the preferred governing law for international commercial contracts and governs about 40% of all global corporate arbitrations;
UK law firms and chambers offer an international network of talent and have a track record in providing expert advice to international clients.
Overall, our legal services sector employs over 300,000 people across the country, two thirds of these outside London.
These are formidable strengths and are the core messages of our Legal Services are GREAT campaign. Because we cannot stand still. The Government is determined to maintain the status and strengths of our current system and, indeed, build on them, to ensure we remain competitive in what is an increasingly globally competitive sector.
So securing a Brexit deal for our legal services will be important.
Harnessing technology and innovation
But as well as access to markets, the UK must also lead the market. That means fully realising the technology revolution so we remain competitive, efficient and innovative - both in our courts and in the wider legal services sector.
I know, Lord Chief Justice, you are not shy in embracing the digital age - delivering your first speech not to a courtroom, but on YouTube. In so doing, you became the youngest Lord Chief Justice in 50 years, if not the youngest YouTuber!
Lord Chief Justice, since being appointed you have been a vocal and active champion for reform and for the principle of access to justice for all. I also want to thank Sir Geoffrey Vos for his leadership on innovation, particularly in relation to the development and use of smart contracts.
The partnership between the Government and the judiciary in pursuit of modernisation of our courts is crucial, as is engagement with the Bar and legal professionals.
That partnership has been central to the £1 billion programme to modernise all of the work of our courts and tribunals, which is underway.
This programme is about making the system more accessible for all those who use and need it - not just administering it more efficiently, but creating new, simple routes to resolve problems.
For example, we are opening up access to justice online, including for divorce and small money claims. We have already seen 10,000 users start their civil money claim online since it was introduced in March, with one claim resolved online out of court barely two hours after it was submitted.
Modernisation also provides a further catalyst for change. In making the justice system more digital, we are opening opportunities for the growing LawTech sector.
We are creating the potential for new apps to be developed that can connect with digital systems making the justice system easier to access….and we are allowing for the true power of data, often currently gathering dust in filing cabinets, to be harnessed.
LawTech
You can see there is plenty of initiative being taken in the sector to collaborate and incubate that kind of innovation: from Barclay's 'Legal Eagle Labs' to the Legal Geek community of legal tech start-ups.
As a government, we want to help promote this burgeoning sector, including through leadership, funding and education and skills. Ultimately, I want to ensure government is doing everything possible to foster innovation across the justice system and legal services sector.
To that end, we are establishing a LawTech Delivery Panel. Led by industry, it will provide direction on developing cutting-edge opportunities such as AI and smart contracts.
I am grateful to Christina Blacklaws, the incoming President of the Law Society of England and Wales, for agreeing to chair this panel, which will help ensure English Law and the UK remain attractive and a primary choice for international businesses.
Furthermore, a £20 million fund, announced in April, will also help develop the next generation of services for accountancy, insurance and legal industries including technologies such as artificial intelligence and data analytics.
And we are supporting efforts to ensure current and future legal professionals have the right skills to thrive in an increasingly technology-driven sector.
That's why I and my ministers are going out and talking to law schools to make the case for greater innovation and to get them thinking about how they can equip, inspire and nurture the tech-savvy lawyers of the future.
The Fire Court
Of course, adaptation and innovation within our judicial and legal system is nothing new.
I want to end by highlighting one historical but relevant and resonant example, especially given where we are gathered here this evening.
In the aftermath of the Great Fire of London in 1666, the City faced not only absolute devastation from the fire but also a subsequent deluge of legal disputes from landlords and tenants who owned and occupied the buildings and businesses that had burnt down.
Now, this avalanche of legal claims could have suffocated the City for years, stifling future trade.
But through the creation of the Fire Court, the judiciary was able to transact and summarily resolve hundreds of claims. Disputes were swiftly settled, paving the way for buildings to be quickly rebuilt. Businesses were soon back trading.
352 years later, we no longer have the Fire Court, we have courts like the Business and Property Court launched last year. And I'm pleased to announce this evening that the City will get a new court. Based at Fleetbank House, it will specialise in economic and cybercrime.
I would like to thank the City of London Corporation for their close collaboration with Her Majesty's Courts and Tribunals Service and for their investment to make the creation of this court possible.
Whilst the nature of the demand for legal services changes and the way we meet that demand adapts, the fundamental need for access to expert and efficient legal remedy does not.
Conclusion
The ancient and absolute principles and protections that the Rule of Law and an independent judiciary provide for are ever more important in a rapidly changing and uncertain world.
They protect the liberty and rights of the individual, as well as underpinning the strength of our economy and the standing of our society. We must protect those cherished principles and all that has been achieved on the back of them.
But to do that, we must also look forward and continue to innovate, change and adapt in the way we live and breathe those principles, and also in the way we defend them.
That means embracing the huge technological opportunities that are before us to bring greater access to justice for all, and to maintain the global competitiveness of our legal system and legal services.
Together, I know we will rise to that challenge. As we do, we will be reaching for the innovations of the future whilst standing firm on the deep-rooted foundations of our past and present.
Ladies and Gentlemen, can I invite you to rise for a toast to the health of our kind and generous hosts this evening….to the Lord Mayor and Lady Mayoress.
Published 4 July 2018