London Conference on Cyberspace concludes
Foreign Secretary William Hague said that the conference succeeded in accelerating debate about some very important issues.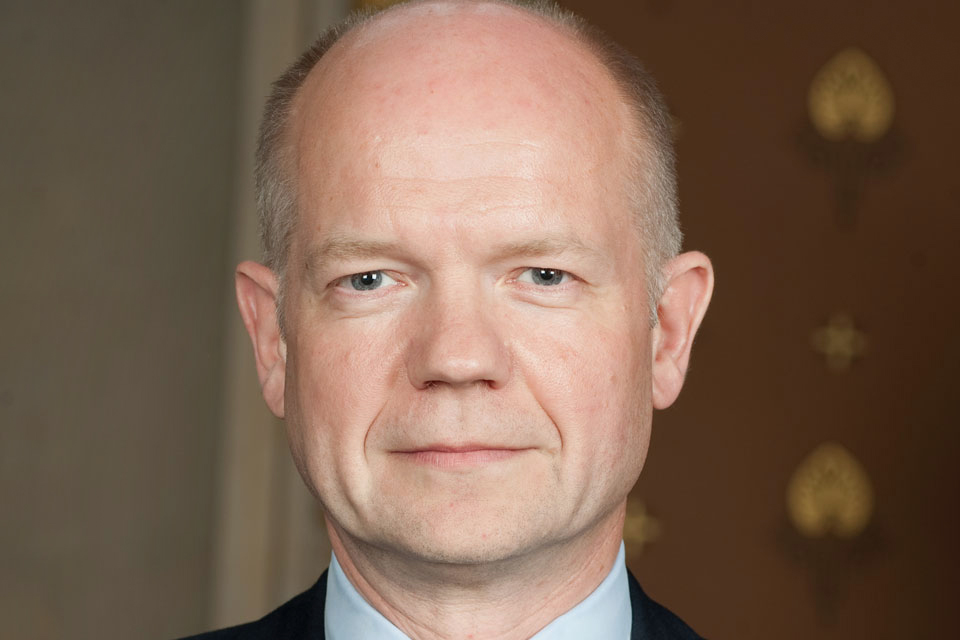 Good afternoon ladies and gentlemen. Many of you will have been listening to the concluding remarks I was just giving to the whole of the conference. I will just make few other concluding remarks and then take some of your questions.
I think it has been very successful having a conference on cyberspace. I think we have succeeded in accelerating debate about some very important issues.
I explained yesterday that this is a unique meeting, an ambitious meeting. It has been no ordinary summit because, over the last two days, we have gathered Government ministers, global business leaders, technological innovators and civil society to discuss how to protect and enhance the benefits of the networked world. We have had more than 700 delegates, from more than 60 countries and international organisations, with many more participating in parallel events addressing issues such as internet freedom, children's safety and the digital divide.
Thousands of people have made their voice heard during the conference by engaging in online debate and putting questions to delegates. We have heard how more than 2 billion people are drawing on the internet's enormous economic and social potential to enhance and then transform many lives. But we have also been told about the significant challenges that this brings and how these undermine such benefits and pose serious threats to achieving the full potential of cyberspace.
We have discussed why this requires a more coordinated global response and that how the internet affects future generations will depend on our choices today.
So I think we have made some important progress. We have brought together, in the document published online in the last half hour or so, the London Agenda. This draws together the key conclusions from our discussions. It is several thousand words long so I won't run through it all now. We have covered a vast range of subjects over these two days in the many different working groups and subsections of the conference. These ideas and the principles that have come out of the conference include the need to broaden physical ability to access the internet, to ensure that cyberspace is secure and reliable, that efforts to improve security are not at the expense of human rights, that we enhance cooperation and collaboration between states, that we act together to address the threat from cybercrime, and that we preserve the global interoperability and resilience that underpin the economic and social benefits of the internet.
This agenda will now support work being taken forward at all levels across the world. It will ensure that that work is less disparate, now that it is based on an equal partnership between industry, NGOs and multilateral diplomacy. It will lead I believe to concrete work in considering further the recommendations of the 2010 UN Group of Government Experts on norms of behaviour in cyberspace, to expanding support for the Budapest Convention on Cybercrime and in my view there are also a few clear messages for governments, companies and individuals.
For governments there are four messages.
Whatever country you represent, the rapid rise of cybercrime is a growing threat to your citizens. Our occasional talking together on this subject needs to become a permanent activity. Just because no one person in most Governments is responsible for this area does not mean it can be ignored any longer in discussions between governments.
The second message for Governments is do not treat cyberspace as though it belongs to you. We will only be capable of tackling the issues we have discussed at this conference by using the ideas and ingenuity of people outside Government.
The third message for Governments is that state sponsored attacks are not in the interest of any country in the long term. Those Governments that perpetrate them need to bring them under control.
The fourth message is that, while working together to defeat threats in cyberspace, you should not imagine for an instant that you can resist the growing force of the tide now flowing for transparency, open information, and the free exchange of ideas. Those Governments that try to do so are in my view certain to fail.
The message to entrepreneurs and companies is to keep your ideas flowing. You need to work with your Governments in whichever country to safeguard intellectual property and prevent cybercrime, while continuing to pursue the innovation and ideas that created cyberspace in the first place.
The message for individuals, which I hope we have reinforced in the London Conference, is that this is your debate. Large numbers of people have followed this conference online. You must be our allies in ensuring that the future global consideration of cyberspace, like this conference, remains true to its own nature and allows for a great diversity of opinion and individual expression.
In taking forward this work no one country can go it alone, I am grateful to Hungary for agreeing to host the next such conference next year and to South Korea for agreeing to host the one after that.
So I believe that, in hosting this conference and accelerating the debate about these ideas, we have now created an unstoppable process, a very necessary process, in the world of trying to achieve international consensus and understanding about norms of behaviour in cyberspace.
So that is what we have achieved, that is where we have got to, and I am happy to take a few questions.
Published 2 November 2011