Speech
Keynote speech at Cleantech Innovate London showcase event
Amber Rudd keynote speech at Cleantech Innovate London showcase event.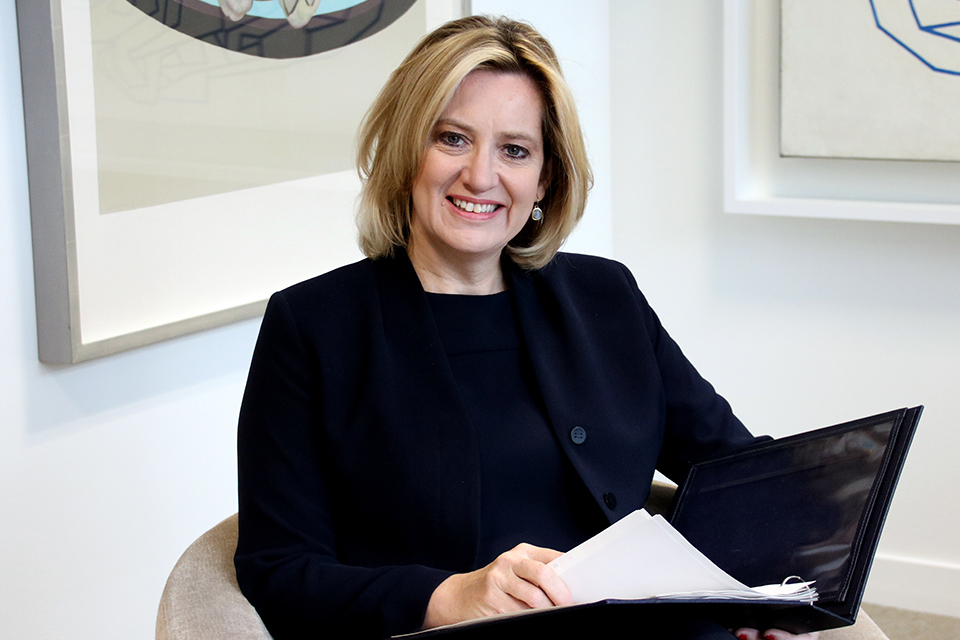 I am delighted to be here this morning opening the 2015 London Cleantech Innovate showcase event.
The conference is now in its third successful year, and the agenda looks fantastic.
36 leaders in their fields, covering an inspiring range of innovations, will be talking about how they can help shape our low carbon future, in all sorts of exciting ways!
I've already had the pleasure of meeting a few of them, including Samad Power, Bowman Power, Libertine FPE, and Recycling Technologies Ltd – all supported by DECC's Energy Entrepreneurs' Fund. Some of whom are also nominated for the big prize, to be announced later today.
I'm clear that solving the so-called energy 'trilemma' will only be achieved with the help of innovation, paving the way for tomorrow's deployment of important technologies, some of which may not even have been invented yet.
However, to 'Inspire Innovation' – the theme of my address - support is needed both by the entrepreneurs themselves and by their investors, many of whom are represented here today.
Indeed, recent analysis by the Department for Business, Innovation and Skills shows that receiving a grant:
increases a business' own spending on R&D by 30%
makes them over 40% more likely to introduce novel products to market
40% more likely to engage in product innovation
and almost 30% more likely to employ technical subject graduates.
And, the OECD estimates that innovation will be the driver behind a massive 70% of economic growth in the long term.
That's good news for an innovative nation, like the UK.
That's good news for local jobs and growth.
That's good news for energy security.
And you probably already know that last year the UK was ranked an impressive second in the Global Innovation Index by Cornell University, just behind Switzerland, and in front of Sweden, Finland, the Netherlands, and the US – demonstrating that our country is an excellent place to start and grow a business.
But government has also been playing its part.
Since 2011, over £1 billion has been allocated to low carbon innovation, through a range of departments and arms-length bodies.
The Low Carbon Innovation Coordination Group, which brings together the major public sector funders of low carbon innovation, including one of our joint sponsors today – Innovate UK – has been integral in supporting innovation right through the chain.
From research and development, to proof of concept, demonstration at scale, and through to deployment.
Last year, the group published a Low Carbon Innovation Strategic Framework setting out how public sector organisations – and their innovation partners – can best target and coordinate their support.
And by the end of this Parliamentary term, my department, a member of the group, will have contributed around £200m in low carbon innovation funding.
That's £200m towards developing potentially game changing technologies like:
carbon capture and storage,
bioenergy,
offshore wind, and
novel building innovations.
So far, this support has helped more than 200 UK companies, which includes around 70 small and medium enterprises.
DECC's Energy Entrepreneurs' Fund, now in its fourth round, is also already starting to make a real difference to UK businesses.
It has been hugely popular - so much so that at the end of last year, my department extended it with an additional £5m of funding for a fourth round – bringing its total funding to £40m.
The scheme helps to bring a range of new and innovative, low carbon products to market. These include energy efficiency technologies, alongside power generation and energy storage technologies. Companies can also receive funding for business incubation
Help is targeted particularly at small and medium enterprises - including start-ups – but does not rule out collaborations with larger companies that show great potential.
Under the first three Rounds, 70 businesses have been awarded grants and we expect Round 4 to bring the total number to around 85 – the majority of which are small and medium businesses.
The businesses awarded grants so far, have been able to create or support almost 300 (290) jobs and stimulate £26.6m of private sector investment, through match funding, plus an additional £10.2m of follow-on private investment funding to date.
To put this into perspective, I'd like to read out a quote from Pete Scott, CEO of Fern-Howard, an efficient lighting designer and manufacturer.
He told us that:
"Large, technical projects are traditionally hard for SMEs to undertake and impossible to fund, and the DECC process has been highly supportive, providing essential funding not available from any other sources.
As a result of the grant we have been able to save at least 36 jobs, or 55% of our workforce. We forecast that we will grow 25-35% for the next three years and expect employment to increase to around 90 jobs in 2016.
In addition, we expect our exports to increase to account for 25% of our total sales."
That is just one inspiring innovation story from many, and there is plenty to celebrate and be positive about in today's low carbon innovation world.
Going forward, DECC energy innovation budgets have future certainty, thanks to the summer 2013 spending review commitments for 2015-16. The innovation budget for the new financial year alone is set at over £60m.
Innovate UK also have plans, and are running three low carbon energy calls this February and March, worth up to £13.5m, in the areas of:
extracting high value materials from waste
whole-life performance of buildings, and
cleaner, more efficient fossil fuels.
Beyond 2015-16, the financial resources, both of government and the private sector, will need to be targeted carefully where most needed.
Evidence and in depth analysis, such as the Low Carbon Innovation Coordination Group's Technology Innovation Needs Assessments – or TINAs – will help show where investment is needed.
Another excellent source of evidence is DECC's recently launched Global 2050 Calculator, which I was delighted to launch only a few weeks ago. If you haven't already had a go at testing the 2050 calculator out, I encourage you to try it out!
The calculator allows the user to explore potential technology pathways to reach 2050 without breaching a temperature increase of more than 2 degrees.
One of the critical messages from the Calculator, particularly pertinent to those of us gathered here today, is that we need to urgently scale up research, development, demonstration and deployment of clean technologies.
To do that, we all need to think imaginatively about how we can collaborate on projects, and to get the most bang for our collective buck, to meet the scale of the challenge ahead
That includes looking at across the spectrum at the range of funding available – across the EU, our Universities, and Industry.
First, there's the EU Horizon 2020 programme, with more than €6bn in funding available up to 2020. The 2015 call is now open with over €500m to fund a range of technology areas – energy efficiency, renewable energy, smart grids and smart cities. Let's make sure UK innovators obtain a good share of this!
And if you're struggling to access this funding, do contact the free, DECC-funded service, EU Energy Focus for support.
You can pick up information about this and other current schemes from the DECC and Innovate UK stands here today.
Second, look to our Universities – where innovation starts, and connects to our local communities.
For example, Lancaster University spearheads Energy Lancaster – which brings together expertise from the areas of carbon management, energy demand, network systems, nuclear and renewables.
Or, the University of Hull and the Centre for Low Carbon Futures, who are working in close partnership with the business community to develop successful and sustainable economic growth.
Or, in the South West, there's the SETsquared Partnership, which I was delighted to visit at just the end of last year. Working with Low Carbon South West, and the Bath Innovation Centre at Bath University, SETsquared supports spin-outs from the universities' research bases and local technology start-ups.
Or, right here in London, there's Imperial College, who are partnering with Climate KIC - one of today's sponsors - who are Europe's largest public-private partnership in innovation.
And third, of course is industry, who are the major force in driving energy innovation forwards.
Whilst Government's role is an enabling one, designed to address market failures and barriers that deter industry activity, break-through concepts are frequently designed and developed through collaboration with industry.
So, collaboration is key, and I would like to encourage imaginative partnering across the innovation landscape.
From working with larger corporates like Shell and BP who have venture fund teams looking for the next big project, to pairing with small and medium-sized innovative businesses.
The opportunities really are limitless.
Now, if you're wondering where to start, or finding yourself lost in this sea of support, I suggest logging onto the fantastic Funding Navigator tool.
The Navigator, developed by Innovate UK's Energy Community Knowledge Transfer Network, is designed to match funders with technologies and bring together businesses, entrepreneurs, and academics.
And on the subject of funding, I don't want to give the game away…
But, I'm delighted to say that over 200 excellent applications have been received for Round 1 of the Energy Catalyst.
Sponsored across Innovate UK, my Department, and the Engineering and Physical Sciences Research Council, the Catalyst is set to supercharge energy innovation from early stage concept all the way through to commercialisation.
By investing nearly £25m in 40 projects with a total value of around £45m, the funding is supporting a wide range of technology areas - from renewable energy generation through to full system integration.
Winners will include early stage feasibility studies such as engineered textiles for wind turbine blades…
To late stage demonstrate projects, like the largest grid-connected energy storage system in Europe.
And there's more to come.
But I'm afraid you'll need for the full details, when my colleague Matt Hancock makes the full announcement later this month.
Of course, there are other important competition results expected a bit sooner – including announcing the winner of Cleantech Innovate's €20,000 cash prize! I'm sure many of you are looking forward to hearing from 36 finalists later today.
To end, I would like to emphasise the government's clear and ongoing commitment to research and innovation.
And just last December, the Chancellor reaffirmed this pledge, when he said:
"I've prioritised science investment in difficult times because our ongoing ability to capitalise on our cutting edge science base will create new jobs, innovative businesses and allow us to take the lead in new markets."
The ability to capitalise on this cutting edge science and innovation is the reason we are all here today and I know you're in for a fascinating day.
Please do enjoy it and make the most of this opportunity.
Thank you.
Published 12 February 2015