Speech
British High Commissioner Nic Hailey's speech on 1st anniversary of memorial inauguration
Speech by Nic Hailey on the anniversary of the inauguration of a memorial to victims of torture and ill-treatment during the colonial era.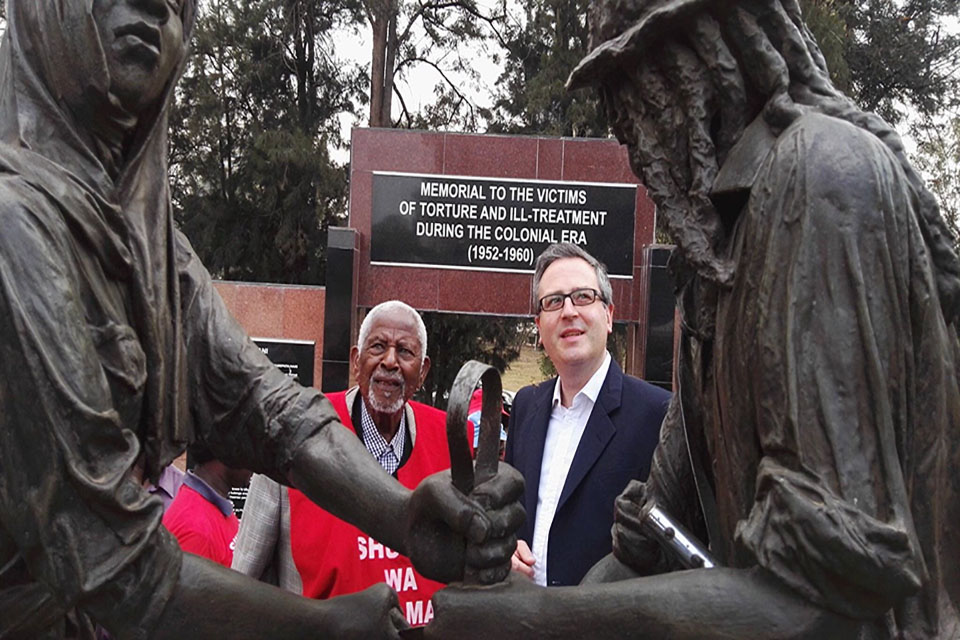 Wazee, mabibi na mabwana, habari za asubuhi. Ni furaha yangu kuwa nanyi leo kama mwakilishi wa serikali ya Uingereza katika tukio hii la kihistoria.
Good morning. It is my great privilege to be with you here today.
We've heard already this morning something of the history behind this monument; and of the events which led to its being opened to the public, one year ago this month.
We've heard about the moment, in June 2013, when the then Foreign Minister William Hague made a statement to the British Parliament, recognising for the first time that Kenyans were subject to torture and other forms of ill-treatment at the hands of the colonial administration. He made clear that the British Government sincerely regrets that these abuses took place, and that they marred Kenya's progress towards independence. He recognised the pain and grievance felt by those who were involved – some of whom we have with us here today. He also announced that in addition to a financial settlement of 2.6 billion Kenyan shillings, the UK would support the construction of this memorial to the victims of torture and ill-treatment during the colonial era.
The memorial was the culmination of efforts by a group comprising of the British High Commission, the Mau Mau War Veterans Association, the Kenya Human Rights Commission, the Nairobi Governor's Office, the National Museums of Kenya, and the Design Team. I'm very proud that, working together, we were able to build something that not only recognises history, but will stand as a symbol of reconciliation for the generations to come.
I wasn't yet born during the period that this monument commemorates. I suspect many of us here today weren't. But to those that were, let me say this. I am humbled by your dignity, your understanding and your capacity for forgiveness. I would like especially to pay tribute to Shujaa Gitu wa Kahengeri and his colleagues at the Mau Mau War Veterans Association, for their clear focus on the role this memorial must play for future generations.
Mzee, I salute the way in which you and your colleagues have approached this process, in a spirit of dialogue not confrontation, of friendship not hatred, of building bridges not divides. You more than anyone know that the process of reconciliation and revisiting the past is not an easy one. But in order to move forward, we have to recognise and learn from the past. This memorial allows us to do just that. The UK and Kenya are part of and shaped by each other's histories, and we must live with and respect that. But we recognise too that our shared experience has woven a fabric of connection between our Governments, our businesses and our people. The modern relationship between our two countries is based on deep respect and mutual interest. We are bound together by strong commercial, defence and security, development and personal links that benefit both our countries. Our present and our futures are intertwined.
The memorial before us today stands as a symbol of reconciliation between the British Government, the Mau Mau, and all those who suffered during the Emergency Period in Kenya. It helps us, and future generations, to acknowledge and discuss issues arising from a difficult period in the history of both Britain and Kenya. It also offers the opportunity to move on, recognising that reconciliation is a process, not a single event.
Mzee, in this you and your generation have shown the way. We must, all of us, continue to engage in a spirit of understanding, inclusivity and dignity for all.
Asanteni sana
Published 24 September 2016