Speech
Justine Greening: Delivering better performance and better value for money in development
Speech by the Development Secretary at DFID's third annual supplier conference, held at 1VS Conference Centre in London.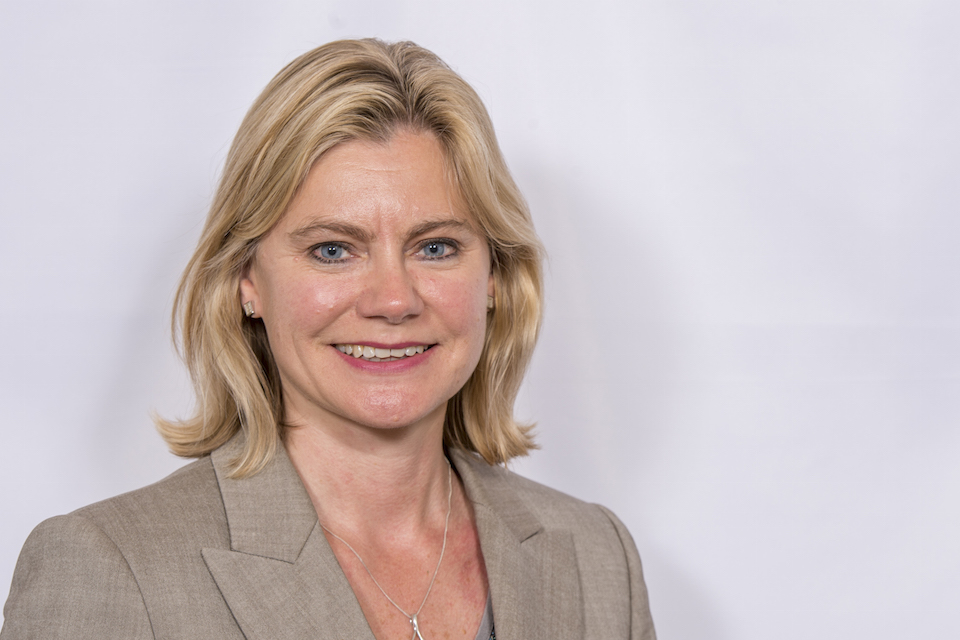 Introduction: Transforming DFID
In the last 3 years, I've really set about creating a more professional organisation that is more accountable, more transparent and delivering better value-for-money.
We started at the top: the very first thing I did when I arrived was to improve accountability. We changed the sign-off limit for ministers which now meant that business case, almost invariably, did go to ministers. The sign-off limit had been up at £40 million and I brought that down to £5 million.
We have become far more aware of following the money through the organisation. It's meant that we are much, much more aware of what is happening in each of our country programmes. That's then being backed up with far more frequent challenge and review sessions with all our country programmes.
These regular sessions with country teams give us a chance to really step back and look at what's in progress and what's coming down the track, where the opportunities are, where the challenges lie and really how we can get ahead of the risks that we face in working in some of the toughest places in the world.
We've improved our management information, so the line of sight that I have as Secretary of State - right the way through the organisation down to projects - is now very strong and I get good monthly management information.
It's giving ministers sight of programmes that are not working and also faster and earlier chances about how we want to manage those situations.
We now have what are called senior responsible officers in charge of every single programme, no matter what size. That not only means that people are more accountable within DFID, it also means that people at every level of our organisation have a portfolio of programmes that they are looking after.
We have an organisation which spots problems but then also runs towards them and looks to fix them early rather than trying to just manage around them and not actually get things back on track.
We strengthened internal audit. We are getting rid of programmes that don't deliver earlier.
Whereas before we used to have an internal audit going out to a country programme on average once every four years, now that happens every other year. We have a much clearer sight of how things are changing and how we have to react to them.
Of course that has to be complimented by making sure people have the right skills. We've boosted the commercial capabilities of DFID staff.
Alongside that we've introduced more transparency. We've now got a Development Tracker website. The programmes that you are delivering are on there, the outcomes that we're expecting, the progress reports - so it's all there for people to be able to scrutinise.
Value for money
What's this meant for the work we've done with you, our suppliers?
It's meant that we're a much harder-headed organisation that's smarter, that's hunting down those best deals.
For example, we had a maternal healthcare programme in the Democratic Republic of Congo that was reaching 2 million people at a cost of $13 dollars per person. We re-tendered it and put in place a results-based contract, and we were able to reach 7.5 million people, but at a cost of $7.40.
Step back and say: what exactly has a better approach on procurement added up to over the last four years? Actually it's added up to savings of over £400 million. That's now being spent on improving lives and indeed saving lives. So it's a massive step forward for DFID - but I want us to do even better than that.
Better performance
We've also taken a more rigorous, tougher approach to supplier performance and thank you for working with us on that.
Results based aid is now the norm for most of our contracts. I'm very challenging on signing off contracts.
We've introduced the key supplier management programme, so we have a better line of sight on overall supplier performance and the key projects that many of you are delivering.
We're now looking to expand this key supplier management programme to a broader group of our suppliers and also to NGOs.
I've been really clear that DFID is ultimately accountable to the taxpayer for absolutely everything that we do – and because you deliver so much of that service on our behalf, that means that you too are accountable. So we've got to hold ourselves to the same standards.
That's why, one of the first things I did on arriving in DFID, is to put in place this Code of Conduct for suppliers. It sets out the standards that we expect you all to meet around value for money, around transparency, around accountability.
Our contracts now all include tougher terms and conditions on transparency, on performance monitoring, on our ability to recover funds, on audit rights. We've introduced subcontractor clauses around making sure that subcontractors get paid on time, which is really important, and I'm interested to look at how we can develop that further in the future.
What I want is an ever-closer working relationship with you, but it's one that I need to really feel is delivering the most value-for-money it can for the UK taxpayer.
Award-winning procurement
I'm really proud of the fact that, over the last 3 years, the DFID procurement team won the Chartered Institute of Procurement and Supply awards. That's showing we're absolutely upping our game and in a way, we really need to do, as the environment we're working in is getting more and more challenging.
We saw with the Ebola outbreak: there are procurement situations where we're having to - not only work in difficult places - but do it at a break-neck speed.
Our humanitarian response to Ebola in Sierra Leone was about the supply chain, it was about logistics, it was about procurement. Overall we did 6 treatment centres, we delivered 3 labs that tested a third of all the supplies collected in Sierra Leone, we trained 4,000 frontline staff, we procured over a million safety suits, 150 vehicles, including ambulances.
It was just a ginormous effort from the team and again I want to say thank you to the fantastic procurement team at DFID, the fantastic NGOs which helped us deliver so much on the ground - and you, as the private sector, helped us do a huge amount of that work and I think that you should be really proud of it. It put to bed, as far as I'm concerned, any debate around the private sector's role in delivering development.
Getting greater competition
I want to see more competition in the marketplace. I want to go further on getting better deals, I want to go further on, of course, getting better rates.
We've actually made a huge amount of progress. A third of our top 500 suppliers in DFID are new since 2013.
To our regular suppliers, who do so much work for us, we're going to be working with you, to again get to a next level on value-for-money, better deals. I wrote to quite a few of you recently highlighting how we wanted to see more and clearer evidence on transparency compliance, tax compliance, engagement of the supply chain and contractors, and fair and reasonable rewards and profits for the contracts.
We want to open up the market place for more SMEs as well.
We are going to be doing more work in trickier areas, tougher areas, I'm very open to working with SMEs who have got new, innovative approaches to doing that - and can help us look at things differently.
We've got a contract with a UK SME called Oxford Policy Management, which is doing programme evaluations for us in really, really tough countries, and they're really doing that well. We want to see more SMEs like that coming through, that we can work with.
Part of how we're also achieving that is to break down our big contracts - doing them in smaller chunks - meaning consortiums can bid for them which include SMEs.
DFID has a water and sanitation and hygiene programme (WASH) that we opened up at a very early stage to lots of different suppliers on a payment-by-results basis. We ended up doing an early market engagement event with around 60 suppliers, worked with that supplier base then to shape what we were then going to procure. That is the kind of way that I want us to work more often.
We're actually the department with the third-highest spend with SMEs. By 2014-2015 we'd already exceeded the government's initial target for 25% of our spend through SMEs, and we're on track to achieve a 33% target over the course of this year which is way ahead of schedule.
But we want to get on with this next phase of that process now, delivering a supply base that has more competition. So we're going to accelerate opportunities for new market entrants, not just SMEs but also NGOs, so that we get more of those partners bidding for and winning our contracts and then delivering high quality programmes.
We're looking at, for example, the kind of work that the Ministry of Justice has done on its probation procurement programme, which has been very good and successful at opening up a new market to a range of suppliers.
We need to get on with looking at some of the market barriers that are there that stop suppliers entering. So we're going to get on with some work around testing and measuring how we can get over some of those market entrant barriers, what we can do to remove them.
I want to expand the capacity on the ground in some of the countries that we're working in of local suppliers. I'm very conscious that's also possibly one of the most effective ways that we can get a better deal - and at the same time improve capacity-building on the ground.
We're going to also look at broadening our fee rate benchmarking so that we look more broadly across the piece including other donors, multilateral organisations, NGOs and indeed across HMG.
Conclusion
My message to big suppliers is that there is absolutely no room for complacency: I want to see more competitive rates. And my message for innovative SMEs and NGOs is really, this is your time. I want you to show us what you can do because we really want to increasingly focus on tapping into what you've got to offer.
There's never been a time when it's more important for us to show that we are getting, not just great value for money, but the very, very, very best value for money. And because we work through you so much, that means you being able to demonstrate that in reality.
Published 14 October 2015