Ireland: "a close and trusted partner"
Foreign Secretary William Hague called Ireland a "close and trusted partner, with whom we will continue to work closely in the coming years to achieve a strong and sustainable recovery".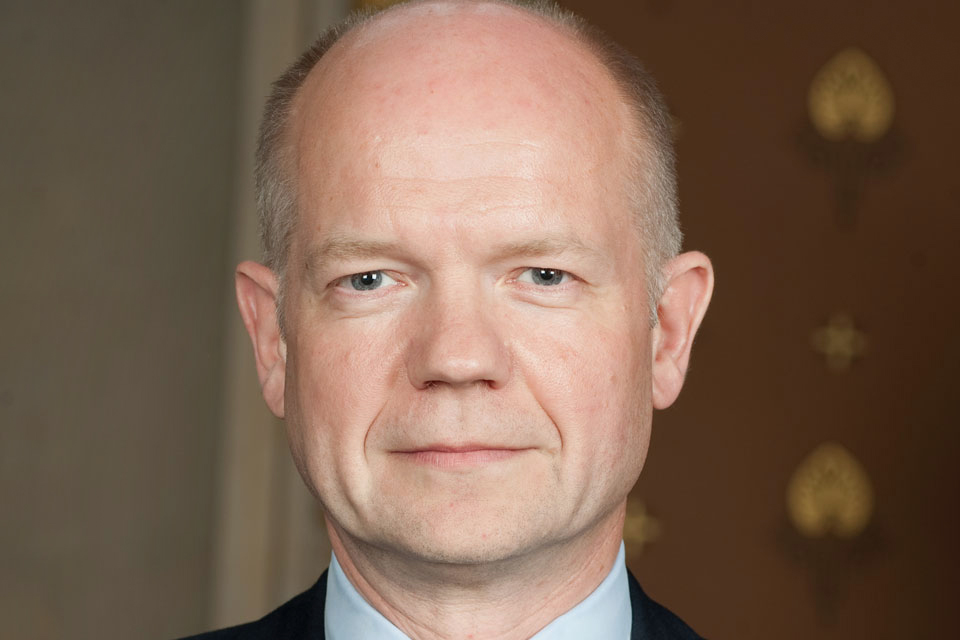 Good morning Ladies and Gentlemen. I would like to thank Enterprise Ireland and others involved in organising this event for the invitation today. I know only too well from the work of our own equivalent, UK Trade and Investment, that the work of such departments plays a very important role in a country's prosperity; more critical than ever at a time when the impact of the financial crisis requires us all to seek export and commercial growth. The Irish Industrial Development Agency and Enterprise Ireland certainly have much strength to draw on with Ireland's reputation for a pro-business environment; which it is important to keep and to enhance; a young, skilled and highly-educated workforce; and a well established, innovative high value sector.
The UK and Ireland have common interest in promoting trade, with each other, with other EU member states and with the rest of the world. So let me start with the trading relationship between our two countries.
I am heartened to see that, despite the downturn generally, trade between our countries has actually grown in the last year. Bilateral trade in goods between the UK and Ireland reached nearly £30 billion in 2010. UK companies are more interested than ever in trading with Ireland, already our fifth largest export market. Our trade and investment office here reports a 50% rise in interest from UK companies in their export services to Ireland between 2009 to 2010. With British firms providing positive feedback on their experiences of the Irish market, even more companies will follow in their footsteps.
Perhaps one of the sectors where we are most linked is tourism, with each country benefiting from around 3 million visitors from the other every year. I will shortly join Her Majesty the Queen in her visit to the Diageo-owned Guinness Storehouse this morning, which hundreds of thousands of visitors from the UK pass through. Tourism figures in both directions have fallen recently, as have numbers of international visitors to both countries. But I am confident that these figures can recover. When you think that the average spend by an English rugby fan for a 6 nations game in Ireland is over £1,000, win or loose apparently, you will see why my view is shared by many people here.
Our Embassy in Dublin already works closely with Tourism Ireland and I know that the success of Her Majesty's historic State Visit will help us build on this important relationship. The London 2012 Olympics will also provide a springboard to develop inward global tourism for the UK and Ireland, and I am pleased to welcome the plans announced last week by Ireland's Justice Minister Alan Shatter to allow many overseas visitors to enter Ireland on valid UK visas. As well as rightly demonstrating a great deal of faith in our visa system, I am sure that this will enhance the tourism industries in both countries; allowing us to capitalise on the opportunities of London 2012. I am also confident that the various international teams using venues in Ireland for training in advance of the Olympics will find you an excellent host.
Indeed, it is not just Ireland's tourism industry that will benefit from the London 2012 Olympics, to date over 800 Irish companies have signed up to the Olympics website Compete4, where contract opportunities are advertised; that is more than from any other country and 13 Irish companies have already been awarded large-scale games related contracts, mainly in the information communication technology and construction sectors.
The IDA and Enterprise Ireland's expertise in promoting trade and investment opportunities for Ireland is well known. The Foreign Office, like Ireland's Department of Foreign Affairs, has taken on an enhanced business promotion role complimenting the already world class role played by UK Trade and Investment. Businesses will be able to capitalise on our in-depth local expertise to identify opportunities. Ministers will continue to build the strong political relationships needed to help business thrive particularly with emerging powers, as well as working to influence trade policy internationally. I believe that these Government organisations working alongside industry groups such as the British Irish Chamber of Commerce, provide an ideal platform for the future.
It is also important that we work together to create an environment conducive to long term sustainable growth in Europe. This is essential for countries such as the UK and Ireland, which have dynamic, high value industries and economies that need and should look to exports and trade for growth.
Our Prime Minister recently set out a series of measures to deliver that long term sustainable growth. First, in Europe, we must unlock the full and untapped potential of the Single Market by, for example, fully implementing the Services Directive; removing the restrictions that hinder access and competition in services; and creating a digital single market. We estimate that these and other measures could add as much as €800 billion to the European economy.
Second, we must connect European and global markets more effectively. I have welcomed recent bilateral agreements such as the EU-Korea Free Trade Agreement and worked hard to bring it about. But the EU needs to keep its foot on the pedal and drive forward the World Trade Organisation's Doha Round, while also working simultaneously on completing Free Trade Agreements with other large markets such as India and Japan. The UK and Ireland should be in the vanguard of the EU in sustaining progress in this vital area.
Thirdly we will work with a new drive to unleash enterprise, making it easier for businesses to start up, develop and prosper. We need a new approach to business regulation, and reducing the overall regulatory burden, especially for small and medium enterprises and we need to make sure the credit is available for these small businesses, which is why we have committed to the Enterprise Finance Guarantee Scheme in the UK for the next four years. I understand that similar measures are being taken here. We expect to make available between £600 million and £2 billion of lending to viable enterprises which lack sufficient collateral or enough of a track record for purely commercial lenders.
Finally, and this is a point close to many Irish hearts, we must build a strong and competitive European economy based on creativity and innovation by, for example, exploiting opportunities in low emission technology. Several Irish and UK companies have already gained international recognition for their achievements in this area. We should strive to remain in the lead in this sector, which has enormous potential for future growth.
As we look to the future, British and Irish companies will continue to seek out opportunities over the sea, to encourage growth and development and to succeed on the global stage. The UK Trade & Investment Agency has offices all over the world offering a range of services to those companies and also to Irish companies who have set up in the UK. As does Enterprise Ireland. We will continue to work with companies at every stage in the export journey and work with international and Irish companies seeking to establish themselves in the UK.
International trade is pivotal to our Government's plans for a private sector led recovery. There will be no other form of recovery other than a private sector lead recovery. We want to see more international connections forged, more trade barriers lowered, and more potential unleashed.
Ireland is a close and trusted partner, with whom I am sure we will continue to work closely in the coming years to achieve a strong and sustainable recovery.
Search the news archive
Published 18 May 2011