Authored article
Hugo Swire's article about the G8 agenda and Hong Kong
Ahead of his first official visit to Hong Kong next week, Hugo Swire sets out why the G8 agenda matters for the region and for Hong Kong.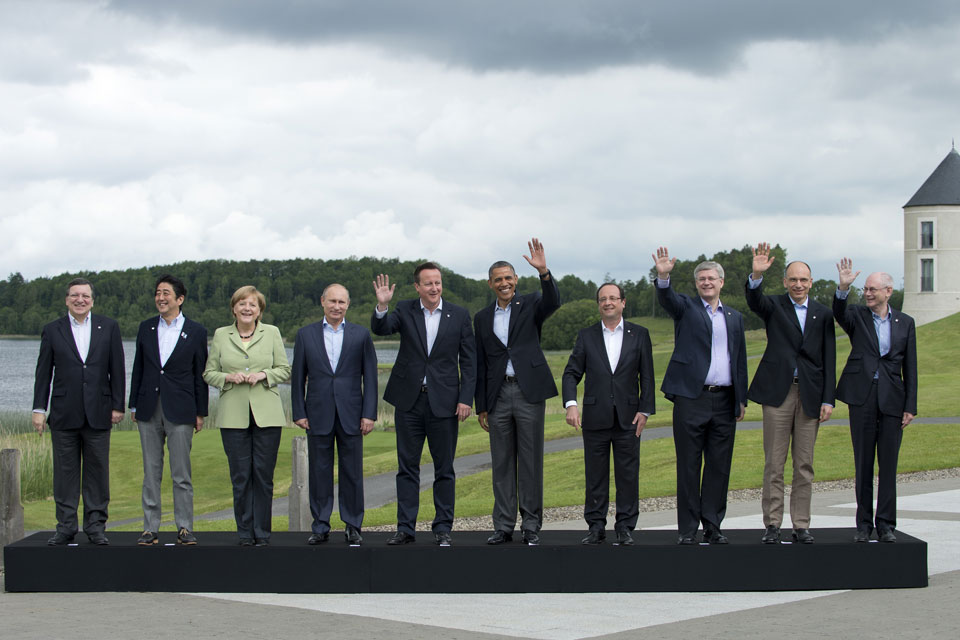 This week has seen the UK host 2013's G8 Summit as part of its G8 Presidency. As a former Minister of State for Northern Ireland, I am particularly proud of the opportunity to showcase the wealth of opportunities available in Northern Ireland from the beautiful surroundings of Lough Erne. It gives us the chance to show there is more to the UK than London and that we have a great deal to offer across the board.
Ahead of my first official visit to Hong Kong next week, as UK Minister of State for Asia, I wanted to set out why the G8 agenda matters for the region and for Hong Kong in particular.
The UK's G8 presidency is focussed on the '3 Ts': fairer taxes, freer trade and greater transparency.
These are critical issues for global prosperity, for jobs and for sustainable development. They are closely linked, and mutually reinforcing. We need to work towards common international approaches on these issues, and the G8 can add momentum here.
The G8 will contribute to global action to bring international tax rules into the 21st century. The rules have not changed for nearly a century and are failing to ensure that global companies pay a fair share. People expect nothing less.
Trade is of course a crucial driver of growth; yet there are still too many barriers in the global system. As developed economies, the G8 has a particular responsibility to resist protectionism, to demonstrate leadership in pressing ahead with trade liberalisation and to support an open, global rules-based trading system, which will help to ensure that all countries can benefit.
We are also using our G8 Presidency to put a new and practical emphasis on transparency, accountability and open government. We want the G8 to work together with developing countries to prevent money laundering, stamp out bribery and corruption and increase capacity building for the collection of revenue. These are key building blocks for economic development.
I am certain this agenda will resonate in Hong Kong and provide momentum on areas of shared interest. As Chief Executive CY Leung said at the Boao Forum, free trade is in Hong Kong's DNA. Hong Kong has been a consistent advocate for an open, rules based global economy and resisting protectionism.
In the World Trade Organisation (WTO), the UK and Hong Kong are working together to achieve an ambitious agreement on trade facilitation at the December Bali Ministerial meeting, providing a boost to the global economy. The UK and Hong Kong are looking to push ahead with a trade in services agreement with a group of other likeminded countries. This is vital for our two service based economies. But again, we believe this will add momentum to global trade and eventually be adopted by all WTO members.
Hong Kong is also a key player on taxation and transparency. In part, this is down to the key foundations on which Hong Kong's economy has flourished: the rule of law, property rights (including intellectual property) and freedom of speech. That has helped Hong Kong become a truly global economy and base for many multinational companies, including some 1,000 UK companies of which 300 have their regional headquarters here.
We welcome the Chief Executive's plans to expand Hong Kong's role as a connector in the region. We want to be a key partner in this endeavour, encouraging UK business to work through Hong Kong into mainland China and helping Chinese business 'go global' by investing through Hong Kong into the UK. That does not mean our bilateral trade relationship will take a back seat: we see huge opportunities for British firms to bring their expertise to ambitious projects such as Kai Tak and West Kowloon. And I am personally committed to showcasing the UK to established partners and the next generation of Hong Kong business leaders. The UK is a great place to invest at the moment.
The UK and Hong Kong have a huge shared interest in working closely together arguing for open markets and open government as central tenets of global prosperity. That is ultimately what the UK's G8 presidency is all about.
I look forward to continuing this debate in Hong Kong next week.
(An edited version of this article appeared in South China Morning Post on 19 June 2013.)
Published 19 June 2013