How LEPs can build the local foundations for a global Britain
Sajid Javid talks to leaders of Local Enterprise Partnerships (LEPs) about the important role they have to play in growing the UK economy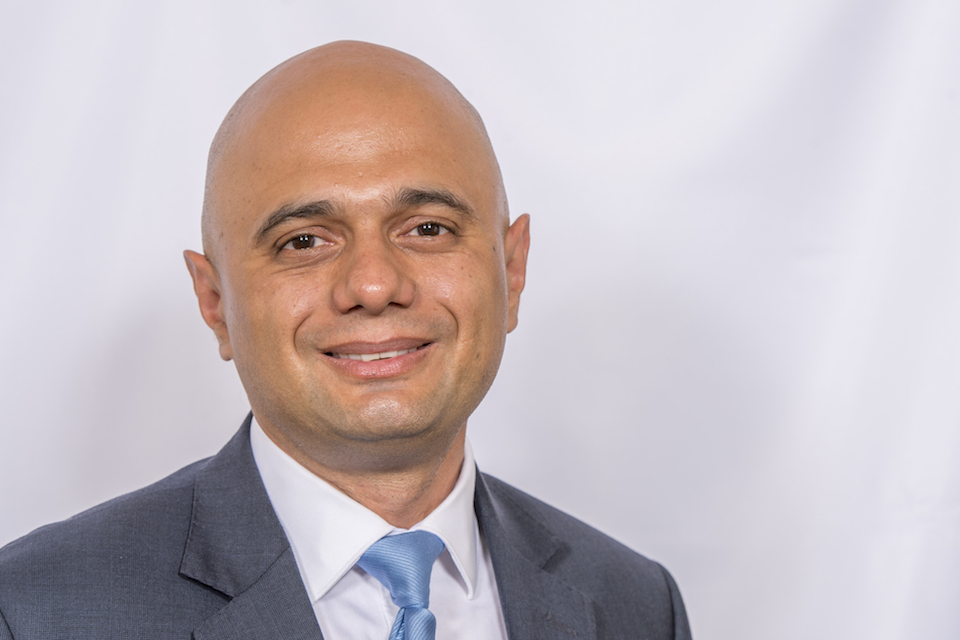 Good afternoon everyone, I hope you've had a great day today.
On the way here I was looking at your "LEP Factor" fliers.
If this is the LEP Factor I guess that means Graham is Simon Cowell.
So pull your trousers up a little higher, Graham!
When you all got together this time last year, Greg Clark was standing here and I was Business Secretary.
Since then we've done a bit of a job swap.
At the time I saw one tweet that congratulated us both on getting promoted.
I'm not quite sure how that works!
Anyway, as I told some of you at the LEP chairs dinner last October, Greg may have taken on the business brief.
But universities and skills are now with Justine Greening, and trade is with Liam Fox.
Which means the Prime Minister thought she needed three people to do my old job!
I never get tired of telling people that!
I'm the last speaker today.
And I know that, at conferences like this, that can be an excuse to talk about what has been discussed, to look back at what has happened.
I don't want to do that.
I want to look ahead.
I want to talk about what the future holds for LEPs.
Because I don't think there's ever been a better, more exciting time to be involved with local enterprise partnerships.
It's hard to believe that less than 7 years ago you didn't exist at all.
That as recently as 2010 we were making do with vast, unresponsive, regional development agencies.
Top-down decision-making.
Businesses being told what they need by bureaucrats.
Strategies designed to fit lines on a map rather than real-life communities.
But since then, everything has changed.
LEPs are focussed, dynamic, responsive.
They're organic, built around local needs and local people rather than local authority boundaries.
And above all, they're driven by the people who really understand what the local economy needs – local business leaders.
So before I go any further, I want to say thank you to all of the business figures, and particularly the LEP chairs, who have made these partnerships so successful.
You give up your time, your expertise and so much more.
And just look at how much you've achieved.
I'm told you've helped create 145,000 jobs – some of which haven't been taken by George Osborne!
You've trained 95,000 people.
Your local growth hubs have engaged with well over 400,000 businesses.
Enterprise zones have already attracted more than £2.6 billion of private sector investment, with 12 more enterprise zones starting from next week.
Those are big, impressive numbers.
They look great on a spreadsheet.
But behind them are tens of thousands of real people seeing a real difference in their communities.
There's the young graduate who's finally able to get a job and move out and start living his life.
The mother who can give her kids a better life because her small business isn't so small anymore.
The middle-aged man who thought his working life was over when he was laid off, but has had the chance to retrain and begin again.
That's what LEPs have done.
That's what YOU have done.
You're not just helping businesses, you're helping communities.
You're helping people.
And for that, I can't thank you enough.
But now, I want to look at what LEPs can do in the future.
I know there's a lot of change going on right now.
We're just weeks away from seeing a wave of new Mayoral Combined Authorities.
From May, a third of England will have a directly-elected mayor.
And of course, on Wednesday (29 March), the Prime Minister is going to trigger Article 50.
Two years from now we're going to be leaving the European Union, and that's going to affect every community and every LEP area right across the country.
I'm not blind to the fact that change on that scale is going to bring challenges for LEPs.
But it's also going to bring a lot of opportunities.
Opportunities to grow.
Opportunities to diversify.
Opportunities to make even more of a difference to the communities you serve.
Look at Brexit.
Leaving the European Union obviously means an end to European Union structural and investment funding.
On the surface, that looks worrying.
But remember that the Chancellor has already issued a series of guarantees about EU funding over the Brexit period.
And we're already working on our replacement for EU funding in the longer term.
But this isn't just about changing the name of the funding pots
It's also an opportunity to rethink how local funding works.
And it's an opportunity to make it truly local.
Because, whatever the final outcome, you'll no longer be jumping through hoops made in Brussels, trying to satisfy criteria set by an anonymous EU bureaucrat.
We'll make you jump through traditional British hoops instead!
There are lots of questions, and I want to work with you to come up with the answers.
I want to hear your thoughts and your ideas on how to reshape and develop the role of LEPs in delivering local growth.
And I know you'll have plenty of ideas, because LEPs across the country have repeatedly shown that they're capable of taking bold, innovative decisions.
Sometimes those decisions are about structures.
For example, the Northamptonshire and South East Midlands LEPs joined forces after realising they could serve their communities better as one body.
Elsewhere, we're seeing LEPs thinking beyond the boundaries of their growth deal.
Look at South East, the first LEP to be awarded "housing business ready" status by the Housing and Finance Institute.
It's working with councils, planners, developers and regulators to make sure utilities and infrastructure are provided where they're needed right across the region.
The unique nature of a LEP means it can do this across traditional local authority boundaries and across both the public and private sector.
And that means it can better reflect the needs of local people and local businesses.
I want to see more of this, in any field where LEPs can make a significant, positive difference.
You shouldn't just be about directing local capital programmes.
And that's always been the case, by the way.
The 2010 white paper that created LEPs said they should "provide the clear vision and strategic leadership to drive sustainable private-sector led growth and job creation".
We didn't put limits on how you should do that, so you shouldn't limit yourselves now.
I was delighted to see that you worked with my department to establish a working group on housing.
I'm sure you're full of ideas about how you can help implement our housing white paper.
As we've seen in the South East, Enterprise M3, Coast to Capital and others, you have a potentially huge role to play in influencing public and private investment and overcoming delivery blockages.
And you don't need me to tell you that, in many parts of the country, fixing the housing market is a crucial step in securing sustainable local growth.
There's also a fledgling working group on town centre regeneration.
Again, this is an area where LEPs can provide a strong, singular local focus, co-ordinating across the public and private sectors.
Thames Valley Berkshire has already shown how this can work.
It has used Growing Places Funding to bring forward regeneration projects in Bracknell, Maidenhead and Wokingham.
LEPs supported the area-based review of further education.
I'm sure you'll now be looking for ways to cement your role in providing the skills and training that businesses need.
Again, this is something I'd love to see you doing more work on.
There are opportunities for you to create a better environment for entrepreneurs.
That could mean working with higher education and business schools, supporting spin-outs, providing space and so on.
Or it could mean offering greater support for the unique needs of social enterprises, supporting entrepreneurs who want to do more in their communities.
And with changes to business rate relief and 100% business rate retention, LEPs will have a crucial role both for local businesses and local government, offering advice and serving as a formal consultee.
It's also about using the unique role of LEPs – and the unique insights of their business members – to help build a stronger local economy in whatever way you can.
And that's a role that's only going to get more important in the months and years ahead.
This government is determined to build a new, global Britain.
And a global Britain needs strong local foundations, something LEPs have a huge role in providing.
So there are many opportunities to come, and I want to see LEPs being proactive about embracing them.
Yes, we've been running a review from our end to see how the role of LEPs can be strengthened.
But I don't want you to wait to be told what to do, or even asked.
Go out there and show us what you're capable of.
But as you look at the opportunities for expansion and diversification, it's important that you don't neglect the basics.
For example, there are still too many businesses, well over half in fact, who say they're not aware of their LEP.
And of course there's also a difference between a dim awareness and active engagement.
I hear a lot of positive feedback from businesses, particularly larger ones, about the support they get from LEPs and the growth hubs you've created.
But I want you to ask yourselves whether you're doing enough to communicate with smaller businesses, with those outside the LEP bubble.
Are you talking to people who don't have a lobby group to speak for them?
Are you meeting the needs of everyone in your area, or just the ones who reach out to you?
If we're going to make this a country that works for everyone, it's not enough to focus on the easy wins.
Over the past few years LEPs have worked tremendously hard to get established and start making a difference.
Now it's time to make sure you're delivering for everyone who could benefit from your help.
That won't just be good for the people who benefit, it'll also be good for LEPs themselves.
Increased visibility and increased trust add up to increased support, with more people and more businesses willing to speak up and engage with LEPs.
It's a virtuous circle.
My other big ask of you is to take a good look at your corporate governance.
We all know that last year's headlines about fat cats investing in their own businesses do not reflect the actions of the vast majority of LEPs.
But if we're going to get maximum value for taxpayers' money, and if the public are going to trust you to deliver that, you have to make sure every penny you spend is transparent and justified.
That's why we've strengthened the rules around how funds are spent and invested
Because the funds you invest on behalf of your communities isn't your money or my money.
It's taxpayers' money.
Every last penny of it.
It's given to us on trust, to be spent for the good of the whole country.
You all know that.
And I know for a fact that most business people involved with LEPs – in fact most business people full stop – have nothing but the best, most honest intentions.
That's why we created LEPs in the first place.
Because we knew we could trust you to deliver for your communities.
That's why the Industrial Strategy commits to strengthening and supporting LEPs.
We've seen some of the incredible work you've done already, and we want to see more of it.
---
About 30 years ago, I was a student at the University of Exeter.
Apparently I was there at the same time as Thom Yorke from Radiohead, but unlike him, I wasn't one of the cooler kids on campus.
In fact while he was writing epoch-defining music, I was busy setting up the Exeter Enterprise Forum.
It was a kind of amateur think-tank, aimed at supporting local growth through free enterprise economics.
I call it a think-tank, it was basically just me and my mate Tim!
And, with hindsight, I'm not sure we ever actually did a huge amount to create jobs and opportunity in South Devon!
But our hearts were in the right place.
We wanted to help businesses grow so that communities could flourish.
Thirty years later, it gives me great pleasure to see Local Enterprise Partnerships doing just that.
I've always been passionate about business.
From growing up above the family shop, to setting up my little think-tank to a 20-year career in international finance, I've always believed that business, done well, has the power to transform lives.
Without a strong economy to pay for it, there would be no National Health Service.
No world-class schools.
No government support for the needy and vulnerable.
Put simply, we need this country to be home to a successful, growing private sector.
And by bringing businesses to the heart of local investment and local decision-making, that is exactly what LEPs deliver.
You have achieved an amazing amount over the past few years.
I'm sure we'll see even greater success in the years to come.
And I'm looking forward to working with you all to make sure that's exactly what happens.
Thank you.
Published 28 March 2017