Speech
High Commissioner's speech at the Queen's Birthday Party Brunei 2016
The British High Commissioner to Brunei, His Excellency David Campbell, spoke at the annual Queen's Birthday Party Reception.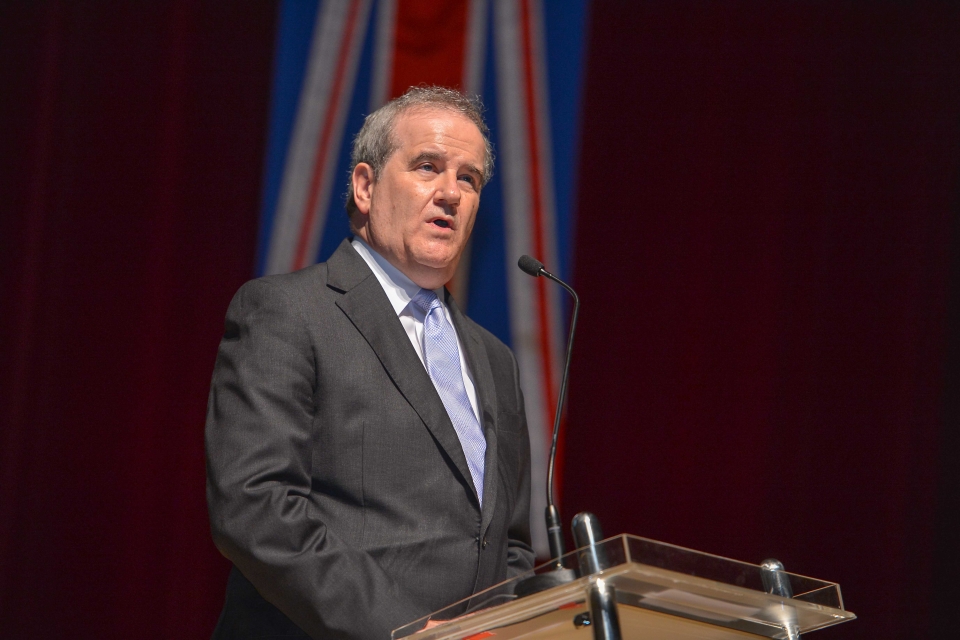 Yang Berhormat Pehin Datu Lailaraja Major General (R) Dato Paduka Seri Haji Awang Halbi bin Haji Mohd Yussof, Minister of Culture, Youth and Sports and Datin Hajah Kalshom binti Haji Suhaili.
Pengiran Pengiran, Pehin Pehin, Dato Dato , Datin Datin: Excellencies, Ladies and Gentlemen.
It gives me great pleasure to welcome you all to the United Kingdom's 2016 celebration of Her Majesty The Queen's Birthday.
2016 has been a special year for relations between the UK and Brunei Darussalam. I mention just a few highlights. Last June, Her Majesty The Queen welcomed His Majesty The Sultan and Yang Di-Pertuan to a special Gurkha Pageant in London. In October, we were honoured that His Majesty consented to take the salute in Bandar at a Joint Parade of the 1st Battalion Royal Gurkha Rifles and Brunei's 3rd Battalion Land Forces.
Education is a constant in our relationship, with many hundreds of Bruneian students studying in the UK and British teachers, educationalists and other professionals contributing their expertise to Brunei's educational system. With those Bruneians who have studied in the UK we have a special bond. None more so than with our Chevening – British government – scholars. We were therefore delighted that last autumn Chevening Alumni Brunei launched a series of public lectures and discussions aimed at young people in Brunei. You, Pehin, kindly opened the first of those events and the programme has been so successful that it will continue this year.
In challenging times for the economy, we congratulate Brunei on the measures it has taken so far to promote ease of doing business. Recently, Prime Minister David Cameron appointed Mark Garnier, Member of Parliament, as his Trade Envoy to Brunei. We look forward to Mr Garnier's first visit here shortly.
Last week, Her Majesty Queen Elizabeth II celebrated Her 90th birthday. In 1947, the then Princess Elizabeth pledged to devote Her whole life, whether it be long or short, to the service of Her people. Happily for us, Her life has been a long one. Last September, The Queen became the longest reigning monarch in British history. Her lifetime of service to the United Kingdom, to Her Overseas Realms and Territories and to the Commonwealth has been widely acknowledged and much admired.
Her Majesty's connections with Brunei span many decades. These include State Visits, both inward and outward. You can see in the Theatre Foyer upstairs a selection of pictures of some of those occasions.
Last Saturday marked the 400th anniversary of the death of William Shakespeare, playwright, poet and actor. Thanks to Shakespeare's supreme ability to capture the essence of the human condition, his work is as vital and relevant today. One of his contemporaries – Ben Jonson - put it well: "Shakespeare is not of an age, but for all time."
His work has a continuing impact here in Brunei. Last summer the Shakespeare Globe Theatre world touring production of Hamlet came to Bandar. In the last two months, Jerudong International School hosted a Shakespeare drama workshop festival for schools from South East Asia; the International School of Brunei organised a Shakespeare festival; last week – Maktab Duli held a one day series of Shakespeare workshops with 300 students participating from various secondary schools and sixth form colleges, and last weekend the Mabohai Shopping Complex hosted a Shakespeare Day. In the words of the 400th anniversary slogan, Shakespeare Lives in Brunei Darussalam.
For this evening's Queen's Birthday Party, I want to thank the Empire Hotel and staff for their unstinting help and the MINI Owners Association Brunei for their display of classic MINI cars outside. My warm thanks also go to our generous sponsors Supa Save and to CfBt for all their help with the specially designed Shakespeare banners, many featuring local schools. The banners will be used for permanent school display after tonight. Also, we are grateful to Maria Grace Koh for her beautiful singing of the two anthems, to the Gurkha pipers and to three students from Jerudong International School you will hear from shortly.
My thanks once again to Yang Behormat Pehin and to Datin for gracing this occasion as our Guest of Honour. As I conclude my remarks, may I ask please for your continued attention as we hear three short extracts performed from Shakespeare's Romeo & Juliet, from As You Like It and – first – Titiana from A Midsummer Night's Dream.
Published 6 May 2016