Speech
High Commissioner's speech at HM The Queen's Birthday Party 2014 in Singapore
HE Antony Phillipson delivered a welcome address at Eden Hall to mark HM The Queen's Birthday Party 2014.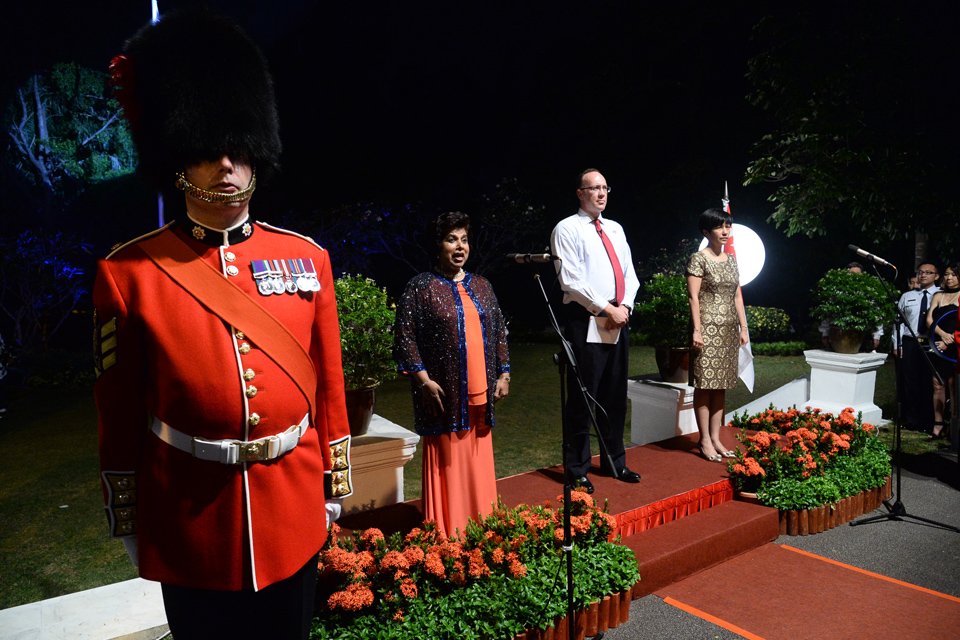 Ms Indranee Rajah, Senior Minister of State, Ministry of Law and Ministry of Education…Mr Arthur Fong, Member of Parliament for West Coast GRC…Mr Liang Eng Hwa, Member of Parliament for Holland-Bukit Timah GRC…Excellencies, Ladies and Gentlemen…on behalf of my wife Julie and me, welcome to Eden Hall.

This evening we gather to celebrate the 88th Birthday of Her Majesty The Queen, an auspicious number symbolising fortune and good luck in Chinese culture, and I am sure that we all wish her the very best of both. As we do to HRH Prince Philip, The Duke of Edinburgh, who turned 93 last week.

Ms Rajah, we also gather to celebrate the friendship of our two countries, and in that context it is a real pleasure to welcome you again as our guest of honour. And that is for two particular reasons. First because you are our local MP.

Second, because the two portfolios of Education and Law that you hold as Senior Minister of State within the Singapore government, are vital to the partnership between the UK and Singapore.

In education, for example, there are 6,500 Singaporean students in the UK, while just over 50,000 students from many nationalities are taking courses for UK qualifications offered here by Singaporean institutions.

In the latest World University Rankings the UK occupies 3 of the top 10 and 31 of the top 200 places. Singapore's stock continues to rise impressively with NUS just outside the top 25 and NTU up 10 places.

There are already many links between our universities, and with UK companies; the British Council is an important player as well as facilitator in the education sector; and there is scope to do much more together.

In the field of law there is a similar story. Our firms are here in large numbers, helping to make Singapore a significant legal hub and helping to train the legal community of the future. I am delighted that as you lead the development of Singapore's third law school you were able to visit Northumbria University's award-winning Student Law Office as part of a fact-finding trip to the UK.

Ms Rajah, education and law are both important parts of the UK/Singapore story, but there is much more to it.

Last week the Permanent Secretaries of Singapore's Ministry for Trade and Industry and the UK's Department for Business, Innovation and Skills met in London under the auspices of our Economic and Business Partnership.

Their talks were wide ranging, and focused on joint action to boost the two way trade and investment that support job creation and peoples' livelihoods in both countries.

We also aim to make the most of the EU/Singapore Free Trade Agreement and we both hope to see it come into force as soon as possible.

I would also like to commend in this context the work of the British Chamber of Commerce here in Singapore. This year they are celebrating their 60th anniversary, testament to their longstanding roots in this country.

As UK Trade and Investment looks to develop new partnerships with Chambers and business groups to enhance our offering to business the Chamber here is leading the way. To the benefit of both the UK and Singapore.

Our cooperation and joint enterprise also go beyond the trade and economic field.

The UK's commitment to the Five Power Defence Arrangements, or FPDA, based on collaboration with Singapore, Malaysia, Australia and New Zealand, remains as strong as ever.

The past year has seen 5 visits by 3 ships either for FPDA exercises, helping the Philippines deal with the aftermath of the devastating typhoon Haiyan, or assisting Malaysia and Australia with the search for MH370. Future FPDA exercises will see land and air components too.

In short, our commitment to playing a defence role in this part of the world is borne out by our actions as well as our words, and partnership with Singapore is at the heart of it.

Perhaps most important, the people to people links continue to thicken and develop.

Singapore is a popular destination for UK tourists as well as for our companies and universities, just as the UK is for yours. Our art, culture and musical offerings are also here in large measure, whether it's British bands at the Esplanade, exhibitions from the Royal Academy and the British Museum or performances of Shakespeare in Fort Canning Park or of Yes, Prime Minister at Raffles Hotel.

And, of course, football, the game that we gave to the world, excites huge passion and interest here. Even when it is on at unsocial times of the day, and yes, I will be up at 3 tomorrow morning to see if England can keep their World Cup hopes alive with victory over Uruguay…

….and no, we will not be extending this evening's event so that you can join me.

Ms Rajah, the most public manifestations of these links are high level visits.

In February, the Chancellor of the Exchequer spent a highly productive day in Singapore, during which time he and Deputy Prime Minister Tharman agreed to launch a new UK/Singapore Financial Services Dialogue.

In March we welcomed Prime Minister Lee Hsien Loong to London for an extensive programme of calls including on the Prime Minister at No10 and on the Lord Mayor who conferred on Prime Minister Lee the freedom of the city of London.

Next month President Tan will be in Glasgow for the opening of the Commonwealth Games.

And in October, he will return to the UK as Her Majesty has invited President and Mrs Tan to pay a State Visit, the first ever by a Singaporean President.

Last September I wrote an article for Lianhe Zaobao on the occasion of the 50th anniversary of a key moment in Singapore's path to independence, its separation from the UK in 1963.

I wrote then that "50 years on from Singapore's declaration of independence from the UK the relationship between us is both strong and deep. The ties that bind us now are those of friendship, partnership and respect; and they provide a platform on which we can work together for mutual benefit, for the good of all our people, in the years to come.

That is what we will be aiming to celebrate and advance through the State Visit at the same time as looking forward to next year and the 50th Anniversary of Singapore's independence.

Ms Rajah, Members of Parliament, Excellencies, Ladies and Gentlemen, as always I end with a long list of sincere thanks.

Many companies, UK and Singaporean, have supported this event – it would not be possible without them. They are listed in your programme.

I am also grateful to the Gurkha Pipes and Drums, and the Singapore National Cadet Corps Command Band, Swiss Winds… And to Company Sergeant Major Paul Stretch and Company Quartermaster Sergeant Simon Thompson both of Headquarter Company, 1st Battalion Coldstream Guards, the oldest regiment in the Regular Army in continuous active service, originating in Coldstream, Scotland in 1650.

To my colleagues at the High Commission, particularly those who run the huge number of events that we do at Eden Hall…

To all of you for joining us this evening…

And once again, to Ms Joanna Paul who has performed the anthems for the last three years…I am delighted that she has agreed to do so again this evening….

And it is now my pleasure to ask her to sing the national anthem of the Republic of Singapore.

Ms Rajah, Members of Parliament, Excellencies, Ladies and Gentlemen, it gives me great pleasure to propose a toast to His Excellency the President of the Republic of Singapore.
Further information
Follow the British High Commissioner to Singapore on Twitter @HCAPhillipson
Follow the British High Commission Singapore on Twitter @ukinsingapore
You may look up at #QBPSG hashtag on Twitter
Published 20 June 2014