Speech
Guild of Travel Management Companies conference
Discusses the need to improve the UK's transport infrastructure.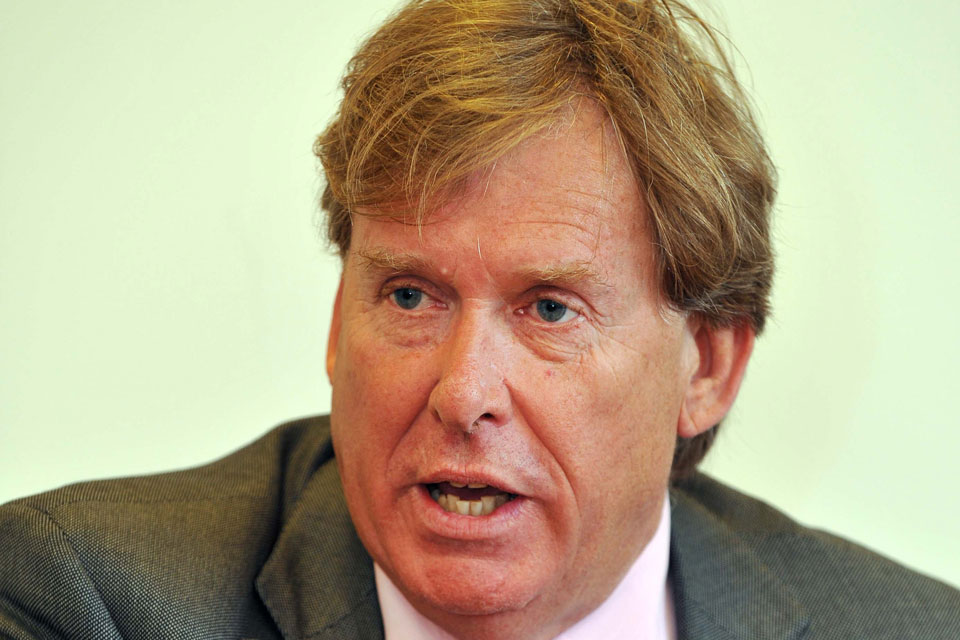 Opening remarks
Thank you for that introduction Ian (Ian Taylor - travel writer, journalist and conference host).
And thank you also to everyone at the guild for asking me along, it's a genuine pleasure to be here today (29 October 2012).
Can't and won't ignore the facts
Now, I'm not sure if there are any fans of the "Yes Minister" TV series in the audience.
For those of you too young to remember, "Yes Minister" was the 1980s version of "The Thick of it" but without the 4 letter words.
Well, there's one scene where the civil servant, Sir Humphrey Appleby, says of the Minister Jim Hacker - "if he can't ignore the facts he's no business being a politician."
To be honest, based on that definition of politics I'm definitely in the wrong profession.
And that's because, when it comes to the relationship between Britain's transport system and Britain's business travellers I can't, and I won't, ignore the facts.
And the facts are these:
today we have to earn our living and pay our way in a fast moving global economy
a global economy in which this Association's members face cut-throat competition
a global economy where the state of your transport system can be the difference between missing a meeting or making a deal…between winning a contract or losing a customer
And I have to tell you that those facts have not been lost on the countries we compete against.
They know that creaking and crumbling transport links are a business burden that cost time and money.
Look around the world - the evidence is there in plain sight.
From North America to Latin America, and from our continental neighbours to the emerging economic powers of China and India, nation after nation is upgrading and expanding their transport infrastructure
Every bridge they construct, every road they repair and every track they lay is a boost for their businesses and their economies.
So we really don't have the luxury of sitting back and looking on while our rivals invest in world class transport.
They are our competition in the international marketplace, the economies we're up against in a race to win the future.
And, if we're going to out-produce, out-innovate and out-sell them, we cannot afford to be left behind in the starting blocks.
Status quo - Latin for the mess we're in
That's something this guild and its members understand only too well
You know better than anyone that ours is a trading nation, as well as an island nation.
A nation where what we sell in Boston or Shanghai is just as important as what we make in Bristol or Sheffield.
That's the reality.
It's the reason you have consistently called for a transport system that is high quality and high performance - one that helps, not hinders, our business travellers.
Well, I want you to know that we hear what you say
And trust me…those aren't just warm words from a minister. The record proves that this is an issue where we are on your side and in your corner.
In fact, the minute we took office, this government made it clear that maintaining the transport status quo was not an option.
After all, as someone once said, "status quo is simply Latin for the mess we're in".
Believe me, that translation has more than a ring of transport truth about it because frankly, we didn't just inherit a financial deficit back in May 2010, we inherited an infrastructure deficit too.
And that's precisely why we took the deliberate decision to focus time, effort and resources on making Britain's transport networks fit for the 21st century.
Now, I'll admit that the DfT hasn't enjoyed its best media coverage lately.
And I don't for one minute seek to carp or complain about that coverage
Serious matters like the west coast mainline bid tend to generate serious headlines.
They also demand a serious response - which is why we are facing up to what went wrong and putting things right.
None-the less, I genuinely hope that none of the recent coverage obscures the bigger transport picture.
Because, I can say with absolute conviction that there has been real success and welcome progress on many of the transport issues that matter most to the people you represent.
Renewing and rebuilding the railways
Take the way we're renewing and rebuilding the railways that so many of your members use and rely on.
We're engaged in a massive modernisation effort. And just this summer we announced a new rail investment programme worth more than £9 billion.
We're driving through landmark projects like Crossrail, Thameslink and the Northern Hub.
We're going to electrify more than 850 miles of track.
And, right across the country, we're making rail travel a whole lot better with new services and extra carriages, more seats and faster journeys.
But our focus doesn't begin and end with the conventional railways.
Just like this guild, the government recognise the huge benefits of high speed rail.
But again, just like you, we also know that our country and our economy need more than a high speed line - they need a high speed network.
And that's exactly what we're committed to building with HS2.
A network that not only links London and Birmingham.
But one that also speeds further north to Manchester and Leeds, and possibly to Edinburgh and Glasgow.
A network that not only opens up business opportunities at home.
But one that also opens up business opportunities abroad by ensuring passengers have an opportunity to connect up with the Channel Tunnel rail link (HS1) and Heathrow airport.
HS2 will transform the way we live and work every bit as much as it transforms the way we travel
So make no mistake, the government is determined to push this project across the finishing line.
First class highways
But of course, business travellers don't just need top-notch railways - they also need first rate highways.
So we've been investing in this country's roads and motorways too:
cutting congestion by removing bottlenecks and tackling pinch points on vital corridors like the M5 and the M27
using innovations like hard shoulder running and managed motorways to unlock capacity on crucial arteries like the M1 and the M25
even supporting the uptake of electric cars with a nationwide network of re-charging points.
All this, and more, is designed to help motorists here and now.
But we've also been thinking carefully about the key long-term challenges by undertaking a major feasibility study:
looking at how we can best secure new investment capital
reviewing new models of ownership and financing
and weighing up the most effective and efficient ways to maintain and modernise our strategic road network
Today and tomorrow - modern highways for a modern Britain.
That's our vision, and that's what we're working hard to deliver.
Aviation
Having spoken about rail and road, let me now turn a subject that rarely fails to generate debate and discussion - aviation.
Ever since the Wright Brothers defied gravity, air travel has shrunk our world.
But, in doing so, it has also broadened our horizons - personal and business
So it's little wonder that issues like airport capacity and connectivity are high on the agenda for this guild and its members.
Well, as the minister responsible for aviation, my response is the same.
I'm with you - aviation is a big deal. It matters, it counts.
So let me quickly walk you through some of the things being done to make sure the aviation sector is successful and sustainable
We're steering the Civil Aviation Bill through Parliament - legislation that will improve the passenger experience by reforming the 25 year old set of regulations that currently govern our main airports.
We're just about to finish consulting on our draft aviation policy framework- a framework that forms the basis for future sustainable aviation growth in the UK.
To increase reliability and reduce delays we've been trialling operational freedoms at Heathrow
And, from electrifying rail tracks to building new rail links, we're improving the connections between the train and the plane at airports like Stansted and Cardiff, Luton and Manchester, Birmingham and Heathrow, Gatwick and Coventry.
These are all global gateways to new markets and new customers.
And they're all set to become much easier places to get to, and fly from, when you're travelling on business.
We're thinking ahead too.
We need to make sure that the future of aviation in Britain is one where our airports are globally competitive and where you can connect to places all over the world.
And I'm not talking about the future as just the next 4, 5, 6 years - but in terms of the next 4, 5 and 6 decades.
Capacity, connectivity, hub status - aviation faces long-term challenges that require long-term solutions.
And lots of people and lots of organisations have ideas about how to meet those challenges, including this guild.
That's why we've asked Sir Howard Davies to chair an independent Airports Commission to consider the connectivity needs of the UK, and to make recommendations to government on how those needs can be met.
And I expect that Sir Howard will soon be setting out further details on the membership of the Commission and its work, including how he intends engaging with interested parties.
The government is determined to build the consensus needed to deliver a lasting solution to the issue of the UK's aviation capacity and we believe that Sir Howard Davies' Commission is the way to do that.
So yes, the Commission is in its early stages, but we are convinced that it will deliver and help us to maintain the UK's hub status.
Wi-fi
There's one last area I want to talk about.
It's not the usual "planes, trains and automobiles" stuff of business travel. But, in today's internet driven world, it's perhaps just as important.
I'm talking about Wi-fi connections.
The modern business traveller doesn't just ply their trade in face to face meetings.
With a smart phone, a lap-top or the latest touch-screen tablet they work on the move, they work at home and they work outside of normal office hours.
And that makes fast and reliable Wi-fi connections a business must, a business essential.
You know it. Your members know it. And I'm pleased to be able to tell you that this government knows it too.
We've made broadband one of our top infrastructure priorities and published a National Broadband Strategy.
We've set up a "Broadband Delivery UK" team in Whitehall.
We've given that team £530 million to help bring superfast broadband to homes and businesses across the country.
And we've announced a special £100 million fund to help ten major cities become "super-connected cities."
This country's Britain's business travellers deserve world class Wi-fi connections, as well world class transport connections - and we're working hard to delver both.
Concluding remarks
If Britain's transport networks are its arteries of trade, then this guild's members are surely the heartbeat.
Our business travellers - clocking up the miles, putting in the hard graft, making sure that Britain is always open for business.
So, before I conclude, I just wanted to pay tribute to the work you do and the difference you make - this minister and this government recognise, value and appreciate everything you're doing.
Okay, having started off with a quote from a British comedy, I'd liked to finish off with one by an American President - Harry Truman.
President Truman once offered the following advice on public speaking - "If you can't convince 'em, confuse 'em."
Well, I hope that in speaking to you today (29 October 2012) I've been more convincing than confusing. I've certainly enjoyed having this chance to come along and talk about some of the things we're doing to support the crucial work you do.
So I thank you for you time. I thank you for listening. And I look forward to working with you all in the months and years ahead.
Thank you.
This speech represented existing departmental policy but the words may not have been the same as those used by the minister.
Published 29 October 2012