Speech
Gregory Barker speech to the Knowledge Transfer Network Annual Event 2013
Creating a resilient future energy system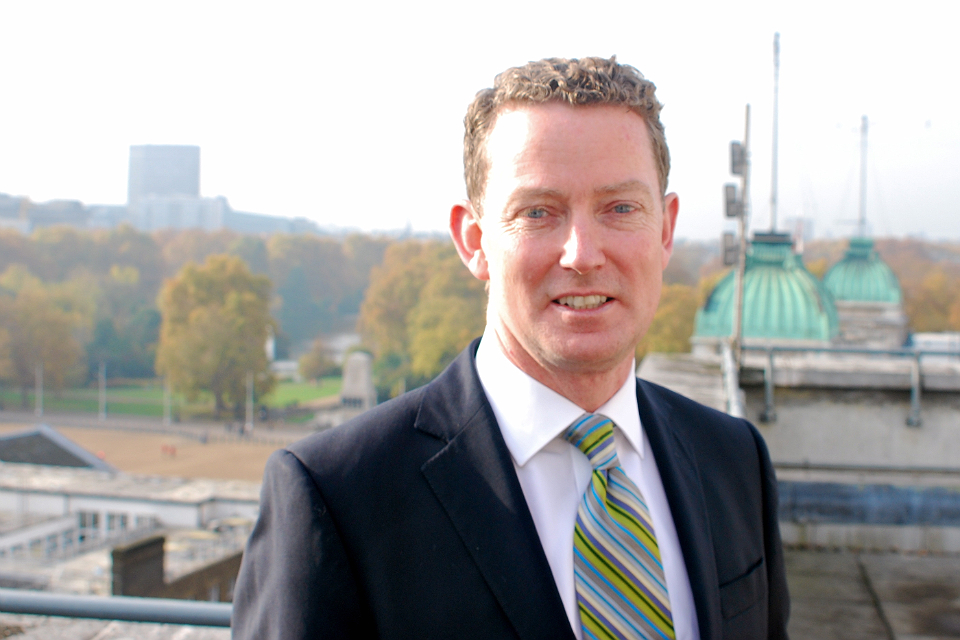 I am delighted to be here today to talk about the opportunities, the challenges and the huge potential for developing a future energy system.
Since forming in 2009, the "Network" has been at the forefront of creating novel solutions for businesses, helping to bring their new, and sometimes ground breaking, ideas to life.
One good example is that of Michael Evans, CEO of Green Tide Turbines, who was developing an innovative marine turbine but required funding support.
The Knowledge Transfer Network helped Michael's firm to identify relevant funding from the Technology Strategy Board and a research organisation to support the company.
Green Tide Turbines has since agreed with a Brazilian developer to supply a run of river turbines.
This could bring energy to communities in hard to reach places, such as the Amazon.
And it brings much needed jobs to these shores.
That is an example of the power of this Network.
The Network has also worked on exciting new projects with my Department, including launching a funding and partner-finding online portal to identify opportunities for technology development.
But before I go any further, let me stress the 3 key points I want to emphasize today.
Points that are critically important to the successful delivery of my Department's ambitious agenda.
Innovation is the lifeblood of an affordable and smarter future energy system.

The Coalition Government is absolutely committed to building a resilient future energy system.

Partnerships between business and academia will be essential.
And that is the nub of my message today.
Collaboration between business, academia and government is an essential part of an innovative, affordable, smarter energy system of the future.
Now more than ever – why?
Because we are in a global race and the countries that succeed in that race the countries that will prosper, are those that are the greenest and the most energy efficient.
In this global race for limited resources UK businesses have proven that low-carbon investments and green innovation can lead to growth.
The CBI has estimated that green growth contributed to at least a third of all growth in the British economy in the last two years.
In the last year for when we have figures, green jobs across the UK were close to one million.
That's more than telecoms, motor trade manufacture and retail combined.
We are sixth in the global league table of green goods and services with a market share of over £100 billion.
I believe that support for innovation will be central to the continued development of new low-carbon technologies to driving down costs and to maintaining our leading international position.
The government has an important role to play in creating a long-term framework, to enable investment in R&D to flourish.
And, despite recent public sector cuts the Government expects to invest in excess of £1billion between 2011-15 to directly support energy innovation
This could save the UK over £160 billion in energy supply costs to 2050 and contribute billions to GDP over the same period multiplying the gains from our initial investment many times over.
DECC is single-handedly contributing to growth in more than 100 entrepreneurial companies.
In the past year, I have announced funding support for a number of innovative technologies including offshore wind, marine renewables, nuclear power, CCS, and energy efficiency technologies.
Today I am delighted to announce our latest exciting technology developments:
DECC will give £2m funding for 16 organisations to help develop innovative storage solutions for energy.
DECC will also give up to £3m for 9 demonstration projects to encourage compact heat storage products to be brought to market.
The ability to store energy in this way will become increasingly important in the move towards a low carbon economy.
I wish the winning organisations every success with their projects.
Round of applause for the winners!
In addition, I can announce today that DECC will fund the Offshore Wind Structural Lifecycle Industry Collaboration project with £792,000.
This is a joint industry project established by 10 offshore wind operators undertaking research into the specific behaviour of wind turbine structures in the offshore environment.
The findings will be shared with the ambition that this body of knowledge will ultimately be incorporated into existing industry standards.
Finally, I can disclose that from DECC's £35m Energy Entrepreneurs Fund, we are funding 30 projects to support young innovative companies develop low carbon products.
These range from smart energy demand controls and innovative waste management solutions to a robot which can cheaply and quickly install insulation.
One example is Radfan, a small company based in Newcastle.
This is being funded to develop and market a radiator mounted fan which makes room heating more efficient.
Another example is Ultramo which is being funded to develop a new type of highly efficient engine.
Congratulations to you both.
DECC will launch the second call for the Energy Entrepreneurs Fund later this month and I encourage you all to apply.
Already many hundreds of jobs are being supported through the department's innovation activity across the UK.
And we can make Britain a global champion for the green economy.
And Government is taking important steps now to support a resilient, clean energy system post 2020 to achieve low-carbon generation that competes fairly on cost we need smart, efficient and reliable networks.
Initiatives such as the £500m Low Carbon Network Fund, the Smart Meter programme and the flagship Green Deal have placed British Industry in a great position to exploit these opportunities.
Estimates suggest that cost-effective investment in efficiency could save the equivalent of a whopping 22 power stations.
It will put in place the necessary conditions to attract £110 billion investment in low carbon infrastructure to meet the unprecedented challenges we face.
Continued innovation is essential if we are to transition to a low carbon society cost effectively.
It is crucial to keeping the UK ahead of the game.
To positioning us as an attractive place to base low carbon businesses.
But in order to meet our energy and growth ambitions, we need strong knowledge sharing and collaboration between businesses, academia and government.
We need strong policies that support and deliver the innovation the UK needs.
We need more technology developments to give us sustainable lower cost energy which will present new employment and growth opportunities for the UK.
The Chancellor stated in his November speech at the Royal Society:
"It is right that, even at times of fiscal restraint, we find the resources to enable new scientific breakthroughs, to bridge the gap between discovery and commercialisation and to spread the economic and social benefits of scientific research (…) it's also about making the structural reforms to make the economy more competitive - and harnessing our scientific ingenuity and translating it into growth and jobs is a core part of that."
Thank you.
Published 8 May 2013