Good transport equals good economics
Discusses the ways that government is encouraging innovation and improving the UK transport infrastructure.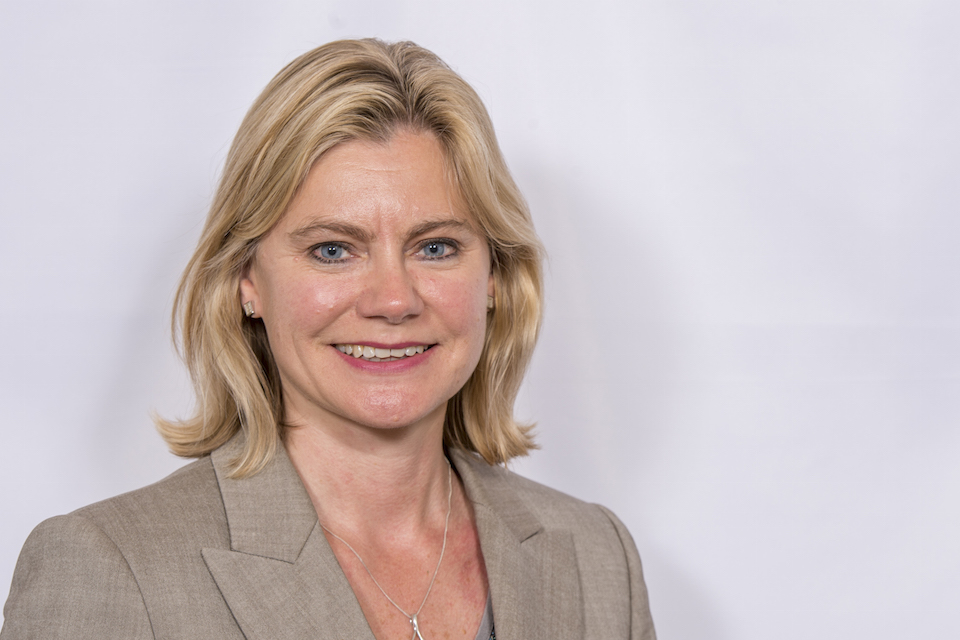 Opening remarks
James, many thanks for that introduction (James Hanratty).
Thank you also to the club and its members for asking me to share your evening.
It's a real pleasure to be here - and for 2 main reasons.
The first is because, as a Cabinet Minister, my office is usually filled with civil service officials offering me advice on transport policy, media interviews. In fact, on almost every subject under the sun.
So frankly, any chance I get to speak for longer than 2 minutes uninterrupted is one that I grab with both hands.
The second reason I'm so pleased to be here is because I get the opportunity to engage with an audience that is expert, informed and distinguished.
And, of course, that's pretty much par for the course at the Athenaeum Club.
After all, yours is an institution that can open up its 200 year old membership books and see names like Charles Dickens and Rudyard Kipling, Charles Darwin and Barnes Wallis, Lord Palmerston and Winston Churchill.
I understand that even the Duke of Wellington was a club member at one time.
And it was the Iron Duke himself who gave this unforgettable advice about public speaking - "Don't quote Latin, say what you have to say and then sit down."
So, while doing my best to stick to Wellington's advice - especially the bit about quoting Latin - tonight I'll be speaking about "equations".
Well, to be accurate, one equation in particular. I can see a few raised eyebrows. Don't panic, I promise that you won't have to sit through a mathematics' lecture.
Instead, the equation I want to talk about is one that drives my policy approach at the DfT, and it's this - good transport equals good economics.
A race to win the future
Just as the Athenaeum has been down the decades, Britain is home to inventors and innovators, builders and creators.
Entrepreneurs opening businesses, creating jobs and spreading prosperity.
Researchers analysing problems and devising solutions.
Engineers pushing the limits of design, scientists pushing the boundaries of discovery.
And companies turning out some of the best products on the planet.
These are all vital components of our national capital and they are the equal of any in the world.
But while all of this should give us hope about Britain's future, it should not give us rest.
In the modern global economy there is a race to win the future and complacency will mean we end up being left behind in the starting blocks.
Like they say, if you snooze, you lose.
So, this government deliberately set itself the task of building a Britain that is ready and able to go up against the global competition, and win.
Re-booting, re-energising & re-balancing the economy
But, right from day one in office, we understood that you can't build a better future on the quick sands of inherited debt.
Instead, you need to sink your foundations into the rock-solid ground of fiscal discipline.
That's why we're sticking to our deficit reduction plan. Paying down the inherited debt, winning credibility in the markets and keeping interest rates low.
We also have a laser focus on making this the best place in the world to start, finance and grow a business.
So we're removing the shackles that hold our entrepreneurs and wealth creators back.
Freeing them up, giving them room to succeed by reforming employment laws and modernising the planning regulations.
We're knocking down the barriers of rules of out-dated and unnecessary rules too.
I want to see better regulation, not more regulation, which is why I back a "one in, one out" rule and the "Red Tape Challenge".
We're easing access to credit and bringing down the costs of borrowing for small businesses with our National Loan Guarantee Scheme.
And, we're cutting Corporation Tax as well… down from 26% to 24% this month, to 23% in April 2013 and then down to 22% by April 2014.
So we're putting in place the conditions of long-term stability by re-booting and re-energising our economy.
But we're working hard to re-balance the economy as well.
Yes of course, we recognise and value Britain's role as the world's leading financial centre - a role we're committed to safeguarding.
But these islands were once the workshop of the world and it's time to be a nation of manufacturers, innovators and exporters once again.
More and more products around the world stamped with the words "made in Britain" that's our ambition.
Shifting UK Plc from a "spend and borrow" past to a "make and sell" future, that's our goal.
A straightforward equation
A strong and stable economy is an essential ingredient for Britain's future success.
But, as the Prime Minster recently argued, the infrastructure deficit we inherited is as serious as the budget deficit that was left to us.
And infrastructure matters.
It's the thread that makes possible our journeys to work, delivers light when we flick the switch and provides the connections that made the communications revolution.
In believe that if this country is to out-produce, out-innovate and out-compete the rest of the world, then it also needs infrastructure fit for the 21st century. And that includes the transport networks that are so crucial to our economic future.
But that's not just my view.
The British Chambers of Commerce say that "infrastructure is the lifeblood of British business"
The CBI say "there are large amounts of business capital waiting to be unlocked if the government achieves a step-change on transport"
And the Institute of Directors say it is "essential to provide more and better transport infrastructure in order to sustain the UK's competitiveness"
I couldn't agree more:
cutting congestion and speeding up journey times.
moving people and products faster and more reliably
making sure Britain is plugged into the global market place
That's how you power up the recovery and put people back to work.
We cannot afford to sit back and look on while other countries invest in world class transport networks.
In the emerging economies of Asia and Latin America, in the Middle East and Africa - even in the United States and the European Union - nation after nation is upgrading and expanding their infrastructure.
Every bridge they repair, every road they improve and every rail track they lay drives their growth and increases their prosperity.
Today over-stretched and outmoded infrastructure just won't cut it. They cost British businesses and British families time and money, it's as simple as that.
As I said at the start, for me it's a straightforward equation - good transport equals good economics.
So we too must invest in and modernise our transport networks. And that's precisely what this government is doing.
A different choice
Now, to be honest, the easy choice faced with the debt and deficit we inherited, would have been to cut capital spending and major infrastructure projects.
But we made a different choice. A deliberate decision to invest in our transport infrastructure - from huge multi-billion projects like Crossrail, to small interventions that make a big difference, like encouraging more people to cycle.
Take last year's Spending Review - over £30 billion for road, rail and local transport across the country.
We set up the £560 million Local Sustainable Transport Fund, giving local communities more power to design and deliver local transport schemes.
Last year's Autumn Statement unveiled a multi-billion pound investment package in which transport took centre-stage.
And, in this year's Budget, the Chancellor again announced investments designed to improve our country's transport links. These include:
£150 million for our Growing Places Fund to boost economic growth, jobs and house-building;
£15 million for cycle safety infrastructure for TfL to reduce the rate of collisions and encourage an increase in cycling in London
£11 million for low carbon buses to help build a cleaner and greener Britain.
In the Budget we also announced our support for Network Rail to invest a further £130 million in the Northern Hub rail schemes - funding that means passengers in the great counties of Yorkshire and Lancashire will enjoy better connections, faster services and more seats.
HS2 decision
This government made a different choice about transport investment because we were looking well beyond the horizon.
Taking decisions to improve our national well-being, not just for the next 4 or 5 years, but for the next 4 or 5 decades.
And not in spite of the economic challenges we face, but as a means to overcome them.
It's that same long-term national interest which motivated my recent decision to give the go-ahead to HS2 - a national high speed rail network
HS2 will slash journey times, shrink our country and radically improve the connections between our cities and regions.
It will help to create jobs and generate growth, promote social mobility and spread prosperity.
And I want the whole country to share in those HS2 benefits. Which is why I recently went up to Scotland and spoke to the Scottish government about how speed rail can work for communities and businesses north of the border.
We're doing more… much more
Our work to update and upgrade Britain's transport infrastructure doesn't begin and end with high speed rail. We're doing more, much more, to get Britain moving.
We're investing in our conventional railways - from new stations and new rolling stock, to electrifying more lines it all adds up to the biggest modernisation programme since Victorian times.
And, hand-in-hand with extra resources for our railways goes reform of our railways. So I've just published a rail command paper setting set out our vision for an efficient, effective and value for money rail industry. Reforms that will put the customer first.
We're investing in our roads too, improving these arteries of trade and freight, whether it's by unlocking extra capacity through our managed motorway schemes, or it's through easing congestion by widening the Kettering Bypass.
We won't improve our roads through individual projects alone - as important as they are. So we're developing a comprehensive national roads strategy.
We will also carry out a feasibility study into new ownership and financing models for the national road network and report progress in the autumn.
We'll be looking at where we can learn lessons from other industries, and building on the proposals in Alan Cook's report on the Highways Agency.
Improving our quality of life and enhancing our economic prospects also means modernising transport at the local level.
Nearly all journeys start, or end, on local transport networks. And those journeys can shape your entire day, for better or for worse.
It only takes a late bus, a packed train or a congested road and a short commute becomes an endurance test and a good day turns into a bad one.
So, when it comes to transport, local matters.
And, because it matters so much, I've unblocked overdue major road schemes.
Indeed, just before Christmas I gave the green light to a further 21 projects, all together adding up to an investment in our road network worth £854 million.
Island nation, trading nation
Britain is not just an island nation - we are a trading nation. So our ports must be world class global gateways.
That's why we're backing major container port developments like Liverpool, Bathside Bay, Felixstowe South, London Gateway, Teesport and the Port of Bristol.
It's also why we want to see a successful and sustainable future for that other crucial global gateway, our aviation industry.
We should remember that our country and our capital are right up there with the very best when it comes to international connections.
Only China and the USA have aviation networks more extensive than ours.
Not France. Not Germany. Not South Korea. Not any of our main economic competitors.
We are directly connected to 356 international destinations. And no European country can match our connections to the world's great commercial centres.
Over 9000 flights every year to New York, 3000 to Hong Kong, 2500 to Singapore.
To each of these important destinations, and many others, Britain is the market leader.
So, right now, this country is very definitely in aviation's global premier league.
None-the-less, if we are to maintain that high flying status then we have to take on the tough challenges facing the industry - whether it's improving the passenger experience, or it's enhancing capacity and connectivity while tackling the industry's impacts on climate change and the local environment.
So we've been working on a call for evidence on the options for maintaining the UK's status as an international hub for aviation.
This document, alongside our overarching aviation framework, will help define the future of UK aviation for decades to come and it is crucial that we get this right.
We remain committed to having a final policy in place by next spring at the latest, but we have taken the decision to wait until both documents are ready and intend to publish them in the summer.
Conclusions
In conclusion, tonight I have argued that good transport equals good economics.
I recognise that, as an equation, it is certainly uncomplicated.
But I also believe that it is absolutely undeniable.
Quite simply, an economy built for success requires transport networks built to last.
Time-warp transport would leave us a time-warp Britain - a country stuck in the past, rooted in the global slow lane.
That's why we need to invest in our transport networks… renew, rebuild and reform to make them the best that they can be.
And, while I'm Transport Secretary, that's exactly what we'll continue to do.
Okay, I think it's high time I brought my contribution to the proceedings to a close.
And I'd like to sign off with an announcement.
It's something that not too many people know, and it's this… I'm a committed and unashamed Marxist.
Now, before that shocking revelation reaches the Chief Whip, let me point out that I'm actually a Groucho Marxist.
And, as only he could, Groucho Marx once joked - "I have had a perfectly wonderful evening… but this wasn't it."
Well I too have had a perfectly wonderful evening and this was it.
So it just remains for me to say a big thank-you - for inviting me along, for listening to what I had to say and for making me feel so welcome.
This speech represented existing departmental policy but the words may not have been the same as those used by the minister.
Published 2 April 2012