Speech
Foreign Secretary's speech: The United Kingdom: Stronger together
Foreign Secretary William Hague: We are safer and stronger together, we achieve more in the world together as the United Kingdom.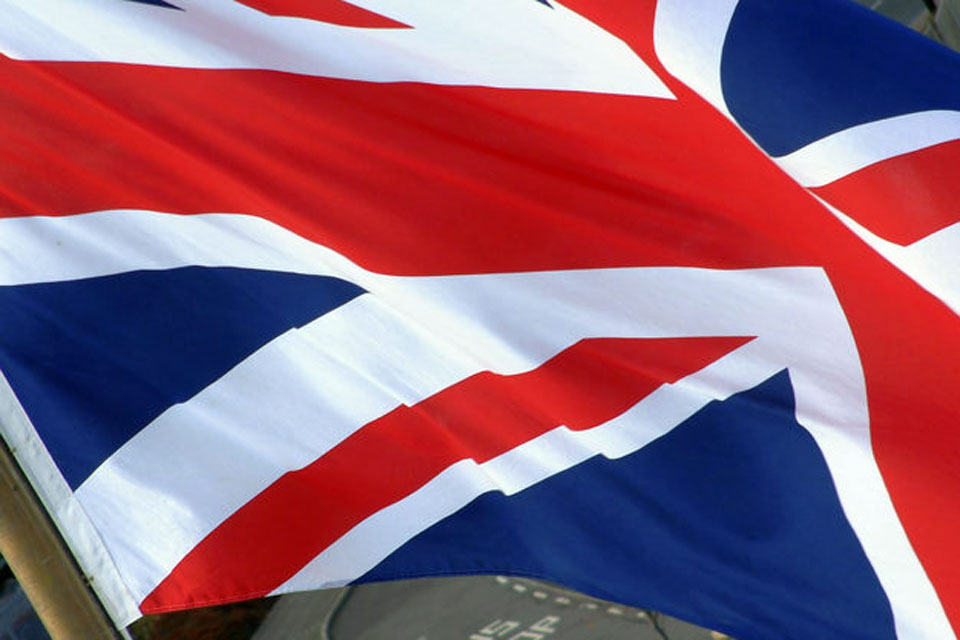 It is a pleasure to be in Edinburgh today and to be here with my friend the Rt Hon David Mundell, who does such a great job for Scotland. I am here to add my voice to those of people across the UK who believe, with head and heart, that on 18th September 2014 Scotland should vote to stay in the Union.
‪After three years as Foreign Secretary and visits to more than 70 countries so far, I am in no doubt whatsoever that we are safer together, stronger together and that we achieve more in the world together as the United Kingdom.
‪And in this speech today, I want to describe the foreign policy issues that the Scottish people will need to carefully consider, given that the one certainty of a vote for independence is that it wouldn't be business as usual: it would be a vote for substantial change.
‪In Britain, we are used to living with overlapping allegiances and identities. I feel this myself, as a Yorkshireman with a constituency in the North of England, who has served as Secretary of State for Wales, and who is married to a proud Welsh woman - and never left in any doubt about it.
‪As a Yorkshireman, I am delighted that the Brownlee brothers from Leeds did so well at the Olympics last year.
‪As an Englishman, I am proud of the way that London coped with millions of visitors. I have no doubt that Glasgow and its people will make just as favourable impression on those who come to the Commonwealth Games next year.
‪And as a Briton, I am one of 63 million people keenly hoping that Andy Murray will top an incredible 12 months and his Olympic gold by winning Wimbledon this summer.
‪But these identities do not exclude each other and we should never be made to choose between them.
‪I am definitely happier that Team GB came third in the Olympic medal table than that Yorkshire would have come 12th, although that doesn't stop me reminding EU colleagues of the fact.
‪I would rather see Helen Glover and Heather Stanning – that great Scots-English double act - secure Britain's first gold at London 2012, as they did, than have the boat sawn in half, and both halves sinking.
‪Because while I am a Yorkshireman and an Englishman, that is not all I am.
‪And this is an attitude that has long been shared by enterprising Scots, of the mould that forged the British Empire and made such an impact on our international standing.
‪They used their British identity as a means to achieve their greater ambitions, but they were no less Scottish as a result, in fact they were ambassadors for Scottish values, and their courage, wisdom and sheer grit helped to shape the image of Britain as it is today.
‪Because while one side of our identity is how we see ourselves, the other side is how we appear to others.
‪Travelling from Afghanistan to Brazil, and from Canada to Australia, I encounter bafflement that anyone would try to break up a union that has been so resilient, so successful and so admired as ours.
‪When outsiders look at the United Kingdom, they see one of the world's most successful examples of stable democratic government, economic development and diplomatic influence.
‪They speak in awe of our institutions, our civil service, and our legal systems.
‪They admire the richness and diversity of our culture, language, history, sport and traditions, and indeed we were ranked number one in the world for 'soft' power in one recent global survey.
‪The Americans admire our talented actors from Ewan McGregor to Damian Lewis, and in China politicians quote Charles Dickens and Shakespeare.
‪In Russia and the Middle East, there is an appetite for Scottish knitwear, while Buchanan's and Bell's whisky share the number one spot in markets across Latin America.
‪In Asia and Africa, many people are enthralled by our sporting prowess. Yesterday, the Scottish Rugby Team received a rapturous welcome from children in Soweto, supported by our High Commission in Pretoria.
‪And they all wax lyrical over Harry Potter, James Bond and Downton Abbey.
‪All of this is underpinned by our common language, albeit called English, which gives us the ability to share ideas with millions – now billions – of people in the biggest emerging economies. It is staggering for example that in India 250 million school and university-aged students are learning English today, four times the entire population of the United Kingdom.
‪‪So there is not a shred of doubt in my mind that, seen from overseas, the United Kingdom is greater than the sum of its parts.
‪It is of course up to people in Scotland to decide in 2014 which way they want to go. It is my sincerest hope that Scotland votes to remain in the United Kingdom. But I am not here to make dire predictions or to issue dark warnings. However I do believe that this decision involves a clear choice in foreign policy:
‪On the one hand, is continued membership of the world's sixth largest economy, represented at the G7, G8 and G20, with a permanent seat of the UN Security Council, and an established, influential and growing diplomatic network that is increasingly focused on trade and building up links with the Commonwealth and the fastest-growing parts of the world economy.
‪On the other is an uncertain future where Scots would have to face the inconvenience and tremendous burden of having to start again in world affairs, with a different passport for future generations, without that global network and enviable diplomatic position in the world, and without automatic entry to NATO and the EU.
‪Foreign policy is not something that is divorced from people's lives and if you look at our history, it is clear that the strength of our common endeavour and the values that the Scottish and British people hold dear are at the root of our finest achievements.
‪This year marks the 200th year since the birth of David Livingstone. Were it not for great campaigners like Livingstone and William Wilberforce, backed by the might of the Royal Navy, slavery might never have been abolished.
‪Here in Merchants' Hall we celebrate global trade, a philosophy rooted in the teachings of Adam Smith that has become one of the defining characteristics of our state and the basis of our foreign policy. It was international trade that built up the banking and insurance institutions of Edinburgh, and the fine commercial buildings of Glasgow. Its legacy is the prosperity that Britain enjoys today, and our part in advancing the idea of free trade between the whole of the EU and the United States agreed at the G8 this week. Many people will be now asking themselves if the country of Adam Smith is about to place an international border between itself and its greatest trading partner and biggest market.
‪But we have always exported far more than just goods and services.
‪For centuries, the ideas of our scientists, engineers and philosophers have transformed the world, from Isambard Kingdom Brunel to Alexander Graham Bell; from Edward Jenner to Alexander Fleming; and from Isaac Newton to David Hume.
‪The telephone, Penicillin, and a vaccine against Smallpox which transformed the prospects for billions of people, all have in common that they are British inventions.
‪We have sent out people too - countless engineers, doctors, surveyors, administrators and other pioneers who spent their days toiling in remote parts of the world.
‪We were at the forefront of drafting the Universal Declaration of Human Rights which enshrines the belief that "all human beings are born free and equal." We have been one of the leading architects of multilateral diplomacy, from the Non-Proliferation Treaty to the Arms Trade Treaty.
‪And from the Battle of Waterloo to the Battle of Britain, we have fought side by side against tyranny and oppression. Together, we possess some of the finest, most capable and most effective diplomats, Armed Forces and Intelligence Agencies on earth. These all draw on the best talent of the people of the United Kingdom without distinction, and build on 300 years of working side by side in common cause.
‪We enjoy all these assets and advantages because of our history, and because we have been so successful, over hundreds of years, in making the most together of our human, economic and intellectual resources.
‪‪The G8 Summit in Northern Ireland this week is tangible proof that the United Kingdom's seat at the top table of international decision-making matters. We have a voice on the major issues of the day: from international trade to human rights and counter-terrorism. ‪The UK is not a passive observer. We are active players. We are at the heart of global events. We help shape the world we live in, and our voice matters and it is listened to.
‪Of course, it is not enough simply to rest on those laurels. We have to build as well as conserve. We have to prepare for the future as well as deal with present challenges.
‪And it is here where I believe that those who say Scotland would be better going it alone in foreign policy are deeply misguided:
‪‪They claim that the UK's foreign policy and overseas representation is focused too much on status and power, and not enough on trade and investment. ‪
‪They argue that our extensive overseas network is merely a legacy of Empire, rather than something that serves the interest of all the UK's citizens; ‪And they say that Scotland's core interests would be better served as a separate state.
‪They are wrong on each and every count, in four respects:
‪First, the Foreign and Commonwealth Office has never been as focussed on jobs and growth in the UK as it is today.
‪The Foreign Office I inherited had a list of ten areas it was supposed to consider as priorities, which we have clarified to three: safeguarding Britain's national security; building Britain's prosperity and supporting British nationals around the world.
‪We have ensured that today virtually every British mission overseas is focused on supporting jobs and growth at home, and that our diplomats have the skills to do this effectively. ‪We have increased the training in economics and commercial diplomacy given to our Embassy staff, and we are sending 300 more diplomats to high-growth economies in Asia, Latin America and Africa.
‪Our goods exports to major emerging economies have doubled since 2009, and, for the first time since Britain joined the Common Market, we now export more goods outside the EU than to countries inside it.
‪We're about to finalise an EU trade deal with Canada, have secured a trade deal with Singapore worth millions of pounds to the UK economy, and are in talks with Japan, the world's third largest economy, and Thailand, one of its fastest growing, about striking similar agreements, all of which would bring jobs and opportunities for British people. The Transatlantic Trade and Investment Partnership between the EU and the US could be worth £10 billion to the UK economy, or £380 per family, every year.
‪The Scottish Government has trade offices in 18 countries – many of them in British Embassy buildings, working alongside British diplomats. But as part of the UK, Scotland also has access to UK Trade & Investment, which has more than 1,000 staff in over 100 countries and helped over 500 Scottish companies to export last year alone. This means Scotland enjoys the flexibility of a smaller nation targeting its resources in specific areas, while also having the strength and certainty of the worldwide reach provided by UKTI. Last year the Chancellor announced a £1.5 billion UK Export Finance Facility, as well a 25 percent increase in funding for UKTI.
‪And, if anyone doubts the benefits for companies north of the border, you only need look at the example of the Scotch Whisky Industry, which supports 35,000 jobs here in Scotland.
‪I've lost count of the countries in which I have argued as Foreign Secretary for markets to be opened and tariffs to be reduced on the wonderful product of Scotch whisky.
‪In 2010, when the Prime Minister led the UK's largest ever trade mission to China, their Government agreed to recognise that Scotch whisky is whisky made in Scotland and nowhere else, a step worth tens of millions of pounds to Scotland, and the result of a long campaign. Together, we are using our Embassies overseas to tackle the remaining 600 trade barriers identified by the Scotch Whisky Association, and succeeded in bringing down many barriers last year in 12 countries.
‪Our Embassies promote the whole of the UK – that means Scottish architectural companies, Scottish environmentally-friendly products, Scottish agricultural equipment and Scottish food, in some surprising destinations, such as the 1,000 tonnes of Scottish salmon imported into Lebanon each year with the active support of our Embassy.
‪‪And when adventure turns to misadventure for UK nationals overseas - when there is a terrorist attack or a natural disaster, when criminals strike or British children are forced into marriage overseas - that is when we all feel the benefits of being able to turn to one of our missions in 267 posts in 154 countries and twelve territories worldwide.
‪During early 2011, during the Arab Spring and a time of multiple natural disasters worldwide, the Foreign Office helped to evacuate over 6,300 people from difficult circumstances. If Scotland were to vote to leave the Union, then the Scottish Government would be in charge of assisting and evacuating its own citizens in the farthest flung corners of the globe, even though we all help each other with these things. And with a necessarily smaller consular network than the UK's, many of its citizens would lose the assurance and comfort that comes from being assisted by their own government in times of need.
‪Second, those who think Scotland would do better alone are missing the bigger picture of fundamental change in the world: ‪ ‪The financial turmoil in Europe has revealed a crisis of competitiveness as economic power moves to the burgeoning markets of Asia, the Gulf and Latin America. China is now number two and Japan number three in the ranking of the world's largest economies. Europe as a whole is facing its fifth year of no growth. ‪
All these things mean that we have to earn our way in the world to succeed in the global race. We have no choice but to make ourselves more competitive, to export more of our goods and attract more investment.
‪On top of this, we have to thrive in a world of many more centres of decision-making and influence. This means we need to be diplomatically active in more nations in the world, if we are to compete with other countries for exports and investment. ‪ ‪So we are expanding our diplomacy overseas so that the next generation of Britons will have even more opportunities: ‪
‪Since 2010, we have opened seven new diplomatic posts, we expect to open three more this year, and we are well on the way to opening or upgrading 20 new Embassies, consulates and trade offices by 2015 – in places as diverse as Kyrgyzstan, Laos, Brazil, Paraguay – and are making sure that we are in all the vital markets where British businesses are seeking to do business and our citizens have cause to travel to. ‪
We are now one of only three European countries to be represented in every ASEAN country, a combined market of approximately 600 million people.
‪We have more diplomatic posts in India than any other nation has today – in 8 of its major cities as well as the capital.
‪We are currently the only European state to be expanding our diplomatic network in this way.
‪As part of the United Kingdom Scotland derives - and will continue to derive - many benefits from being part of this global diplomatic network, instead of having to rely on inevitably fewer, smaller Embassies which would take time and resources to establish.
‪Scotland benefits, with all of us, from the UK's ability, as the world's sixth largest economy and home of its pre-eminent financial centres to shape international economic policy in the G7, G8 and G20 and at the International Monetary Fund.
‪For instance, we are using our presidency of the G8 – which comprises 50% of global GDP – to seek more open trade, fairer tax systems and greater transparency. This contributes directly to more jobs and growth at home over time.
‪Nowhere is this needed more than in the European Union, and here I want to address the question of Scottish membership.
‪There are those who claim that the only way that Scotland can remain in the European Union is by voting for independence.
‪That is wrong.
‪In January this year, the Prime Minister set out a vision for Europe. Our aim is to reform the EU into a body in which the people and the nations of the United Kingdom will feel comfortable, and then to settle the long-standing question of our membership by having a vote – a vote in which we want to be able to campaign for the UK to remain in the EU. It is in Scotland's interest that we achieve a reformed EU. But reform will only be achieved through the strength and power of the UK's influence in Europe. We have started this work, working with our allies such as Germany, the Irish, the Dutch and the countries of Scandinavia.
‪The reform of the Common Fisheries Policy, for example, has been keeping my colleagues from DEFRA up until the early hours of the morning, and we have achieved unprecedented success on discards and on shifting control to the local and regional level, an achievement that has been hailed by the Scottish Fishermen's Federation and was made possible by the influence exerted by Britain's collective weight as one the biggest EU member states.
‪We have managed to achieve the first ever cut in the EU's long-term budget, while protecting the UK's rebate, which many people said would be impossible.
‪And we have been able to make the case for these reforms because they benefit not just the UK but all of Europe too.
‪On the other hand, there is no precedent for the break-up of an existing member of the European Union.
‪What is clear is that under international law, should Scotland separate from the UK, the rest of the UK would be the continuing UK state, with the same international rights and obligations and its EU membership would continue. However, a new Scottish state could not automatically become a member of the EU upon independence because there is no such provision in the EU's own membership rules.
‪This has been confirmed by Jose Manuel Barroso, the President of the European Commission, who has been very clear that a Scotland outside the UK would be regarded as a new state seeking accession to the European Union for the first time. The UK Government has sought and published legal advice on the question of EU membership and, in the face of this evidence, the Scottish Government has at last admitted that membership would not be automatic and that negotiation would be required.
‪The reality is that all 28 member states would have to give the green light to Scotland before it joined, among them some countries with grave concerns about the unity of their nations.
‪We also know that countries seeking accession are expected to sign up for Schengen and the euro. That is what the EU treaties say.
‪It has taken Britain three decades and the persistent exertion of bargaining power to win our opt-outs and UK-specific rights. The Scottish Government can give no guarantees than an independent Scotland would retain these rights and opt-outs if and when negotiating its way into the EU.
‪Our position as the EU's third most populous state and the third largest economy gives us weight in Europe as a major liberalising force, and a reach, a voting weight and an ability to form and lead coalitions that with the best will in the world smaller states do not possess. Our closest and most like-minded allies, such as the Netherlands and Sweden, look to us to achieve common goals because we have the added clout of being one of the EU's major countries.
‪We all get a better deal for the UK in Europe by working together and the only way to keep on getting a better deal is to stay part of the UK.
‪Third, those arguing for a separate Scottish state overlook the impact that we are able to have on the world stage as the United Kingdom.
‪The United Kingdom is one of the few nations in the world with the global reach and influence that means that we can 'turn the dial' on major global issues.
‪We should be proud we don't just pay lip service as a nation to ideals like the UN Responsibility to Protect, but we are able to act to save lives as we did in Libya, because we have the confidence, the capability and the experience to do this successfully.
‪Two years ago Somalia appeared locked in a downward spiral of conflict and suffering, one of the top sources of the terrorist threat to the UK. In part thanks to our efforts to bring together more than fifty-five nations and organisations in London two years in a row, we have managed to agree decisive action to support security in Somalia and its political and economic development after decades of conflict.
‪A year ago I launched an international campaign to end the use of rape as a weapon of war, the slave trade of our generation. At the meeting of G8 Foreign Ministers in April, we persuaded these powerful nations to agree that rape and serious sexual violence in conflict are grave breaches of the Geneva Conventions, to commit to practical action to increase prosecutions for these crimes and support for victims, in a ground-breaking campaign that I will be taking to the UN Security Council next week and the UN General Assembly in September.
‪Together, we are also a world leader in development. This year the UK is becoming the first G8 country to meet the target of spending 0.7% of national income on aid. Helping poverty stricken nations to become the developing economies of the future benefits all of us, and our larger, global, strategic aid programmes enable us to do that most effectively. The world does not need more fragmented aid, where recipient countries have to deal with numerous bilateral donors. Scotland benefits from being part of DfID's large overseas programme, as well as the additional assistance that the Scottish Government provides to countries such as Malawi, with whom it has had close ties ever since Livingstone's expeditions.
‪For foreign policy is not just about dealing with the crises of the moment, it is about improving the condition of humanity, something we are engaged in together as a global player, and we would be less able to do that if we were not the UK.
‪In all these areas the UK should stay together because we achieve more together.
‪But the fourth and final reason those arguing that an independent Scotland would be better off in foreign policy are wrong is because our world is sadly becoming more dangerous.
‪Today the threats to our security are becoming increasingly complex. In cyberspace criminals can empty bank accounts and steal personal details, while hostile governments can cripple the ability of ordinary people to buy food, heat their homes and fill their cars with petrol. The threat from organised crime is broader than ever, bringing drugs from Afghanistan and Latin America into our communities and violence onto our streets. And the attacks in Algeria, Boston, Bourgas and Woolwich show that despite Al Qaeda being weakened, the threat from terrorism is still deadly and is spread across a broader geographic front.
‪Not only are many countries not willing to take on responsibility for addressing these challenges, but no group of countries is going to increase the protection they offer us. Our continued security depends on being able to defend our security ourselves, and that includes our independent nuclear deterrent as our ultimate guarantee.
‪A separate Scottish state would not be able to replicate our current capabilities. The cost of creating new institutions would place an enormous burden on the Scottish taxpayer; it would also take years to develop the infrastructure and qualified personnel that are needed to deal effectively with the array of threats that we all face. And Scotland would lose the benefits that come from having some of the most capable and professional armed forces and intelligence services in the world. Within the United Kingdom we have one set of intelligence services and one set of armed forces, benefitting from significant economies of scale and years of institutional development, which provide a far higher level of security for the Scottish people.
‪So not only is Scotland safer in the UK, but the UK is one of the world's leading nations in human rights, development and trade because we stand strongly together: a force for good in the world, with the ability to protect the interests of our citizens at home and abroad.
‪People in Scotland do not need to choose to walk away. They can have a great combination: all the advantages of being part of the UK in the world; all the richness of Scottish identity and connections around the globe; all the advantages of being part of a United Kingdom that gives the widest and broadest scope for the exercise of Scottish talents; and the pride that comes from being a beacon of our values and freedoms. This is a United Kingdom that is stronger, safe and more prosperous together.
Further Information
Follow the Foreign Secretary on twitter @WilliamJHague
Follow the Foreign Office on twitter @foreignoffice
Follow the Foreign Office on facebook and Google+
Subscribe to the announcements feed or email alerts to get our latest news and announcements.
Published 20 June 2013