Foreign Secretary speaks at 'Imprisoned in Iran' event
Foreign Secretary William Hague said that Britain will continue to stand up for the human rights in Iran in a speech at The Times' 'Imprisoned in Iran' event.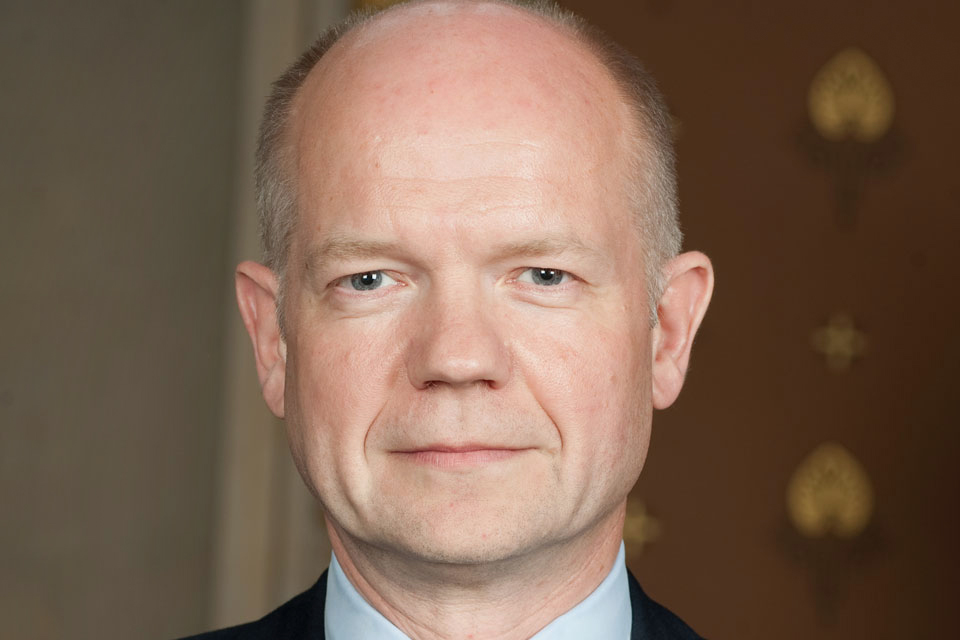 The Times campaign has brought the stories of many courageous Iranians to a wide audience here in Britain, and I hope that this event tonight will do this all the more.
Above all, I pay tribute to the many brave human rights supporters in and outside Iran who are working for a better future for their country.
Britain supports people everywhere in the world who are struggling to exercise their human rights. As the Persian poet Sa'di wrote, more than 800 years ago, "if you have no sympathy for the troubles of others you are not worthy to be called by the name of man".
Human rights are individual and universal in our view. All people, wherever they are born, are entitled to the same rights, regardless of gender, nationality, race, religion, status, political opinion or local circumstance.
This principle is enshrined in the 1948 UN Universal Declaration of Human Rights and the International Covenant on Civil and Political Rights, which sadly nearly 65 years later are still routinely disregarded in many countries, including in Iran.
Human rights are at the irreducible core of our coalition government's foreign policy. We raise our concerns about human rights wherever and whenever they arise. Our Ministers and Embassies do this across the world day in and day out, and at the UN and EU our diplomats work to strengthen the international frameworks that help to entrench human rights and international law. Our case for doing so is strengthened by our willingness as a country to hold ourselves accountable to the very highest standards, and to recognise when we fall short.
For anyone concerned with human rights, the changes taking place in the Middle East and North Africa have heartening potential. We are witnessing an unprecedented outpouring of the pent-up desire for political freedom, bringing with it the greatest potential advancement of human rights since the end of the Cold War.
Tunisia, for example, has made more progress on human rights in the last few months than in the preceding decade. It has joined the International Criminal Court, and recently became the first country in the region to withdraw its sweeping reservations against the UN Convention on the Elimination of all forms of Discrimination against Women. Libya has swept away all but the last vestiges of its dictatorship and pledged to introduce democratic government; Egypt is engaged in transition, and governments in Jordan, Morocco and Algeria are introducing important reforms. Of course these pledges need to be reflected in real lasting change in the way individuals are treated in prison, by the security forces and by the courts, but the statements and intentions are in the right direction.
In many ways, we saw the precursor to these events over two years ago. I am sure that the images of millions of Iranians rising up to protest for free and fair elections in 2009 are imprinted on all our minds. It is also where we first saw a glimpse of the power of social media to galvanise people into action and to bring abuses to the attention of the world, including the appalling footage of the last minutes in the life of Neda Agha-Soltan. At one point during the protests BBC Persian was receiving five videos a minute from inside Iran.
Iran is very different from its Arab neighbours of course. But the lessons of the Arab revolutions hold true for Iran just as they apply to repressive countries across the world. Demands for respect for rights, open government, action against corruption and genuine political participation have spread and will spread by themselves over time - not because we and other nations advocate them, but because they are the natural aspirations of people everywhere. Simply refusing to address legitimate grievances about human rights or attempting to stamp them out will fail.
While some governments across the region are waking up to this truth, Iran has been moving in the opposite direction. The actions of the Iranian regime are holding Iran back, isolating its people and suffocating their immense potential, and preventing Iran from enjoying normal and productive relations with the outside world.
Hundreds of opposition members, human rights activists, lawyers and journalists languish behind bars. More journalists are imprisoned in Iran than in any other country in the world with the sole exception of China, and the intimidation of journalists is on the rise as part of a crackdown on political and press freedoms. Many of those detained in 2009 are still incarcerated. Even those inside the circles of power or connected to the government are not safe from persecution. Presidential candidates Mousavi and Karroubi have been under house arrest for seven months, and those close to other government figures have recently been arrested.
There are more executions in Iran per capita of population than in any other nation on earth. NGOs, what remains of Iranian civil society and those outside the official media establishment face relentless harassment. Internet access is severely restricted, with over 10 million webpages blocked.
Even those attempting to hold the Iranian authorities to their own constitutional obligations are targeted, in particular lawyers seeking to defend the persecuted. Mohammad Mostafaei, here with us tonight, was forced to flee Iran for defending Sakineh Mohammadi-Ashtiani, and Javid Kian, who took over her case, was accused of acting against national security and spreading propaganda and thus arrested. There are reports that Mr Kian has been mistreated in detention, while his family has been harassed. Our requests to the Iranian authorities for information on his situation are met with silence.
Few can be unmoved by the plight of lawyer Nasrin Sotoudeh, also arrested on similar charges. She has been sentenced to 11 years in jail and a further 10 year ban on practising her profession. She has gone on hunger strike twice to protest against her ill treatment. We have spoken out on numerous occasions for her and will continue to do so.
Iran has also shown breathtaking hypocrisy in suppressing protest at home, while claiming to support revolutions elsewhere in the region - particularly in Syria, where the Iranian authorities have provided equipment and technical advice to help the Syrian regime to crush dissent.
The international community therefore has a vital role to play: to shine a spotlight on Iran's human rights record and to hold its authorities accountable.
Our government is working with our allies, with the media and NGOs to highlight human rights abuses in Iran, to insist that Iran meets its international human rights obligations and to show those who suffer abuses that their plight has not been forgotten by the outside world.
In April we worked with our EU partners to sanction a number of individuals responsible for serious human rights abuses in Iran. Efforts continue to compile evidence against others.
In March with our support the UN established a human rights rapporteur to report on the situation in Iran, an important step which puts Iran in the company of Burma and North Korea.
Most recently, we have listed under sanctions members of the Iranian Revolutionary Guard Corps involved in aiding repression in Syria who are now subject to EU travel bans and asset freezes.
And this month I will attend the annual meeting of the UN General Assembly. There we will work for a strong resolution condemning human rights abuses in Iran.
I want to be clear. Human rights sanctions on Iran are separate to the nuclear issue. Human rights sanctions will be lifted as and when Iran improves its human rights record, and if it does not, they should be increased. We are ready to engage in meaningful and substantive discussion with the Iranian authorities on human rights issues at any time, which they are currently completely unwilling to do.
2011 has shown that demands for human dignity are irrepressible. Iranians should take solace from this.
Throughout history, including our own in this country, advances in human rights, human dignity and freedom have owed so much to the actions of valiant individuals - from Vaclav Havel to Aung San Suu Kyi in Burma.
Many in Iran, supported by Iranians who have had to flee their country, are now part of the same tradition: taking on great personal risk while seeking rights for their fellow Iranians. It is up to Iranians to determine the future of their country - but Britain will be resolute in standing up for their human rights.
I believe the spirit and talent of the Iranian people will carry them through the difficult times they currently endure. Young Iranians are graduating from Iran's universities and academic institutions overseas eager to build a better future for themselves and their country, one in which their rights are upheld and aspirations for greater political and economic freedom are met, and as they do so, they will have the full support of British government, British citizens and British civil society. We will not forget those 'Imprisoned In Iran'.
Search the news archive
Published 13 September 2011