Foreign Secretary opens the London Conference on Cyberspace
Foreign Secretary William Hague addressed the London Conference on Cyberspace on 1 November.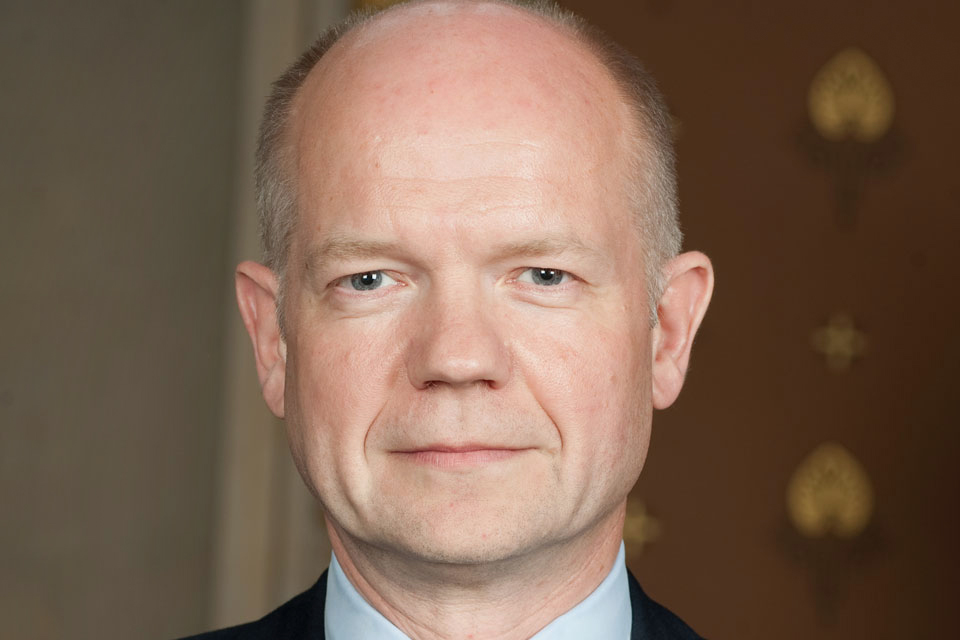 Good morning and welcome to the London Conference on Cyberspace.
This is not a traditional summit between governments. We have brought together representatives from industry, companies that own and operate international digital infrastructure, civil society and major international organisations.
I proposed this meeting in February in Munich to consider how we reach international agreements about behaviour in cyberspace.
Many of the countries and representatives here will have very different views. But the reasons to cooperate are far more compelling than the issues that divide us.
The spread of connectivity between individuals, governments and organisations is bringing benefits and opportunities on a vast scale.
We have pushed the bounds of ingenuity and discovery to develop incredibly versatile technologies that we now use in every area of life, with the prospect of further yet-undreamt of innovations still to come.
As an elected Member of Parliament, I relish how social media has narrowed the gap between governments and individual citizens. It allows the exchange of ideas between people who otherwise never would meet, and in my case as Foreign Secretary, direct digital engagement not just British citizens, but people of many other countries too.
Across the world we see an explosion of new ways of accessing information and education and of doing business. Whether it is internet banking here in Britain or mobile banking across Africa, people are adapting technology to their local circumstances and improving it all the time. The economic benefit is clear: as the internet expands, so does global GDP.
But we also see glaring inequalities - 95% internet access in Iceland, 0.1% in Liberia - and the rise in malicious use of digital networks, targeted often at the most vulnerable in our societies and at national systems themselves.
The internet is not separate from society; it is part of society and mirrors society. The best and worst of human behaviour find expression online, and the technology lends itself to misuse as well as to great benefit.
This particularly applies to online crime, which is growing exponentially. Across the globe there are people and groups seeking to turn our personal information into cash, or to wreak havoc on the net to express political grievances. In Europe and North America, one single denial of service tool designed by hacktivists was downloaded by more than 75,000 computer users earlier this year. Militaries, citizen services, credit card companies and businesses like Amazon were attacked. More than 6 million unique types of new malware were detected by industry in the first three months of this year.
As all our societies become more wired-up and technologies converge, the scope for malignant activity will widen alongside the many advantages, whether it is the theft of intellectual property or the spread of malware and viruses. It will become harder to protect our users or to prevent our defences from being swamped.
Furthermore it is increasingly clear that countries with weak cyber defences and capabilities will find themselves exposed over the long term; at a serious strategic disadvantage given the apparent rise in state-sponsored attacks.
So if we want a future in which the benefits of the digital age are expanded to all peoples and economies of the world, and the risks minimised as much as possible, then we need to act to achieve that.
I believe we must aspire to a future for cyberspace which is not stifled by government control or censorship, but where innovation and competition flourish and investment and enterprise are rewarded. Nothing would be more fatal or self-defeating than the heavy hand of State control on the internet, which only thrives because of the talent of individuals and of industry within an open market for ideas and innovation.
The internet must remain open and not become fragmented and ghettoised, subject to separate rules and processes in different regions set by isolated national services; with state-imposed barriers to trade, commerce and the free flow of information and ideas. It would be deeply counter-productive to import into the digital world barriers to trade that we have spent years trying to negotiate away across the world.
We must strive for a model for internet governance in which governments, industry and users of the internet work together in a collective endeavour, establishing a balance of responsibility.
And it is my passionate conviction that all human rights should carry full force online: not just the right to privacy, but the right to freedom of expression. Human rights are universal. Cultural differences are not an excuse to water down human rights, nor can the exploitation of digital networks by criminals or terrorists be a justification for states to censor their citizens.
We reject the view that government suppression of the internet, phone networks and social media at times of unrest is acceptable.
In fact we would go further, and boil this concept down to a single proposition: that behaviour that is unacceptable offline is also unacceptable online, whether it is carried out by individuals or by governments.
We know that this is not a view that is shared by all countries. But states will find it harder and harder to try to restrict their citizens' demands for the freedom to express their ideas.
Furthermore such refusal will have a direct impact on their ability to harness the full economic potential of cyberspace. Britain will always be on the side of people aspiring for political and economic freedom, in the Middle East and around the world.
The truth is that in cyberspace, no one country can go it alone. In Britain we are significantly increasing our national cyber defences and have created a new four year programme with £650 million of additional government funding. We are working to ensure that as many small businesses as possible win contracts to help build our cyber security infrastructure, supporting the next generation of cyber assurance technology as well as innovation and growth in our economy. We want to make the UK a pre-eminent, safe space for e-commerce and intellectual property online.
But many countries do not yet have the resources or capability to invest to the same degree. The international dimensions of the misuse of digital networks also requires new forms of cooperation and collaboration. More of its vital infrastructure of the internet is moving East, and its future users will be different too. 90% of Africa could join the internet in the coming years, for example.
There is currently no forum of the kind this conference represents in which nations, business and civil society can engage as equal partners to discuss issues in cyberspace. And we believe that needs to change.
In the place of today's cyber free-for-all, we need understood rules of the road.
Britain has proposed a set of seven principles as a basis for more effective cooperation between states, business and organisations.
These are:
The need for governments to act proportionately in cyberspace and in accordance with international law;
The need for everyone to have the ability to access cyberspace, including the skills, technology, confidence and opportunity to do so;
The need for users of cyberspace to show tolerance and respect for diversity of language, culture and ideas;
Ensuring that cyberspace remains open to innovation and the free flow of ideas, information and expression;
The need to respect individual rights of privacy and to provide proper protection to intellectual property;
The need for us all to work together collectively to tackle the threat from criminals acting online;
And the promotion of a competitive environment which ensures a fair return on investment in networks, services and content.
We suggested these principles as a starting point in efforts to reach a broad agreement about behaviour in cyberspace.
We want to widen the pool of nations and cyber users that agree with us about the need for norms of behaviour and that want to seek a future cyberspace based on opportunity, freedom, innovation, human rights and partnership between government, civil society and the private sector.
Building this consensus is a great challenge for our time.
It must be pursued with the same intensity as efforts to eradicate global poverty or tackle climate change.
For just as our climate is ever-present and all-pervasive, our way of living dependent on our environment and our prosperity inseparable from that of the global economy, so we are all linked by the innumerable connections of the networked world.
We all need the internet to be a driver of growth and innovation in our economies, bringing down costs and supporting employment.
All of us want to benefit from the efficiency, safety and reliability that comes from integrated systems online to deliver public services and manage national infrastructure.
Whatever country we are from, we have an interest in ensuring that children are not vulnerable online, that terrorists have no safe havens on the web, and that the integrity of our financial systems is maintained.
And many of us want to use the digital sphere to enable us to be more transparent, responsive and accountable to our citizens and to support free trade and democratic development worldwide.
It is in all our interests to ensure a future in which everyone can have safe and reliable access to cyberspace, without fear that they will be targeted by criminals; a future in which the rights, protections and laws that protect us offline do so online; and those who abuse the internet for crime, terrorism or malicious attack find it harder to do so.
That is the positive vision, one in which we are able to use new technologies to the full to spur economic growth in developing countries, to narrow the digital divide, to give our citizens greater choice, to find new ways of addressing conflicts, to protect cultural diversity and the free flow of ideas, to root out and prevent grotesque human rights abuses, and to make successful prosecutions against cyber criminals the norm, rather than the exception that it is today.
But unless we begin to take action to ensure that positive future a darker scenario could well prevail.
For the private sector, rising costs to business from cyber crime, barriers to trade and commerce, companies being held to ransom by hacktivists, and the theft of intellectual property sapping prosperity and innovation and driving investment away from countries whose systems are seen to be insecure.
For individuals, a heightened risk of exposure to crime as efforts to clamp down on crimes such as child pornography in one part of the world are rendered ineffective by illegal practices on networks in other countries; disruptions in service due to state intrusion or crude censorship in some parts of the world, the general uncertainty, fear and loss of confidence in a compromised cyberspace.
And for governments, threats to critical infrastructure, the loss of tax revenue or the defrauding of government services, the theft of confidential national information and vulnerability to attacks in cyberspace.
If these scenarios come to pass, they will undermine the wider benefits of our networked world.
So it is time to build on our common interests, developing firm ideas and proposals with real political and diplomatic weight, that help us attain the full economic and social potential of cyberspace while guarding against an unpredictable and potentially dangerous future.
I welcome the leadership shown by Hungary which will offer to host a follow-on conference on norms of behaviour in cyberspace in 2012, and by the Republic of Korea which will also host a conference in 2013. Both conferences will build on what we discuss here in London.
We will not succeed in agreeing a way forward over night, but it is work that must begin now and I am grateful to you all for coming along today to take part in this vital work.
Published 1 November 2011