Foreign Secretary: Commercial diplomacy "at the heart of Britain's foreign policy"
Foreign Secretary William Hague spoke at the Inward Investment Business Summit on 11 July.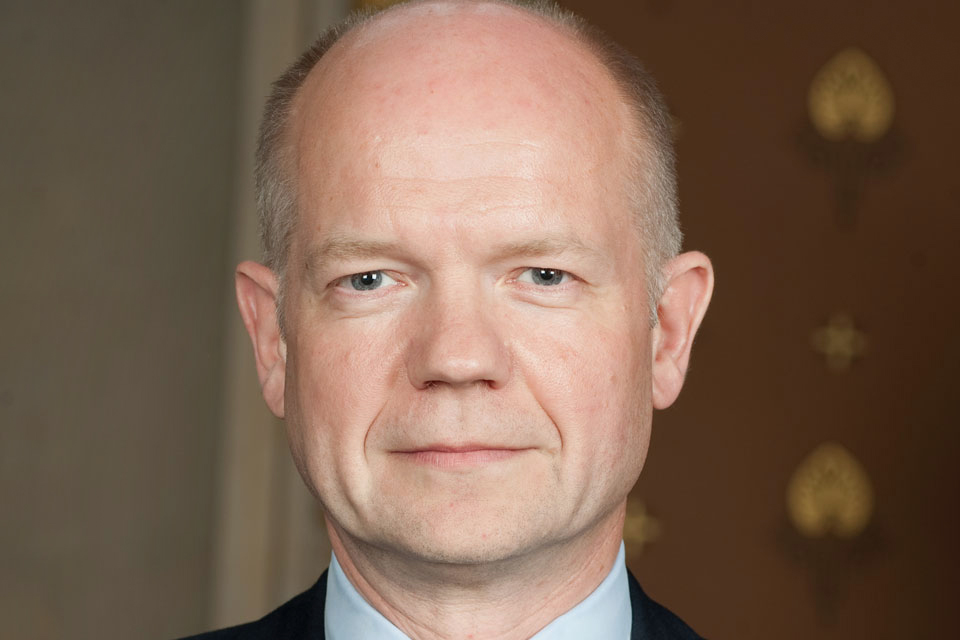 Good morning Ladies and Gentlemen, it is a pleasure to take part in this morning's Business Summit and to celebrate these excellent FDI results. Events such as these, that bring together ministers from across government with a broad base of international business and industry groups are important as we all have a vested interested in Britain's future prosperity.
I took office as Foreign Secretary at a time when we faced great change abroad with shifting economic power and influence to the countries of the east and south and, like many other countries around the world, a tough economic situation at home.
This meant that it was incumbent on the Foreign Office to work with the rest of government to support Britain's economy more than ever before, both by promoting British Business' commercial interests overseas and in making the case for Britain as a home for inward investment to foreign investors.
We have put commercial diplomacy at the heart of Britain's foreign policy, not only in order to secure our economic recovery and future prosperity but also to ensure our influence in the world is not diminished, promoting both our security and our ability to project our values. Gone are the days that trade and investment were seen as distractions from the serious business of diplomacy, we appreciate that commercial and diplomatic relations are mutually reinforcing and that a commercial focus must run through every vein of the Foreign Office and Government as a whole.
In line with this we have taken decisive steps to achieve our ambitions for Britain's prosperity. We are reconfiguring the Foreign Office so that it supports the prosperity of the whole of the UK; through a new Economics Unit with a direct link to policy making; and through a new Commercial and Economic Diplomacy Department and a new Emerging Powers Unit which are elevating our relationships with the rising economic powers of the 21st century.
And we are strengthening Britain's global diplomatic network, including through the opening of some new embassies and the building of our diplomatic presence in the emerging economies. With this reinforced global diplomatic reach our UKTI teams and our ambassadors will be better positioned than ever to make clear that Britain is not only open for business but that we have an abundance to offer.
This abundance includes our unrivalled concentration of capital and capabilities in London and our other financial centres, which means that more overseas financial institutions and investors choose to do business in, and with, the UK than any other country. We are also one of the world's most open economies, a launch pad into Europe and the home of the world's number one international financial centre.
The UK is home to the world's biggest insurance market, and one of the two largest centres in the world for fund management and international legal services. The World Bank, Economist Intelligence Unit and OECD have all found the UK to be the easiest place to do business in Europe, with the strongest business environment on the continent and the lowest barriers to entrepreneurship in the world.
These advantages will be well known to those here this morning, the impressive roll call of global companies in attendance demonstrating that the message is getting through, thanks in part to the work the Government is doing.
In the last year UK Trade and Investment has helped more companies to invest and expand here than ever before playing a part in 849 of the 1434 investments that the UK landed last year. I am proud that the hard work of Ambassadors and High Commissioners and UKTI teams in our missions around the world has been a decisive factor in delivering these landmark results.
Our work overseas helped Buongiorno, an Italian mobile phone technology company, to choose to develop its hub for global innovation in London, increasing its UK staff by 50% in the process; was instrumental in the decision by the Japanese auto sector company NIFCO to expand its site in Teeside creating 128 jobs and safeguarding an even greater number of existing ones; and assisted a global ICT company to conclude that Northern Ireland was the best place for their new cutting edge research. These FDI achievements make a real difference to the lives of people across Britain, with the total FDI in the last year providing nearly 100,000 new jobs for people in the UK.
The diverse range of source markets for this year's FDI, 54 different countries in total, and the wide range of companies present today vindicates the decisions we have taken to broaden our global diplomatic representation. We will now be in an even stronger position in the future to carry forward the vital work of championing Britain's economy and British Business, work which is so clearly paying dividends.
But despite the strong case for Britain as a home for foreign investment and the successes our initiatives have enjoyed we are not complacent. We aim to establish the lowest corporate tax rate in the G7 by 2014, making the UK even more attractive as a destination for business and I recently launched the FCO's Business Charter which outlines not only the support we will provide to British business overseas but also to international investors seeking to locate here. We welcome ideas on what more we can do and we value opportunities such as this to build relationships and partnerships. I hope that today and through future events such as this we can improve our understanding of how we can work better together.
Search the news archive
Published 11 July 2011