Foreign Office Minister talks of using soft power in the interests of the UK
Foreign Office Minister Lord Howell gave the Government's response to the House of Lords debate on soft power on 28 April.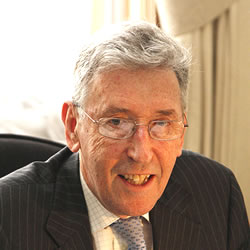 My Lords, I know that it is something of a cliche to say that debates we have in this House are timely, but in this case the word has particular relevance, because it so happens that we are in a stage of review and policy advance in a number of key areas, of which this is one of the most key of all. Therefore, this kind of debate, which shows the House of Lords at its very best, is immensely valuable in influencing and sending messages to those who make the final policy inside and, indeed, outside government. In that sense the debate is particularly timely, and it was introduced brilliantly by the noble Baroness, Lady Taylor, whom we congratulate on choosing this subject and on the way in which she introduced it.
Although we are discussing these matters in advance of many developments, and despite the need for a policy review and, indeed, answers to the Foreign Affairs Committee's report, particularly in relation to the BBC World Service, I will seek to answer as many questions as I can in the time available. There are some things that I cannot yet answer, and some that I will not have time to answer, but I shall do my best, particularly to cover the five or six points put by the noble Lord, Lord Tunnicliffe, from the opposition Front Bench-all of which strike me as highly relevant.
The noble Baroness began by rightly seeking to focus our minds on the question of what we mean by soft power. Those of us in government who are trying to look at these things consider that it is the ability to influence the actions of another through attraction, rather than coercion. Soft power is working to exert this influence in order to achieve our national interests in an interdependent world and to make our maximum effective contribution to the stability, balance and prosperity of that world.
In order to do this, we need now more than ever to appreciate what is sometimes overlooked in our foreign policy debates-the new landscape of power, influence and understanding of attitudes and motives which has emerged in perhaps the past two or three years, and certainly in the past five years since the rise of the internet age in this century, which radically changes the modalities of foreign policy. In this new world it is not about power over others but about working to preserve, promote and protect our interest through the appeal of our values and culture, historical and contemporary; working with, rather than working to impose.
As it is a central theme of the debate, I have been asked about co-ordination. I want to say a bit about that. The Government have been and are looking closely at how to improve the co-ordination across Whitehall of soft power resources. This is aside from the fact that a good deal of soft power projection lies outside government and its control-and rightly so. One of the priorities of the coalition Government, as set out in their structural reform priorities, is to use soft power to promote British values, advance development and prevent conflict. The Foreign and Commonwealth Office's published business plan, to which the noble Lord, Lord Tunnicliffe, referred, recognises these aims and sets out the requirement for a long-term programme to enhance UK soft power, co-ordinated by the National Security Council. The work and review of the strategy foreshadowed in the business plan has started. I have been asked whether it has finished. Although there was hope that these matters would be completed by the end of last month, your Lordships will not be surprised to hear that one or two distractions have occurred on the foreign policy scene. In fact there has been a massive range of distractions which have had an effect on how we must order our priorities and work programme. We are therefore not quite there yet; there has been some delay.
My right honourable friend the Foreign Secretary asked the FCO to undertake a review of how to achieve the best results for the country from the soft power activity across Whitehall. That is foreshadowed in the business plan. This review, involving engagement with external experts, will not only shape the future of the FCO's soft power output but influence how best to co-ordinate our efforts across Whitehall to improve effectiveness and value for money. The review has started. It has been somewhat disturbed by Middle East events, but an initial framework document has been produced. We attach great importance to the review and are looking for robust outcomes to enable us to use our valuable assets to drive forward the Government's foreign policy priorities. Our next immediate step is to use the annual meeting of the FCO's heads of mission, which takes place early next month, to test ideas. We are always drawing valuable lessons from the unfolding and dramatic events in the Middle East.
The noble Lord, Lord Tunnicliffe, rightly asked whether we believe in all this.
I was asked the basic question: do we believe in this concept? Perhaps I may personalise this a little and claim a few veteran medals in the field. I was a member of the famous Foreign Affairs Committee in the early 1980s that invented the concept of cultural diplomacy and injected it into public debate. I was responsible-possibly it is unwise to admit this-for writing books in the 1980s about "softnomics", which foreshadowed and preceded the development and picking up of the concept of soft power by the media, experts and academics in the late 1990s. It was a little late in the day, but they got there in the end. Therefore, I need not apologise for being slow off the mark in understanding the central nature, which was bound to come with the internet revolution, of soft power being the essential oxygen and blood flow of international relations in an increasingly important way.
When my right honourable friend made his first strategic speech after taking office, he talked of a networked world where connections between groups and individuals across the globe also make up the relations between nations, and where these connections are being rapidly accelerated by the internet. He was absolutely right. The interconnectivity that the internet has enabled has led to a diffusion of power from governments to citizens. It has also led to a transfer of power, as we all know, from the Atlantic world to the high savers and dynamic economies of Asia, Latin America and so on. However, it means that governments must operate differently. We do not have the monopoly of data that previous governments had 20, 30 or 50 years ago: citizens do. Intercommunication is swift, cheap and instant. It has changed the balance of power between citizens and government and turned on effective protest. This was predicted in things we wrote and argued about 20 years ago, and has now happened. Effective protest on the streets is easier and can be organised much more swiftly. The streets have been enabled, as we have seen recently in the Middle East and North Africa. These forces have shown themselves to be potent against even the most entrenched regimes.
I will make one further general point before I come to specifics. Perhaps we should not think only in terms of soft power, or of the distinction between soft and hard power. As my noble friend Lord Alderdice rightly said in his superb speech, these matters are interwoven. First, wars tend increasingly to be intrastate rather than interstate conflicts that cannot be won by force of arms; the concept of overwhelming force is redundant. Instead, parties must include ways to engage with different levels of society, using, with agility, the appropriate soft power tools that are available, namely cultural, political, military and economic. Without the elements that focus on breaking down barriers of mistrust, conflict continues and grows worse. Power in its military form does not deliver.
There are also those-again, this was predicted in the past; we saw it coming-who use the internet to generate hostility and encourage violence against our society and all advanced societies. The modern media environment means that people's perceptions and misperceptions can matter as much as reality. Persuasive words, deeds and images can be transmitted globally in an instant. That is why we have to uphold our core values of democracy, freedom, poverty reduction and human rights. Hard power remains necessary in some cases, but as the nature of conflict and of threats to our security changes, alternative methods of credible influence will play an increasingly central role. I have spoken in general terms to answer the justifiable questions of noble Lords and of the Front Bench opposite.
I turn now to the issue of soft power assets and how we wield them. This has been the central theme of the debate. Our basic soft power resources lie, as the noble Lords, Lord Smith and Lord Hall, made clear, in our culture; in projecting the UK as a nation to which others feel attracted and amicably disposed; in our political values, so long as we are seen to uphold and prosper by them at home-it is no good if we do not-in the legitimacy and fairness of our foreign policy; and in the potential for British-based non-governmental and professional bodies and institutions to influence and bond with counterparts across the globe. Those are the resources. More specifically, moving on from generalisation, our attractiveness rests on offering a positive domestic constitutional model that appears to work-I think ours does on the whole-operating under a popular monarchy, which is itself a soft power asset, as noble Lords have rightly reminded us in the debate, and on having a successful economy.
It is no use arriving on the scene of soft power projection if we are in a state of economic destitution and have lost control of our budget. Our national credibility depends on the budget rigour to keep within our means, which of course is by no means the situation now but the one, alas, that we inherited from the past; on running an efficient and flexible military; on supplying generous overseas assistance and humanitarian aid; on a highly intelligent pattern conveying how we operate our own national intelligence model; on public diplomacy, public governance and administration; on high quality judicial advice, training standards and personnel and best practices in law; on courses in a whole range of professional fields and skills; and, as noble Lords have mentioned, on increasing educational exchanges and offering scholarships, which we do. Indeed, I have some notes which show how we have expanded our commitment from the immediate dip which was about to take place in the Chevening scholarships and other areas. As we have heard in some brilliant speeches this afternoon, soft power impact also depends increasingly on artistic and design promotion and exchange.
That is undoubtedly a formidable arsenal. In many cases we have already put it in place, but it has not always been deployed or transmitted as effectively as it should, and that is what we have to put right. To wield our soft power resources effectively in today's information-connected world we have to avoid the pitfalls of lecturing and seeming to confront rather than work with target recipients; of failing to show deep enough respect for other people's cultures and, even more, their histories; and of glossing over our own past errors. That is especially topical at the moment. We have particularly to face that when we got involved, as we did, in the Iraq adventure-I know that it is controversial-there was an expenditure of reputation and of soft-power impact. It might have been justified for other reasons but we now have painstakingly to rebuild it. We would be shutting our eyes not to accept that.
Fortunately, we have one major ready-made system for soft power transmission through the Commonwealth network. Again, my noble friend Lord Alderdice and others pointed this out. We also have a huge reservoir of historical experience in the emerging world with which to help repair past damage. I wanted to say a little more about the Commonwealth contribution because we have an almost ready-made system-a gigantic transcontinental network of linkages-with many common values, giving this country a unique advantage which many other countries envy and wonder why we do not use still more effectively to link ourselves with the emerging powers and the new world landscape that lie ahead.
It is this Government's very active policy, with which I am proud to be associated, to both reinvigorate our membership of the Commonwealth and to contribute with the other 53 members to the invigoration of the Commonwealth system throughout. We have plans afoot in detail which will unfold, first, with the eminent persons group of Commonwealth experts who are about to produce their ideas, and then as we move towards the Commonwealth heads of government meeting in Perth at the end of October, to expand and gain general support for them. That will be one of the most important international meetings of the first two decades of the 21st century, on a par with the global governance group which is the counter group to the G20 group, which in turn has largely replaced the G8. This is an informational age in which we have to know how to use the electronic media sensitively, which means avoiding propaganda terms and how to avoid overcentralisation of our soft power messages and influences by working with an opening gateway for non-governmental soft power activities. It has to be accepted, and has been pointed out by your Lordships, that other media systems have vastly multiplied in power and reach. Al Jazeera is usually the one we mention. We have to compete with these latest techniques by moving beyond traditional broadcasting systems. To that I now want to turn. I would like to say more about the targets and objectives, which are obviously commerce, security, humanitarian work, political goals in foreign policy, the impact of our foreign policy soft power and the feedback into our own sense of national pride, purpose and unity. All these are subjects that should be dilated, but time prevents me doing so.
Now let me turn to the hot issue on which your Lordships have rightly focused: the cuts to the BBC World Service. The first question was about why we have cut this budget. I do not want to go into what I know noble Lords opposite will say is the boring subject of the financial situation, but there have to be cuts all round. The previous Government were planning very elaborate cuts. We have gone even further. Everyone has taken the pain.
It is also true that the World Service cannot stand still and that online and FM audiences are growing while shortwave listener numbers have been falling. That is not true in every area, as the noble Baroness, Lady Bakewell, reminded us, but in 2009-10, the shortwave audience for the BBC World Service fell by about 20 million, not because of closures but simply because of the change in the way people get their news. For instance, in Russia, online audiences increased by 120 per cent while radio audiences declined by 85 per cent. Television news remains the key vehicle, as we have seen in recent events in Egypt and the wider Middle East. BBC World News, which is not part of the World Service network, has a weekly audience of 74 million people and within the BBC World Service, the Arabic and Persian services have not reduced their broadcast hours. Therefore, I think that my noble friend Lord Fowler, who is enormously well qualified on these matters, has been misinformed on that question. BBC Arabic TV is keeping its hours.
Some of my noble friends and the noble Lord, Lord Hannay, referred to the Foreign Affairs Committee and its criticism. The Foreign Secretary will be replying in detail in a couple of weeks, which is why I cannot answer all the questions that have been put today. However, there are two things that I should briefly like to mention about that report. The first is about whether it is true to say that the cuts have been disproportionate. Everyone knows that the Foreign Office took an enormous hit from the fall in sterling, and if you measure over the period from 2008, when that hit really damaged the Foreign Office budget, the net effect of the cuts to the British Council and the World Service has been to bring them back to the same proportion as they were in 2008. In 2007-08, they were 13 per cent, and in 2013-14 they will be around 14.4 per cent of the total FCO budget.
Finally, there is the question of whether the aid budget can support the work of the BBC World Service. I cannot give a final answer, but in the remaining seconds of my ration of time, I will try bring noble Lords up to date on where we are on this issue. We believe that the BBC World Service provides a development benefit to many countries, and we are continuing to explore with DfID and the Organisation for Economic Co-operation and Development officials whether a proportion of BBC World Service expenditure should be reported as ODA assistance. This will require the agreement of the OECD Development Assistance Committee. The BBC World Service portion of the overall FCO settlement includes £25 million a year in anticipation of being able to score some of these activities as official development assistance. I emphasise that this does not imply additional funding for the World Service although I understand that the World Service is in discussion with DfID about the funding of specific projects. Indeed, that matter is reported in the Foreign Affairs Committee report.
Any decision to reverse the reduction to the World Service's budget would have to be funded from the Foreign and Commonwealth Office's core budget. The Government believe that the transfer of funding to the licence fee will increase the BBC's ability to achieve useful economies of scale through the whole of the BBC family. We will help a more secure future for the World Service. In spite of the challenging financial situation we believe the World Service has a valuable and promising future and I am pleased to say that we have managed to find an additional £3 million in the last financial year to help the World Service with its restructuring costs. We have also provided £10 million for investment in new services and £13 million per annum to help it meet its share of the BBC pension deficit. These are small but concrete signs that the FCO fully supports the value and reputation of the World Service.
Several of your Lordships asked whether the Government will reconsider. I cannot say that today; I can say that we will certainly consider. Some very powerful points have been made and these will certainly be brought to the close attention of policymakers. That is what I can say today-I know it is not enough for some of your Lordships but I hope it indicates the general approach and attitude of the Government to this crucial matter.
The Government are committed to refocusing our soft power efforts to ensure an efficient, innovative and more co-ordinated approach. We are currently working on a cross-government strategy, as I have described, on how best to deliver and take advantage of the tools and assets at our disposal. The key will be that our strategy has strong enough direction so that even when unexpected events occur, as of course they have in the Middle East, our response is flexible but consistent with our broad direction and not seen as a departure from the main path forward.
Finally, we must recognise our soft power limits and order our priorities accordingly so that we are clear that we cannot intervene in every crisis and to ensure that we have the public understanding of these limits. There are many more points that I wanted to add but time has run by. Let me emphasise that by increasing the effectiveness of our considerable soft power efforts we are already adjusting to the challenges of an entirely changed world. Many commentators have rightly suggested that we are moving into an age not of soft power, not of hard power, but of smart power which is a subtle new interweave of both power deployments. In the face of major new challenges from jihadism and Islamic civil war to pandemics and climate change, from rising protectionism to nuclear proliferation, we all have to formulate a new strategy that combines all the hard and soft power facets available to us not only in government but outside government as well. The Prime Minister has labelled this the new liberal realism and the task now is to tailor our UK resources and experience to fit the new direction. I believe that the UK has all the tools at its disposal to deliver on this goal in the 21st century."
Search the news archive
Published 3 May 2011