Speech
Eric Pickles joins the Hounslow Big Iftar
The Secretary of State for Communities and Local Government observes Ramadan at the Hounslow Ismaili Centre.
It's great to see the Ismaili Community Ensemble perform again, I saw them at a Nawruz gathering a couple of years ago which was another great performance.
Islam arrived in the UK just 20 miles from here, travelling along the River Thames, the most British of landmarks, with sailors of the East India Company. Indian Muslims brought with them not just their goods and trade but the elements of Islamic faith that enrich us to this day.
That link between Islam and Britishness has been there right from the start, and Ramadan is the strongest reminder we have of that.
The Big Iftar success
I am delighted to be here this evening, especially as I've been told that if there were ever a Big Iftar to attend, this is the one.
Yet again, you have all made the Big Iftar a great success. Mosques around the country have opened their doors to show non-Muslims what Ramadan is all about.
I've known Muslims all my life, and I'm really glad thousands of others are getting the chance to learn all about the Islamic faith, as well as getting the chance to share in good company and great food.
But the Big Iftar is about more than fasting and the sharing of food. It is about bringing people of all faiths and none together to trample on the misunderstandings that can cause tension and distrust.
I also want to pay tribute to the amount of money you raise for charity during this time. It's simply astounding. The Muslim Charities Forum expect this year's Ramadan to raise over £50 million. That's more than Children in Need.
And it's thanks to the 2.5 million Muslims who give out of pure dedication to their faith, their community, and their country.
Although it's not just about money. The Muslim community in Leicester have packed parcels for a local homeless charity, things like toothpaste, shampoo and food.
I know you're doing something similar with the Share a Smile initiative, and proving there's no such thing as a free lunch, I'm going to muck in too by packing the 5,000th hamper this evening.
The Imam Hussain Blood Donation Campaign has also used the principles of Ramadan to get people behind their annual blood drive and selflessly give the gift of life to others.
As we see other countries exchange conflict and disagreement Muslims in this country are exchanging food and friendship with all their neighbours.
British Muslims are a shining example to the rest of the world, of being proud of your faith, while getting stuck in with the broader community. Nothing illustrated that better than the 700 Ismailis who volunteered as part of London 2012 and helped make it such a fantastic national success.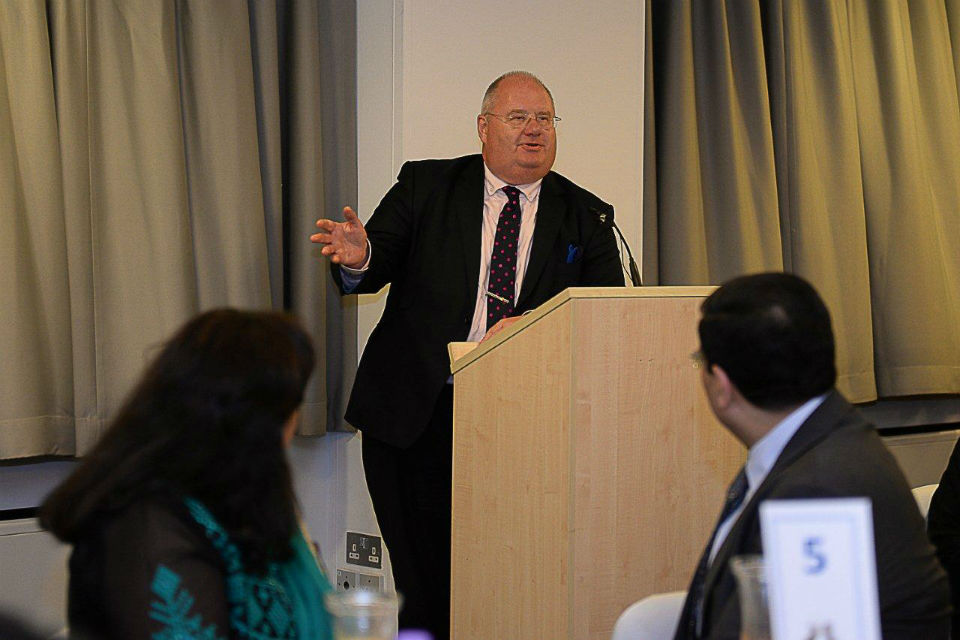 Closing remarks
You've shown willing and openness, humour and generosity; traits that are absolutely central to all definitions of what makes Britain great.
Ramadan is a pillar of Islam, and you are a pillar of British society.
And in these last 10 days of Ramadan, I want to wish you ease and contentment for the remainder of this holy month.
I followed the hashtag 'Ramadan Problems' on Twitter with great amusement. I hope that during those hard moments, when sundown can't come soon enough, you will know how grateful we are for your zakat, which does untold good for British communities – and your brothers and sisters in faith around the world.
Thank you.
Published 22 July 2014