Speech
Edward Timpson at No Wrong Door launch
The Children's Minister speaks about funding for innovation fund programmes.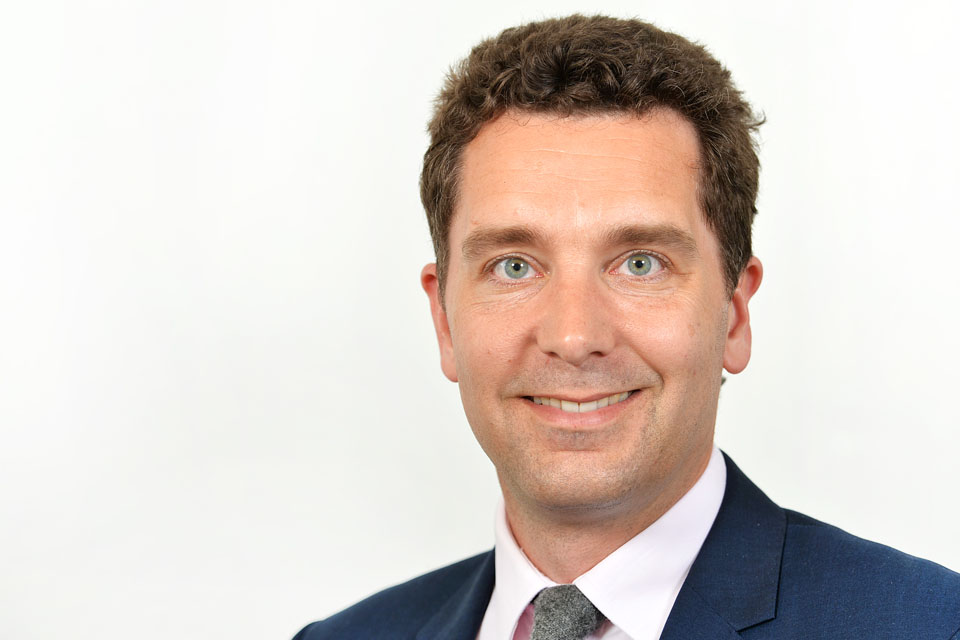 I'm delighted to be able to join you all for today's launch.
In fact this is my second North Yorkshire encounter this week. Congratulations are in order to the children's social care team - who won Community Care's employer of the year award at the National Social Work Awards earlier this week.
It's fair to say that, back in 2009, this would've seemed an impossible feat - but thanks to Tony [Hall], Pete [Dwyer] and their team, along with other key agencies represented here today, North Yorkshire has emerged as a leading light in the design of services for vulnerable children.
Now it's also true to say that Tony's appetite for ministerial visits knows no bounds together with his infectious persuasiveness - which is why I'm back here for a return visit.
But in truth it took very little to convince me, because No Wrong Door is further proof of your determination to really push the boundaries for children and young people - to ensure that no ambition is out of reach, no dream too elusive - and indeed, that no door is closed to any young person who needs that vital support.
Like others present, I've been privileged enough to hear for myself stories from many care leavers in North Yorkshire.
Later on you'll hear from Luke Rogers, whose determined reputation and inspirational story as a care leaver have been a catalyst for much of the progress that's been made so far.
Luke's been brave enough to share his journey; how a home of alcoholism and violence led to several years of sleeping rough, truancy, and drug-taking.
That all changed, though, when he was fostered by the Halls - and experienced what it was like to be part of a family for the first time.
I come from a family of more than 80 foster brother and sisters - so for me it was no surprise to hear about the love and care Luke received under the roof of his brilliant foster parents.
Like the Halls, every child that stepped over the Timpson doorstep became one of us, and was treated as we were all treated - with love, care and respect, backed up by stability, opportunity and a sense of what we could achieve, rather than what we couldn't do, accordingly - not excluding washing up duty!
For his part, Luke went on to start his own entrepreneurial business and become a motivational speaker, giving a national voice to care leavers.
It's a fantastic achievement that should be within reach of every child leaving care.
I dropped by Luke's blog 'Living a Careless Life', and one passage really stayed with me.
He wrote: "young people need a fire inside, to make a life for themselves. But like all fires, we need fuel, and I think that comes from people."
From the social workers, to the commissioners, to the likes of Tony, Peter, and of course the Halls - we know that that the care system is really the sum of its individuals - their humility and desire to do better for young people.
Sadly though, and too often, this has been forgotten.
Back in April, our analysis showed that adolescents entering the care system would still move frequently from place to place, unable to lay a secure foundation, and had to rely on a carousel of professionals.
And we all know that absence of consistent, trusted relationships makes it very difficult to settle, let alone thrive. It's the perfect storm for unintended neglect.
Ongoing inquiries into care-home abuse show that this is a problem with historic roots. Reports like that of Rotherham lay bare contemptible accounts of unimaginable crimes.
And last month the Centre for Social Justice reported that 24% of the adult prison population have spent time in care - and only 6% of care leavers enrol at university - whilst, I should add, record numbers of students are now applying for a degree.
Why? Well, Eileen Munro, in her own report, confirmed that the care system didn't leave enough space for new ways of working, or adequate consideration of the child's journey. 'Putting the child first' slipped to second and third place, in favour of procedure and risk avoidance.
And that's precisely for these reasons that we've launched the innovation programme, to inject the care system with passionate creativity and to help knock down the barriers that have for too long stopped social workers and other professionals from being the best they can be.
Now, 'incentivising' and 'experimental' aren't phrases often attributed to children's services.
But we asked all those with an interest in improving the system to consider approaches that provide value for money, replicate successful, evidence-based approaches, and most importantly, give children in social care better prospects in life.
And a year on since the launch we've assessed close to 300 bids, a terrific response.
£100 million of funding has sought out the best projects and pilots that rethink both social work and the support available for adolescents in, or on the edge, of care.
And far from sacrificing safeguarding, all successful bids have had the safety and support of young people at the heart of them.
Indeed as, North Yorkshire has proven, with their 'good' rating for children's social care, innovation and Ofsted need not be mutually exclusive.
After the launch of the innovation fund, you will not be surprised to learn that Tony was the first person to enthusiastically extend an invite to me to see the work his team were doing.
So it was certainly no shock, soon after, when the bid for No Wrong Door landed on my departmental desk.
With just over £2 million of funding, the No Wrong Door hub model puts individual relationships back at the heart of the residential care system. When staff might have otherwise had to cut those ties, they can now extend beyond the age of 18.
As you heard from Martin and Janice earlier, it will help provide a consistent relationship with one dedicated worker, who'll stick with the young person, wherever they move in the system. Young people will be able to rely on the people they trust to stand by them. For example, during a trial period back with their family, or taking that first step towards independence in supported lodgings.
And, crucially, those people will still be there if things don't quite work out, or if plans have to change. For the 19-year-old foster child who has come back to live with my own parents, that has been her experience of leaving care.
And during my last visit here I met with young people who'd benefited from early pilots, allowing them to stay with their foster carers for longer.
They, like others, told me that this extra support at a critical time can make all the difference.
But for too many young people leaving care they haven't to date had that choice or opportunity. That's why, with £44 million worth of backing, we launched 'staying put' as a duty on all authorities. Since May, all councils must now support young people who want to stay with their foster carers, where possible, up to the age of 21.
Staying put provides a gold standard for councils wishing to provide greater stability for care leavers, ending the arbitrary drop-off point of 18 years old.
No Wrong Door goes further and will be testing out ways of upholding the support network for children in residential care, too, providing them with the same opportunities as foster children. Some call this 'staying close' rather than 'staying put'.
But through some genuinely joined-up thinking with local housing and homelessness services, North Yorkshire will ensure young people are properly supported through those often difficult transitional years into adulthood.
Local children's homes will extend their work and training with nearby housing providers, giving young people some consistency when they leave care. And if things go wrong they can even continue to access support from the home staff if needed even after they've left the home.
But it's not just North Yorkshire responding in this way. Other areas are also trialling approaches to 'staying close', backed by the innovation programme.
Sefton are offering a continuous support service for vulnerable young adults that will continue to support them up to the age of 25, if they need it, no matter where they are.
And today I can announce that Stoke are setting up a housing co-operative for care leavers - both from foster care and residential, backed by half a million pounds from the innovation programme.
These young people will live in a cluster of 10 houses, and receive extra support to learn new skills and live independently.
Now, achieving parity for residential care-home leavers will take time - to unknot the potential issues, work out the logistics, and come up with the best solution.
And, as the recent report from NCB (National Children's Bureau) showed, we cannot expect to achieve this overnight.
But through these different projects I have no doubt we can spread the North Yorkshire philosophy across the rest of the country. That young people should be able to stay close to, in contact with, and be supported by their children's home, should they wish to do so.
Whilst this work continues the wider innovation programme pushes forward, and today I'm pleased to announce the latest schemes to receive funding. These include:
7 foster care support networks, backed by the Fostering Network. Each area will be led by a local champion who can provide peer to peer support
HOPE, in Surrey, will be extending their service to provide a round-the-clock support and overnight service for young people suffering from mental health issues
and the Compass Centre in Norfolk will provide schooling and therapeutic services to young people with behavioural or emotional difficulties. Compass will also provide training for foster carers, who just want to do the best they can for the children in their care.
It's reassuring too that many other local authorities are interested in No Wrong Door here today - a positive sign, I hope, for the next tranche of bids.
So I'd like to leave local authorities and potential bidders with one simple message - be fearless in your journey to better care for young people. Explore the evidence, try new things, and be truly radical in your thinking. As you face challenges and difficulties, think of the magnitude of the struggle faced by Luke - and the many Lukes in your local area.
Think of his struggle to become the person he is proud to be today. Remember, you are the fuel to make that ambition fire, and if you can approach the transition from childhood to adulthood with fearlessness, then anything will be possible.
I wish No Wrong Door and all those involved a huge amount of luck in their early days, and I have confidence that your boldness, belief and, above all, willingness to do what's right by children and young people in North Yorkshire's care will be rewarded by giving them the brighter future they so clearly deserve.
Thank you
Published 6 March 2015