London North Eastern Railway to run East Coast Mainline services.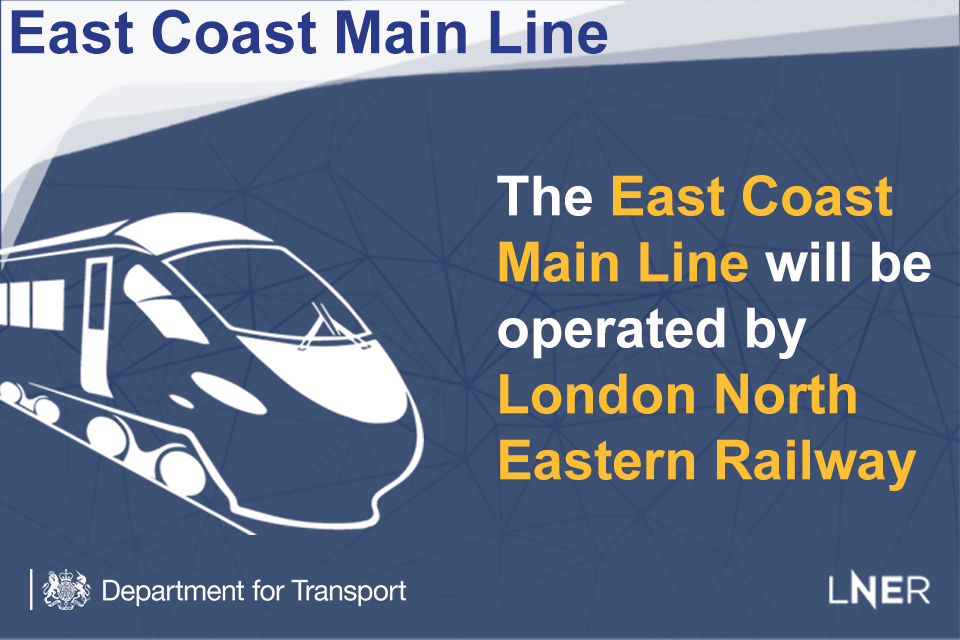 Mr Speaker
The House will recall that in November (2017) I set out details of our rail strategy, and our plans to integrate the operation of track and trains.
I also indicated that one of the key parts of that plan was to address what were then well-documented problems on the East Coast Mainline by creating a new, integrated rail operation on that route.
In February (2018), I gave the House an update on the financial problems on the East Coast Mainline, and indicated the current franchise would run out of money within months. This is not because the route is failing. It continues and will continue to generate substantial returns for the government, and the most recent figures show passenger satisfaction at 92%. The route has its challenges, but it is not a failing railway.
However, as I explained in February, Stagecoach and Virgin Trains got their bid wrong and they are now paying a price. They will have lost nearly £200 million meeting their contracted commitments.
This means taxpayers have not lost out because revenues are lower than predicted: only Virgin Trains East Coast and its parent companies have made losses at this time.
As the Brown review said in 2013, in an effective railway industry, franchises can occasionally fail. But we do not expect companies to hold unlimited liabilities when they take on franchises, they would not bid for them if they had to. This will mean sometimes franchises will fail. That is why it was a Conservative government that created the structures for the Operator of Last Resort – to ensure we can always guarantee passengers' services if franchises cannot continue.
Mr Speaker, in my statement in February, I said that I was considering 2 options to continue delivering passenger services in the run-up to the creation of the new East Coast Partnership. The first was to permit Stagecoach to continue to operate the railway on a not-for-profit basis until 2020, and to permit them to earn a performance-related payment at the end of their contract.
The alternative was to implement an Operator of Last Resort, bringing the route back into the temporary control of my department, as provided for in legislation. I established a team to prepare this as an alternative, to use if required.
In the past 2 months, my department has carried out a full analysis of these options, focusing on how each performs against the key principles I set out in February:
protecting passenger interests
ensuring value for money for taxpayers
supporting investment and improvement in the railway
I am today (16 May 2018) publishing my department's assessment: East Coast train operator assessment.
But, to summarise, the analysis suggested the case was very finely balanced, with some elements favouring a contract with the existing operator and others favouring the Operator of Last Resort.
When judging against my key principles, neither option was obviously superior.
There is, though, Mr Speaker another factor that I have taken into account. I want to make the smoothest possible transition to the creation of the new East Coast Partnership. So given the finely balanced judgement, I have taken into account broader considerations and decided to use the current difficulties to drive our long-term plans for the East Coast Partnership.
I have decided to begin the transition process towards creating the new partnership now. This will be in the long-term interests of passengers – as every member of staff on the railway will be solely focused on delivering an excellent service for the future.
I am therefore informing the House that I will terminate Virgin Trains East Coast's contract on 24 June 2018.
I plan to use a period of Operator of Last Resort control to shape the new partnership. So on that same day we will start with the launch of the new, long-term brand for the East Coast Mainline through the recreation of one of Britain's iconic rail brands, the London North Eastern Railway (LNER).
The team that has been working for me since last autumn to form the Operator of Last Resort will take immediate control of passenger services. They will then begin the task of working with Network Rail to bring together the teams operating the track and trains on the LNER network.
I am creating a new board with an independent chair to oversee the operation of the LNER route and work with my department on building the new partnership. It will have representatives of both the train operating team and Network Rail, as well as independent members who will importantly ensure the interests of other operators on the route are taken into account. I will appoint an interim chair shortly, and then begin the recruitment process for a long term appointment.
When it is fully formed the new LNER operation will be a partnership between the public and private sectors. In all circumstances ownership of the infrastructure will remain in the public sector, but the railway is at its strongest when it is a genuine partnership between public and private.
The final structure of LNER will need to be shaped in conformity with the primary legislation which governs the industry. But my objective remains to move to a situation which leaves one single team operating the railway, with the simple goal of ensuring it continues the work that the existing operators have done in improving passenger services.
Mr Speaker, the rigorous process that we have followed underlines our commitment to ensure businesses operate under firm, but fair rules. And that this government is willing to take tough decisions when necessary, to ensure that we build a stronger, fairer economy for all.
I don't want these changes to be of anxiety to passengers. I want to reassure them there will be no change to train services. The timetable will remain the same. Tickets purchased for future travel – including season tickets – will continue to be valid. And customers will continue to be able to book their travel in the normal way.
I would also like to take this opportunity to reassure staff that the changes will not impact on their continued employment: it will be no different from a normal franchise change.
Mr Speaker, I want the LNER to have employees at its heart. So I am instructing the new board, working with my officials, to bring forward proposals which enable employees to share directly in the success of LNER both as a pure train operator and subsequently as the new partnership. I am pleased to announce that Andy Street, the Mayor of the West Midlands and the former Chief Executive of John Lewis, has agreed to provide informal advice to the team about how best to achieve this.
Mr Speaker I have already set out my plans to restructure the Thameslink, Southern and Great Northern franchise following the successful delivery of the Thameslink Programme.
I have indicated that we will separate it into 2 or more franchises after the end of the current contract in 2021. We have not yet reached a decision about how to operate Great Northern services.
However I have had initial discussions with the Mayor of London about the possibility of transferring some of these to the London Overground, as recommended by Chris Gibb in his report.
Any change would be subject to consultation. But there is also an operational case for integrating Great Northern services from Kings Cross into the new LNER operation, and this is an option that I am asking my officials and the new LNER route board to do feasibility work on.
Mr Speaker, I have also taken official advice about the future of the passports currently held by Virgin Holdings and Stagecoach, determining whether they are fit and proper to operate on our railways.
A multi-disciplinary panel has considered the situation and recommended that both companies continue as train operators. They have advised that there is also no suggestion of either malpractice or malicious intent in what has happened.
Clearly we have to be vigilant about future financial commitments. But the organisations have paid a high financial and reputational price for what has happened. This government operates firm, but fair rules in its dealing with business. And I have been advised that it would not be reasonable to remove or place conditions on their passport. This decision is however provisional and will be subject to further to review at the point the Virgin Trains East Coast contract is terminated.
Mr Speaker, it is vital that we remember the benefits the railway has seen since privatisation. Passenger numbers have doubled. New trains with new technology are being rolled out across the network. Innovation has driven up passenger satisfaction and we're seeing huge amounts of private investment in the future of our railways.
And the lessons of the financial failure of the East Coast Mainline are already being learnt.
But our ambitions are bigger. In the 'Rail strategy' we published last year, we began work to look at the future of the industry – to make the private sector model fit for changing travel patterns, new technology and focused on a better quality passenger experience.
These advances would not be possible if we returned to nationalisation and lost private sector innovation.
This work will conclude in time for the spending review to ensure we improve how we enhance private sector drive to improve services for passengers in the coming years in a way that is fair for taxpayers and the passengers themselves.
Mr Speaker, the most important people in all of this are the passengers on the East Coast Mainline.
92% of them are happy with their travel experience. The steps I have put in place today will help deliver even more.
With the recreation of one of Britain's most iconic rail brands.
With the start of the proper recreation of an integrated regional rail operation.
And with the arrival of the brand new Intercity Express Trains later this year, the majority of which will be built at Hitachi's facility in Newton Aycliffe in County Durham, continuing to support 700 jobs in the North East.
I believe this strategy will set this railway on a path to a better future.
And I commend this statement to the House.
Published 16 May 2018