Diplomatic wreath laying ceremony
Foreign Secretary William Hague spoke at the Diplomatic wreath laying ceremony at the Foreign Office Memorial in King Charles Street.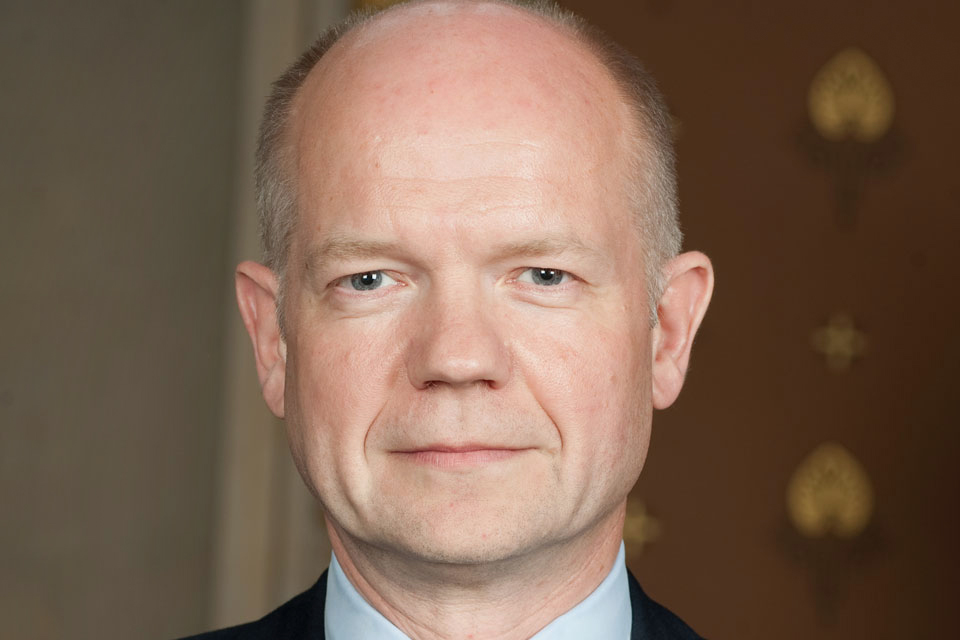 Today, in the presence of their families, friends and colleagues, we honour the memory of eighteen courageous men and women who died serving our country overseas.
We will never forget their names or their sacrifices.
We also honour their families for the terrible loss they have sustained, and for the grief they endure to this day.
Whenever our country has needed people to serve in dangerous places, to support British nationals or staff vital UN missions, the men and women of the Foreign and Commonwealth Office have always stepped forward.
They have never failed us, and never let us down.
This includes many nationals of other countries working in our posts overseas, such as the ten locally engaged members of staff killed in Iraq and Turkey whom we also remember with sadness and gratitude today.
None of us ever want to see a single other name added to this Memorial; or any other family devastated.
We know that the dangers are there. We still have to ask staff and their families to serve in countries where there are serious risks from crime, political instability or terrorism.
In recent times we have seen attacks directed against Embassies and staff in Libya, Pakistan, Afghanistan, Sudan and Iran.
But we should never lose sight of the enormous positive impact of British diplomacy. Everywhere I travel I hear nothing but praise for the talent, dedication, skill and professionalism of our staff, from people and governments around the world.
Those we mourn lost their lives to terrorism, assassination, criminality or fatal accident in eight different countries.
Their lives were ended tragically, but the causes they worked for and believed in were not.
Today, for example, Northern Ireland is at peace; Bosnia has overcome war; India is a new economic and political power; Kenya has made great strides of its own; and Iraq is making real progress under a democratic government.
As Foreign Secretary these changes give me hope, and they add to the immense confidence I feel not only in the men and women of the Foreign and Commonwealth Office, but also in our country's ability to contribute to peace and security in the world.
So on this sad but proud occasion and on behalf of the Prime Minister, Her Majesty's Government and the British people, I lay this wreath to honour the memory of Christopher, Richard, Percy, Graeme, Charles, Stephen, Roger, Lisa, Suleyman, Ismail, Nazime, Cafer, Kiraz, Nazmi, Nanett, Nadide, Arjan and Ali.
Published 12 November 2012