Speech by UK High Commissioner at "Revolution By Design" Conference, Delhi, 11 March 2013.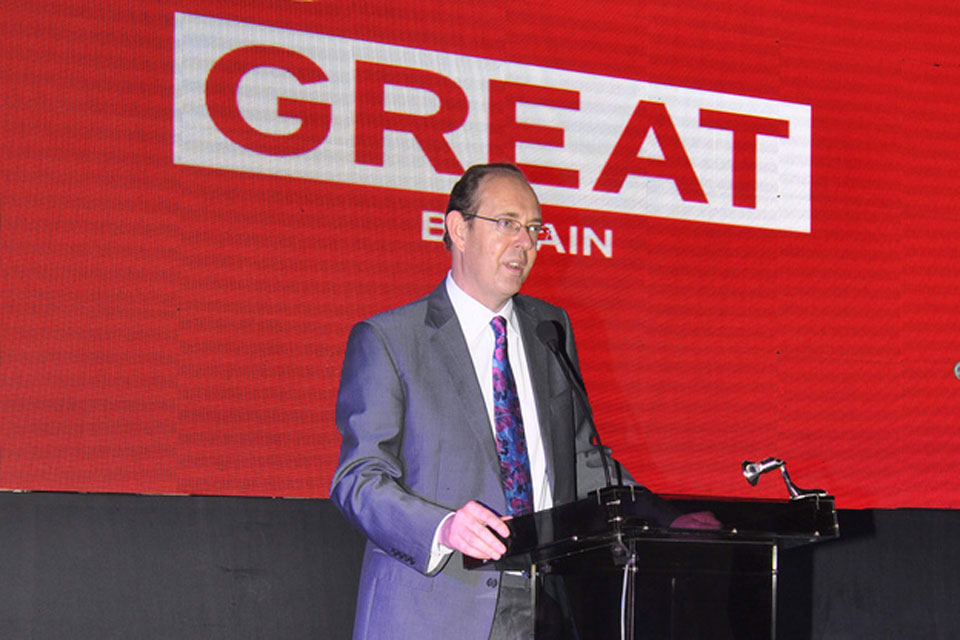 Introduction
Dr (Raj) Singh (VC Ansal University), Sir Christopher (Frayling), Professor (Mike) Knowles (Dean of the Sushant School of Design), distinguished guests, friends and colleagues,
It's a great privilege to be invited to speak at this distinguished institution. And a great honour to address this audience, which contains many of the present and future leaders of Indian design.
I'm also delighted to see your Chief Guest, Sir Christopher Frayling, in India. Sir Christopher has been both Rector of the Royal College of Art and Chairman of the UK Design Council and is a guru in the design community.
All of this expertise makes me – a humble diplomat – feel rather outclassed. It's said that a diplomat is someone who can make himself misunderstood in several languages. So I could try to give a speech that just confuses you. But rather than adopting this tactic, I thought I'd just keep it simple and tell you what I really think.
The theme of your conference is "revolution by design". This too makes diplomats nervous. We like design, if that means caution and prudent planning. We tend not to like revolution. But I do. In fact when talking about what I do, I frequently quote a famous revolutionary, Karl Marx, who said: "The point is not just to understand the world; the point is to change it".
So what I plan to do is tell you why I think design matters; how good India and Britain are at it (very); and why I hope we can work together more closely in future to deliver a world revolution - by design, rather than (as some of Marx's followers wanted) by armed struggle. But first, a light bulb joke. Since you are all designers, I thought I would share this one with you, which is about the danger of working with creative people like designers. Question: How many designers does it take to change a lightbulb? Answer: Does it have to be a lightbulb?
Why Design Matters
Why does design matter?
Ken Peters, the leading US designer, summed it up: "Designers give shape to ideas that shape our world, enrich everyday experiences, and improve our lives. Where there's confusion, designers fashion clarity; where there's chaos, designers construct order; where there's entropy, designers promote vitality; where there's indifference, designers swell passion; where there's mediocrity, designers imbue excellence; and where there's silence, designers lend voice."
I'd sum it up even more simply, thinking about my friend Karl Marx: good design changes the world. Good design makes it a better place. Good design also makes the world a simpler place. Indeed Steve Jobs, who knew something about design, had a saying that "less is always more. Simpler is always better". I used to think that this urge for simplicity was about beauty. But it may also have been about functionality. Douglas Adams, who wrote the Hitchhiker's Guide To The Galaxy, once said: "A common mistake that people make when trying to design something completely foolproof is to underestimate the ingenuity of complete fools."
So let us not underestimate the ingenuity of anyone, fools or geniuses.
India is good at design
Something we can never overestimate is the genius of Indian design. India is good at design. Indeed the historical evidence is that India invented it.
Before I took office as High Commissioner I spent three months travelling around India as a private citizen to learn about the real India beyond Lutyens New Delhi.
One of the places I visited was the National Institute of Design in Ahmedabad. Many of you will know it, I'm sure. And you may also know that its foundation followed a famous report on Indian design by two Americans, Charles and Ray Eames in 1958. In pride of place in the museum of design at NID is a brass water vessel, a Lota. The Eames's report said: "Of all the objects we have seen and admired during our visit to India, the Lota, that simple vessel of everyday use, stands out as perhaps the greatest, the most beautiful".
The Eames talked about how many complex considerations had produced such a simple object. The optimum amount of liquid to be fetched, carried, poured and stored. The size and strength and gender of the hands that would manipulate it. The way it is transported – head, hip, hand, basket or cart. The balance: the center of gravity, when empty, when full. Heat transfer – can it be grasped if the liquid is hot? How pleasant does it feel, with your eyes closed, and your eyes open ? How pleasant does it sound, when it strikes another vessel, is set down on ground or stone? How will it look as the sun reflects off its surface? How does it feel to possess it, to sell it, to give it? It was then that I realised the subtleties and complexities of design, and that all design is design for humans, design for life.
And you have many more examples of fantastic design from Indian history. To take a selection at random - buttons, invented in the Indus Valley some 4000 years ago; chess; prayer flags; rockets; the step well; the Taj Mahal and the Red Fort. I could go on but I won't, because we simply don't have time to list all the design classics that India has given the world.
And there are some great examples of design from India's present too: the Tata Nano, the world's least expensive car; the Aakash tablet, the revolutionary low cost product that could put a computer in the hand of every Indian schoolchild; the Sea Link bridge, which soars beautifully across the waters in Mumbai, and my own little favourite, the Bank of India logo (a keyhole).
And so is the UK
The UK is also pretty good at design. Don't take my word for it. I'm the British High Commissioner: I'm paid to say that. Instead, let me quote you the New York Times of 27 September 2012, which said:
"Apologies to Milan and Tokyo; Regrets to Stockholm and Paris; Forgive me Eidenhoven, Berlin, Barcelona and particularly New York – But London is the Design Capital of the World. Britain produces better designers and Design Impresarios than anywhere else". Or if you think the NYT is overdoing it, listen instead to Anand Mahindra, who told the UK's Daily Telegraph in 2011, "Normally you think of Italy when you think of styling and design, but the British excel in it. Coventry is still one of the world's centres of excellence for automotive styling".
The fact is that British design and innovation has shaped the world and continues to do so. From spinning machines in the 1780s, the engineering of bridges and ships in the 1840s, the development of computer codes in the late 1940s and 1950s, and the invention of the world wide web by a Brit, Tim Berners-Lee, in the 1980s.
A trip to London will bring you into contact with British design immediately.
If you take the underground from Heathrow into London, the first thing you see when you enter the station is Harry Beck's iconic Tube map, which had the brilliant design idea that a map doesn't have to represent real distances or directions: it just has to show you the simplest way to get from A to B.
And when you arrive in central London and look around the skyline, you will see the architecture of great British designers. Not just Sir Christopher Wren, who built St Paul's Cathedral. But modern designers like Norman Foster, who designed the Gherkin skyscraper in our financial district and the new Wembley Stadium, and Richard Rogers, responsible for the Lloyds Building and the Millennium Dome. And if you watched the swimming in the London 2012 Olympics, then you were looking at another piece of great UK architecture, Zaha Hadid's stunning Aquatics centre.
If you have an i-phone or an i-pad, or indeed anything made by Apple, then congratulations, because you are using British design: all those iconic objects were designed by a Brit, Jonathan Ive, Apple's lead designer.
If you hate vacuum cleaning, and who doesn't, then you might want to try using another UK design classic - one of James Dyson's famous bright yellow bagless vacuum cleaners. These are so good to look at, and so technologically advanced, that they have achieved a miracle many suspected was impossible: making men want to do the housework.
If after a hard day's work you like to kick back and relax with a computer game, then you are probably enjoying UK design. Two of the world's most iconic games, Grand Theft Auto, and Tomb Raider, were designed and produced in the UK, and we now produce more than a quarter of the world's computer games.
If typography is your thing, and fonts like Verdana and ITC Galliard get you really excited, I have two thoughts. First, that you should probably get out more. And second, that you will be a fan of the world's greatest typography designer Matthew Carter, a Brit.
If you prefer fashion to fonts, then you will know and possibly wear designers like Vivienne Westwood, Paul Smith, Stella McCartney, and Jimmy Choo, all of whom have kept UK fashion at the cutting edge.
If, like me, you admired the Formula One cars screaming round the Noida circuit at last October's Grand Prix, then what was deafening you was UK design. Every part of a Formula One car has some input from the UK, from design through to assembly and manufacture. Which is why 8 of the 12 Formula One teams are based in the UK.
If – like 900 million other Indians – you have a mobile phone, then you almost certainly have inside it an unsung classic of British design: the ARM microchip, designed by a company based in Cambridge, and used in more than 95% of the world's mobile phones.
If you have the opportunity to fly in the new Airbus A380 or Boeing 787 Dreamliner, take a look out of the window. The Rolls Royce engines keeping you safely above the clouds, are designed in the UK and are the most advanced in the world.
And if you are thinking about continuing your study in design, think about the UK. We are home to four of the world's top ten universities, and many of the best design institutions in the world, including the University of the Arts, at which Mike Knowles is a visiting professor.
Let's work together
So India is great at design and so is Britain. My message today is that together we can be even greater. My job is to build a stronger, wider, deeper partnership between Britain and India. I'd like to see that partnership thrive in the area you all specialise in: design.
Some of that is already happening. There are good links between the Sushant School of Design here and leading UK institutions. And similarly strong connections between top UK design institutes and NID Ahmedabad.
There are growing ties between business too. Jaguar Land Rover, now an Indian-owned company but with its base in the UK, is doing more and more of its creative design work here in India. ARM Technologies, the Cambridge microchip company I mentioned who almost certainly power your phone, now have a base in Bangalore too. And the revolutionary Aakash tablet is produced by a British company, DataWind.
But there is much more we can do together. Britain and India are both good at design. But none of us is as good as all of us. I hope that over the coming years we can develop an ever closer partnership in this area, and that together we can design a better future for a better world.
Published 11 March 2012