Deputy Prime Minister's speech at the European Parliament
The Deputy Prime Minister delivered a speech entitled 'Reform or Wither: A Vision for a Prosperous and Competitive Europe' in Brussels.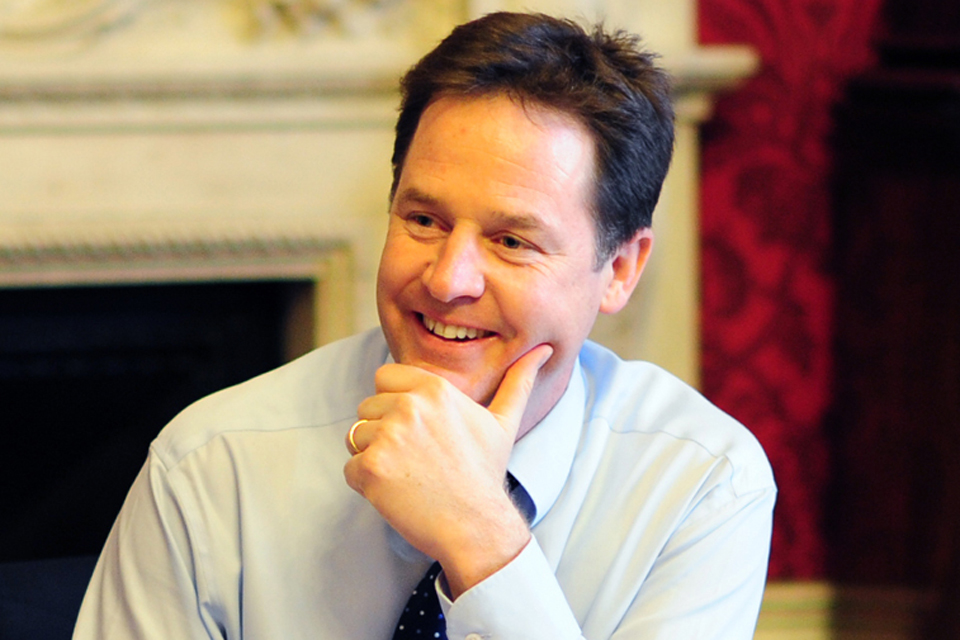 Check against delivery
I cannot remember a time when events in Europe moved so swiftly. Many hoped that, by now, we would no longer be lurching from one headline to the next. But the focus has shifted from Athens to Rome and it is clear that much still needs to be done to ensure stability in the Eurozone.
The UK hopes that our Eurozone neighbours can find a way through the current troubles and we are entirely supportive of their efforts to do so.
Today I do not intend to provide further commentary on these specific events. For one thing, it would probably be out of date by the time I sat down.
What I want to talk about is growth. Because, while fiscal and financial stability are our first priority, they alone do not deliver growth. And growth is the other part of the solution to the current crisis. It is, after all, our best weapon against Europe's high deficits and debt stocks.
But to grow we need to be competitive. The truth is, Europe is suffering from a crisis of competitiveness. That started long before the financial meltdown of 2008.
Our demographics are against us - low birth rates and aging populations. For every over-65 year old in Europe there are four people of working age. By 2060 that will be down to two. We are being sidelined by the economic powerhouses of the East. This year China will register more patents than the whole of Europe.
Too many European economies suffer from low productivity or inflexible workforces or red tape that strangles business. And Europe has not bounced back in the way many believed we would. Back in March, the Commission's worst case scenario for EU growth was 1.5%. We are close to that now.
So Europe needs to change. Unless this continent becomes more competitive it will find itself in perpetual decline. And even if we are successful now in pulling Europe's economy back from the edge of a precipice - unless we deal with these underlying weaknesses - in five, ten, fifteen years time we will find ourselves in crisis again.
In the end, it is a question of political will. Because decline is not inevitable. We boast the world's most open trading system - the rule of law, political stability, unprecedented regional cooperation. Some of the best schools and universities in the world. We are already a global leader in automotives, chemicals, pharmaceuticals, machinery and more. And European integration has always been defined by moments of great upheaval: the Second World War, the economic stagnation of the 1970s, the collapse of the Soviet Union.
We can navigate these difficult times, just as our predecessors navigated theirs. But we have to make a choice: unless we are prepared to fully embrace reform we will betray the hopes and needs of millions of Europeans - of Europe's future generations.
The choice is stark: reform or wither. Reform now or regret it forever.
I am clear: I am ambitious for Europe's future. But if we want to create a Europe able to hold its own in the 21st Century we cannot simply fall back on the reflexes of the past. There is a kneejerk assumption that, when Europe faces a major crisis, when the challenge we face is big enough, our default response should be treaty change. And I know that, now, there is a specific suggestion that we will need to amend the treaties to ensure better fiscal oversight within the Eurozone.
I fully support the goal of better oversight, but I also feel that it is right to caution against returning to the EU's founding texts without first seeing if we can meet these objectives through other means. Our priorities are stability and growth - and they are urgent.
To sit around tables for months on end, agonising over this article or that one, becoming engulfed in endless institutional introspection, would be a huge political distraction from the economic task at hand.
The danger is that fixating on the treaties will obscure what is really needed. Treaty change should not be a surrogate for political will.
Think of what we have learnt from events in the Eurozone: the sovereign debt crisis was not caused by inadequate treaties but, in large part, by the decision, in 2005, to relax the conditions on Eurozone membership. By irresponsible political choices. It was not the rules that were at fault but the governments who failed to implement them.
We have to understand that rules and agreements are not an end in themselves and they do not, in and of themselves, deliver prosperity. If we pin all our hopes on tinkering with the treaties, we will be disappointed. What we really need is ambition, commitment, reform.
Today I want to talk about the three principles that should guide reform at the European level. But, in doing so, I am not here to pretend the UK has a monopoly of wisdom. That may come as a surprise.  Over the years many of you will have grown accustomed to lectures from British politicians: "copy us and your woes will disappear". That has been a familiar refrain.
But the global economic crisis hit the UK very hard. We now face a tough period of fiscal consolidation and that has been as humbling for us as recent events have been for Eurozone states.  The truth is: we have all made mistakes.
For a long time, certainly when I was working in Brussels, European economies were often understood as two camps. The caricature is a little simplistic but is useful for understanding the lessons that are being learned.
On the one hand there are economies that have followed the Anglo-Saxon model - we took a more tolerant approach to risk, focusing on short-term returns and keeping our product and labour markets highly flexible. That flexibility has helped us weather the economic storm but the risk-taking - at least in parts of our banking system - led to huge liabilities for the rest of the British economy.
So we have learnt the virtue of investment over consumption, of stability over risk, and we are now investing in skills, in infrastructure, diversifying our economy, embracing a much more long term approach.
Conversely, in what are usually understood as mainland, more dirigiste economies, fewer risks were taken. The state had typically played a more active role, directing parts of the economy, and the web of relationships between governments, banks, trade unions and large companies has meant less of an emphasis on short-term gain and shareholder profits and more emphasis on planning and predictability.
But these economies, it is widely acknowledged, have suffered because of rigidity in their product and labour markets and many are now looking to liberalise, creating the flexibility they need to thrive. 
So this is not about one economic model being whiter than white. No one has all the answers. We must all learn from each other.
While our domestic situations vary, relaunching the European economy is our common endeavour. So what are the principles that must now guide us?
First, we must move together. The greatest danger we face is division. Insecurity inevitably encourages political introversion but we cannot indulge that impulse. We depend on each other for our prosperity. To retreat from each other now would be to leave ourselves isolated in extremely tempestuous times.
That is why, while the UK fully supports deeper fiscal integration in the Eurozone to support monetary union, we would not wish to see it become a club within a club.  As the Eurozone restructures, we may need to consider safeguards. And decisions that affect the 27 must always be taken by the 27. We must continue to use the Community method, guaranteeing a voice for every member state and retaining the role of the Commission as the guardian of the treaties.  
Of course, stressing the importance of unity does not mean we cannot have a legitimate debate about the relationship between member states and the EU. Not everyone expects a pro-European to say that. According to an absurd caricature we are all starry-eyed Europhiles convinced the EU is perfect in every way. That could not be further from the truth.
I believe European cooperation is one of the most significant political and economic achievements of modern times because it is based on the simple and enduring principle that in our modern world, European nation states can deliver more prosperity and security for our citizens when we work together than when we fall apart.
But I worked here for many years and I am well-aware of the EU's shortcomings. In some areas we should do more together. Deepening the Single Market, an issue I will come on to, creating an EU wide patent, acting in concert to better tackle international crime, energy security, climate change. All areas where cooperation will advance our security, wealth and common values. 
But, equally, there are areas where the EU should do less, where member states are better placed to take the lead. Those are best understood in three categories.
There are areas where there is a clear need for an EU-level policy, but where, in reality, it is administered in ways that are overcentralised and out of date. For example, this has long been a problem with the Common Fisheries Policy. The Commission's proposals for reform of the CFP are a clear step in the right direction and we must now press on with ensuring they are carried through into legislation.
Then we have a clutch of small EU budgets in perfectly laudable areas but which are simply not a priority when there is such great pressure on our economies and where the EU's time and money could be much better spent. Youth policy, tourism, culture to name just a few.
And three: policies which actively inhibit growth and diminish the flexibility our economies need to adapt. Where the EU has gone beyond setting legitimate standards to protect workers, consumers and promote competition and, instead, has been too keen on imposing a straitjacket of uniformity on services and sectors, undermining our ability to compete internationally.
There are questions we need to ask about certain employment laws. Is it really essential or desirable for the healthy functioning of a thriving Europe to have EU legislation insisting people work a 48 hour week, regardless of whether they want - or need - to work longer? Or European laws laying down how our builders should - or should not - use their ladders? Should the Commission really have tried to lay down rules setting out how long British, or French, or Spanish farmers can spend driving their tractors? Or how long Finnish workers can spend in the sun? 
Yes we need to set common standards but while recognising that different countries and different industries have different needs, and we all need to grow. And that more sophisticated approach applies to financial services too.
The UK understands better than anyone the need to dramatically re-regulate financial services. We have already introduced a bank levy and we are now looking at the Vickers Banking Commission proposals built on ringfencing riskier investment banking from retail activity. So we are hardly adverse to radical ideas and we want to work with our European colleagues to create a safer, more responsible European financial services industry.
But we cannot support the European Financial Transaction Tax that has been proposed. It would have a massively disproportionate impact on the City of London, responsible for more than half of the revenues that would be taxed. And, according to the Commission's own analysis, it would also reduce EU GDP as a whole. But even for people who don't care about the City of London or Europe's economic performance, the FTT doesn't make sense because it completely misses its target. This isn't - as it's often presented - a painless tax on banks and City speculators, the authors of the financial crisis.
In reality bankers will be left sitting happily unaffected in their offices, passing on the charge to the people they are acting for. It's pensioners who will pay this tax, and businesses. Companies that are vital to our economies, that are big engines of manufacturing or retail, that employ thousands of people across Europe but just happen to do financial services business too. That is in nobody's interests.
A properly targeted, global financial transaction tax is a different matter. But a Europe-only version will not work, will make us poorer, and is a distraction from the more urgent economic tasks at hand.
In light of all this, it is absolutely right to ask where we can do more together and where the EU should do less.
You win that debate by persuading other EU countries of your argument. Not by pulling up the drawbridge, not by agonising over treaty change, but by building alliances, getting support for more cooperation when that is in our interests and less prescription when that is right. That is how, just to give you one example, the UK recently helped secure exemptions for very small businesses from certain EU accounting obligations, as well as a commitment from the Commission to review all existing legislation to see whether similar exemptions should be made. But, as I said, allowing our relationships to evolve must not be confused with letting them fragment. And right now our unity is essential to our future.
Principle number two: at all times we must prioritise growth.
The UK takes that very seriously - in our own economy. In March we also published a European Growth plan backed by eight countries, which focused on boosting internal and external trade, pushing innovation and reducing the costs of doing business.
The truth is: the laserlike focus we need on growth is not always evident in Europe's institutions. Nor, it must be said, in the actions of individual governments. Across Europe citizens are desperate for jobs and economic opportunity, yet too often those goals are lost somewhere in our processes as we draft and scrutinise legislation. The Commission has a particular responsibility as the body responsible for generating new legislation to make sure all proposals contribute to growth. The College should ensure no new legislation comes forward that would undermine Europe's long-term, sustainable competitiveness. And the Council and Parliament should support that focus.
But too often both have been preoccupied by sectoral concerns and yes, at times, vested interests. The consequence is that by the end of the legislative process we often lose sight of whether or not initiatives really deliver for our economies. So, I am supportive of the new "growth test" as agreed at the most recent European Council, to keep us on track. We need the Council and the Commission to work up the detail but I think we need a mechanism by which the Commission sets out clearly how new proposals will affect growth. And once the legislation has been looked at and amended we check again its benefits for our economies before taking a final decision.
And I wonder if we can go further. Asking a special session of the Council to prepare a report card for every European Council on the growth impact achieved since it last met. It should praise those new policies which enhance growth. But it should also give a red card to legislation that has failed the test. If we'd had such a test in the past we might have thought twice about directives which overload business with costs and red tape.
The third principle is economic openness. Protectionist, beggar-thy-neighbour approaches are the surest way to inhibit our recoveries. And our long-term success depends on removing the remaining barriers between us.  Just think of what has already been achieved. We operate in the world's largest borderless marketplace. No customs checks, no need to get products approved separately or re-registered in different countries. No import tariffs,  no need for permits when you transport goods. You can do business cheaper, you can do it faster and, if growing companies - exporting for the first time - weren't able to take those tentative steps in their European backyard, many would not make the leap at all.
Clearly foreign companies see the benefits. One of the reasons major companies invest in the UK - like Honda, like Nissan, like their supply chains - is to access the EU. Yet, twenty years since its inception and the Single Market is still incomplete. Ambition has given way to timidity. Free trade between us is still obstructed in too many ways and the Single Market has not kept up with the shift to services and changes in technology.
Take our underdeveloped rules for online trade. Companies trying to sell online in other member states have to grapple with different processes and procedures each time. That is complex and off putting. And it is no wonder only 12% of all our online trade crosses our borders, completely undermining the great value of the internet.
There are still around 4700 regulated professions in the EU. Many professionals have to grapple with overly burdensome red tape to get their qualifications or accreditations recognised in other member states. Some niche professions but also accountants, architects, surveyors and many other more mainstream professions too. When European businesses want to register abroad, too many member states still expect them to jump through hoops. We are not against barriers where there is, for example, a public safety issue. But a great many are disproportionate and difficult to justify.
What is more, where we have the rules in place to open up our markets, very often they are not properly enforced. Too many states are taking too long to implement them or they are only adopting them in partial form. Or they are not enforcing them on the ground. The UK is not perfect, but we are not the worst. And the point is we all need to do better.
So the UK welcomes much of Commissioner Barnier's Single Market Act, as well as the Commission's efforts to step up enforcement of existing rules. And we recognise some of the excellent work going on right here in the Parliament. Such as by Mr Schwab here in the Internal Market Committee, so ably chaired by Malcolm Harbour. 
But we do need to do much more and much faster. It is time to finish what others started - reviving the ambition and spirit of the late 1980s and early 90s to bring down the barriers once and for all, modernising and completing the Single Market by 2015, demonstrating a commitment that encourages business across Europe and overseas to invest now - when we need them to.
Crucially that means fast-tracking the most pro-growth, pro-jobs areas, going further and faster to liberalise services and create a proper digital single market. That alone could add 800bn Euros to the EU's economy. That's around 4200 Euros extra for the average household every year. On services, the UK has a clear interest here. Output in the services sector constitutes around three quarters of our economy. But we are not the only ones - this is Europe's biggest sector. We desperately need to implement the Services Directive in full, along with a tough new proportionality test to raise the bar on which regulatory hurdles Member States are allowed to keep. 
On top of that, we need to be much stricter on enforcing the rules. Elsewhere in Europe we are rightly putting in place tighter controls to ensure states meet their fiscal responsibilities. When a minority break them, we have seen that the majority pay the price. Our Single Market obligations are exactly the same. We're toughening up the debt rules. We need to toughen up the growth rules too.
There are a number of ways of doing that. One I am drawn to is the creation of a new Single Market Champion or Ombudsman - a high profile figure who understands business and could work in tandem with the Commission and Member States, and perhaps with a network of national ombudsmen finding out, firsthand from citizens and businesses, where barriers are being put in their way.
Finally, while I am on the subject of EU states trading more with each other I should, of course, briefly mention the importance of maximising trade with our partners abroad. The current round of bilateral negotiations will deliver huge opportunities for our businesses and help create much needed jobs. Those agreements need to be pushed through without delay. And as we step up efforts to open our markets to each other we must make the same effort with others.
So, to sum up, as ever in European debates, it is easy to get lost in talk of directives, treaties, infraction proceedings, conciliation processes. But we must never forget why this all matters. We are here to advance the prosperity and security of millions of European citizens. That prosperity, that security, has so often in the past been threatened and sacrificed when our nations have been divided. And now, just as then, we can achieve much more if we stick together.
I have never supported integration for integration's sake but because it is the route to the jobs and opportunities our people crave. And as we face what is - I believe - the greatest economic challenge since the EC was first founded, we have a shared duty: a duty to be bold; a duty to be decisive; a duty to deliver for our people.
Unity. Growth. Openness. Reform.
That is the path to a strong and prosperous Europe.
Published 9 November 2011