Deputy Prime Minister's speech at CBI annual dinner
The full text of the Deputy Prime Minister's speech at the CBI Annual Dinner on 18 May, 2011.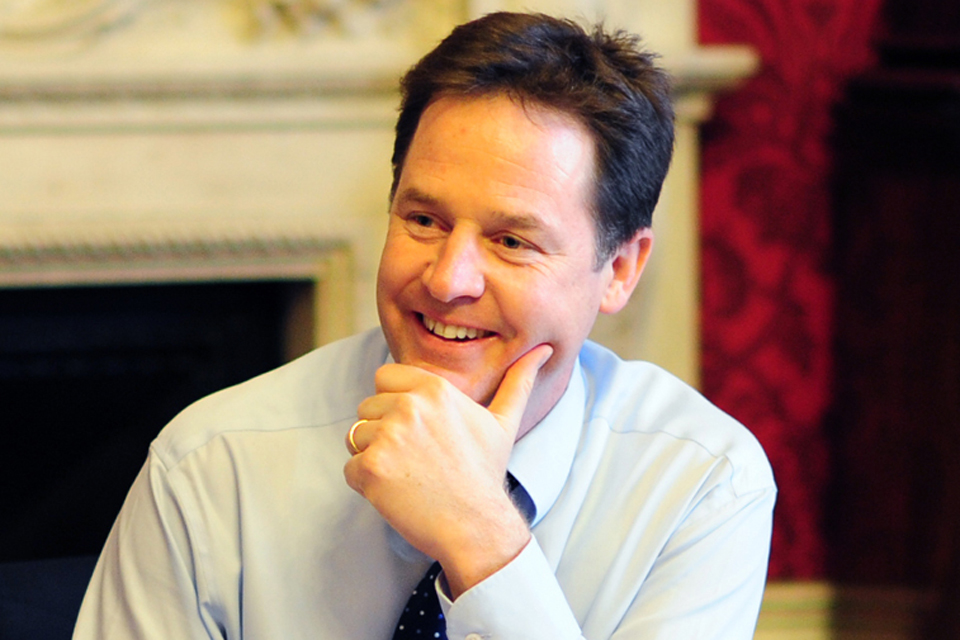 Check against delivery  
The economy is out of the danger zone, but we need to hold our nerve.
 
That means no blinking on deficit reduction. The Government has a plan to restore stability and we will stick to it.
 
Tonight I want to explain how Liberal Democrats and Conservatives can share this agenda, despite our different economic traditions.
 
We may differ on the nature and shape of the state, but we agree its finances must be sound.
 
Tackling the deficit is a necessary response to an immediate emergency. It is the glue that binds this coalition together. But fixing the fundamental weakness in our economy is the bigger prize. 
 
So I also want to set out the liberal vision for a new economy: rebalanced so prosperity is spread across all our regions; generated by many more sectors, with more opportunities for people to get ahead - irrespective of the circumstances of their birth.
 
First, the deficit.
 
At the last CBI dinner George Osborne delivered his first major speech as Chancellor, having just inherited a record deficit of £156bn. The UK had just experienced its deepest and longest recession in peace time and a sovereign debt crisis loomed in Europe.
 
One year on and the recovery is choppy. Companies still face tough credit conditions. That's why Project Merlin is in place, to get the banks to provide £190bn of new credit over the course of the year, with extra lending for SMEs.
 
The Government has agreed to hold back on imposing any new banking levies, providing the credit materialises. But, clearly, for us to hold our side of the bargain, banks will need to deliver theirs.
 
Oil and commodity prices are still higher than we want them to be, and yesterday we heard that inflation is rising. While the Governor of the Bank of England has largely put that down to temporary factors, we are well aware of the squeeze it's putting on families and businesses.
 
However, overall, the deficit reduction plan has put the economy on the right track. It's been backed by the IMF, the OECD, the EU, the G20, and our economy is predicted to return to robust levels of growth.
 
That's no reason to be triumphant. Cutting budgets is not a task I relish, and I know that people are feeling the pressure. But I also know that abandoning the strategy would only prolong that hardship.
 
Confidence in the UK economy would plummet. Bond yields would increase, driving up the cost of debt. At a time when households and businesses are still recovering from the downturn, that would be disastrous.
 
Some people pretend that there is a pain free alternative, but that is treating people like fools. There are some genuine differences of opinion in this debate, but we shouldn't exaggerate them. Remember, for every £8 of public spending the coalition is cutting this year, under Alistair Darling's plans Labour would have cut £7.
 
Yet, critics on the left still feign outrage at the Liberal Democrats for signing up to the deficit reduction plan. Arguing that, while you'd expect a Conservative Government to reduce spending, that isn't what liberals do. Well we didn't just sign up to the plan - we co-wrote it, we believe in it, and we take responsibility for seeing it through.
 
No self-respecting progressive should surrender sound public finances, as if they are the sole preserve of the right. It's true that there is a school of thought, traditionally associated with conservative economists, who feel that cutting the size of the state as a proportion of GDP is a virtuous end in itself. But that is not the aim of this Government, and nor is it a liberal ambition.
 
Lliberals have always understood the importance of sound money. William Gladstone, the great 19th century liberal Chancellor and Prime Minister, was emphatic on this point:
 
"No Chancellor", he said, "is worth his salt who makes his own popularity any consideration at all in administering the public purse. He is under a sacred obligation with regard to all that he consents to spend."
 
That instinct for fiscal prudence is still felt by liberals today, because sound public finances are the key to macroeconomic stability; which is itself the platform for growth and jobs. Because it is a pre-requisite for welfare and social justice. And because balancing the books now is the only way to avoid subjecting our children to years of high debt, higher interest rates, fewer jobs.
 
But, while we believe in sound money in sustainable finances, that isn't measured by the size of the state alone. What is important is not whether the state is big or small, but what it delivers.
 
Does it promote fairness? Does it encourage enterprise? Does it disperse opportunity?
 
And fiscal policy must be based on facts, not dogma; on economic realities, not political religion. I would never tolerate an assault on public services driven by ideological zeal.
 
By the end of this parliament public spending will still be higher than at the end of Labour's second term. And the public sector will be employing more people than in 1997.
 
And, most importantly, our cuts are only a means to an end. That end is correcting the deep structural weaknesses in our economy.
 
On a liberal analysis, the last decade represented the worst of all worlds.
 
On the one hand: unchecked private debt; an unsustainable housing market; an overleveraged banking sector; overreliance on City-based financial services while other regions and sectors suffered neglect.
 
On the other: an inefficient state; central government wasting huge sums of public funds, instead of investing to underpin lasting growth; whole communities dependent on the public sector for jobs.
 
Balancing the books won't, alone, correct that imbalance; we need deep-seated change.
First, an economy that is diverse, capitalising on all our strengths.
 
Including, of course, financial services, but also legal services, accounting, insurance, pharmaceuticals, aerospace; advanced manufacturing, education. Building on our world-class research base. Helping entrepreneurs leap on opportunities in emerging sectors: digital communications, low carbon technology, creative industries.
 
Second, an economy that is decentralised.
 
We have one of the most monocentric economies in Europe, and we're less competitive as a result.
 
Growth must now be spread across the whole country, avoiding the mistakes of past recessions when too many towns and cities were forgotten and their potential squandered.
 
So we're developing tools that will help stop history repeating itself, starting with Local Enterprise Partnerships, bringing business and civic leaders together to lead local prosperity, as well as Tax Increment Financing, a Regional Growth Fund, and new Enterprise Zones - all to unlock investment.
 
Finally, the new economy must be fairer, distributing opportunity so that anyone who works hard can get ahead.
 
That means reform in a number of areas, but crucially in education. The government is now targeting extra funding at disadvantaged pupils to stop them falling behind. And in tax and welfare too, where we're raising the personal allowance to shift the burden off low and middle earners, and radically reforming the benefits system to make sure work pays.
 
Clearly central government cannot deliver this new economy alone. You cannot conjure up growth from Whitehall - an important lesson of recent years.
 
The previous government funded over 3,000 schemes aimed at business support. Add to that an array of tax breaks and what were called 'business solutions'.
 
Many were well intentioned, and some clearly had beneficial effects, but between 2000 and 2010, business investment grew on average by just one per cent a year. A quarter of what it was the decade before.
 
The lesson is that scattergun initiatives don't work. Tinkering from the centre doesn't work. Government must be laser-like in its focus; ruthlessly pursuing those areas where we can make a difference.
 
Doing less, but doing it better - in skills, infrastructure, deregulation, competition. A familiar list - all Governments say they believe in these things. But I hope we will show that actions speak louder than words. The decisions we've taken so far should underscore our commitment to the kinds of government activity that will help businesses flourish.
 
One is capital spending.
 
Early on, we decided to prioritise the investment that underpins economic growth, because certain types of infrastructure are fundamental to our recovery - transport, communications, energy. Assets that will draw investment to the UK, that will open up opportunity beyond the Square Mile, and that help us decarbonise too.
 
That's why we're spending £31bn on transport capital projects, including investing in our road and railway networks. We're going to create the best superfast broadband network in Europe by 2015. And in the coming days I'll be saying more about plans for a Green Investment Bank. Trust me, if we could do more on capital investment, we would.
 
We have also taken some more controversial decisions for the sake of growth. Reforming Higher Education funding to put universities on a sustainable footing and keep them world class. Transforming the planning system so the default answer to sustainable development is 'yes'. Ensuring our immigration policy cracks down on abuse but still allows UK companies to attract the world's top talent. Decisions that are not universally popular, but that are necessary for long-term success.
 
Not every decision will please the business community. We're making choices for the future that won't all be applauded today.
 
Like this week, when we agreed in Government to press ahead with Carbon Budgets. I am glad the CBI has supported our decision, but I know some businesses have concerns.
 
From our point of view carbon budgets are part of the fundamental architecture of a green economy. Greening our energy supply and increasing energy efficiency are central to creating the conditions for UK businesses to excel in the low carbon industries of the future.
 
But even when we don't all agree, I hope you will still see that this isn't a government of bean-counters - we have a plan for growth.
 
You may have heard the PM confirm yesterday that we'll be building on the success of our Growth Review. The second phase will begin by looking at key areas including infrastructure, midcap firms, open data and the rural economy - each important for unlocking new opportunities for firms and jobs.
 
Finally, securing growth and building the new economy will of course need to involve you, the people in this room.
 
You told us to sort out the public finances: we are. You said minimise the impact on capital spending: we have. You called for a more competitive tax regime: we're delivering it. But we need you to do your bit too.
 
There will be light at the end of the tunnel. Today we heard that unemployment is down, including youth unemployment. Exports are up, manufacturing is up.
 
So look for opportunities in new sectors. Expand and invest in different places. Open yourselves up to young people of all backgrounds.
 
If we get this right, if we build the rebalanced, liberal economy I have described, we can begin to turn the page on an era of short-termism in our economy.
 
An era that saw the return of boom and bust, driven by a banking system that risked everything for higher profits, while households racked up huge private debt and the nation was run recklessly into the red.
 
An era that began with a big bang and ended with a monumental crash.
 
We can lay the foundations for an economy where people invest rather than simply consume, where stability is as valuable as risk, where people borrow responsibly; and their governments do too.
 
It may be less spectacular; sturdy and steady instead. We won't get there overnight - this is a generation's work. But it is a better, more prosperous and more sustainable future. Your businesses must now lead the charge.
 
So, to sum up: no flinching on the deficit. Conservatives and liberals working together to restore stability to the economy.
 
But let me be clear, this is a step towards something more important still: the rebalancing of our economy on a new and sustainable footing. Rebalanced so that we make the most of everything Britain has to offer: all of our industries; all of our communities; and all of our people too.
 
Thank you.
Published 18 May 2011