Deputy Prime Minister's oral statement following Rio+20 summit
Nick Clegg: "We will remain committed to working with our partners and will be ambitious for the future."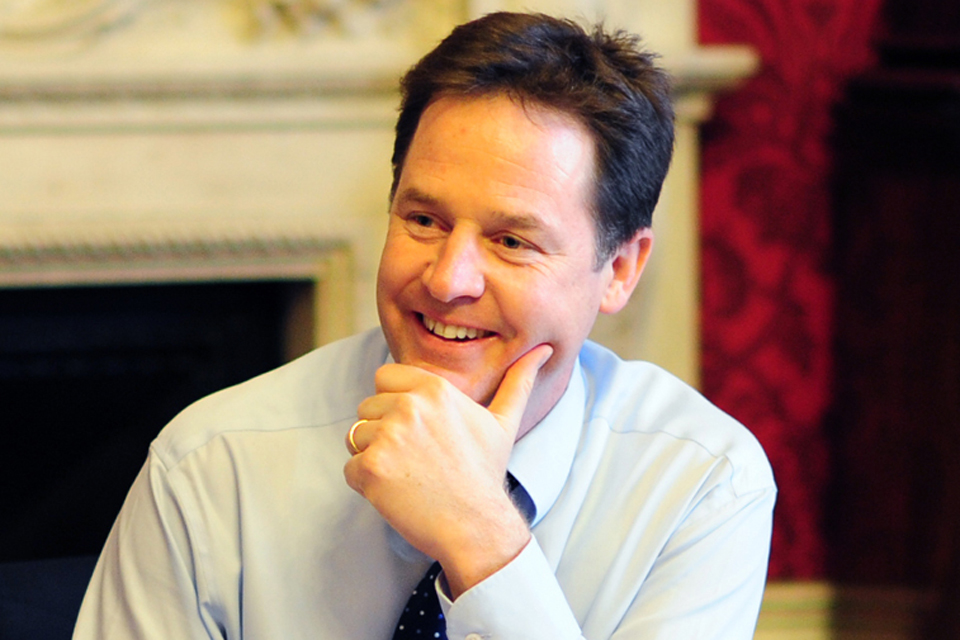 Check against delivery
Last week 196 nations met in Rio, 20 years after the original Earth Summit.
Our task was to find a way to set the world back on a sustainable path. Important progress had been made in the past two decades - on reducing poverty and protecting our environment. But all in all, ambitions had not been met.
Our dilemma was to agree ways to grow our economies without hoovering up or destroying our precious natural resources - recognising that our economic and environmental agendas must go hand in hand.
Our challenge was taking the right decisions, not just for ourselves, but for the next generation which - in just 18 years - will need 30% more water; 45% more energy; 50% more food.
Was this Summit an unqualified success on all those fronts? No it was not - but few would have expected it to be. But we did make progress, on the key areas the UK sees as the priority for sustainable development and green growth. I would like to pay tribute to my Right Honourable Friend the Secretary of State for the Environment for her commendable efforts at the summit itself and the intensive preparation by her and the Secretary of State for the Department for International Development.
At the summit, the UK Government played a crucial role in leading four important shifts:
First, while the Rio Declaration was not all that we would have wanted, this was the first time a multilateral document expressing such strong support for the green economy has been agreed. That in itself is a major achievement, recognising that in the long term greening our economies should not conflict with growing them. The declaration helped alleviate some of the fears of developing countries that green growth is a veil for a kind of eco-protectionism designed to stymie their development. It united nations behind the simple principle that, as US Secretary of State, Hilary Clinton put it at the summit, "the only viable development is sustainable development which will deliver lasting progress for everyone."
Second, Rio+20 recognised that we needed to develop broader measures of progress to complement GDP in order to take account of the natural assets that will contribute to future prosperity - so called GDP+. In the UK we have already committed to including natural capital within our system of national accounts by 2020. We worked hard at the summit to ensure that all nations present recognised the importance of broader measures of environmental and social wealth to complement GDP.
Third, we agreed to set up the Sustainable Development Goals, a concept proposed by Colombia. I was one of the first to welcome this idea when President Santos visited London in November. The UK has been pushing hard to secure agreement ever since, and achieving it, even at this high level was no mean feat. The UN Secretary General Ban Ki-Moon said SDGs should draw on the success of the Millennium Development Goals and should be an integral part of the post-2015 development framework. We would have liked to have seen themes agreed, focusing on ensuring everyone can access enough food, energy and water. But getting agreement on specific themes was always going to be a huge undertaking. The UK Government will continue to keep up the pressure for rapid agreement. The process from now on must be coherent and co-ordinated with the work of Secretary General Ban's High Level Panel on the post-2015 framework which the Prime Minister will co-chair, along with the leaders of Liberia and Indonesia.
Fourth, at Rio national governments recognised the importance of working alongside businesses. Thanks in no small part to the leadership of UK firms and of this Government, Rio recognised the role of corporate sustainability reporting to their shareholders and to prospective investors, something which would have been inconceivable even a year ago. I also announced in Rio that we will be the first country anywhere to mandate large companies to report on their greenhouse gas emissions. A growing number of companies and investors are realising that their own success is directly linked to sustainable, green growth. We hope that the call from all nations for businesses to report their sustainability performance will usher in a new era of transparency and consistency in the global business community.
In summary, Rio+20 did not go as far as we would have liked but it did revive  a global commitment to an agenda that has come under threat. Progress was made in the areas were progress needed to be made. The declaration agreed by all 196 countries should not be seen as the upper end of ambition, it should be our baseline and we should all strive to surpass its expectation. We must now build on the steps that were taken to reinvigorate the drive for sustainable development and lasting growth.
The UK played a leading part last week. We were able to point to leadership at home: because we're on track to deliver our commitment to spend 0.7% of GNI on official development assistance to developing countries from 2013; because we announced the Adaptation for Smallholder Agriculture Programme that will improve the lives of over six million smallholder farms; because we are taking the lead in areas such as reproductive health and family planning; because we are the first country whose major businesses will report their green house gas emissions as part of their annual accounts; and because of the range of ways that we are greening our own economy.
We will remain committed to working with our partners and will be ambitious for the future. The Summit is over but the work continues and the UK will continue to lead from the front.
Published 26 June 2012