Deputy Prime Minister sets out difficult choices the UK faces
Nick Clegg gave a speech at the Institute for Government on Monday 15 June 2010 about difficult decisions needed to reduce the deficit.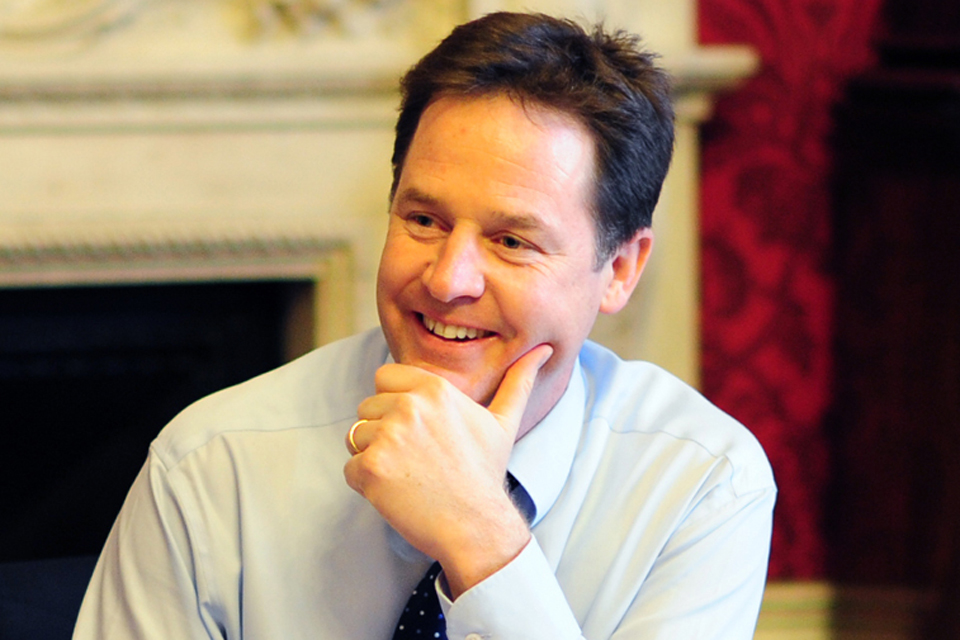 In a speech at the Institute for Government in central London on Monday 15 June 2010, Deputy Prime Minister Nick Clegg gave the government's response to the Office of Budget Responsibility's first report and explained that the UK had some difficult but necessary decisions to take to reduce the deficit.
Deputy Prime Minister:
Following this morning's report from the Office for Budget Responsibility, we know that the alarming state of our public finances is even worse than we thought. In many ways the challenge is bigger; the dangers are more acute; and the need to set out how we're going to put things right, is even greater than we realised. This afternoon I am going to highlight five points:
One: the damage to our public finances.
Two: why the turmoil in international - and particularly European - sovereign debt markets, make it essential for us to set out a rescue plan now. 
Three: that there is nothing progressive about denying the need to act. Doing nothing will rob us of the space to protect the most vulnerable, and public services from the effects of cuts.
Four: that this Government understands the need to balance fiscal responsibility with supporting growth.
Lastly, that action to tackle the deficit must be guided by our values, not just by fiscal arithmetic. That is why we will do everything we can to make sure the difficult decisions we take are fair and just.
Before I talk about the kind of decisions we face, let me just set out where we're starting from. This morning, the Office for Budget Responsibility - an office established by this Government - published its first assessment of the public finances. 
Rather than having the forecasts determined by whether the Prime Minister or the Chancellor blinks first, we have asked for a truly independent view.  The OBR's assessment is sophisticated and careful and shows us two things: Our problems are more serious than we realised. And there are no more excuses; we have to get on with putting things right.
We and many others have been warning for some time that the growth forecast in the March Budget was optimistic. The OBR confirms this. And because trend growth is lower than expected, the structural deficit is larger than anyone realised. Remember: that's the bit of the deficit that will not go away as the economy recovers. In 2010/11 it's going to be 8% of GDP - that's £118bn; £11 billion more than Labour told us, rising to £13 billion next year. So the scale of the problem is even bigger than we thought. 
The OBR is using a central - rather than a cautious - forecast, a like for like comparison with the March Budget would show an even bigger increase in the structural deficit.
The OBR recognises, market expectations of the new Government's actions have already reduced the forecast deficit and supported growth. The OBR assumes interest rates based on current market expectations.  These are today lower than at the time of the March Budget, in part because of the determination the coalition Government has already shown to deal with the deficit.
The OBR's independent analysis paints a stark picture.  We are now facing the highest budget deficit in Europe, the highest deficit in the G20. Borrowing this year will be ten and a half per cent of GDP, with debt topping 60%.
We are right to choose to tackle the deficit for three reasons.
First, today's projections from the OBR - bad as they are - are based on relatively low and stable interest rates.  If we falter, if we fail in our commitment to reduce the deficit, these will rise and we will find ourselves paying ever more in debt service and ever less on public services.
Second, this is not a deficit that will correct itself with the passage of time.  A structural deficit does not correct itself. It has to be addressed. Otherwise, we will commit our children and grandchildren to ever-greater indebtedness.
Third, and perhaps most importantly, we may be an island but we do not stand alone. The extraordinary developments of the last few weeks in the Eurozone matter enormously for the UK.  Most immediately, they matter because the attitude of markets has changed.  What began three years ago as a crisis of household - then bank - debts has now become a sovereign debt crisis.  Markets have stopped believing that all European governments can service their debts.  They have started to charge much higher rates to those whose plans they distrust. 
I was in Madrid on Friday.  There, the government has seen the premium they have to pay investors to buy their bonds compared to German bonds jump from a half of one per cent to two per cent in only a few weeks.  As the nation with the highest deficit in Europe in 2010, we simply cannot afford to let that happen to us too.  So the world has changed since the days people advocated a looser fiscal policy.  We need to adapt to those changing circumstances and change our fiscal position, too.
We are not alone - across Europe countries are now being decisive in their consolidation efforts. Germany, Italy, Spain, Portugal have all announced new measures in recent weeks, and the G20 has given its strong support to our plans, calling on countries with serious fiscal challenges to accelerate the pace of consolidation.
Because everyone knows that refusing to act carries too great a risk. It's the same for people in their ordinary lives. If you get into debt and that debt spirals, you're faced with a simple choice - you can pay it off yourself before you do any real damage to your credit rating, you can hold off until the bank makes you pay the money back, or you can wait until the bailiffs come round. Well, Spain has had the banks step in, Greece has had the bailiffs round, but in Britain we're determined to get on top of this problem for ourselves. 
This government, will not allow our hand to be forced by the markets. We are going to see through the deficit reduction that is an absolute prerequisite for turning Britain's fortunes around.
So we have started that process, already announcing £6.2bn worth of spending cuts in this financial year, made through driving down waste and improving efficiency. That's a first step, and the Chancellor will be setting out more comprehensive plans to tackle the deficit in the Budget next week. That will be followed by a spending review in the autumn, detailing our spending plans for the coming years.  
But make no mistake: this is not a task we relish. Nor was it our choice. This is the legacy that we, as a new government, and we, the British people, were left. It is the only way we can get our public finances on a sound footing. And - and this is the absolutely crucial point - to do anything else would not only be irresponsible, it would be a betrayal of our progressive values.
Because there is nothing progressive about denial. There is nothing progressive about condemning ourselves and our children to decades of debt, higher interest rates, fewer jobs.  How will we pursue social justice with billions of pounds of taxpayers' money disappearing down a black hole every year?
The choices that were available to us just two months ago are no longer available. We have to set out a plan now so that we can still be in control of our future. By taking action, by being responsible, by not denying the reality we now face, there is still room for manoeuvre in how we tackle the deficit. By taking action, we do something hugely important: we give ourselves the chance to shape outcomes - to do all we can to bring down the deficit in a way that delivers fairness, to protect those who need it most. We put ourselves in a position where we can still direct money to the most disadvantaged children through our pupil premium. Where we are still able to improve access to healthcare for families in disadvantaged neighbourhoods.
If we wait, none of these things will be possible. Every parent knows that what you want most for your children is for them to have all of the opportunities you had, as well as all those you didn't. If we leave our children paying off our debts, we rob them of those opportunities and we condemn them to a future that is less secure.
This government will not commit that kind of intergenerational theft. We are going to get on with the job of fixing the public finances, while we can still do it on our own terms.
But, be under no illusion: while I believe this course of action is the right one, I also recognise that it will not solve Britain's economic problems on its own.  So it must be accompanied by other measures.  Foremost among these is the need - as we return our public finances to balance - to support economic growth. 
I have already referred to the challenges facing Europe's economy.  As a number of countries across Europe take steps to deal with their fiscal deficits, there is a legitimate concern about the sources of future growth.  In my conversations in Berlin and Madrid at the end of last week, this was a recurrent theme.  I said then what I say today: with fiscal policy tightening and conventional monetary policy loose, there are limited macroeconomic tools to stimulate growth.  So we have to look hard at the structural reforms that can unleash the potential of our people and our economies.
Working with our European partners, this Government will press for a more ambitious set of measures to open new markets for our goods and services.  Outside the EU, we will be champions for trade liberalisation.  Inside the EU, we will press for the removal of regulations that stop British firms competing fairly in other markets and that prevent British consumers from getting the best deals on price and services.
And here in the UK, this Government will lessen the burden on the UK's private sector and look for ways to free up the flow of credit to successful, viable British businesses.  As we reduce spending we will also look to reduce regulations and red-tape: releasing entrepreneurship and freeing up those with the drive and ideas to generate jobs and prosperity to do so.  We will also work closely with the banking sector to increase banks' willingness to lend to the productive economy.  After the huge investments taxpayers have made to save the banks from collapse, the time for rent-seeking and excess reward is over. We want banks to get back to the boring but important business of lending cautiously to prudent, growing, job-creating businesses.
As we approach challenging decisions about public spending, we will seek to protect the best of the research carried out at our universities, and seek to boost vocational skills in our Colleges. We will look for ways to support private sector investment in R&D.
And we will look at the ways public money can act as a catalyst for private investment in our nation's infrastructure, particularly in energy and transport. These projects will take time, but they will both help create jobs and help create the competitive infrastructure that our economy needs.
I know that there are many people in business, in the private sector, who feel that they have already made huge sacrifices as a result of the recession. I have met countless businesses that have had to scale back, or dismiss staff. Countless employees for whom pay freezes and reduced hours have already become a fact of life.  And while public sector pay was still rising at the end of the recession, wages in the private sector were already in decline.
So we will need to seek greater fairness between the public and private sectors and between different regions of the country. When I talk to my constituents in Sheffield, many of whom work in the public sector, about the state of our public finances, I see how realistic they are; how pragmatic they are. Yes, they, like everyone, want reassurance that the people who caused his crisis - the banks - will never hold the whole economy to ransom again.
And this government takes very seriously the need for fundamental, structural reform of our banking system to minimise that risk, as well as the need for a new banking levy so that banks pay their fair share. But, more importantly, what the people I meet working in the public sector really want is for politicians to be honest about the decisions ahead.
Some decisions are not difficult. Cutting waste, for example, is relatively straightforward. Where there is fat, it should be trimmed. Like the £600m we're cutting from quangos; the £95m from government IT spending; the £1.15bn in areas like consultancy and travel costs.
But these are the easy choices. There will be tougher ones too.  Take public sector pay. In an ideal world, no one wants to see people working in the public sector see their real incomes fall, and this government is committed to protecting those on the lowest wages. But when there has already been pay restraint in the private sector, when the public pay bill now costs the country £160bn every year, and when the alternative is greater job losses we cannot refuse to now look at public sector pay too.
Take pensions. Of course public sector workers deserve a decent income when they hit retirement; no one doubts that. But the current situation is not fair. Private sector workers have already seen final salary schemes close, while returns from defined contribution schemes fall. So can we really ask them to keep paying their taxes into unreformed gold-plated public sector pension pots? It's not just unfair, it's not affordable.
Today's OBR report shows that expenditure on public sector pensions will rise from £4 billion in 2010-11 to over £9 billion in 2014-15.  As we face up to living within our means, we cannot ignore a spending area which will more than double within five years.
On that point, let me also say that this government strongly feels that it is right that there is an end to the very generous final salary pension scheme currently enjoyed by MPs. Reforms to pensions and pay that impact directly on the public sector will of course need to take the needs of different parts of the country into account. Some parts are much more dependent on jobs in the public sector than others and we are acutely aware of the need to ensure they don't suffer disproportionately as a result of future cuts.
Finally, on welfare: I believe the welfare state is one of Britain's greatest triumphs - you can judge a society on the help it provides to those people who need it most. But when you have five million people living on out-of-work benefits, 1.4 million of whom for nine of the last ten years, when our welfare bill stands at a £87bn and rising - nearly the same as we spend educating our nation - we have to reform welfare to help people into work, to ease the burden on the taxpayer, while all the time ensuring people who need support, get that support.
So we can either take the difficult decisions in the vast areas of pay, pensions and benefits, or we will see higher job losses in the public sector and less money in public services. And we must take these decisions together. That's why this government is asking people to come forward with your ideas on how we can reduce public spending, in a consultation that will run across the summer. But, more importantly, because we know that, if we are going to ask the people of Britain to come with us on this difficult journey, our choices must be your choices too.
These are the challenges we face. And at their heart is the choice facing this Government: We can ignore the black hole in the public finances, taking small steps that tinker at the edges - tweaking, hesitating, hoping growth will magically return - but ultimately refusing to set out the far-reaching action necessary to balance the books until that action is, eventually, forced on us by nervous investors and unforgiving markets.
Or - we can confront the need to bring down the deficit while we are still in a position to do so in a way that is both fair and just. To deal with this problem now so we don't leave our children to pay the price later. And that is this Government's choice.
Published 15 June 2010